To place your ad, email tubecitytiger@gmail.com. Ads start at $1 per day, minimum seven days.
MAHS & UConn grad, Olympian in running to be named 'greatest of all time'
By Staff Reports
The Tube City Almanac
September 07, 2021
Posted in: Sports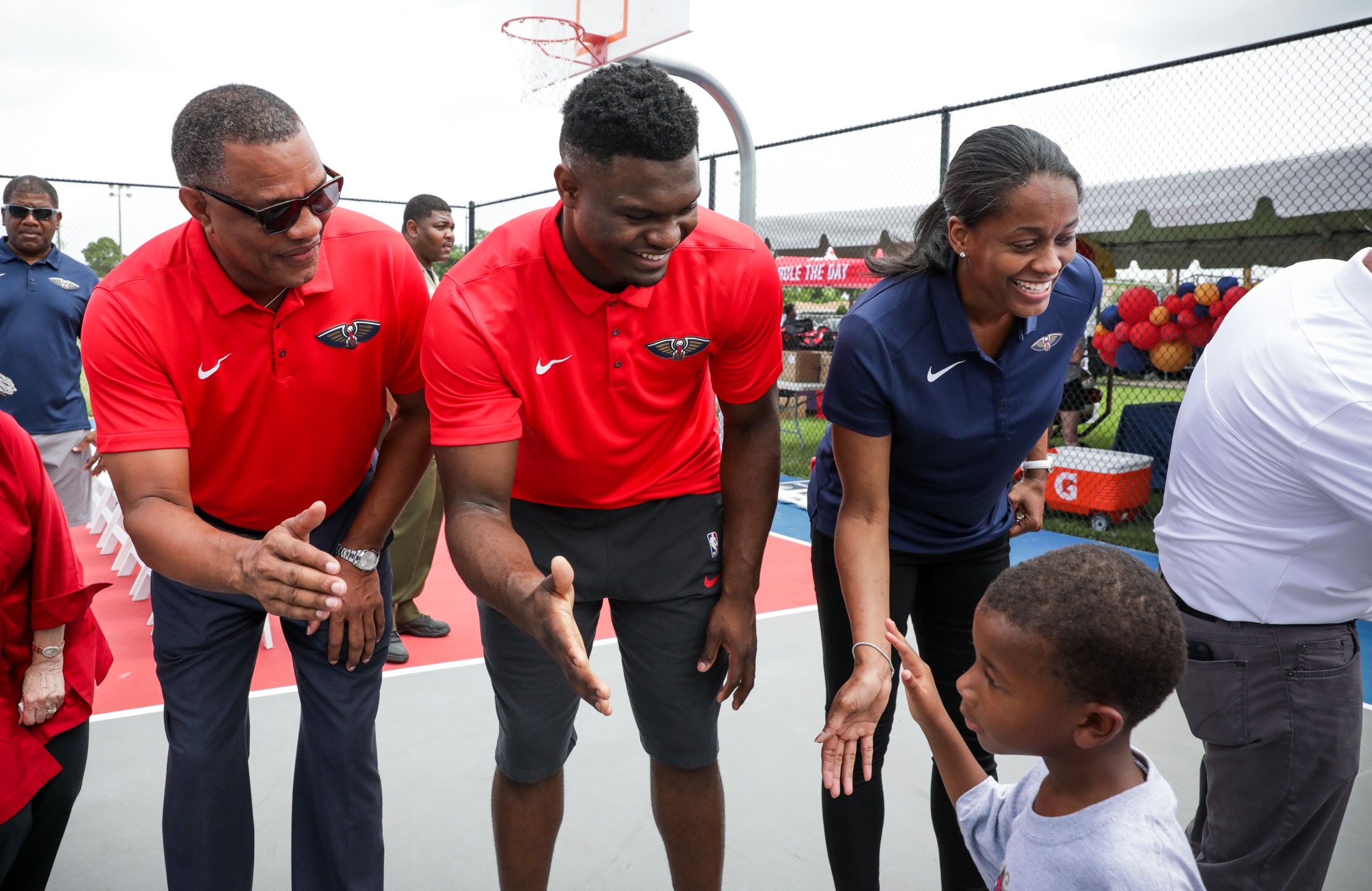 Swin Cash, McKeesport native, Olympic gold medalist and hall-of-fame basketball player, greets New Orleans Pelicans fans in 2019. Cash, who played 15 seasons in the WNBA, has been named one of the 25 greatest and most influential players in the league's history. (New Orleans Pelicans photo)
---
City native and Olympic champion Swin Cash has been named one of the top 25 players in the history of the WNBA — and is eligible to be named the league's "greatest of all time" during the upcoming finals.
On Sunday, the league commemorated its 25th season by naming "The W25," a list of the "25 greatest and most influential players" in WNBA history, and announced a contest where fans can "Vote for the GOAT," the greatest WNBA player of all time.
A McKeesport Area High School and University of Connecticut graduate, Cash, 41, played for the Detroit Shock, Seattle Storm, Chicago Sky, Atlanta Dream and New York Liberty during her 15-year professional basketball career.
She took the court in almost 500 regular-season games and became one of just two players in WNBA history to amass 5,000 points, 2,000 rebounds and 1,000 career assists.
She also was part of women's basketball teams that won gold medals at the 2004 and 2012 Summer Olympics games.
League commissioner Cathy Engelbert said honorees were selected not just for their athletic prowess, but for their lives and work off of the court.
"In the community, they have powerful voices, individually and collectively, speaking out on important issues in our society," Engelbert said in a prepared statement.
"Together, they have transformed the way the game is played, changed the way athletes are viewed, become incredible role models, and inspired generations of young, diverse athletes," she said.
Cash was drafted by the Shock in the first round, following a college career with the UConn Huskies that included two national championships.
Even before her 2016 retirement from basketball, Cash took an outspoken and active role as an advocate against gun violence and police brutality.
Her company, Swin Cash Enterprises LLC, runs basketball camps and clinics for youth around the country, and she is actively involved in a variety of charities.
Cash also serves as vice president of basketball operations and team development for the New Orleans Pelicans.
In August, she was inducted into the Women's Basketball Hall of Fame.
Via her Twitter account, Cash said she "appreciated the opportunity to do something I loved for 15 years," and that she's "always humbled by the love and support from the 412, since I was 14. I've carried the pride of being from 'Da Port' and western (Pennsylvania) with me throughout my career."
Both McKeesport Mayor Michael Cherepko and state Sen. Jim Brewster congratulated Cash on her recent hall of fame induction.
A longtime friend of the family who knew Cash while he served as the city's mayor, Brewster said she has done "the entire McKeesport community proud."
"Swin Cash is an outstanding basketball player who dominated the sport at every level," Brewster said. "Even more importantly, Swin comes from a great family, she is an exceptional person and a tremendous role model.

"Over the years, she not only demonstrated remarkable skills on the court, but she also worked very hard to become a terrific player — an all-time great," Brewster said.
Cash's mother, Cynthia, still lives in the area. She has three siblings, Angelique, Kevin and Stephen Menifee.
In July, she surprised students participating in a summer camp at McKeesport Area High School with a videotaped message.
As part of the "W25" list, the WNBA is inviting fans to vote for the "greatest player of all time."
Other athletes included on the W25 include active professional players Sue Bird, Tina Charles, Elena Delle Donne, Sylvia Fowles, Brittney Griner, Angel McCoughtry, Nneka Ogwumike, Candace Parker, Breanna Stewart, and Diana Taurasi; and 14 retired players, including Seimone Augustus, Tamika Catchings, Cynthia Cooper, Yolanda Griffith, Becky Hammon, Lauren Jackson, Lisa Leslie, Maya Moore, Ticha Penicheiro, Cappie Pondexter, Katie Smith, Sheryl Swoopes, Tina Thompson and Lindsay Whalen.
It's the fourth time that the league has produced a list of its top players. Bird, Catchings, Cooper, Griffith, Jackson, Leslie, Smith, Swoopes and Thompson were recognized on each of the previous anniversary lists.
The fans' pick as the greatest player of all time will be announced during the WNBA Finals, which begin Sept. 23. To vote for the "GOAT," visit https://www.wnba.com/goatvote/. Only one vote per person, per day will be counted.
Originally published September 07, 2021.
In other news:
"City Council OK's Dem…" || "NV Twp. Crash Claims …"