To place your ad, email tubecitytiger@gmail.com. Ads start at $1 per day, minimum seven days.
New show designed to be 'positive and fun'
By Kristen Keleschenyi
The Tube City Almanac
September 10, 2021
Posted in: North Versailles Twp. News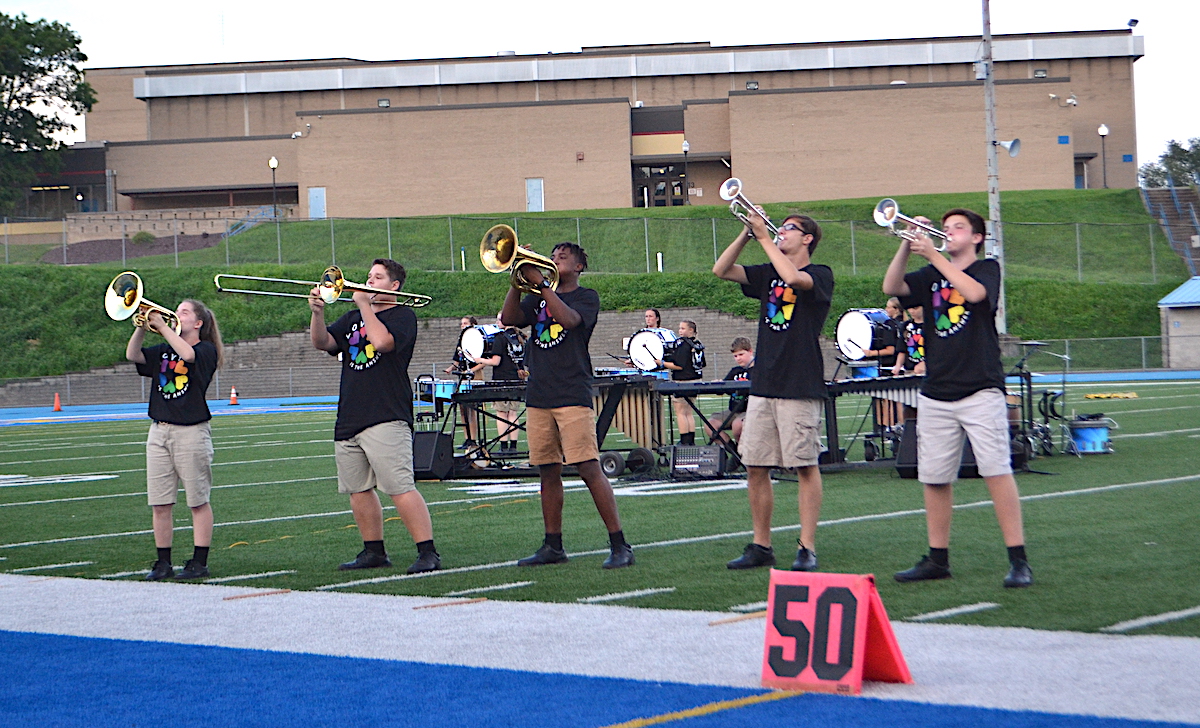 East Allegheny High School band members Sophia Scuilli, Jacob Ankney, Wayne Burnam, Daniel Cipcic and Austin Phelan turn up the brass. (Kristen Keleschenyi photo for Tube City Almanac)
---
The theme of this year's show for the East Allegheny High School marching band is love. "Love is the Answer" had a sneak preview for friends and family at Churchman Stadium on Aug. 28 and debuted to the public at Sept. 4's football game at Serra Catholic High School.
The three songs featured include "Can't Help Falling in Love," "Crazy Little Thing Called Love" and "After The Love Has Gone." The show's message is something band director Justin Rosco says wasn't an accident.

"We wanted something positive and fun," he says.

This year's band is one of the smallest Rosco has worked with during his career at EA, with just 40 members, 12 of whom are in the color guard.
"Love Is The Answer" will be performed during halftime at each EA football game and also at band competitions coming up at Penn Trafford on Saturday (Sept. 11) and at EA's home competition on September 18.
As part of the love theme, the band is selling colorful cutout hands for $1 on which people can write a personal positive message that will be displayed at all home football games. Proceeds will benefit local food bank, Ma's Pantry.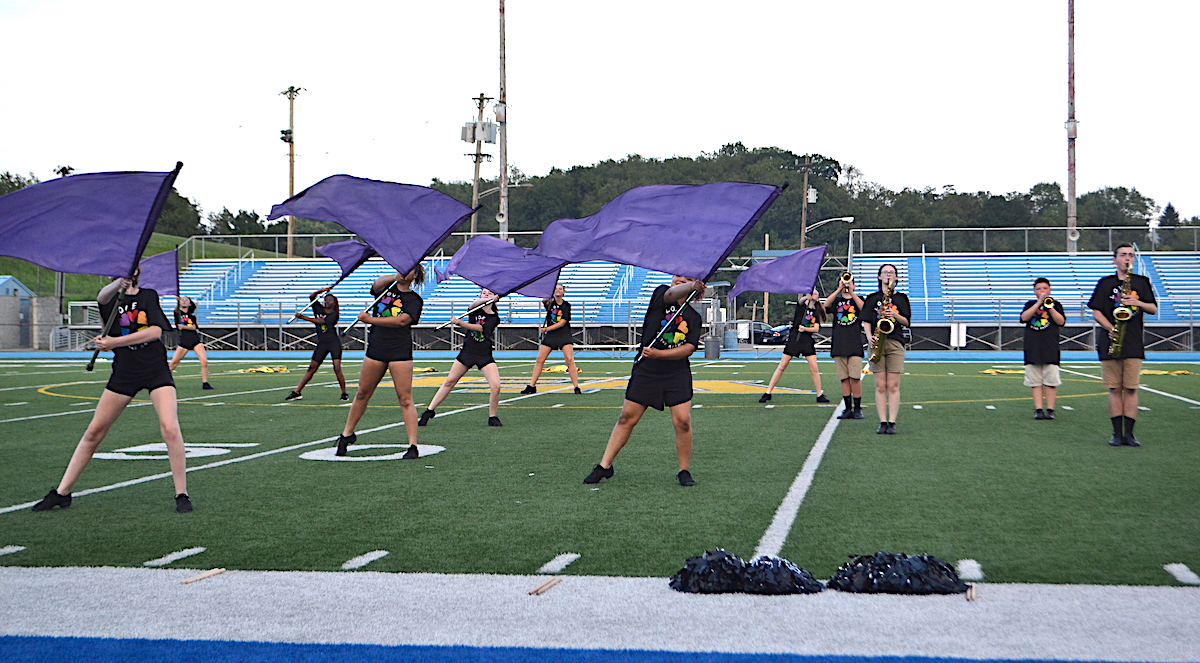 Color guard members decorate the field with their purple flags while the band plays "After The Love Has Gone." (Kristen Keleschenyi photo for Tube City Almanac)
---
What the band lacks in numbers, they make up for in youth. The underclassmen make up the majority of the band and they are already stepping up in ways that would not have been possible if there were more experienced players.

"They are going to be counted on a lot more for parts that maybe in prior years they may never have been," says Rosco. "From a solo standpoint, we have a 9th grader and a lot of younger people taking bigger parts."

Senior Aidan Foscoe is one of the three drum majors and also plays the alto saxophone. This is year seven for him in band. He joined a year early in sixth grade instead of seventh so he could perform on the field with his sister who was a senior.

Foscoe says although the band is smaller than in years previous, he feels the attitude and family atmosphere has remained the same. He really likes this year's show and hopes audiences will enjoy it as well.

"My favorite part is the second song, 'Crazy Little Thing Called Love.' It's just a lot of fun. You can get down to it," Foscoe says.

Color guard co-captain Jenna Starcher is already getting a little reflective as she begins her senior year. She has spent three years in guard and takes her leadership responsibility very seriously.

"There's less people to make noise but the guard is pretty big still, average numbers, but I feel like we do have to work much harder but we're really pushing through it," says Starcher, who is excited about the part in the show when the guard members trade in their flags for drumsticks.
Starcher says she feels like a big sister to the new members and enjoys the mentoring aspect of her role. There will be a lot to miss once she graduates but for now, she says, she's using her experience to help the new members get up to speed.
---
Kristen Keleschenyi is a freelance writer in North Versailles Twp. and one of the hosts of the Kristen & Amber Show on WMCK Internet Radio at 5 p.m. Saturdays, 9 p.m. Mondays and 4 p.m. Thursdays. She may be reached at kbishop25@hotmail.com.
Originally published September 10, 2021.
In other news:
"Route 837 Delays Poss…" || "Teen Dead, Another Hu…"