To place your ad, email tubecitytiger@gmail.com. Ads start at $1 per day, minimum seven days.
Candle store is latest business in reopened Executive Building
By Jason Togyer
The Tube City Almanac
September 14, 2021
Posted in: McKeesport and Region News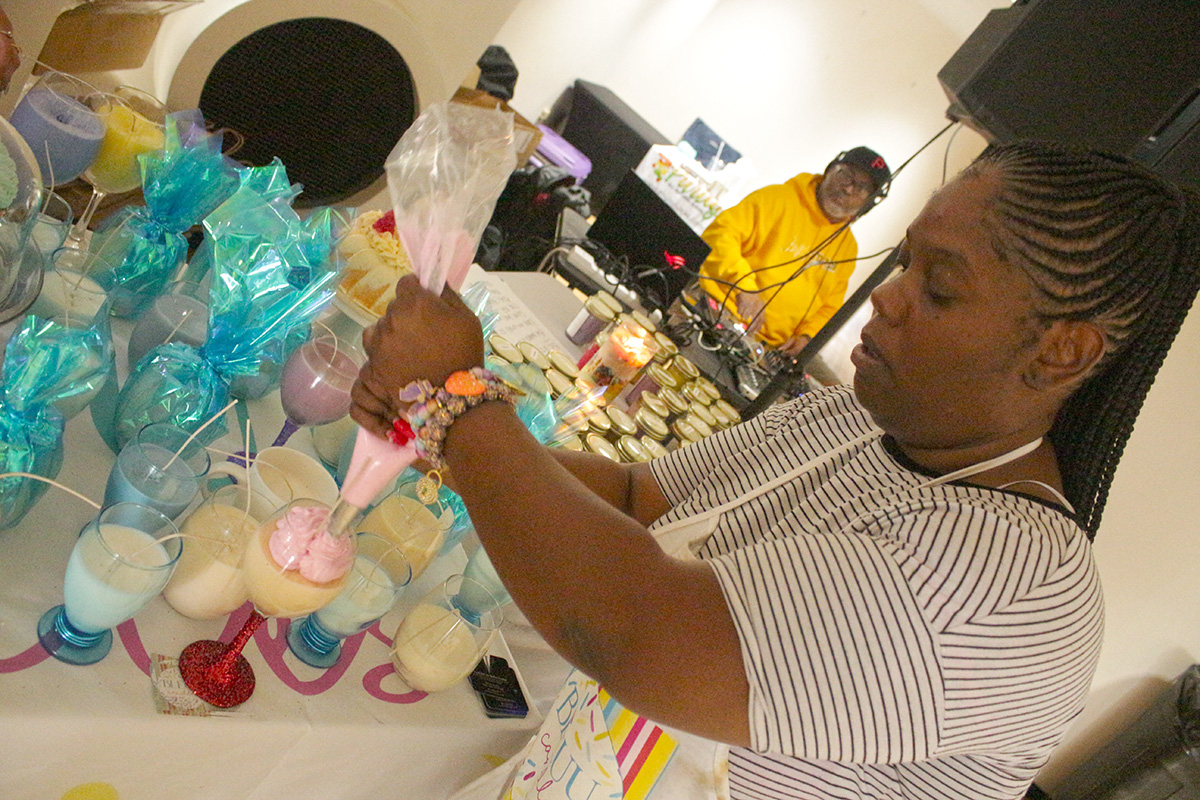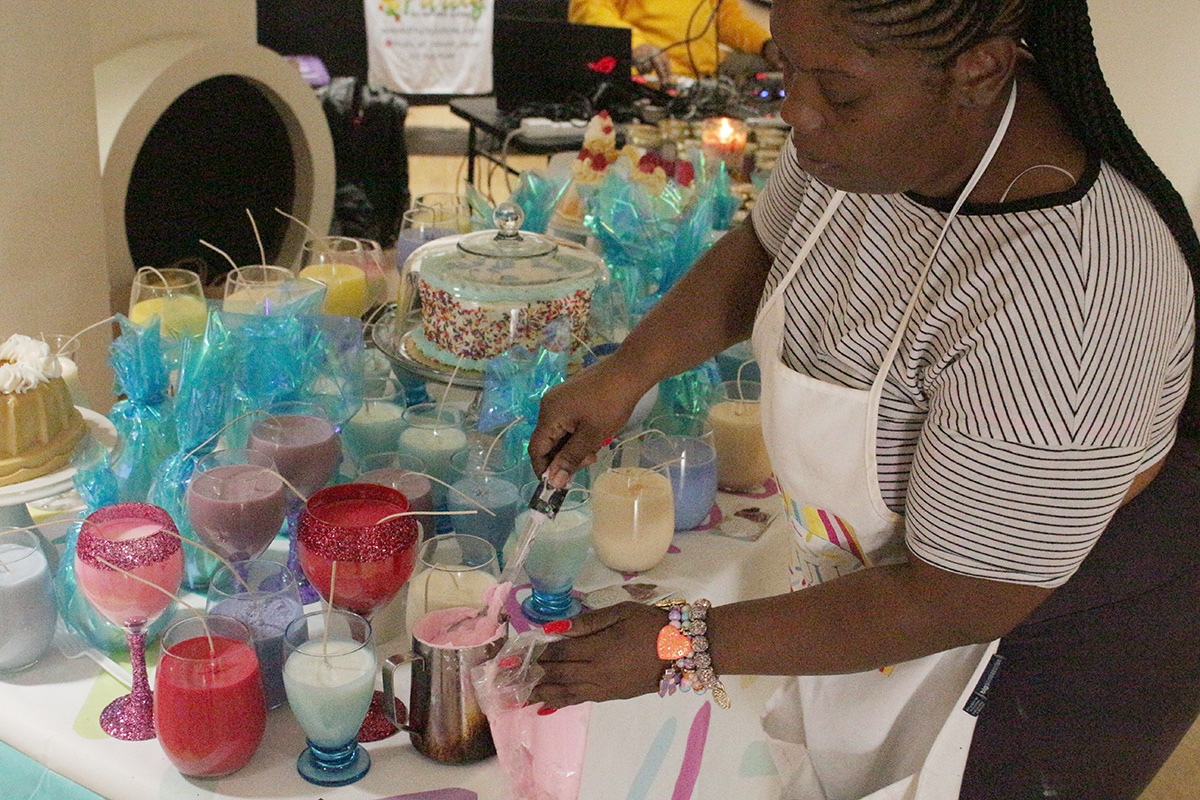 Sheree Kegley uses cake decorating tools to finish one of her "dessert candles." Kegley's store, Bleuu Candles, is the newest business in Downtown's re-opened Executive Building. (Tube City Almanac photo)
---
The sundaes, cupcakes, parfaits and birthday cakes at Bleuu Candles look good enough to eat — but you'd probably just better sniff them instead.
Everything — including the icing, the sprinkles and the cherries on top — are made of wax. Proprietor Sheree Kegley taught herself to make and decorate scented candles, in varieties such as tropical fruit, cinnamon, birthday cake, chocolate and peach, as a result of the COVID-19 lockdown in 2020.
"It was COVID-borne," she says. "I lost both of my jobs during COVID, so I taught myself. I've been making candles for about a year now."
Bleuu Candles is the newest business to open its doors in the renovated Executive Building on Fifth Avenue, which was condemned in 2018 before being purchased and overhauled by local investor Jonathan Stark.
Other businesses that have located in the Executive Building this summer include Daneb's House of Styles, a beauty salon; Cyn City Cutz, a barber shop; Guilty Pleasure Nutrition; and Pure Skillz, an arcade.
Inferno Pizza, which has stores in Level Green (Penn Twp.), Elizabeth and North Huntingdon Twp., has leased a space at the corner of Fifth Avenue and Locust Street formerly occupied by Charlie's convenience store.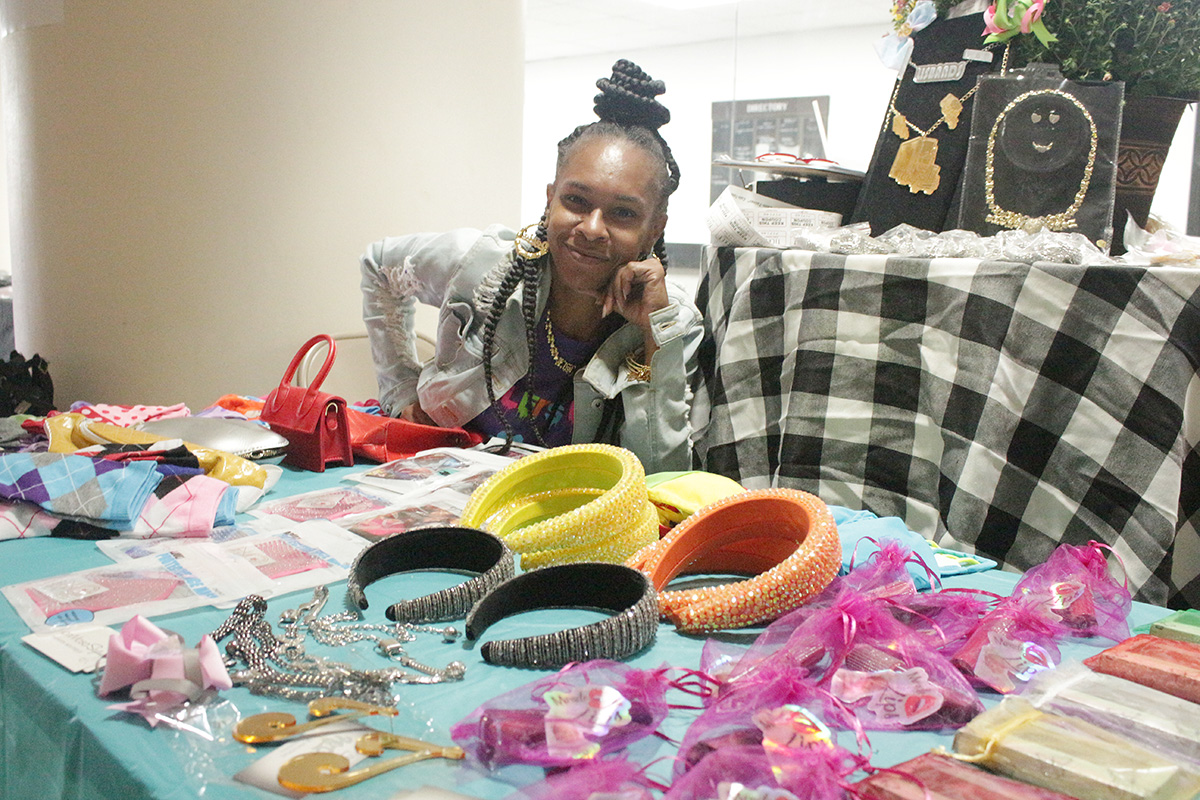 Monica Wilson of Pittsburgh's Carrick neighborhood shows off items from her business, MonMosa Styles Fashion Boutique. Wilson was one of the business owners who participated in a grand opening for Bleuu Candles in McKeesport. (Tube City Almanac photo)
---
Kegley hosted a grand opening celebration on Saturday in her new space that included a variety of businesses — mostly owned by women and Black proprietors — from throughout the Pittsburgh area.
She says learned to decorate candles by studying YouTube videos, and that another candle artist in Nashville, Tenn., also was a great help to her.
Located in the former Dollar Bank space, Bleuu Candles is large enough to welcome other events — something Kegley would like to begin doing soon.
"I'd like to host candle parties and candle-making classes," she says. "I'm also planning to have other events for small business owners to network, especially those that don't have their own storefronts."
For more information, call (412) 773-9539 or visit Bleuu Candles on Facebook and Instagram.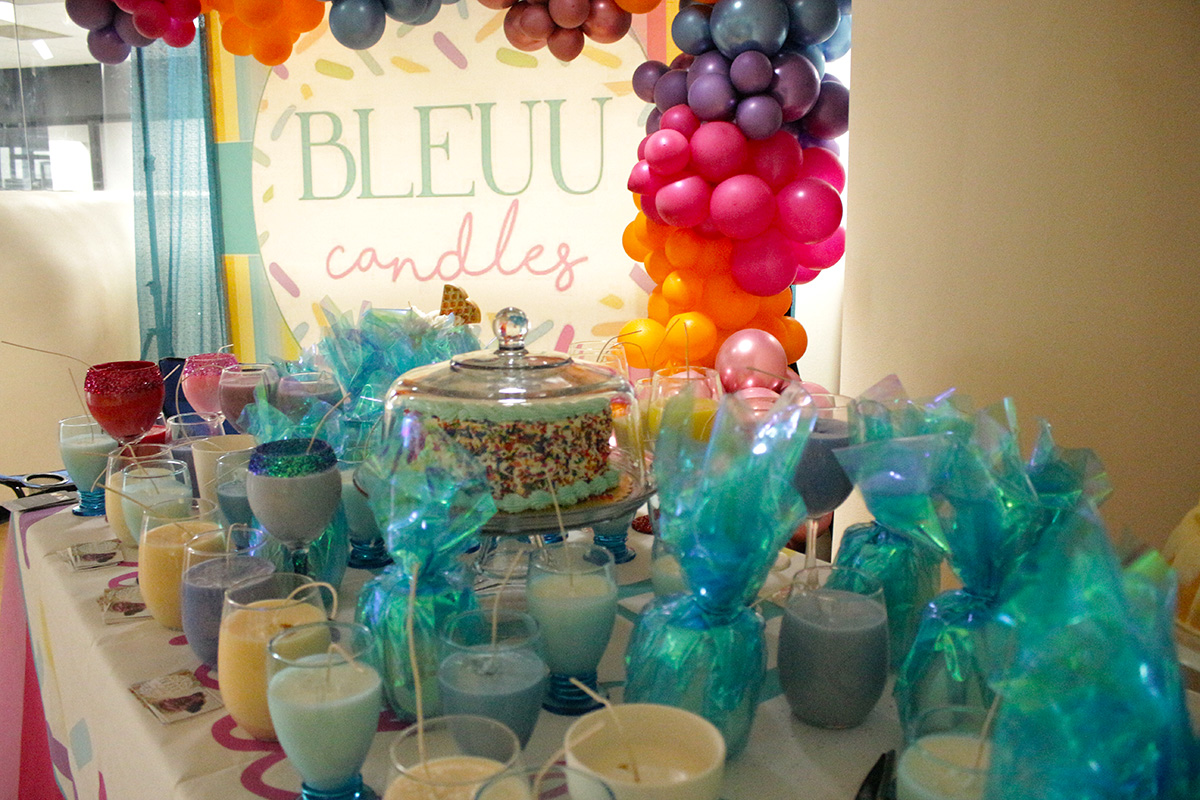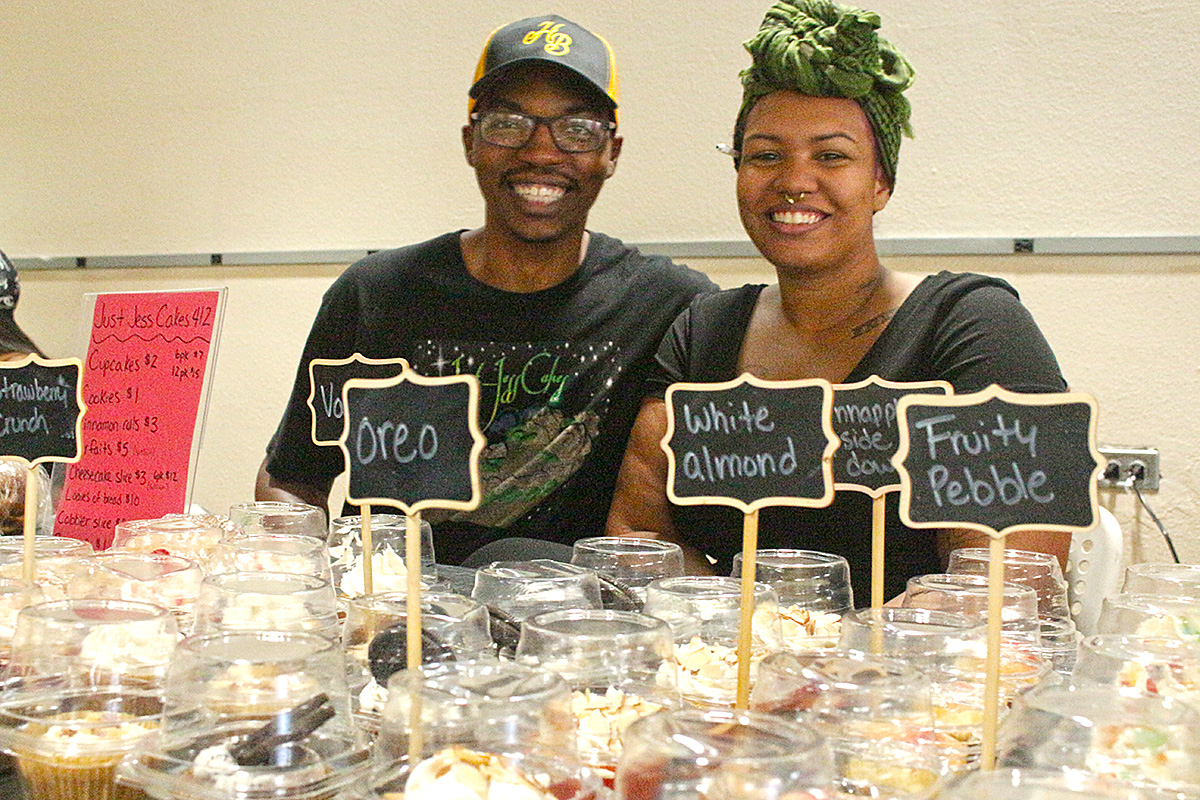 Andre and Jessica Jones of Just Jess Cakes 412 in Wilkinsburg helped Kegley celebrate her grand opening in McKeesport's Executive Building. (Tube City Almanac photo)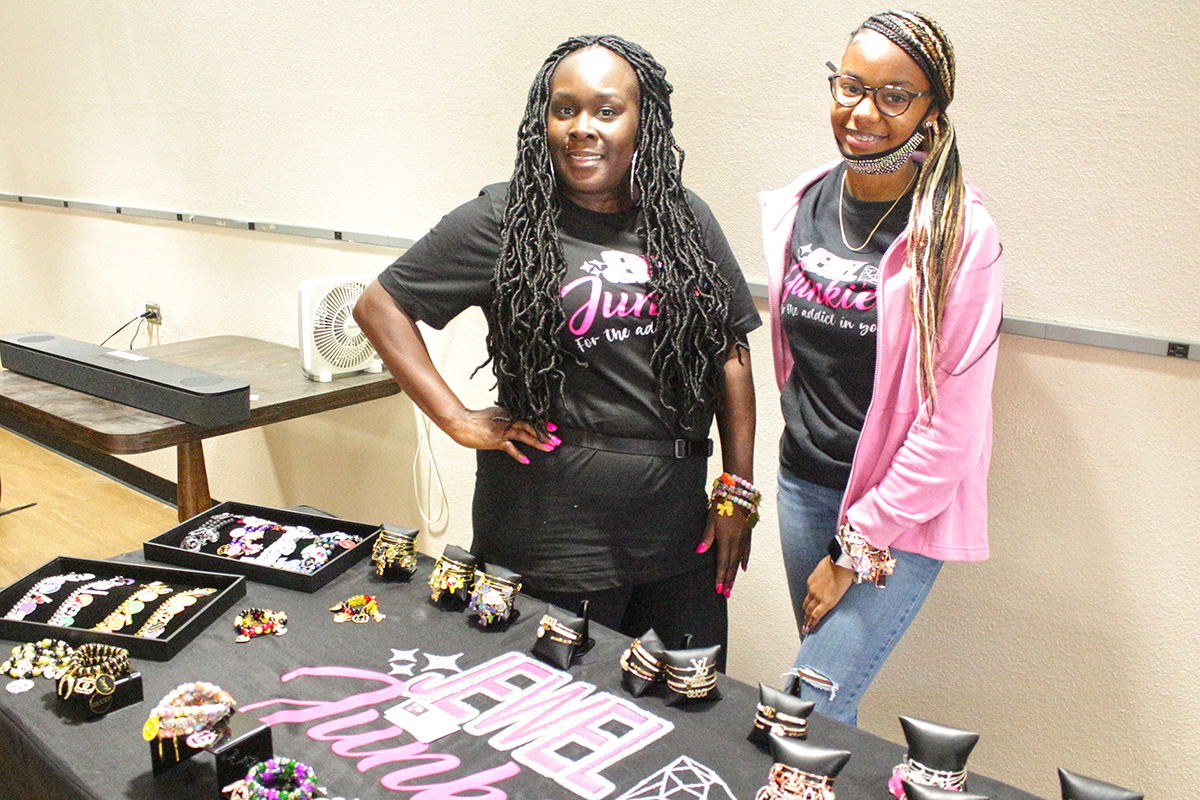 Latoya Kirby of McKeesport, owner of Jewel Junkie, a hand-crafted jewelry store, and friend Nadia Garnett of Pittsburgh. (Tube City Almanac photo)
Originally published September 14, 2021.
In other news:
"Few Details Released …" || "W.O. Building Project…"