To place your ad, email tubecitytiger@gmail.com. Ads start at $1 per day, minimum seven days.
Murphy complex, Helmstadter's, Capitol Theater face wrecking ball
By Jason Togyer
The Tube City Almanac
October 06, 2021
Posted in: McKeesport and Region News

Conflict of Interest Note: The author of this story has a conflict of interest. See editor's note at the end of the story.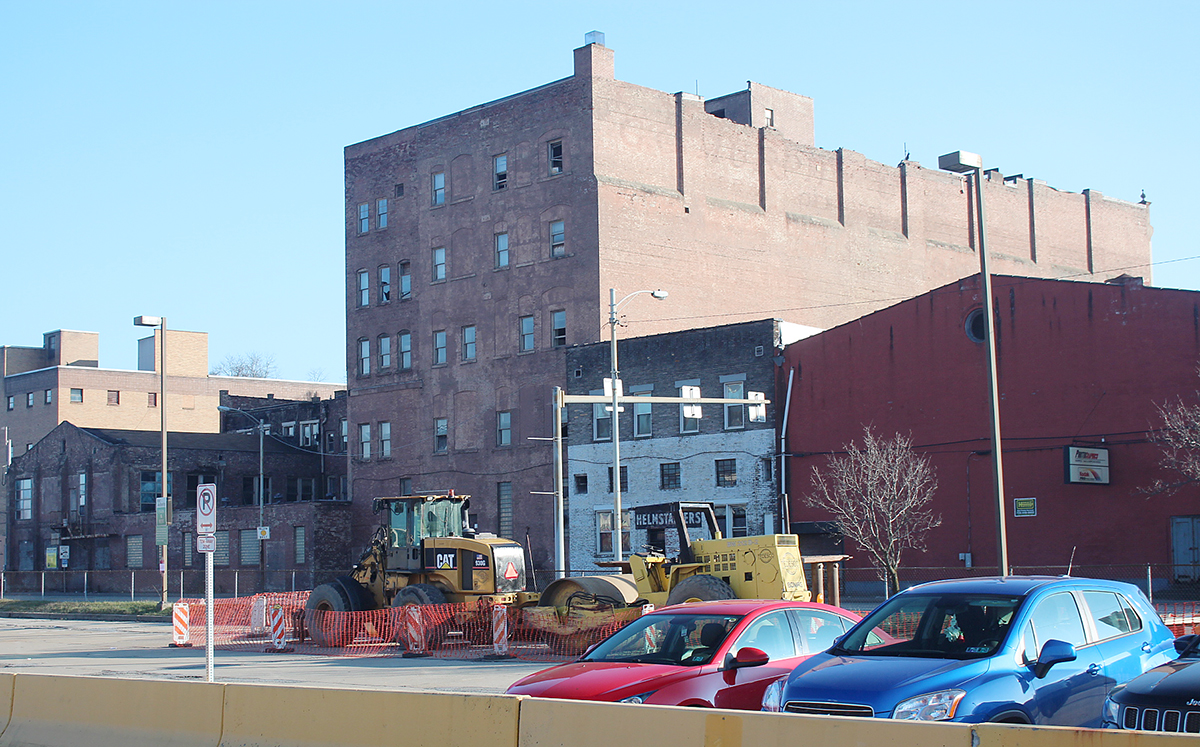 These buildings, seen from the McKeesport Transportation Center on Lysle Boulevard, will be demolished under a contract awarded Wednesday by McKeesport city council. (Tube City Almanac file photo)
---
Seven more buildings in the city's Downtown business district — including the former G.C. Murphy Co. home office and Helmstadter's Department Store — are one step closer to the wrecking ball.
McKeesport City Council on Wednesday by 6-0 vote awarded a $644,000 contract to Advanced Builders Inc. of Perryopolis, Fayette County, to demolish 513, 515, 519, 521, 523, 527 and 531 Fifth Ave. Councilman Tim Brown was absent.
"We're excited to get through this," McKeesport Mayor Michael Cherepko said. "This is a contract for probably two-thirds of the block, across the street from city hall. We wanted to rip down the entire block at once, and we have one individual who's holding us up."
The building owner in question is the non-profit McKeesport Preservation Society, which has objected to the city's condemnation of 507 Fifth Ave., the former David Israel men's wear store. The society purchased the building for $1 with the intention of using it as an office and educational space.
City officials in 2019 denied a request from the society for a zoning variance. The society's appeal is currently before Allegheny County Senior Judge Joseph M. James.
The buildings to be torn down have been transferred to the Redevelopment Authority of the City of McKeesport.
They include Helmstadter Brothers Department Store, once known for kitchenware, fabric, notions and Boy Scout merchandise. It closed in 1995 after 90 years of operation and was damaged by fire a few years later. It has remained vacant ever since.
Also to be demolished are the Photographics Supply Co. building — originally the Capitol Theater — at 515 Fifth Ave.
The G.C. Murphy Co. complex includes the former Cumberland Presbyterian Church, a building once used as the Wernke Carriage Works, a three-story building once used as a shoe store, and two five-story structures, the Hartman and Ruben buildings.
The complex was vacated in 1989 after the Murphy stores were sold by Ames Department Stores. It was used by Don Farr Moving & Storage as a warehouse until being donated to the city in 2019.
The buildings are directly across Lysle Boulevard from the McKeesport Transportation Center, which is currently being redeveloped and expanded by Port Authority of Allegheny County.
Advanced Builders was the lowest responsible bidder, city officials said. Other bids of $868,000 and $1.15 million were received.
"We're just trying to move forward with this project, trying to get this property shovel-ready for future development," Cherepko said. This will be the first time Advanced has done demolition work in the city, he said.
"The more contractors we have interested in doing work, the more competitive the bids become," Cherepko said. "We estimated that bringing everything down in that block would cost a million dollars, so we're right around in that area."

The contractor will keep one building — the former Amvets lodge — standing between the buildings being demolished and the David Israel store as a buffer until the court proceedings are resolved, Cherepko said.
The city has made an offer to the McKeesport Preservation Society that it believes is "more than fair," he said.
Funding for the demolition is being provided through a six-year, $3 million state Neighborhood Assistance Program, or NAP, overseen by the non-profit McKees Point Development Group Inc. Funding partners, who receive tax credits for participating in the NAP, include First Commonwealth Bank, Duquesne Light Co., Noble Environmental Inc. and UPMC Health Plan.
---
Conflict of Interest Note: Jason Togyer, editor of Tube City Almanac, is an unpaid volunteer board member of McKees Point Development Group Inc. Other board members include Angelina Christina of McKeesport Housing Authority; Shaun Kennedy of Barrier Protection; James Miller of ESS Nextier Insurance Group; McKeesport Community Development Director A.J. Tedesco; and Jennifer R. Vertullo, assistant to the mayor.

Jason Togyer is editor of The Tube City Almanac and volunteer executive director of Tube City Community Media Inc. He may be reached at jtogyer@gmail.com.
Originally published October 06, 2021.
In other news:
"Penn State Series to …" || "Shelter CEO Says City…"