To place your ad, email tubecitytiger@gmail.com. Ads start at $1 per day, minimum seven days.
McKeesport, Duquesne lagging rest of county in vaccination rates
By Jason Togyer
The Tube City Almanac
October 07, 2021
Posted in: McKeesport and Region News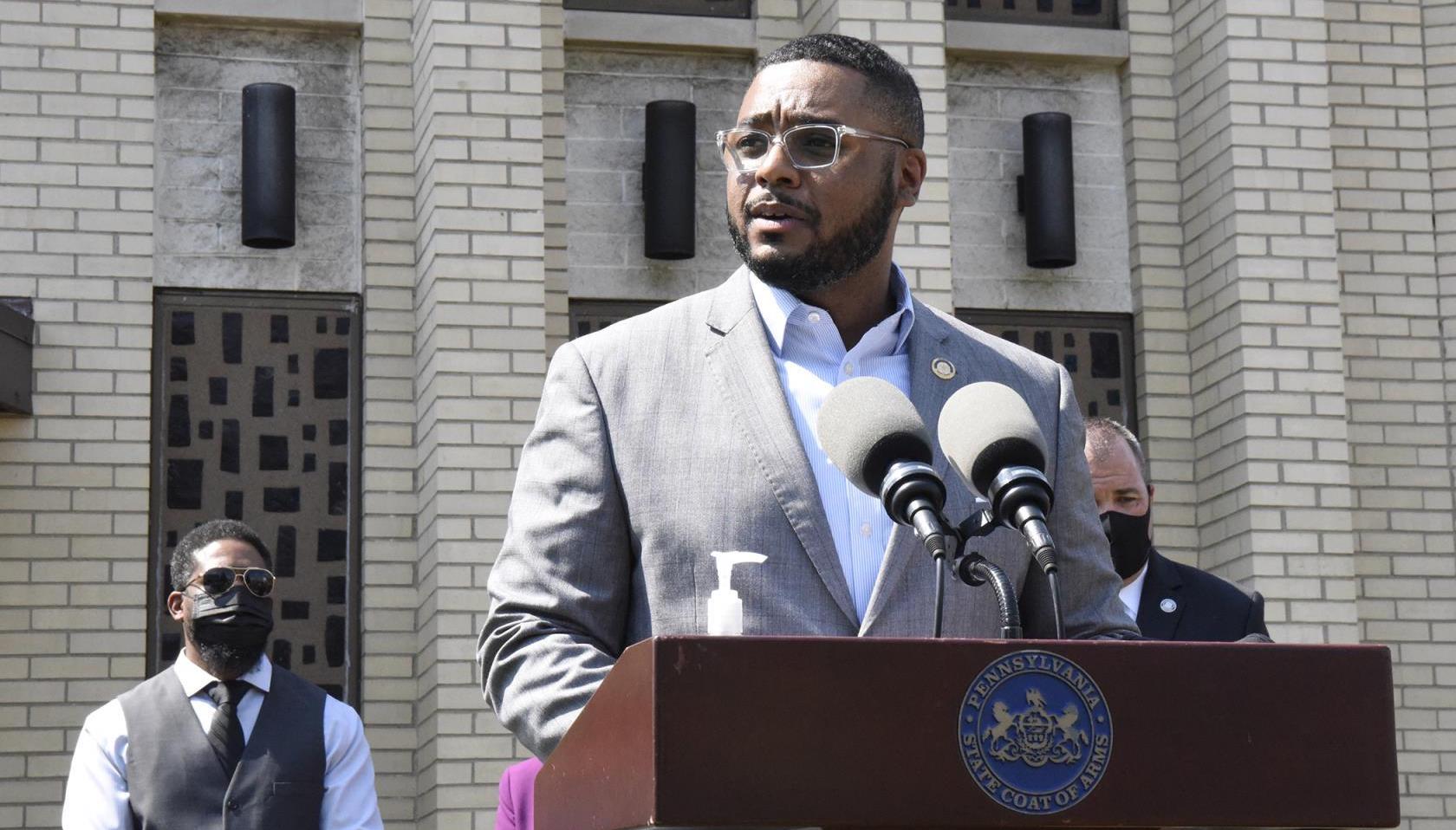 State Rep. Austin Davis speaks about the COVID-19 vaccine during a press conference April 8 at Bethlehem Baptist Church, Downtown. (Submitted photo courtesy state Rep. Austin Davis)
---
The 35th Legislative District has one of the lowest COVID-19 vaccination rates in Pennsylvania, state Rep. Austin Davis said Wednesday.
Davis, who has represented the district since 2018, urged residents who have not yet been vaccinated to get their shots.
"We simply cannot afford to repeat a surge of the virus like last winter and put even more stress on our healthcare providers, businesses, schools and communities, which have already been through so much in the last 18 months," Davis said.
The 35th District includes Clairton, Duquesne, Lincoln, McKeesport, Munhall, South Versailles Twp., Versailles, Whitaker, White Oak and part of West Mifflin.
According to a report released by the Allegheny County Health Department, about 797,000 county residents had been fully vaccinated by Sept. 11.

The department estimates that 67 percent of residents have been fully vaccinated, while another 7 percent have received one dose of a two-dose vaccine.

The areas with the lowest vaccination rates in Allegheny County include Braddock, Duquesne and McKeesport, as well as Pittsburgh's downtown and Manchester neighborhoods.

Only about 4 out of 10 McKeesport and Duquesne residents have been vaccinated, the health department said.
Overall, Davis said, only 43 percent of residents in the 35th District have been vaccinated.
"Now is the time to get vaccinated, especially if you're someone who has been holding off on getting the shot. September saw more than 125,000 people infected with COVID-19, which is a caseload we have not seen since the spring," Davis said.
The COVID-19 vaccine is free and is available to anyone aged 12 and older. Vaccinations may be scheduled at the Allegheny County Health Department's website.
In addition, Rite Aid stores on Lysle Boulevard, Downtown, and Walnut Street in Christy Park are offering the vaccinations. Appointments were available on the company's website.
Originally published October 07, 2021.
In other news:
"Bus Company, School D…" || "Animal Shelter Kicks …"