To place your ad, email tubecitytiger@gmail.com. Ads start at $1 per day, minimum seven days.
Neighbors 'don't want to move' but feel like they're losing the battle
By Vickie Babyak
The Tube City Almanac
October 12, 2021
Posted in: McKeesport and Region News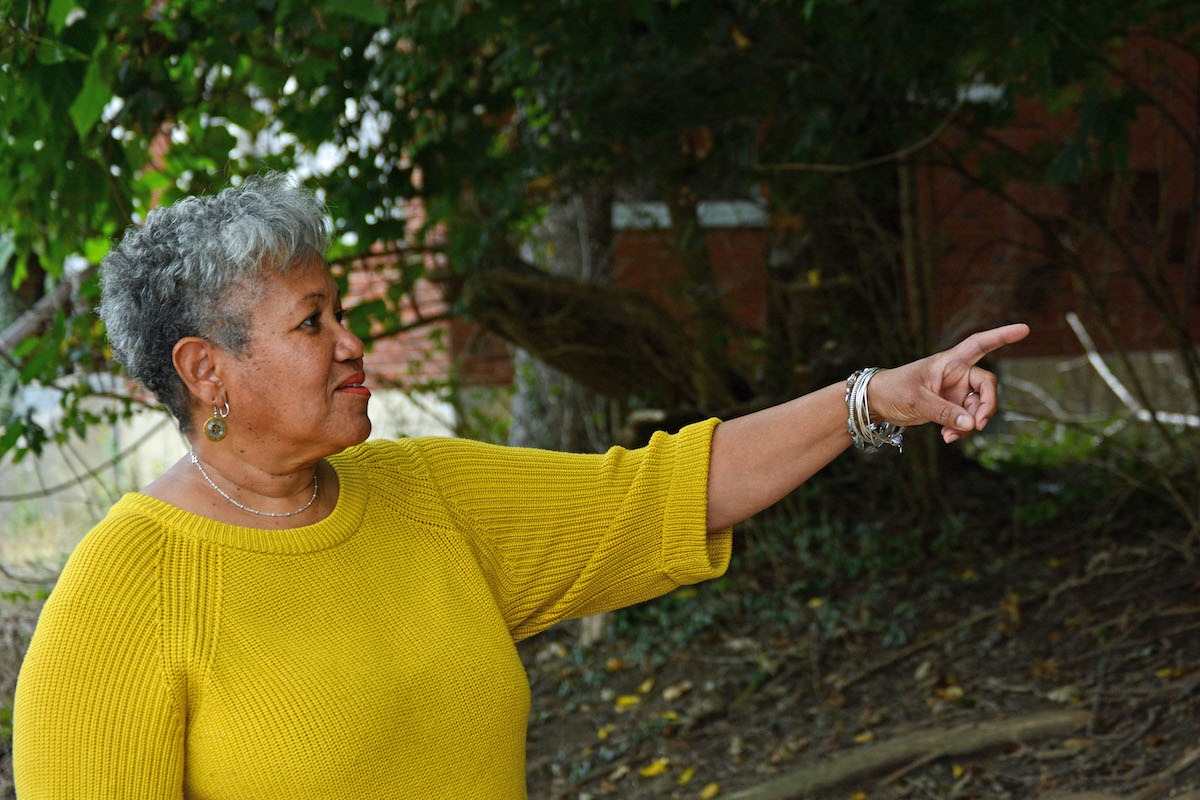 Robin Marshall-Kelly points out the overgrowth in the empty lot next to her home on North Grandview Avenue. (Vickie Babyak photo for Tube City Almanac)
---
---
For many residents of McKeesport, the battle against blight is one worth fighting, even though the struggle can feel overwhelming at times.

"Help us stay in McKeesport," said Robin Marshall-Kelly, a North Grandview Avenue homeowner. "I own my home, and with all the abandoned properties, sometimes, I feel like I'm losing."

Jackie Blake has lived in McKeesport for 27 years and owns her home in Grandview.

"My friends keep asking me when am I going to move, but I have too much invested in my home," Blake said. "I don't want to move."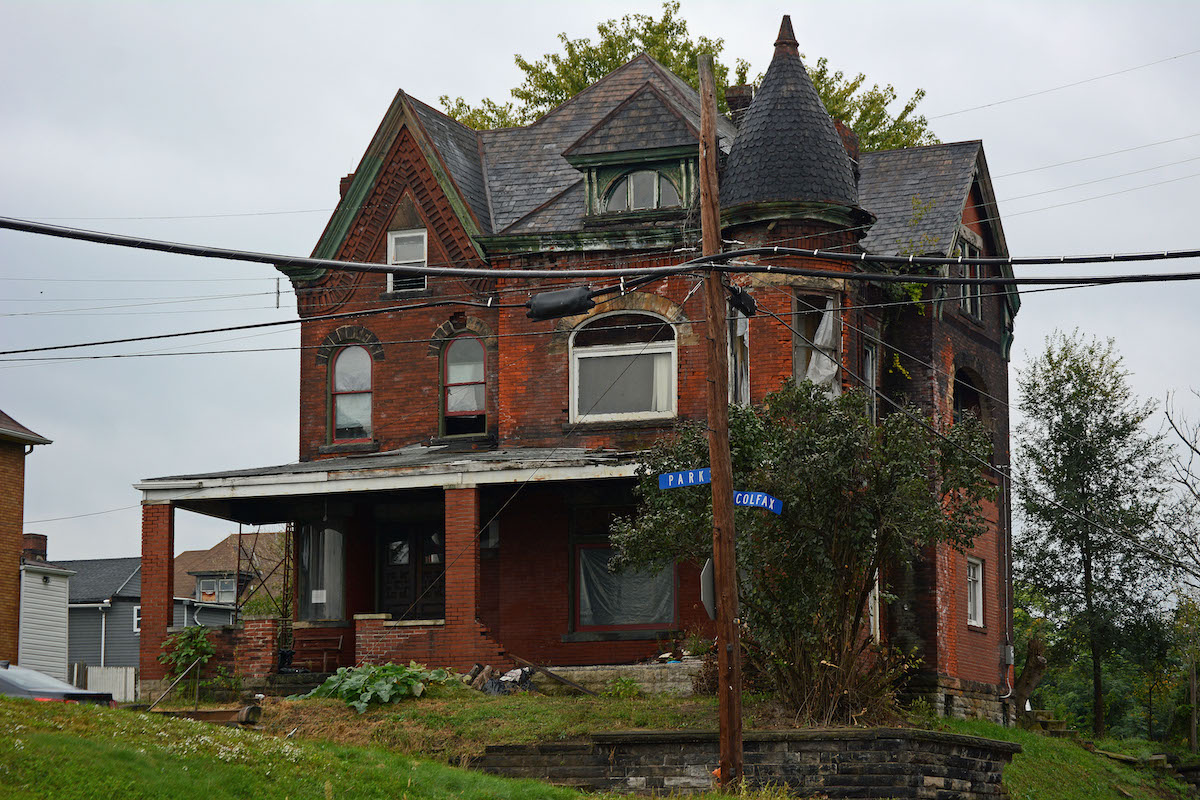 A once beautiful and majestic Park Street home has been deteriorating over the years but recently was sold to an interested party who says they're ready to renovate. (Vickie Babyak photo for Tube City Almanac)
---
There is hope on the horizon for residents like Marshall-Kelly and Blake.

Recently, municipal governments as well as councils of government received grants from Act 152, a 2016 state law that allows each Pennsylvania county to collect a fee for "blight removal" each time a deed or mortgage is recorded at the courthouse.

Averaging around $62,000 per community, the grants were earmarked for neighborhoods where clusters of vacant properties were close in proximity. In McKeesport, grants totaling $155,480 have been provided to demolish several properties on Beaver Street and Willow Street.

"I think almost everyone from McKeesport can relate to the issue of dilapidated houses and abandoned properties," said resident Marla Jones. "Whether it's about an empty lot, a condemned house, or ideas in how to solve problems, everyone has a story.

"There are five abandoned houses on my block alone," said Megan Bachman. Even though everything looks run down, she still likes looking at the old houses. She said there's a couple areas in McKeesport that give her "all kinds of feelings" when she walks through the streets.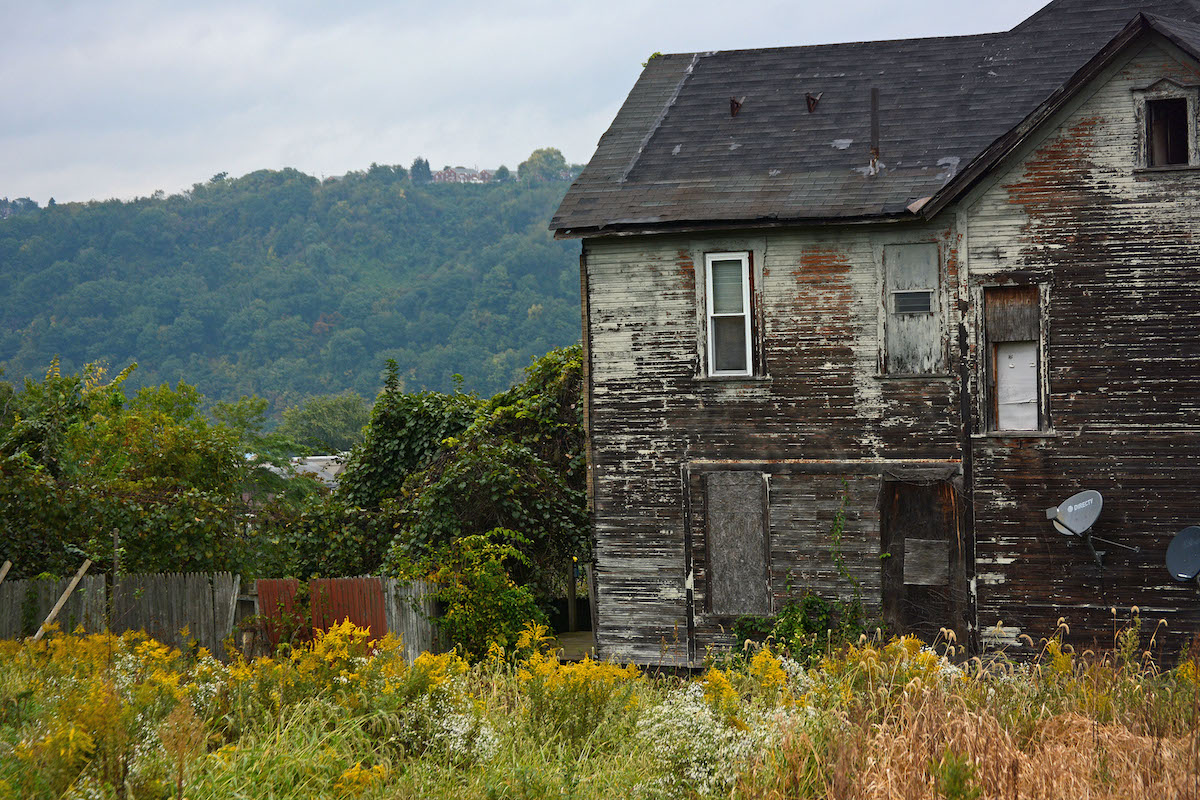 Above: An empty property on Colfax Street has wild flowers and ornamental grass growing and an abandoned house stands next to the lot. Below: A row of dilapidated houses sit along Beaver Street waiting for demolition. (Both photos: Vickie Babyak for Tube City Almanac)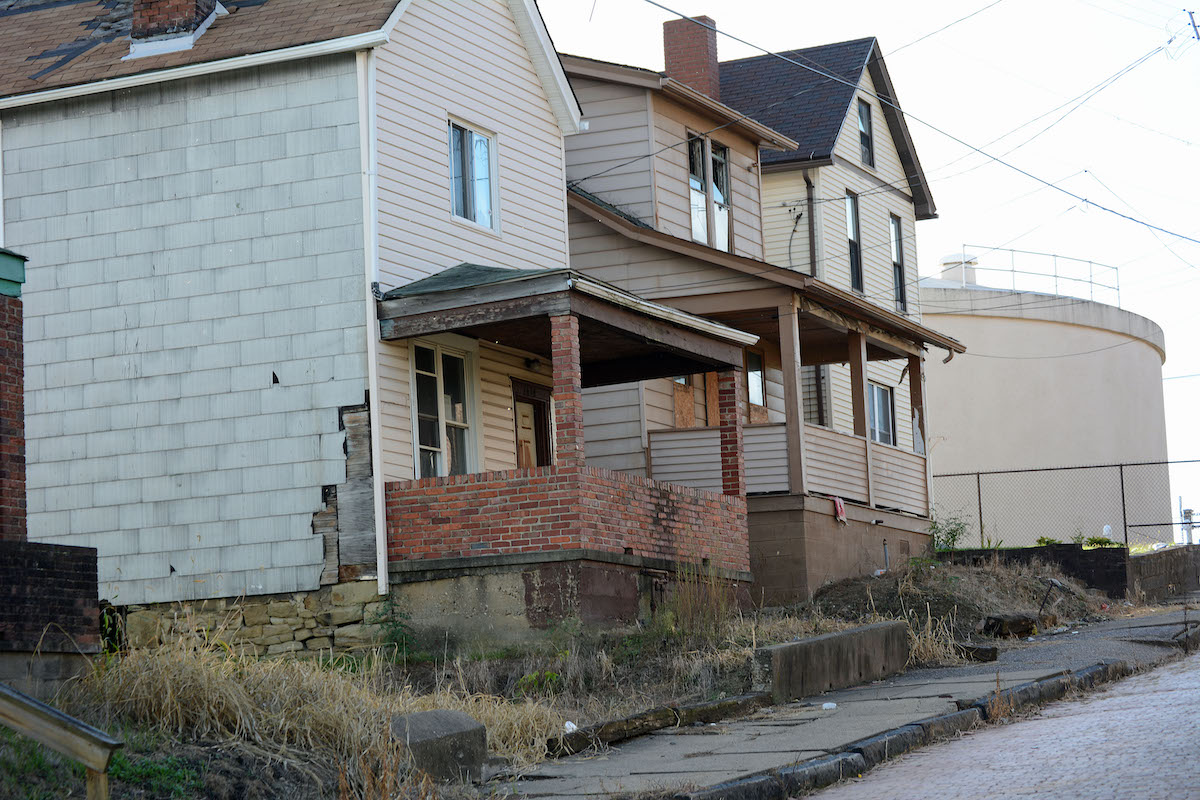 ---
Terry Kocsis, is a unit manager with Manorcare, a skilled nursing facility. He grew up on the 1900 block of Bailie Avenue. "I lived in the second house to the left of Willow Street," Kocsis said. "Everything is gone now."

"Witnessing houses rot away is heartbreaking, especially when I know they were once majestic," Jones said, noting that some properties have been abandoned for as long as 30 years.

Some McKeesport residents would like to see the city offer more assistance to those who still live in older homes and to step in with abandoned properties before decades have passed. Marshall-Kelly has the means to upkeep her home but has concern for other people, especially seniors and those with mental health issues.

"Not everyone has the finances to make improvements to their home," she said. "They realize repairs are needed but can't pay for it, and after a while it's unfixable," she said.

McKeesport native Diane Hilpert lives on Grandview Avenue and says there is an empty house next to her apartment. The owner passed away, he used to keep his home meticulous and it's slowly becoming run down. She said she has noticed a few empty houses located on Grandview Avenue, McKinley Street and Carson Street.

"Maybe the city can develop an efficient way to check on empty properties," Hilpert suggested. "If the owner can't be located and years of back taxes haven't been paid, they can seize the property to sell or have a rent-to-own option."

Marshall-Kelly said she believes people need more guidance and information. Even if there are resources to help city residents, they may not know how to navigate the system to receive advice, report dangerous properties, or find assistance for home repairs.

The City of McKeesport website provides helpful links that include the U.S. Department of Housing and Urban Development. For some people it can be time consuming to find the correct information or resources. Residents with concerns can call the city at (412) 675-5020.

While McKeesport residents are thankful for the removal of condemned houses, many would like to know how the city plans to use the vacant lots following demolition.

Marshall-Kelly lives close to Crawford Village and has ideas for the overgrown lots next to her home. She would like to see a community garden or a farmers' market in her neighborhood.

Jones lives on Woodward Street. There are approximately 20 homes on the street and five houses are abandoned. She would like to know if the city has any finances set aside from the demolition grants for rebuilding. Jones said McKeesport could replace demolished properties with safe, affordable housing, a neighborhood community center, a neighborhood park or a garden.

"McKeesport residents should be able to buy a property next to them for a very low price," she said.

There is an abandoned house next to her home that needs torn down. If the price was fair, she'd be happy to purchase and take care of the property once the house is gone.

"I'm invested in my home and invested in my city," she said.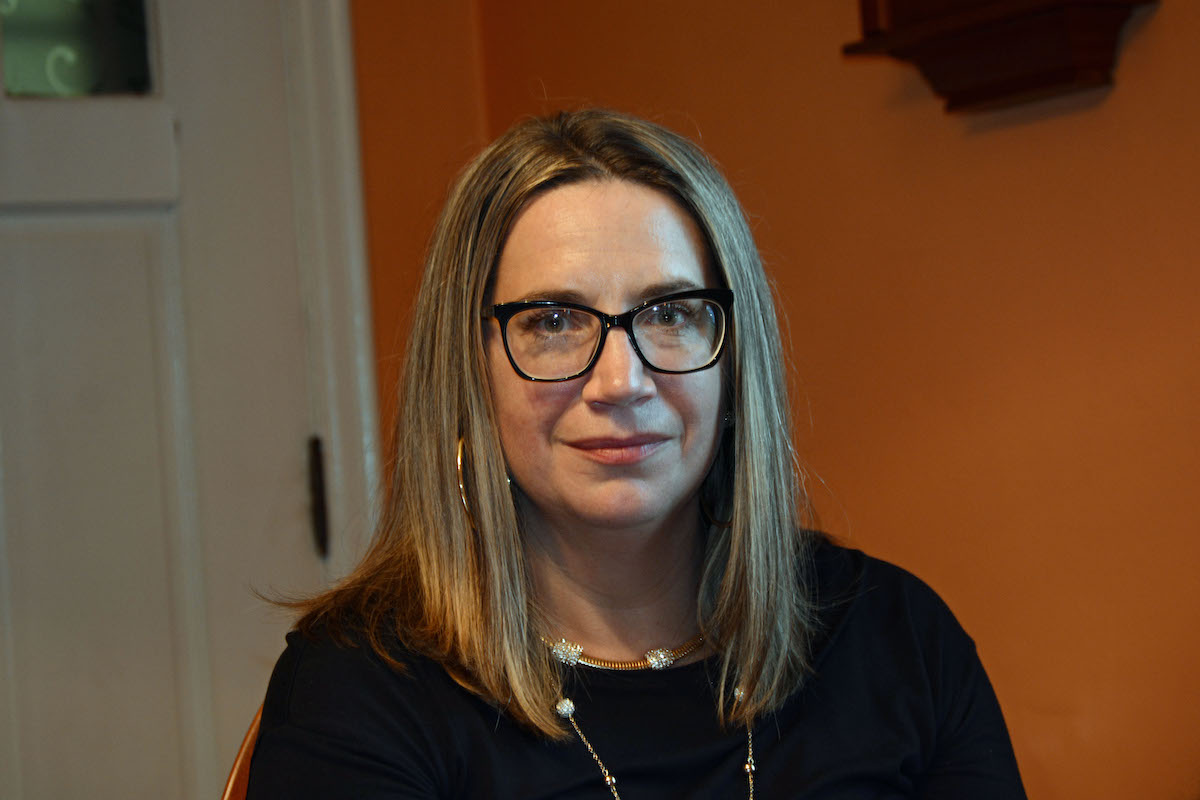 Marla Jones: "I think almost everyone from McKeesport can relate to the issue of dilapidated houses and abandoned properties" (Vickie Babyak photo for Tube City Almanac)
---
Vickie Babyak is a photographer and freelance writer from Dravosburg. She may be reached at vbabyak@yahoo.com.

Originally published October 12, 2021.
In other news:
"Fight Against Blight …" || "W.O. Council Divided …"