(Advertisement)
Tube City Community Media Inc. is seeking freelance writers to help cover city council, news and feature stories in McKeesport, Duquesne, White Oak and the neighboring communities. High school and college students seeking work experience are encouraged to apply; we are willing to work with students who need credit toward class assignments. Please send cover letter, resume, two writing samples and the name of a reference (an employer, supervisor, teacher, etc. -- not a relative) to tubecitytiger@gmail.com. (4-11-2023 to 4-30-2023)
To place your ad, email tubecitytiger@gmail.com.
Ads start at $1 per day, minimum seven days.
McKeesport Altrusa club hosts regional gathering at Heritage Center
By Vickie Babyak
The Tube City Almanac
October 19, 2021
Posted in: McKeesport and Region News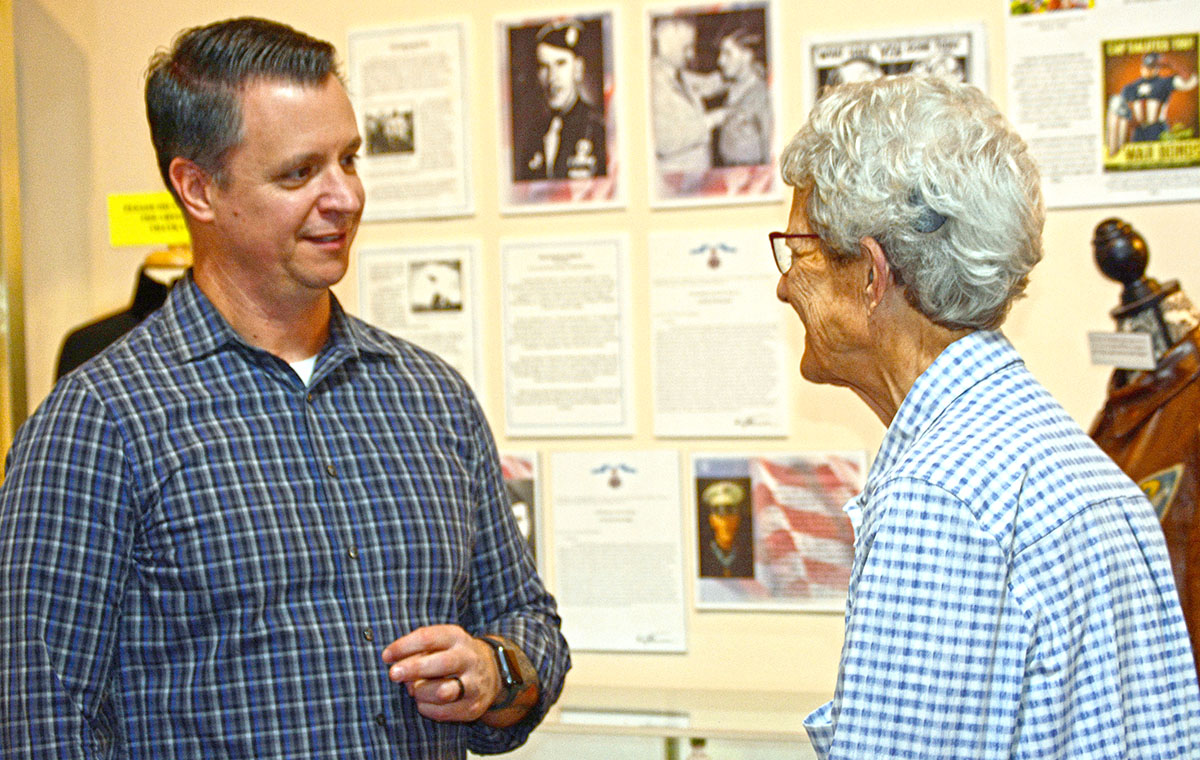 Lee Wagner, shown at left, is program manager for Veterans Place of Washington Boulevard. He spoke to members of the Altrusa clubs during a meeting in McKeesport on Saturday. (Vickie Babyak photo for Tube City Almanac)
---
Lee Wagner wants to help break down the barriers and stigma attached to frightening topics like suicide and substance abuse among veterans.
Wagner, the program manager for Pittsburgh-based Veterans Place of Washington Boulevard, is a U.S. Marine Corps veteran and a graduate of Robert Morris and Point Park universities. He spoke Saturday at a workshop for members of Altrusa International, hosted by the McKeesport Altrusa club.
"I don't talk about happy things," Wagner warned club members. Instead, he talked about the special challenges faced by women who have served in the military, and the resources available for them.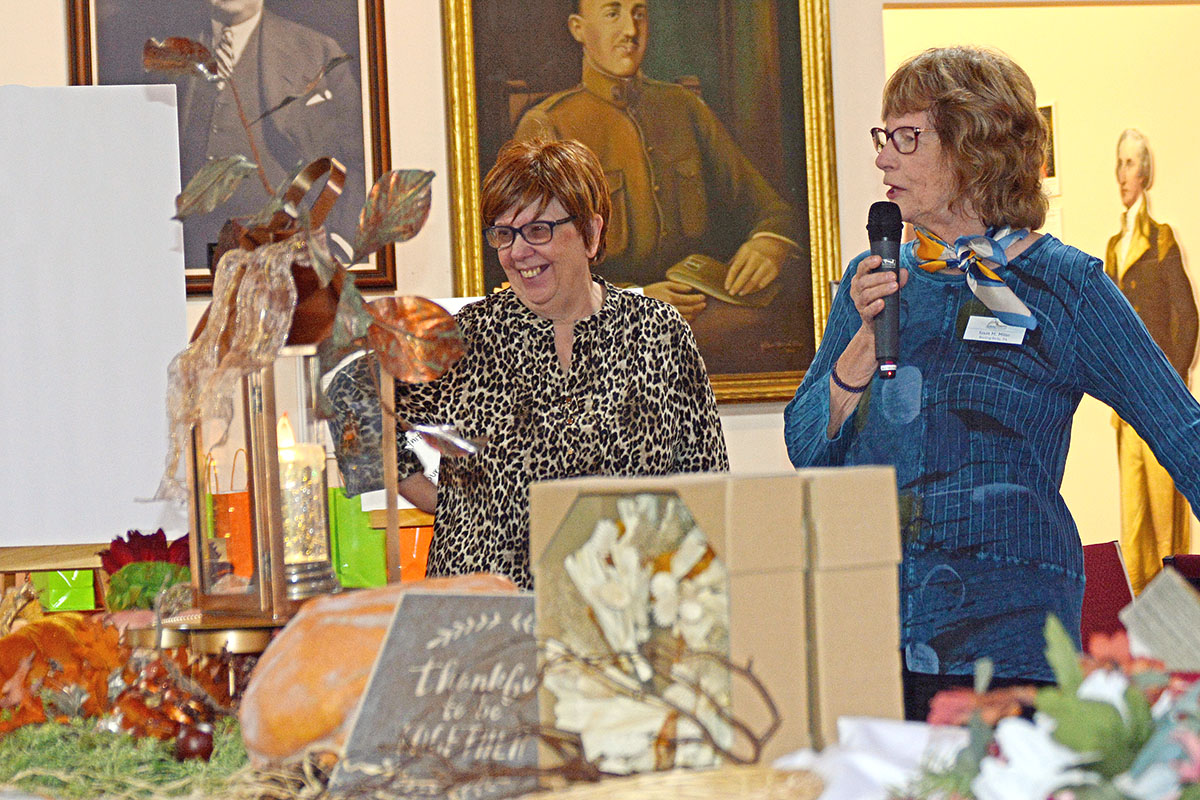 Diane Kolesar and Sue Miller discuss the club's future goals during the McKeesport Altrusa club's fall workshop. (Vickie Babyak photo for Tube City Almanac)
---
Altrusa International is a nonprofit organization making local communities better through leadership, partnership and service.
Club members came from all over Pennsylvania and nearby states, including Altrusa governor, Tammy Boyd, who attended from Richmond, Va. The program was held at McKeesport Regional History & Heritage Center.
Wagner spoke about unique problems faced by female veterans, including homelessness. Although women make up 10 percent of U.S. veterans, Wagner told club members, they often are treated like they're invisible.
"The military is a male-dominated industry, and women don't always feel comfortable walking into a VA hospital, especially to talk about abuse they suffered while in the military," Wagner said.
Female veterans are less likely to ask for help and are very unlikely to talk about trauma, he said. One in four female veterans have experienced sexual abuse while in the military, Wagner said.
According to the National Veteran Suicide Prevention Report, in 2017, the suicide rate for veterans was about 1.5 times the rate of non-veteran adults, he said.
The mission of Veterans Place is to empower former service members by helping them end the cycle of homelessness and depression, and to help them become engaged with their communities again.
Wagner said everyone can play a part by not stereotyping people who served in the military.
"Never ask someone if they're a veteran. Instead, ask if they served in the military," he said. The stereotype that some people have about veterans is that they're older white men, Wagner said. That can inhibit women, Black people and people of color from seeking help from the Veterans Administration and other agencies, he said.
Wagner said veterans in need of employment support, job development, community housing or service coordination can go to the Veterans Place of Washington Boulevard website or call (412) 363-0500.
Altrusa International is an international organization for business and professional women that was founded in 1917. The group has more than 300 clubs in 13 countries and focuses on volunteerism and community service.

"We are small but mighty and we do a lot of good work," McKeesport Club President Helene Moux said.
The McKeesport Altrusa club focuses on literacy but also has done outreach to the homeless as well, she said.
The club recently donated undergarments, baby bottles, diapers and other items for women veterans, Moux said.
Altrusa of McKeesport meets the first Monday of each month at various places throughout the community. For more information, email Helen Moux at helenmoux@gmail.com.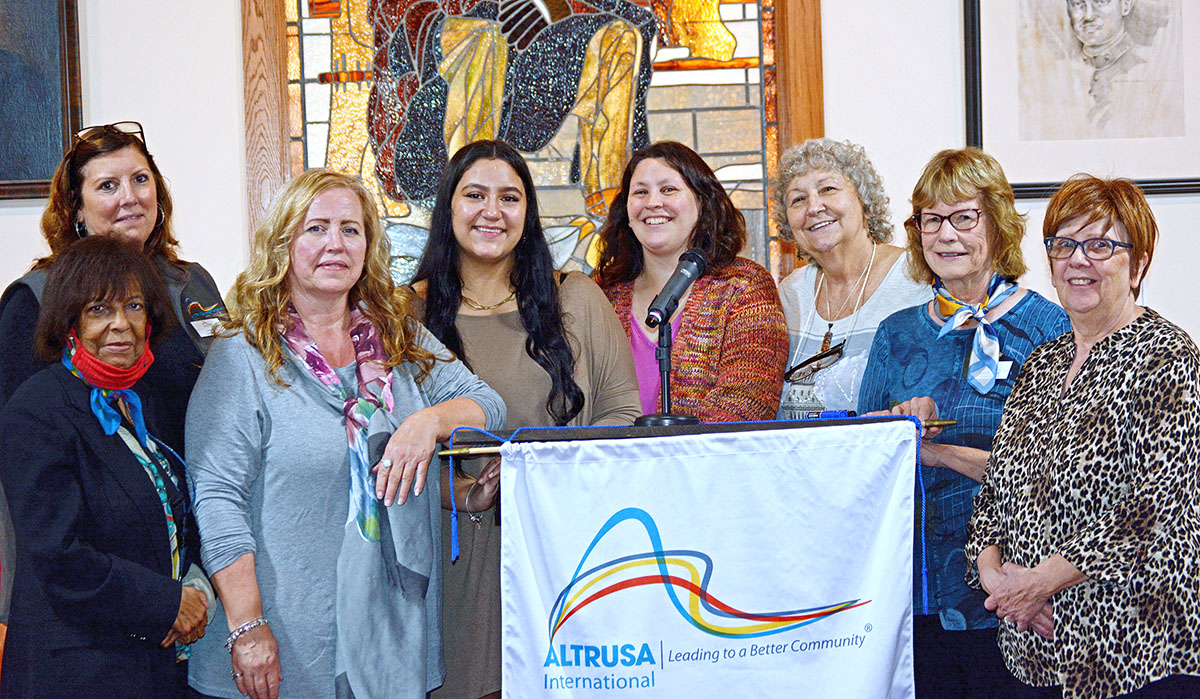 Members of the McKeesport Altrusa Club include Joanne Rodgers (vice president), Helene Moux (president), Francesca Moux, Melissa Kolesar (secretary), Jackie Thompson, Sue Miller and Diane Kolesar. Also shown, behind Rodgers, is Altrusa Govenor Tammy Boyd of Richmond, Va. (Vickie Babyak photo for Tube City Almanac)
---
Vickie Babyak is a photographer and freelance writer from Dravosburg. She may be reached at vbabyak@yahoo.com.
Originally published October 19, 2021.
In other news:
"Family Expands Missio…" || "W.N. Library Plans 'F…"