By Sarah Turnbull
The Tube City Almanac
November 04, 2021
Posted in: McKeesport and Region News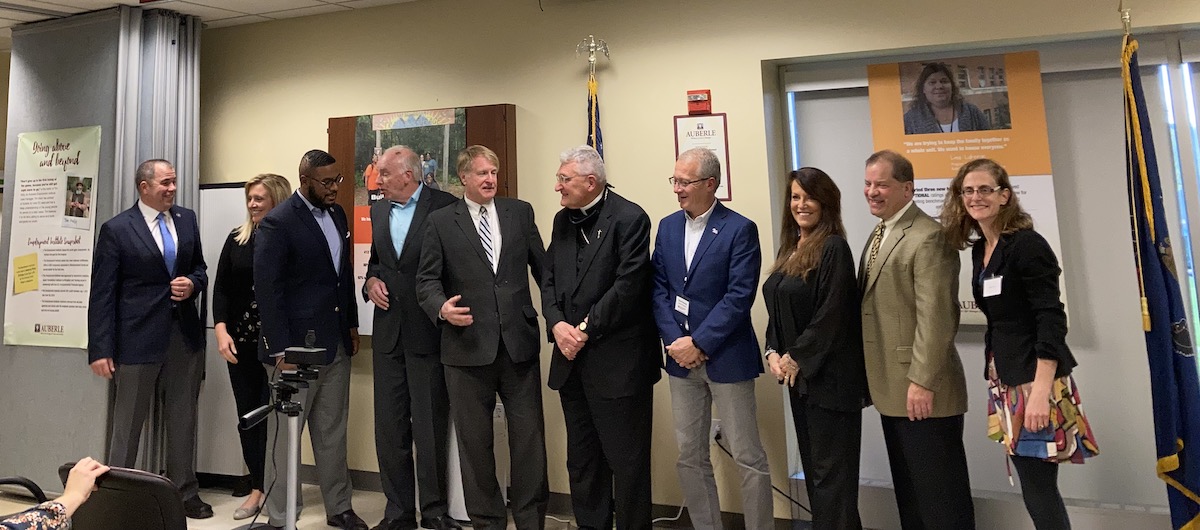 Local, county and state officials joined Auberle staff and board members and Bishop David Zubik to dedicate a new family emergency center at Auberle's Hartman Street campus. (Sarah Turnbull photo for Tube City Almanac)
---
Auberle held its annual board meeting, "Reimagining Essential Services During COVID," Wednesday at its McKeesport campus.
The group honored Allegheny County's Department of Human Services as its "Community Partner of the Year." In addition, County Executive Rich Fitzgerald and the Most Rev. David Zubik, Roman Catholic Bishop of Pittsburgh, helped to dedicate Auberle's newest Family Emergency Shelter.

"I couldn't be prouder of our human services department," Fitzgerald said. "It takes all of us working together. Pittsburgh has learned a lot since the 1918 pandemic."

Since the beginning of the pandemic, Auberle launched nine new services to address housing, unemployment, mental health support and more, group spokespersons said. These services include virtual behavioral health and therapy sessions, virtual support groups for foster parents, and mental health support for youth aging out of foster care.
Board member Dave DeJong said, "It's a great time to gather our partners, our staff, and the public — we appreciate everyone who provides support to children, families and communities."

Opening in 1952, Auberle started off as a home for teenage boys. Auberle's programming grew to include foster care, employment services, mental health support, rehousing, and services for families in the late 1980s. Auberle now offers two dozen services, and has campuses open throughout western Pennsylvania.
Auberle Chief Executive Officer John Lydon commended the county's Department of Human Services for its proactive efforts in adjusting to the pandemic.

"The people [here at Auberle] are so committed to doing a good job. The pandemic really drove home how mission-structured we are. Everyone has shown the same level of passion and commitment," Lydon said.
Auberle Chief Operating Officer Darla Poole recognized five programs for their performance during the pandemic: the Family Emergency Shelter, Rapid Rehousing, Reception, the Employment Institute, and My Best Self.

"I want to thank Mayor Mike Cherepko for helping us cut through the bureaucracy," Lydon said. "Between Duquesne and McKeesport, we can now serve 60 people at a time. Our job is to move people into permanent housing … anything that builds strong families and communities.

"The pandemic was a tragedy, but we learned a lot of things," he said.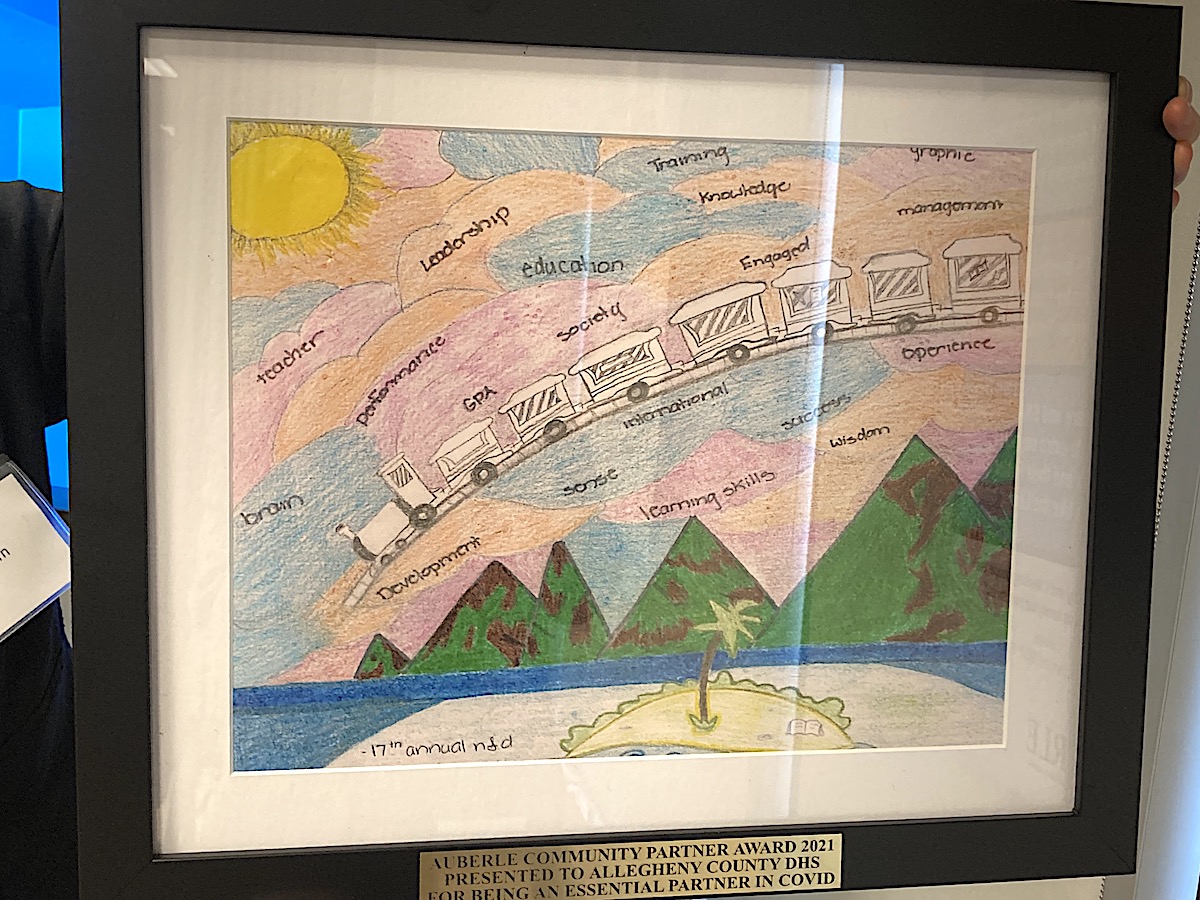 Artwork created by an Auberle student decorates the new shelter. (Sarah Turnbull photo for Tube City Almanac)
---
Sarah Turnbull is a freelance writer in Irwin. She can be reached at sarahturnbull323@gmail.com.
Originally published November 04, 2021.
In other news:
"Yoga Studio Brings Po…" || "7th Ward Cleanup Sche…"