(Advertisement)
McKeesport Housing Authority is opening the Section 8 waiting list
Housing Choice Voucher Program
The McKeesport Housing Authority will be accepting applications for the Housing Choice Voucher Program (Section 8) Waiting List.
When?
April 10, 2023, 8:30 AM @ 2901 Brownlee Ave. McKeesport, PA 15132.
NO APPLICATIONS WILL BE ACCEPTED BEFORE THE ABOVE POSTED TIMES.

APPLICATIONS WILL BE DATE AND TIME STAMPED UPON RECEIPT. APPLICATIONS CAN BE SUBMITTED IN PERSON, FAX 412-673-1706, EMAIL TO BBRAY@MCKHA.ORG.
You can download a blank copy of the application from www.mckha.org.
Where?
At www.mckha.org or any of the rental offices at Crawford Village, Harrison Village & McKeesport Towers

MULTIPLE APPLICATIONS WILL NOT BE ACCEPTED. PLEASE DO NOT CALL FOR YOUR STATUS —- NO INFORMATION WILL BE GIVEN OVER THE TELEPHONE. YOU WILL BE NOTIFIED VIA THE US MAIL. IT IS CRITICAL TO KEEP YOUR INFORMATION UPDATED WITH OUR OFFICE IF IT CHANGES. IF WE ARE UNABLE TO CONTACT YOU, YOU MAY BE REMOVED FROM THE WAITING LIST.
To place your ad, email tubecitytiger@gmail.com.
Ads start at $1 per day, minimum seven days.
'Papa' debuts Thursday at Pittsburgh's New Hazlett Theater
By Bonnijean Cooney Adams
The Tube City Almanac
April 04, 2022
Posted in: Entertainment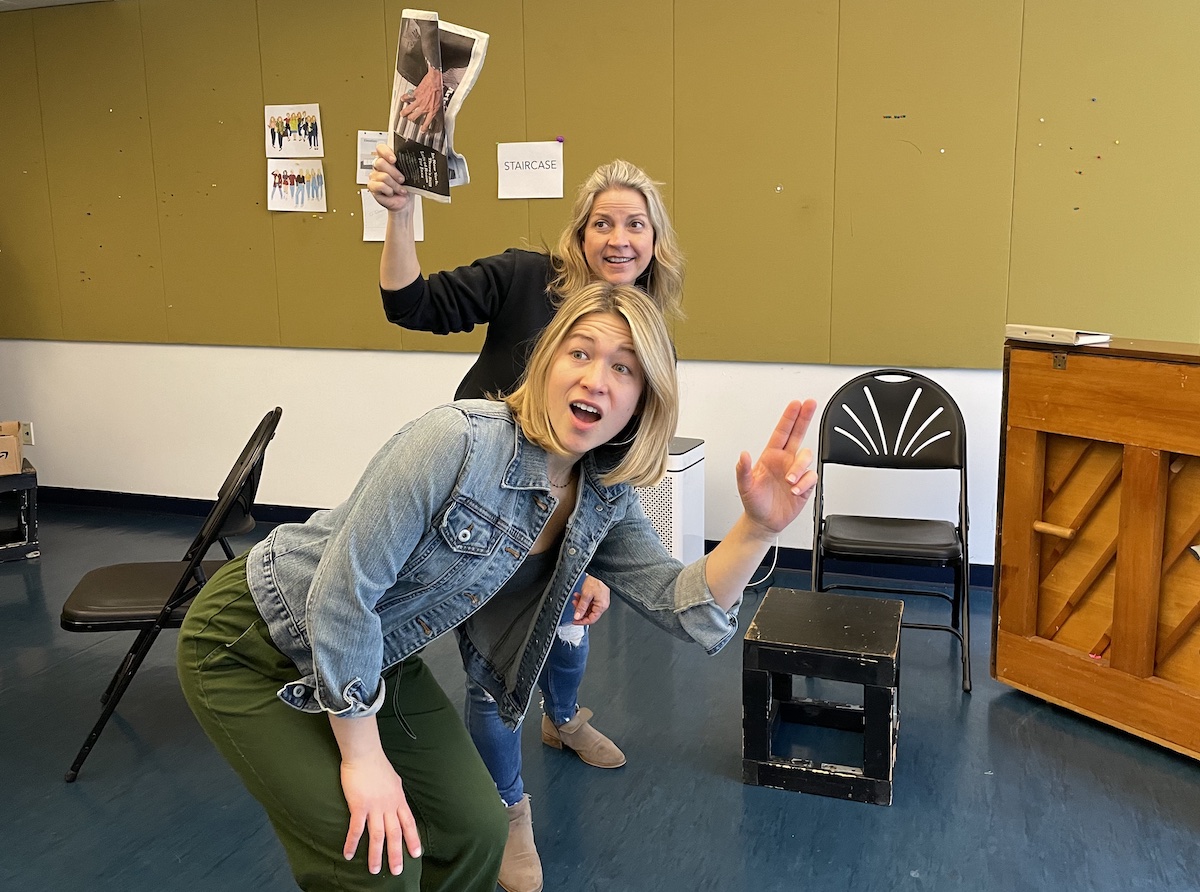 Frances Dell Bendert as Mom and Bailey Lee as herself rehearse a scene from "Papa." (Coleman Ray Clark photo courtesy New Hazlett Theater)
If you go...

'Papa' by Bailey Lee

Where: New Hazlett Theater, 6 Allegheny Square East, Pittsburgh

When: 8 p.m. April 7; 11 a.m. and 8 p.m. April 8

Tickets: General admission $25, artists $15 with promo code, students $15 with valid ID. (412) 320-4610 or at www.newhazletttheater.org
An original play with strong ties to the McKeesport area is making its world debut this Thursday at the New Hazlett Theater in Pittsburgh.
"Papa" is the story of Hall Lee, who came to the United States from the farmlands of China when he was approximately 15 years old, settling and living most of his life along Jenny Lind Street in McKeesport.
Bailey Lee, his granddaughter, wrote the play, created the concept, and stars as herself in the production. It's about things her grandfather suppressed to protect the family and assimilate into American culture, plus the sometimes complicated relationship among three generations of Asian Americans, Lee said.
From New York City before she left to return to Pittsburgh this week, Lee talked about the circumstances that brought "Papa" to fruition.
"Although I was raised in North Carolina, I visited Pittsburgh a lot," Lee said. "The play is set in McKeesport, which has a lot of meaning for me. My parents met and dated when they went to Serra Catholic High School."
She said her grandfather – Papa Lee to his family – found work at a Chinese-American restaurant along Walnut Street. He went to the University of Pittsburgh and worked as a draftsman for Westinghouse.
"He's 87 now and just moved from Jenny Lind Street in December," Lee said. "I wrote this play to honor him and celebrate his life."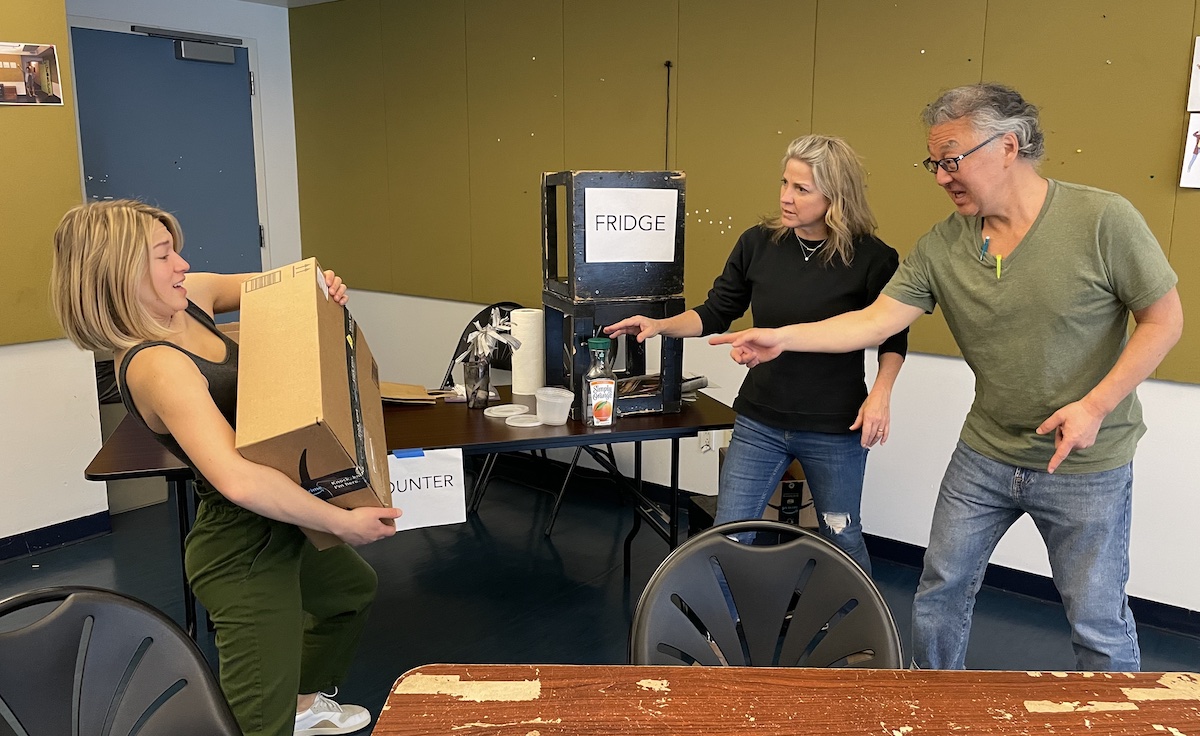 Frances Dell Bendert, Bailey Lee and Arnold Kim as the titular "Papa" rehearse a scene from the play, which opens Thursday. (Coleman Ray Clark photo courtesy New Hazlett Theater)

---
Theater-maker Lee said when her father died suddenly when she was 15 years old, she found she had many unanswered questions, and turned to her grandfather.
"I was always curious, and I think I just became more aware of the sacrifices that were made when my father passed away," she said. "I thought I had more years to find out."
Conversations with Papa Lee, she said, have been in relation to the loss of her dad.
"This is a play about generational grief, love, and finding the way … about what we inherit, then what is passed on or what we let go of," she said.
While the idea for the play had been on Lee's mind, she said circumstances during the pandemic provided the opportunity.
"I always wanted to work as an actor, so moved to New York," said Lee, who is a graduate of the University of North Carolina School of the Arts and alumna of the Kenan Fellowship at Lincoln Center Education.
Recent acting credits include "The Water Rumbles in Limbo Time" and "Lesson for the Future." But with productions shutting down because of COVID-19, plus a desire to be near family, Lee and her husband headed back to Pittsburgh, where many of her relatives had relocated.
With time out from performing, Lee said she connected with Community Supported Art through the New Hazlett Theater. The CSA Series provides emerging artists in Pittsburgh with the opportunity to develop new work for the New Hazlett stage. She applied to the program and was accepted.
"This is really important to share my family's story," Lee said. "Some of it is autobiographical and some is creative license."
While back in Pittsburgh starting to develop the play, Lee said it was the perfect opportunity to return to McKeesport to places she remembered from many visits, including the Eat'n Park along Lysle Boulevard.
"I have always been interested in my Papa's stories, and being back in Pittsburgh, it was wonderful that I could drive through the areas that I remembered in McKeesport as I created," Lee said.
"What a joy to watch an artist like Lee create a brand new piece of theater over this year," said Kristin Helfrich, director of programming. "The first draft felt like it had been waiting in the wings for this moment. Excited to bring this well-crafted Pittsburgh story about ancestry and heritage to our stage."
Once the play was written, with Lee cast as herself, she said auditions were held to fill the other two main roles.
"We posted the roles in Pittsburgh and New York," Lee said, then held auditions.
Arnold Y. Kim was cast as Papa, with Frances Dell Bendert as Mom. Including Lee, all actors double as others throughout the production.
With many COVID restrictions lifted, Lee moved back to New York, where in-person "Papa" rehearsals began.
Lee said the group left for Pittsburgh "to meet up with our other half" to tweak anything necessary before opening night.
"CSA has been really generous," she said. "The timing for me has been serendipitous. This play is highly theatrical and it's very important that people see it live and in person."
She uses a combination of drama, music, and puppetry to tell the story.
"The play is very much about the reality of what we hold on to in relation to assimilation" from one culture to another," Lee said. "I'm a quarter Chinese. My dad was half. This play is a special moment I get to share with others. It moves really fast, with a lot of love, longing, and chaos."
Lee said she included puppetry because the story comes from very different places – including her imagination – "to sort of expand the ordinary things that we pass that may have hidden meanings."
She said she views "Papa" as a love letter that she hopes appeals to families and might spark curiosity about their own heritage.
---
Bonnijean Cooney Adams is a freelance contributor. She can be reached at adamsclick@aol.com.
Originally published April 04, 2022.
In other news:
"One Hurt in Sumac Str…" || "Bank Presents Check f…"