(Advertisement)
Tube City Community Media Inc. is seeking freelance writers to help cover city council, news and feature stories in McKeesport, Duquesne, White Oak and the neighboring communities. High school and college students seeking work experience are encouraged to apply; we are willing to work with students who need credit toward class assignments. Please send cover letter, resume, two writing samples and the name of a reference (an employer, supervisor, teacher, etc. -- not a relative) to tubecitytiger@gmail.com. (4-11-2023 to 4-30-2023)
To place your ad, email tubecitytiger@gmail.com.
Ads start at $1 per day, minimum seven days.
• Company has leased McKeesport ERW mill since 2017
• Deal guarantees new path for bike trail
By Staff Reports
The Tube City Almanac
April 11, 2022
Posted in: McKeesport and Region News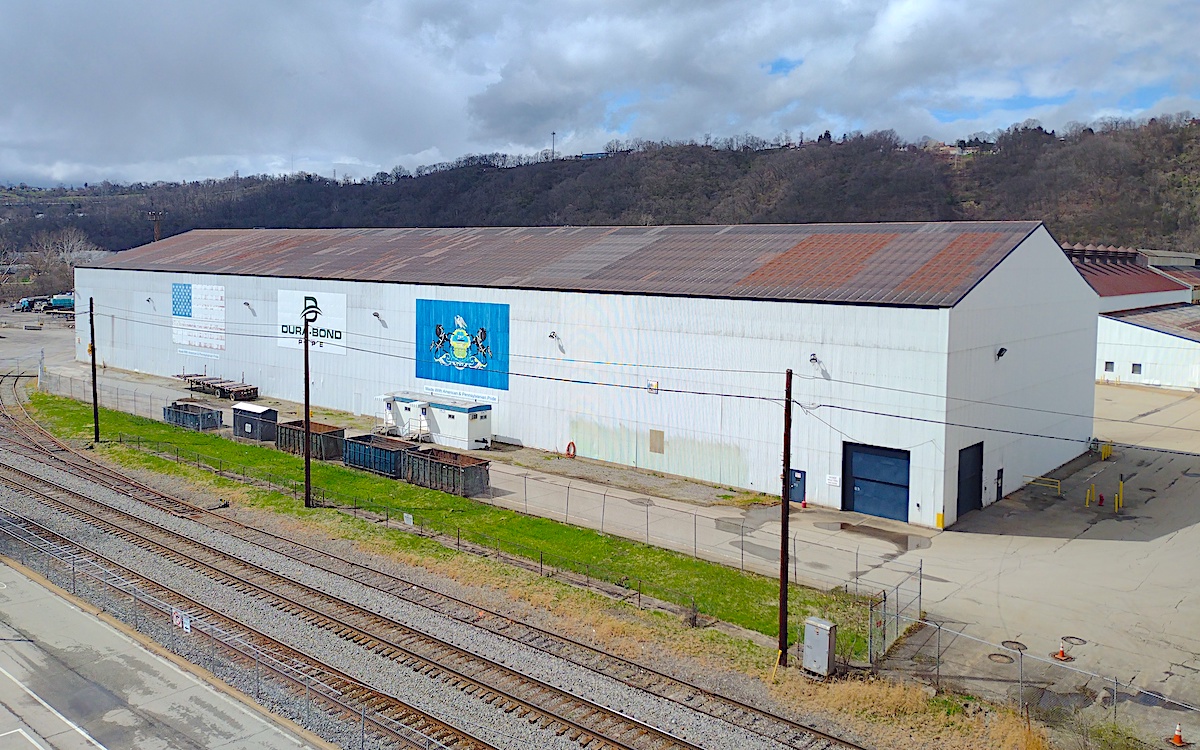 (Tube City Almanac photo)
---
Dura-Bond Industries has purchased U.S. Steel's former electric-resistance weld pipe mill, one of the last remaining vestiges of the industry that made McKeesport "the Tube City."
Along with the 317,000-square-foot McKeesport Tubular Operations building, the Westmoreland County-based company also purchased the 34 acres of land on which the plant is located. Sale price was $715,000, a spokeswoman said.
The deal includes an easement for the Great Allegheny Passage biking trail, which city and state officials have been working to re-route along the Monongahela River waterfront.
"Tubular products have been part of McKeesport's history for over 120 years, and we are proud to continue the tradition," said Jason Norris, president of Dura-Bond. "Our country desperately needs pipeline infrastructure to transport domestic natural gas to fuel our future. We are also exploring opportunities that may exist in hydrogen transport and pipelines used for carbon sequestration."
Dura-Bond has been leasing the facility since 2017 and made substantial investments updating the production lines.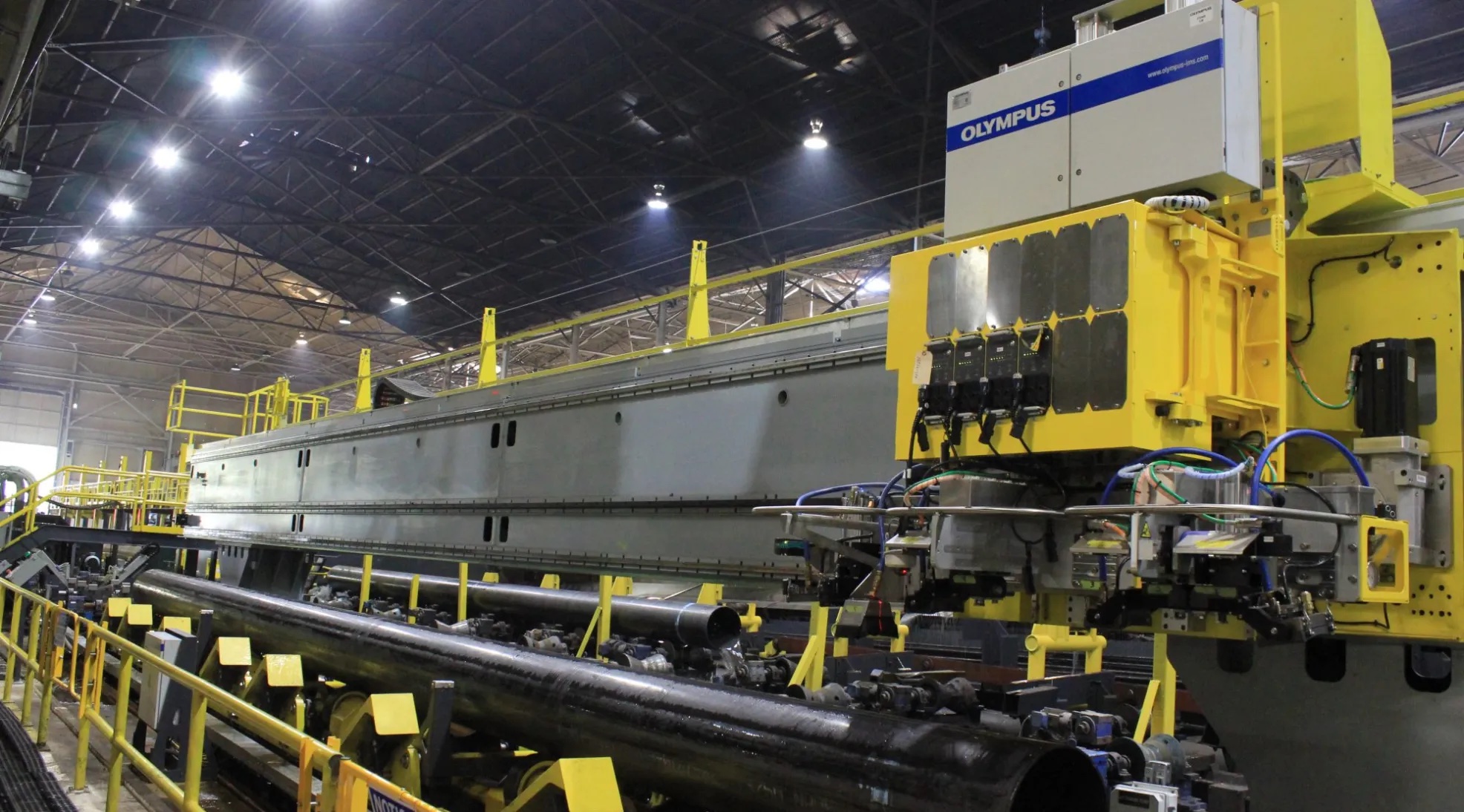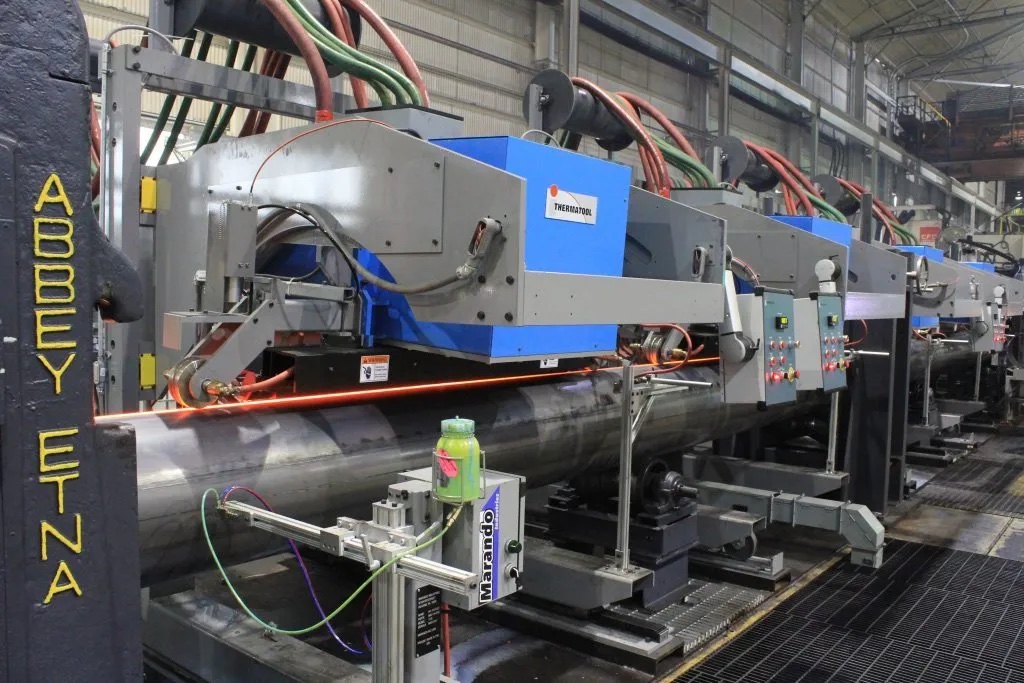 Part of the new computer-controlled pipe-welding and inspection system installed at Dura-Bond's McKeesport facility in 2019. The company says the new equipment has improved quality and reduced defects. (Both photos courtesy Dura-Bond Pipe LLC.)
---
The McKeesport plant produces welded steel pipe in sizes from 8 to 20 inches, using coiled steel produced elsewhere, including at U.S. Steel's Irvin Plant.
Located at the end of Market Street, the McKeesport Tubular Operations plant was built by U.S. Steel in the early 1960s as part of its National Tube Co. works. It closed in 1987 but was re-opened by a new company, Camp-Hill Corp., which operated the facility until 2011, when U.S. Steel took over.
In 2012, U.S. Steel laid off a substantial number of employees, citing weak demand for steel pipe as well as foreign competition, then closed the McKeesport plant "indefinitely" in 2014.
Dura-Bond reopened the plant in 2017.
The plant and the surrounding property has been owned by the non-profit Regional Industrial Development Corp. since U.S. Steel's original closure of the National Works in 1987. Most of the facility, including the steelmaking operations, was demolished and was since been redeveloped as an industrial park.
RIDC has been redeveloping and remediating the site since 1990. Major employers at the Industrial Center of McKeesport now include medical cannabis manufacturer Trulieve (formerly PurePenn), along with River Materials Inc., Trillium Flow Technologies and American Textile Co., and most of the large parcels have now been sold to private developers.
State Sen. Jim Brewster of McKeesport said the growth of the McKeesport industrial park over the past decade has come in large part due to improved access into the property, including an access ramp over the CSX railroad tracks.
"The flyover ramps we built (in McKeesport and Duquesne) have improved transportation access for job creators like Dura-Bond and have been an attractive site selection feature," Brewster said.
"Redevelopment projects like this require patient investments," said Tim White, senior vice president of development for RIDC, adding that city, county and state officials have been "excellent collaborators and supporters."
In addition to the McKeesport pipe plant, Dura-Bond also operates a pipe-coating facility in Duquesne, a former Bethlehem Steel pipe plant near Harrisburg and has a steel fabrication division.
Norris said RIDC's support has been "instrumental" to the company's growth in McKeesport and Duquesne.
"Dura-Bond's presence turned around the former Bethlehem Steel pipe mill in Steelton, and they are doing so again with this former US Steel site in McKeesport, as well as the former steel works in Duquesne," said Donald F. Smith, Jr., president of RIDC. "Attracting and supporting companies like Dura-Bond, who manufacture locally and create local jobs, is a boon for catalyzing economic growth in communities that have been left behind."
Founded in 1960 to provide anti-corrosion coatings to steel manufacturers at their production facilities, Dura-Bond acquired the former McKeesport Pipe Coating Co. in Liberty Borough in 1983 and has grown substantially since then. The company remains privately held by the Norris family.
Dura-Bond completed a substantial improvement in the McKeesport ERW mill in September 2019, incliuding a new computer-controlled seam-sealing machine that uses an infra-red camera to more accurately track welds.
Allegheny County Executive Rich Fitzgerald called Dura-Bond's purchase of the McKeesport mill "a great milestone."
"We're thrilled to see Dura-Bond growing and thriving in the Mon Valley, and thank it for its continued commitment to this community and development of its workforce," he said.
Originally published April 11, 2022.
In other news:
"Hospital Honors Local…" || "More Vacant Houses Fa…"