(Advertisement)
McKeesport Housing Authority is opening the Section 8 waiting list
Housing Choice Voucher Program
The McKeesport Housing Authority will be accepting applications for the Housing Choice Voucher Program (Section 8) Waiting List.
When?
April 10, 2023, 8:30 AM @ 2901 Brownlee Ave. McKeesport, PA 15132.
NO APPLICATIONS WILL BE ACCEPTED BEFORE THE ABOVE POSTED TIMES.

APPLICATIONS WILL BE DATE AND TIME STAMPED UPON RECEIPT. APPLICATIONS CAN BE SUBMITTED IN PERSON, FAX 412-673-1706, EMAIL TO BBRAY@MCKHA.ORG.
You can download a blank copy of the application from www.mckha.org.
Where?
At www.mckha.org or any of the rental offices at Crawford Village, Harrison Village & McKeesport Towers

MULTIPLE APPLICATIONS WILL NOT BE ACCEPTED. PLEASE DO NOT CALL FOR YOUR STATUS —- NO INFORMATION WILL BE GIVEN OVER THE TELEPHONE. YOU WILL BE NOTIFIED VIA THE US MAIL. IT IS CRITICAL TO KEEP YOUR INFORMATION UPDATED WITH OUR OFFICE IF IT CHANGES. IF WE ARE UNABLE TO CONTACT YOU, YOU MAY BE REMOVED FROM THE WAITING LIST.
To place your ad, email tubecitytiger@gmail.com.
Ads start at $1 per day, minimum seven days.
Family-friendly Disney story familiar to many audiences
By Bonnijean Cooney Adams
The Tube City Almanac
April 27, 2022
Posted in: Entertainment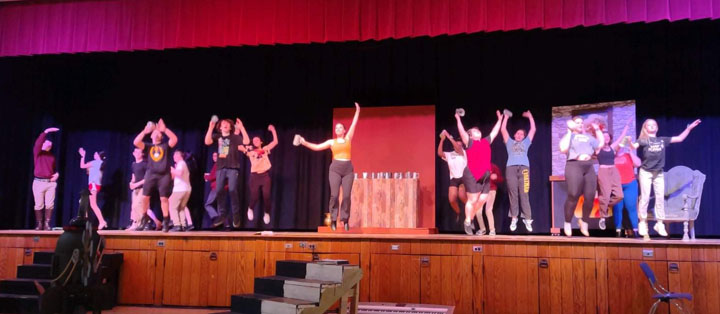 Members of the cast of Serra Catholic's "Beauty and the Beast" rehearse the entertaining "Gaston" dance scene. (Photo courtesy Serra Catholic High School)
If you go...

Serra Catholic High School presents:
"Beauty and the Beast"

Where: School gymnasium, 200 Hershey Drive, McKeesport

When: Friday, April 29 at 7 p.m., Saturday, April 30 at 1 p.m. and 7 p.m., and Sunday, May 1 at 2 p.m.

Tickets: $8 for adults, $5 for students, available from any cast or crew member, in the main office, at the door, or by contacting fedorc@serrahs.org.
With the available talent of this year's Serra Catholic High School musical cast, director Jesse Bush said it seemed appropriate to grant a request.
"'Beauty and the Beast' has been highly requested over the years," Bush said. "This seems like the right year to perform it."
A full house is anticipated for each performance of the family-friendly show, which opens at 7 p.m. this Friday (April 29) at the school along Hershey Drive in McKeesport. It continues at 1 and 7 p.m. April 30, with a concluding matinee at 2 p.m. May 1.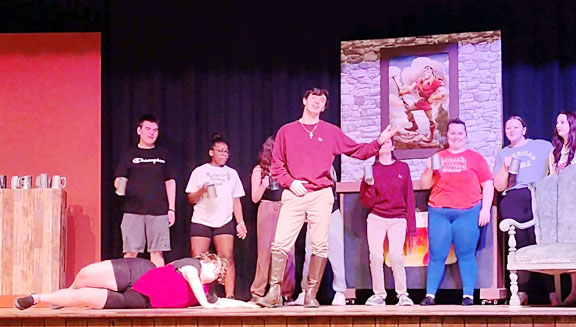 Vincent Brown, center front, leads the cast in rehearsal for his featured number, "Gaston." Photos courtesy Serra Catholic High School
---
While the story is familiar to many from the Disney animated version, Serra presents the Broadway edition, which has some differences.
Junior T.J. Betzner as Beast not only has a starring role, but is a featured soloist in one of those differences.
"As soon as he (Mr. Bush) announced the musical, that's the role I wanted," Betzner said. "I have a big solo with the ballad 'If I Can't Love Her,' at the end of the first act."
He explained Beast has just lost his temper with Belle and she's stormed off.
"He realizes he kind of just blew it with Belle, and that this might be the last chance for him to become human again," TJ Betzner said. "He's also looking at possibly having to come to terms with always being a beast."
So how does he get into character? TJ Betzner said it's not that easy.
"You think of the Beast as always being angry, but he's a very complex character. I have to go deep and try to imagine what he's gone through. Right before and after she (Belle) runs away, he falls into a pit of sadness."
Senior Aubree Arelt is Belle, the role she definitely wanted when she auditioned.
To manage her character's multiple speaking and singing parts, she said she has to stay very hydrated. Arelt said she's been performing since she was 4 – dancing, acting, and singing.
She said her biggest challenge has been juggling college prep activities with musical practice, "but it's been such a fun time with everyone in the close-knit cast.
"I love the emotion and range of my solos," she said, adding her favorite costume is Belle's iconic ballgown.
Senior Abigail Bernick said she's quite different from her character, Madame de la Grande Bouche (Mrs. Big Mouth), a former opera star transformed into a wardrobe.
"Once I got my part, I was happy to do it," she said. "She used to be an opera singer and is overly dramatic. I like to sing quietly to myself, but not so much out loud and in public. Close family and friends have helped me adjust."
Bernick said she has most enjoyed practices with just the leads, when participants sometimes had to fill in for other parts when someone was absent.
Sophomore Vincent Brown said he's well-suited for the braggadocious Gaston, who decides he'd make the perfect husband for Belle, notwithstanding her feelings on the subject.
Brown said he did not have much prior dance experience, so his biggest challenge is the choreography. He added "Be Our Guest" is one of his favorite numbers in the show.
Joel Blake as candlestick Lumiere and Michael Aland as the clock Cogsworth have lots of significant interaction and some comedic moments throughout the production.
"It's the only part I knew I had a chance to get," Blake joked, as fellow cast members agreed he's the perfect fit.
He said his favorite part is "anything I have to do with Cogsworth."
Director Bush said Blake also built a staircase onstage for his Eagle Scout project that helps access the storage area better.
Bush's father Mitch Bush has returned to lead set construction.
"My father builds the sets," the director confirmed. "He does an amazing job."
Michael Aland said he had Cogsworth in mind when he auditioned.
"My favorite part is interacting with Joel as Lumiere," he said. "They have a unique relationship – not quite buddies."
Sophomore Francesca Aland said she was surprised at first when Bush announced the cast.
"When he said I was Lefou (Gaston's sidekick), I thought he was joking," Francesca Aland said. "I am absolutely thrilled. It's really fun. I had to get kneepads because I'm always falling."
She said she has been doing musicals since fourth grade, which comes in handy with all the dancing for Lefou in the "Gaston" tavern scene number.
Sophomore Taylor Betzner said she wanted to portray the matronly Mrs. Potts when she auditioned.
She explained while her "son" the teacup Chip is not supposed to age under the enchantment that transformed the humans in the castle, her character does.
"I like it because she is a very different character," Taylor Betzner said. "She's this aristocratic lady, which is a challenge. The coral-colored costume is really pretty."
Senior Emily Schulz said this is the first year she's performed in the musical, and is pleased to be in the ensemble. Her parts include a plate as one of the enchanted objects, a townsperson, and the Sausage Curl Lady.
Schulz said she's changed so much over her years in high school, and that made her feel more confident in auditioning.
"I'm just not a dancer," she said, "but with everyone's support, it's made me more comfortable onstage."
Senior Cassandra Ward said many years of dance prepared her well for her favorite part. As feather duster Babette, she gets to do a tango with Lumiere during "Be Our Guest."
"I checked the script before I auditioned, and that's what I wanted," she said. "It's really something fun and different."
Savino DiLeonardo said he's really grown to like his role as Belle's father Maurice, and portraying that close father/daughter relationship on the Serra stage.
He said his favorite parts are his duet with Belle, and when she takes his place in the Beast's castle.
Serra's musical has been entered in the Gene Kelly Awards competition, the third time since Bush has directed at Serra Catholic.
"The Gene Kelly Awards serve as a great motivator for our students. GKA also has been very generous awarding Serra grant money to help pay for lighting this year," he said.
Looking toward opening night, the director said, "I'm very proud of my students and how hard they work. I can't wait for everyone to see them perform."
Bonnijean Cooney Adams is a freelance contributor. She can be reached at adamsclick@aol.com.
---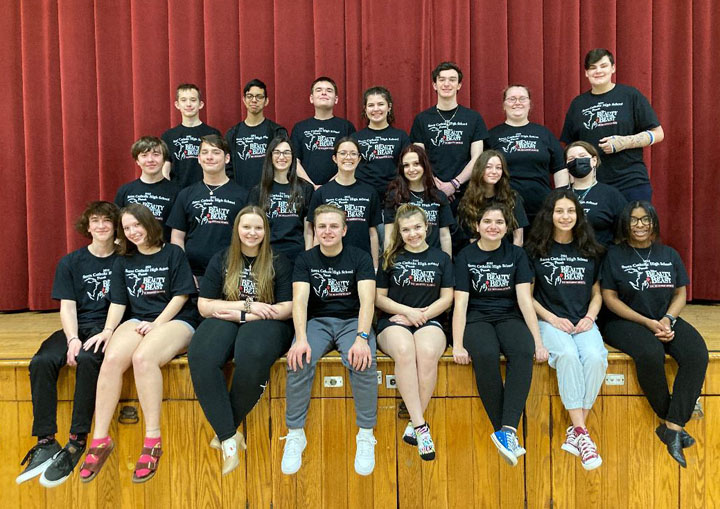 Serra Catholic High School students are putting the finishing touches on their spring musical production of "Beauty and the Beast." In front, from left, are Joel Blake, Cassie Ward, Taylor Betzner, TJ Betzner, Aubree Arelt, Abby Bernick, Elena Peiffer, and Lauren Johnson. Middle row, Jacob Rock, Michael Aland, Sydney Korbanic, Katelyn Kostrub, Brigid Fuller, Liv Joscak and Francesca Aland. In back are Mickey O'Brien, Robbie Anitori, Joseph Pawlowski, Alivia Arelt, Vincent Brown, Emily Schulz, and Savino DiLonardo. Not pictured are Kyera O'Brien and Jennifer Novak. (Courtesy of Serra Catholic High School/Jesse Bush)
CAST
Narrator: Jordan Premozic
Old Beggar Woman/Enchantress: Liv Joscak
Beast: TJ Betzner
Belle: Aubree Arelt
Lefou: Francesca aland
Gaston: Vincent Brown
Maurice: Savino DiLonardo
Cogsworth: Michael Aland
Lumiere: Joel Blake
Babette: Cassandra Ward
Mrs. Potts: Taylor Betzner
Chip: Kyera O'Brien
Madame de la Grande Bouche: Abigail Bernick
Monsieur D'Arque: Elena Peiffer
Baker: Jacob Rock
Bookseller: Michael Aland
Silly Girls: Brigid Fuller, Sydney
Korbanic, and Katelyn Kostrub
Aristocratic Lady: Taylor Betzner
Lady with Cane: Kyera O'Brien
Hat Seller: Joel Blake
Marie: Alivia Arelt
Milkmaid: Brigid Fuller
Sausage Curl Lady: Emily Schulz
Shepherd Boy: Joseph Pawlowski
ENSEMBLE
(Townspeople, Wolves, Enchanted Objects):
Francesca Aland, Michael Aland, Robbie Anitori, Alivia Arelt, Abigail Bernick, Taylor Betzner, Joel Blake, Vincent Brown, Emilia Capasso, Savino DiLonardo, Mary Estes, Brigid Fuller, Lauren Johnson, Liv Joscak, Sydney Korbanic, Katelyn Kostrub, Jennifer Novak, Mickey O'Brien, Kyera O'Brien, Joseph Pawlowski, Elena Peiffer, Jacob Rock, Emily Schulz, and Cassandra Ward
STAGE CREW
Stage Manager: Joseph Crossen
Soundboard: Selena Kunsman
Lightboard: Kelsey Kovalsk, Paige Rock
Spot Lights: Faith Konieczka, and Emilia Capasso
Run Crew: Carmela Capasso, Ben Chirdon, Joseph Crossen, Luke Edmundson, Maria Fedor, Gabriela Fennell, Maria
Goldstein, Andrew Massari, and Olivia Thatcher
Set Artists: Francesca Aland, Edrea Burgwin, Carmela Capasso, William Childs, Lotus Dechellis, Maria Fedor,
Faith Konieczka, Teegan Lewis, Hope Lyons, Maigen McGinty, Zoe Pedos, Elena Peiffer, and Jenna Revak
PRODUCTION STAFF
Director: Jesse Bush
Choreographer/Business Manager: Cassie Fedor
Costumer: Alex Malandra
Sound/Lighting: Red Baughman
Stage Crew: Jimmy Fedor
Set Construction: Mitch Bush
Originally published April 27, 2022.
In other news:
"Hazelwood Man Wanted …" || "Superintendent Warns …"