(Advertisement)
Tube City Community Media Inc. is seeking freelance writers to help cover city council, news and feature stories in McKeesport, Duquesne, White Oak and the neighboring communities. High school and college students seeking work experience are encouraged to apply; we are willing to work with students who need credit toward class assignments. Please send cover letter, resume, two writing samples and the name of a reference (an employer, supervisor, teacher, etc. -- not a relative) to tubecitytiger@gmail.com. (4-11-2023 to 4-30-2023)
To place your ad, email tubecitytiger@gmail.com.
Ads start at $1 per day, minimum seven days.
Edmondson taking new role at Maine university; leadership search process to begin
By Jason Togyer
The Tube City Almanac
May 25, 2022
Posted in: McKeesport and Region News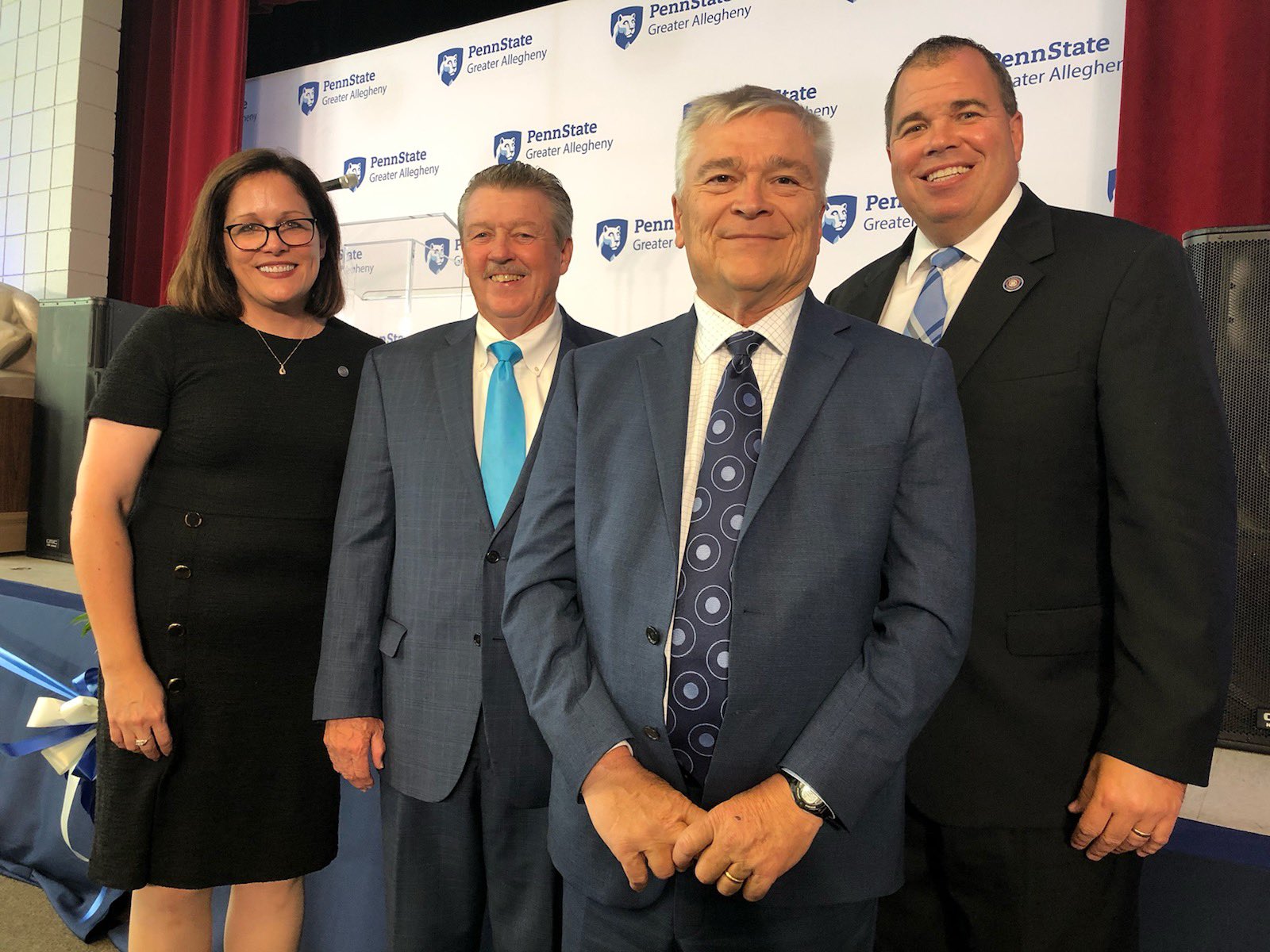 Penn State Greater Allegheny Chancellor Jacqueline Edmondson, state Sen. Jim Brewster, former Penn State University President Eric Barron and McKeesport Mayor Mike Cherepko during the 2019 ribbon-cutting for the Mon Valley LaunchBox, located at the former YWCA on Ninth Avenue. (Submitted photo courtesy state Sen. Jim Brewster)
---
Local officials are praising the chancellor of Penn State's McKeesport campus following the announcement that she will step down June 30.
Jacqueline Edmondson has been named president of the University of Southern Maine in Portland. Edmondson has served as chancellor and chief academic officer of Penn State Greater Alllegheny since 2017. She begins her new role July 1.
Additional details about the leadership transition for Penn State Greater Allegheny will be shared soon, a spokesperson said.
Under Edmondson's leadership, the McKeesport campus launched its "Crossing Bridges" summit series to explore racial and cultural divides in the region, completed a $14.7 million renovation of the Ostermayer Laboratory and created the "Mon Valley LaunchBox" to help small and start-up businesses.
"Since the day that Jackie came on board as chancellor of Penn State McKeesport, you knew she had the best interest of the students in every decision," state Sen. Jim Brewster said Wednesday. "Her community involvement and passion for education will be missed but I wish her the very best."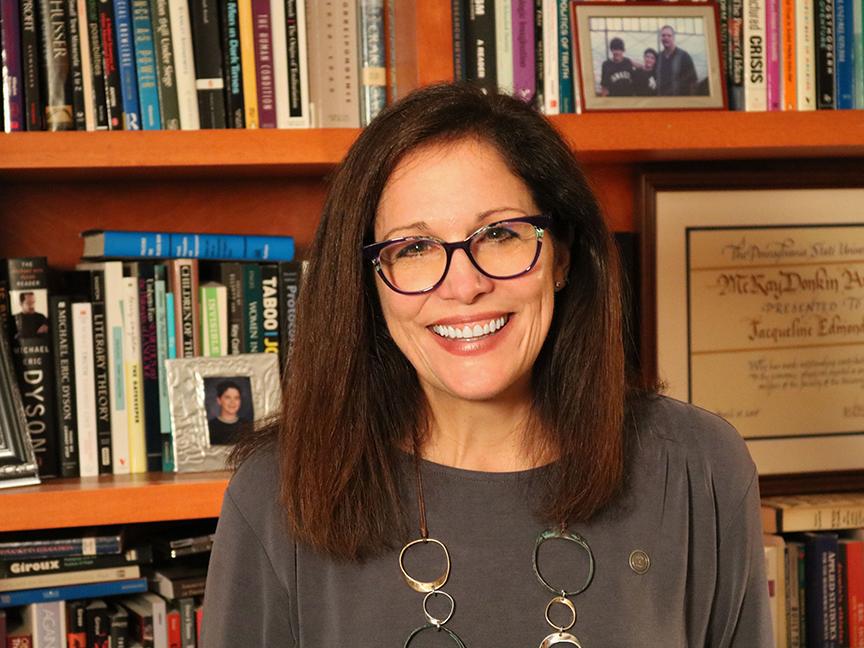 (Penn State University photo)
Edmondson, the first generation of her family to graduate from college, holds three degrees from Penn State University, including a bachelor of science degree in elementary and kindergarten education; a master of science degree in educational psychology; and a doctorate in curriculum and instruction, language and literacy.
A member of the Penn State faculty since 2000, she came to the Greater Allegheny Campus after serving as associate dean for undergraduate and graduate studies in the College of Education and associate vice president and associate dean for Undergraduate Education from 2013 to 2017, where she worked with 20 Penn State campuses to develop curriculum and programs related to access and affordability, according to a Penn State spokesperson.
"I will be forever grateful to Penn State for the many opportunities it has provided to me and my family for so many years," said Edmondson in a prepared statement.
"I am especially grateful to Dr. Stephen Smith, who gave me a chance as a 17-year-old first-generation college student from rural Pennsylvania," she said. "Dr. Smith took a chance on me when he offered me admission to his studio as a piano performance major. His gesture changed the course of my life, and since that time, I have been committed to providing access to higher education to others."
McKeesport Mayor Michael Cherepko, a Penn State University alumnus, said he has been proud of the city's relationship with Penn State Greater Allegheny.
"During her tenure, Dr. Edmondson took that partnership to a whole new level," Cherepko said. "When we talk about 'Working Together or a Better McKeesport,' she truly exemplifies what that means. Her professionalism and her interest in our community brought a unique perspective to the table as we grew our university-community partnership on campus, in the LaunchBox at our Common Ground Building, and throughout the city.
"I am grateful for Dr. Edmundson's commitment to the City of McKeesport, and I wish her the best of luck in her future endeavors," Cherepko said.
Founded in 1948 in Dravosburg as the Penn State McKeesport Center, the Greater Allegheny Campus currently spans 59 acres in McKeesport and White Oak. It currently offers 14 two-year and four-year degree programs and serves approximately 400 students.
About 42 percent of the students are from minority populations and 49 percent are the first in the families to attend college, according to the university.
The University of Southern Maine is a publicly owned institution serving approximately 8,000 students and is part of the state university system.
Under Edmondson's leadership, Greater Allegheny added new degree programs in cybersecurity analytics and operations, and recreation, park and tourism management. Another new degree program will launch in a few weeks: the bachelor of social work degree will be exclusively offered at Greater Allegheny campus.
The social work major provides "broad-based educational experiences for undergraduate students interested in working in the private and public sector to provide social services for diverse people and populations," a spokesman said.
The Crossing Bridges summit series was an example of direct community outreach. Since its inception, it has brought more than 2,000 people to the McKeesport area to hear and meet prominent thought-leaders such as Michael Eric Dyson, Angela Davis and Cornel West.
During the COVID-19 pandemic, the summit series partnered with Penn State's public-television station, WPSU-TV, to produce two virtual programs that addressed racial disparities in women's health and policing in the Pittsburgh region.
The LaunchBox, located in the former YWCA building on Ninth Avenue, Downtown, assists early-stage entrepreneurs in McKeesport and surrounding communities to establish small businesses.
In 2021, Edmondson secured a $100,000 gift for the LaunchBox from Penn State alumni Robert A. Van Druff and Cynthia A. Dawso Van Druff, which was matched by Penn State.
University officials joined local leaders to wish Edmondson well.
"Her contributions to our University have been many, particularly her last five years as chancellor and chief academic officer at Penn State Greater Allegheny where she focused on student engagement and building critical and lasting collaborations with local community partners," said Nick Jones, Penn State executive vice president and provost. "We wish Jackie great success in her new role, as we know she takes with her many years of proven leadership in higher education."
Edmondson said she will miss Penn State Greater Allegheny and the McKeesport area community.
"Penn State Greater Allegheny holds a very special place in my heart, and always will," she said. "Each day I come to work determined to bring the best of Penn State's world-class education to our campus community. An extremely talented and dedicated faculty and staff, and numerous alumni and generous friends joined me in that work.
"Together we lived our mission to be a catalyst for individual and social change and provided transformative experiences for our students," Edmondson said. "I know that work and commitment will continue in the future."
Originally published May 25, 2022.
In other news:
"Advocates Urge Family…" || "Superintendent Resign…"