Zak's has become a local landmark for cyclists
By Jason A. Mignanelli
The Tube City Almanac
June 08, 2022
Posted in: McKeesport and Region News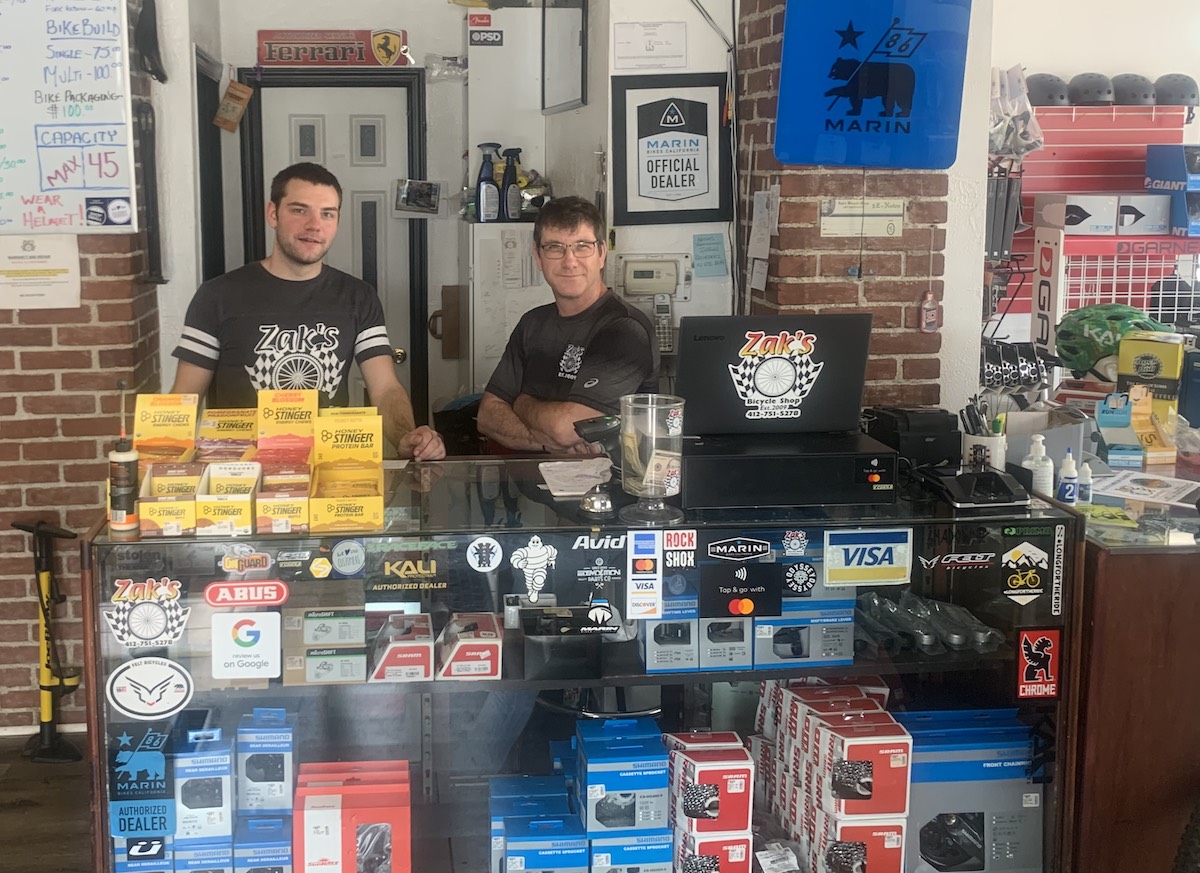 The two Mikes — Jones and Kostyzak — behind the counter at Zak's Bicycle Sales and Repair in Christy Park. The shop has become a landmark for cyclists using the Great Allegheny Passage between Pittsburgh and Cumberland, Md. (Jason Mignanelli photo for Tube City Almanac)
---
What started out as a tiny bicycle repair shop in a 900 square foot basement of an apartment building has grown into a successful landmark for cyclists just off the Great Allegheny Passage Trail in McKeesport at mile 132.5.
Glassport native Mike Kostyzak opened Zak's Bicycle Sales and Repair on October 31, 2009, with only $2,800 to his name.
"I guess the way it worked was, I had been getting laid off at different jobs and it was getting frustrating. I thought to myself, 'Geez, I can fail on my own. I might as well give something a try on my own,'" said Kostyzak.
"I decided on the bike shop because I had always been into cycling. My older brother Bill taught me how to work on bikes out behind our house as kids. We'd work on the old Schwinn's and stuff like that," he said.
Things weren't always easy, he says. Just as any new business struggles to get off the ground, Zak's struggled, too.
"Mike Jones is my business partner now, but when he was young his mom brought him into the store and said, 'hey give my kid a job.' I told her that I could barely afford to pay myself at the time, but I promised her that when things got settled, I would hire him. Today, we are proud business partners and great friends," Kostyzak said.
Jones said that Zak's carries three main brands — Giant, Marin and Felt — that are considered high-quality performance bicycles.
"Our customers have been really pleased with the bikes that we offer," he said.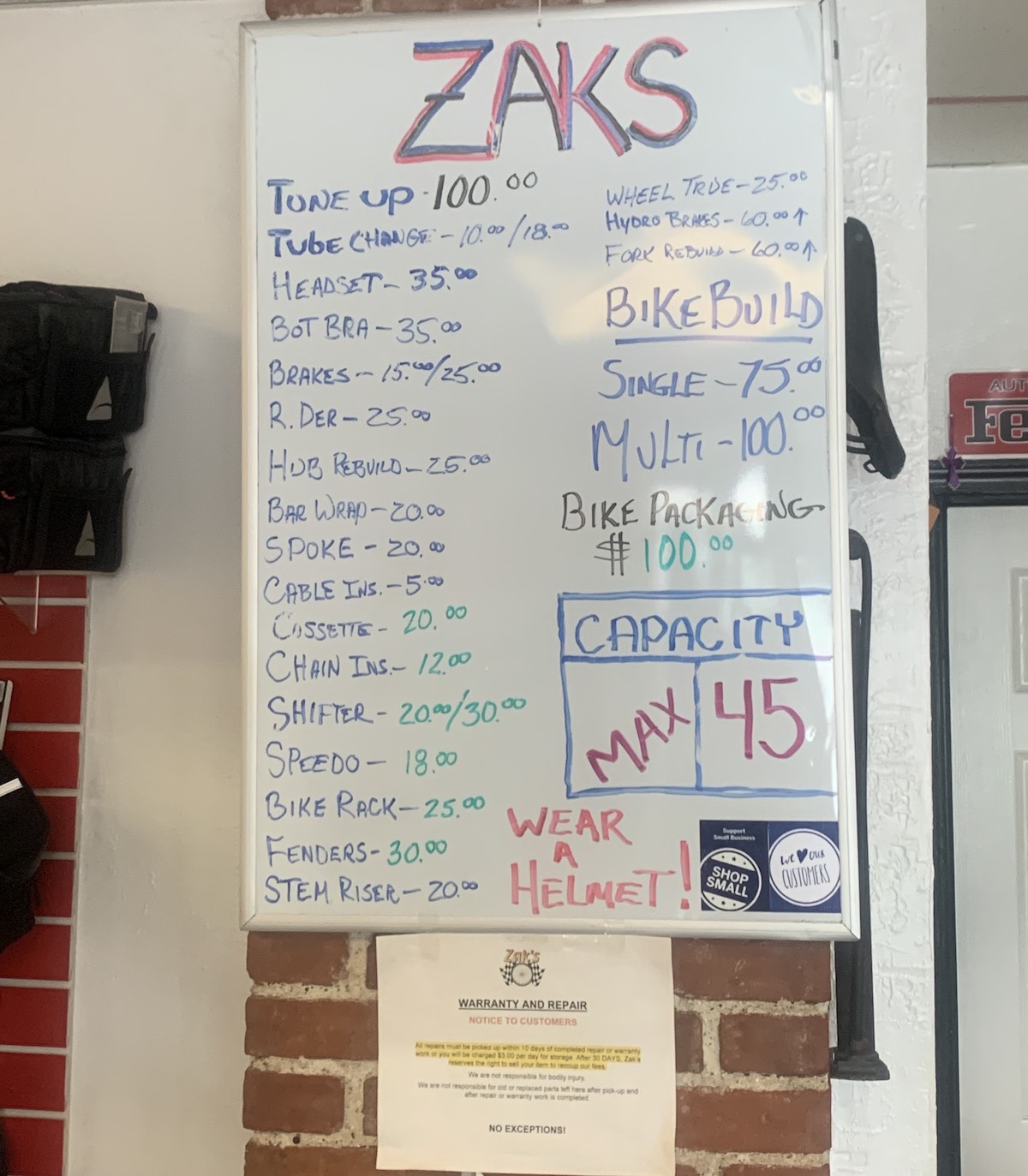 (Jason Mignanelli photo for Tube City Almanac)

Zak's also has electric-assist bikes, or e-bikes, which have skyrocketed in popularity over the past few years. According to Consumer Reports, sales of e-bikes were up 38 percent in 2021 compared to 2020.
"We sell the high-quality electric bikes," Jones said. "These are the ones that really assist the rider, but they are not scooters. Sometimes, people confuse the two, but our electric bikes are truly electric-assist which means when you stop pedaling, the bike stops moving, which is also much safer."
E-bikes are popular with riders who have back problems as well as other health issues, Jones said. Zak's carries both 20-mph models as well as more expensive 28-mph models, he said.
Although the shop has moved a few times, its current location at 3014 Walnut St. is highly visible — and adjacent to the trail — which has helped the store's growth.
"We are in a good spot here in McKeesport because this is the perfect distance from Downtown Pittsburgh for anyone traveling the Great Allegheny Passage," Jones said. "It's usually about this point on the trail where people realize that they forgot something, or that they are having an issue with their bike. I don't think there is anywhere else between here and downtown for people to stop off the trail and get a repair."
The COVID-19 pandemic has been hard on all small businesses, but Zak's found that business was strong as new customers looked for safe ways to enjoy group activities outdoors.
"Many people felt trapped and needed a safe outlet to get outside," Jones said. "We were booming during the pandemic." He and Kostyzak are still catching up on work they had to postpone last year, including a stack of unopened boxes of bicycles that haven't yet been assembled.
The online reviews for Zak's Bicycle Shop are filled with satisfied customers who rave about the customer service and the joy of supporting a local small business.
"We really don't advertise. Most of our business is just word of mouth. We have a lot of repeat customers. We also organize rides with our customers and friends and usually those groups will grow and then more people tell other people about our shop," said Jones.
---
Jason A. Mignanelli is a freelance writer from Pittsburgh's North Hills and a student at Duquesne University. He may be reached at mignanellij@duq.edu.
Originally published June 08, 2022.
In other news:
"Report: Pa. Funding f…" || "Search Begins for New…"