(Advertisement)
McKeesport Housing Authority is opening the Section 8 waiting list
Housing Choice Voucher Program
The McKeesport Housing Authority will be accepting applications for the Housing Choice Voucher Program (Section 8) Waiting List.
When?
April 10, 2023, 8:30 AM @ 2901 Brownlee Ave. McKeesport, PA 15132.
NO APPLICATIONS WILL BE ACCEPTED BEFORE THE ABOVE POSTED TIMES.

APPLICATIONS WILL BE DATE AND TIME STAMPED UPON RECEIPT. APPLICATIONS CAN BE SUBMITTED IN PERSON, FAX 412-673-1706, EMAIL TO BBRAY@MCKHA.ORG.
You can download a blank copy of the application from www.mckha.org.
Where?
At www.mckha.org or any of the rental offices at Crawford Village, Harrison Village & McKeesport Towers

MULTIPLE APPLICATIONS WILL NOT BE ACCEPTED. PLEASE DO NOT CALL FOR YOUR STATUS —- NO INFORMATION WILL BE GIVEN OVER THE TELEPHONE. YOU WILL BE NOTIFIED VIA THE US MAIL. IT IS CRITICAL TO KEEP YOUR INFORMATION UPDATED WITH OUR OFFICE IF IT CHANGES. IF WE ARE UNABLE TO CONTACT YOU, YOU MAY BE REMOVED FROM THE WAITING LIST.
To place your ad, email tubecitytiger@gmail.com.
Ads start at $1 per day, minimum seven days.
Born in 1903, city native 'revolutionized' jazz and pop music
By Tom Leturgey
The Tube City Almanac
July 07, 2022
Posted in: Duquesne News, Entertainment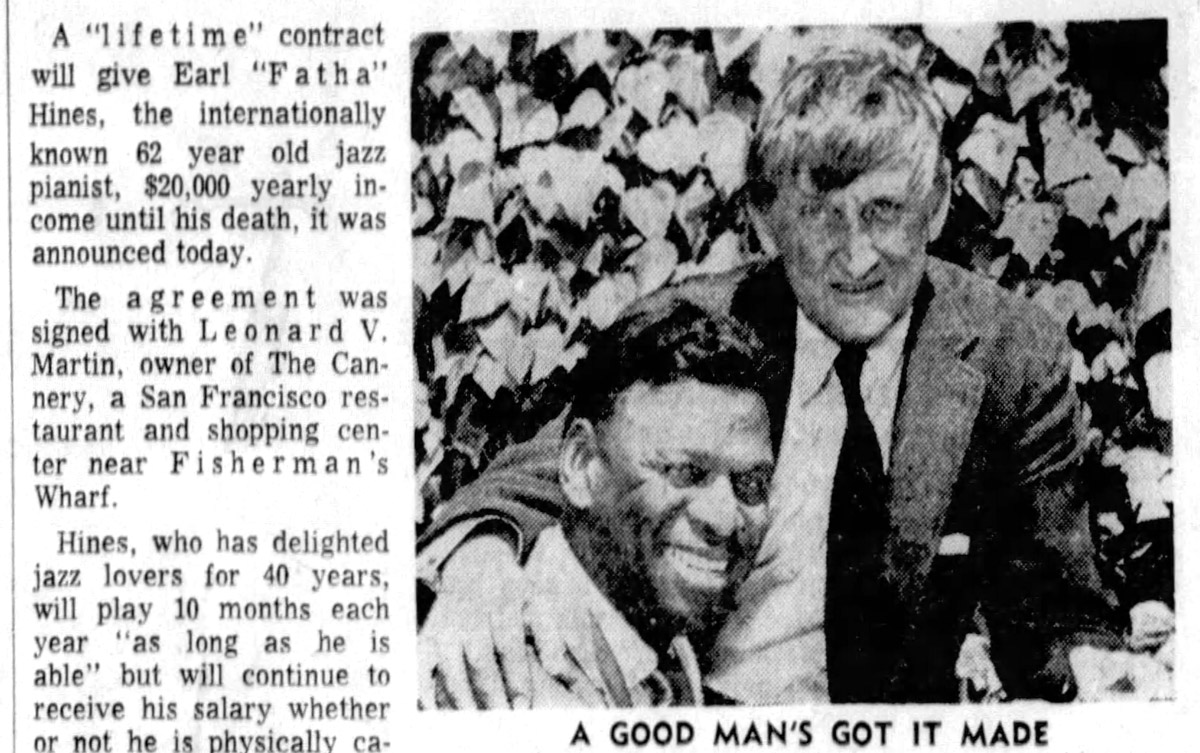 In a clipping from the San Francisco Examiner, Duquesne native Earl "Fatha" Hines poses with San Francisco nightclub owner Leonard Martin after signing a lifetime guaranteed contract in 1967. Hines, who died in 1983, is regarded as one of the most influential jazz and pop music piano players of all time. (Tube City Almanac file)
---
When then-city councilman Scott Adams first took office in Duquesne, longtime resident Arnold Staples handed him a folder filled with history and information regarding the city's favorite son and jazz legend Earl "Fatha" Hines.
Sitting right next to Adams was Councilwoman Elaine Washington, who caught a peak of the exchange. Intrigued, she told Adams, "I'll take that" and grabbed the folder.

While she personally likes different artists of that music genre, Washington wanted to ensure that Hines, who is far more instrumental in jazz than many might realize, was properly recognized in his hometown.
He always called Duquesne home, said Washington. "He didn't say Pittsburgh. He said, 'Duquesne'." As a result, Washington has been working with the Pennsylvania State Historical Preservation Office to designate Hines' childhood home at 600 Priscilla Ave. as a historical landmark.
Last year, Duquesne officials approved the measure and hoped to land financing. COVID put those plans on the back burner and other municipal issues took precedence, said Washington.
Now, the necessary $1,660 for a historical marker has been secured through the Phyllis Wheatley Literary Society.

Born in 1903, Hines, influenced by musical parents, took to the piano, learned classical music and as a child, played piano in a Baptist church.
From a young age, he was nicknamed "Fatha," because contemporaries considered him the "father" of jazz piano. In a 1975 documentary, Hines was described as playing jazz "before the name was invented."
Known for his improvisation, he was soon in demand, traveled throughout the country, and worked with other legendary artists, including Eubie Blake and Louis Armstrong.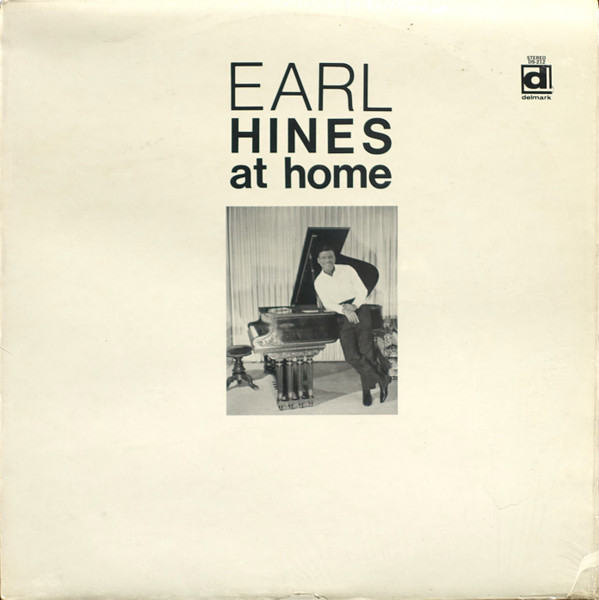 "Earl Hines At Home," a 1969 album released on Delmark Records, includes versions of songs such as You Are Too Beautiful, It Happens To Be Me and You'll Never Know. (Delmark Records)
---
In the liner notes for the "Earl Hines At Home" album, Count Basie called Hines "the greatest piano player in the world." Throughout his career, Hines would play bebop and boogie-woogie, toured extensively around the globe (including inside the former Soviet Union), and for 12 years led the orchestra at the Chicago's Grand Terrace Club, which was controlled by gangster Al Capone.
Concerts from the Grand Terrace were carried around the country via network radio hookups, spreading Hines' fame far and wide.
"He was at the center of a very large wheel," said Chuck Leavens of the Braddock and Bethany, W.Va., based radio station WZUM (1550/101.1 FM), the Pittsburgh Jazz Channel, of Hines and Pittsburgh's place in jazz history.
"Hines was a connection to the origins of jazz and its connection to Pittsburgh," said Leavens, who estimates that Pittsburgh contributed at least one-third of jazz's early innovators, and no one was more influential than Earl Hines.
---
Leavens said Hines played alongside another famed jazz pianist, Fate Marable, who had performed on riverboats from New Orleans, as well as swing icon Mary Lou Williams.

As a bandleader, Hines reportedly gave Dizzy Gillespie and others their big break. He'd later perform in concerts with Art Blakely, Duke Ellington, Dave Brubeck, Duke Ellington, Peggy Lee and Tony Bennett, just to name a few.

"Earl Hines' story is important in understanding not just jazz, but America. If not for his upbringing in Duquesne and around Pittsburgh, his unique genius might have never been nurtured and revealed," said WZUM radio's Scott Hanley in an email. "Generations of pianists have been influenced by Earl Hines, from Erroll Garner, Art Tatum and Nat "King" Cole to Bud Powell, Herbie Hancock and a legion more."

"He merged together a number of piano styles and revolutionized jazz and popular music," continued Hanley. "By the 1940's, his band featured future legends like (Pittsburgh's) Billy Eckstine, Sarah Vaughan, Charlie Parker, Dizzy Gillespie and many other notables."
Washington hopes to schedule a dedication and have crews erect the blue-and-gold state historical marker on the property at the corner of Priscilla and Sixth avenues in the city, perhaps as soon as September. "He deserves it," she said. "It's a positive for the city."

Leavens said Hines frequently returned to Pittsburgh throughout his life. "He loved Pittsburgh."

Hines died in California from a heart attack in 1983 at the age of 79.

It's uncertain whether Hines has any remaining family in the local area, as Hines outlived his immediate family. His ex-wife Janie died in 1970, and his two daughters, Tosca and Janear–an actress who played a babysitter on the Diahann Carroll sitcom "Julia"--have passed. Janear's widower is actor David L. Wells.
Leavens said he is happy that Duquesne is moving along with the historical designation.
"It's impossible to describe Hines' importance in simple words," added Leavens. "He was among the 'first generation' of jazz greats."
---
Tom Leturgey is a freelance writer based in Pittsburgh and the editor of KSWA Digest, the online news and features home of the Keystone State Wrestling Alliance.
Originally published July 07, 2022.
In other news:
"Scholarship Honors Le…" || "Renzie Ramble Celebra…"