(Advertisement)
McKeesport Housing Authority is opening the Section 8 waiting list
Housing Choice Voucher Program
The McKeesport Housing Authority will be accepting applications for the Housing Choice Voucher Program (Section 8) Waiting List.
When?
April 10, 2023, 8:30 AM @ 2901 Brownlee Ave. McKeesport, PA 15132.
NO APPLICATIONS WILL BE ACCEPTED BEFORE THE ABOVE POSTED TIMES.

APPLICATIONS WILL BE DATE AND TIME STAMPED UPON RECEIPT. APPLICATIONS CAN BE SUBMITTED IN PERSON, FAX 412-673-1706, EMAIL TO BBRAY@MCKHA.ORG.
You can download a blank copy of the application from www.mckha.org.
Where?
At www.mckha.org or any of the rental offices at Crawford Village, Harrison Village & McKeesport Towers

MULTIPLE APPLICATIONS WILL NOT BE ACCEPTED. PLEASE DO NOT CALL FOR YOUR STATUS —- NO INFORMATION WILL BE GIVEN OVER THE TELEPHONE. YOU WILL BE NOTIFIED VIA THE US MAIL. IT IS CRITICAL TO KEEP YOUR INFORMATION UPDATED WITH OUR OFFICE IF IT CHANGES. IF WE ARE UNABLE TO CONTACT YOU, YOU MAY BE REMOVED FROM THE WAITING LIST.
To place your ad, email tubecitytiger@gmail.com.
Ads start at $1 per day, minimum seven days.
By Bonnijean Cooney Adams
The Tube City Almanac
August 30, 2022
Posted in: Entertainment, McKeesport and Region News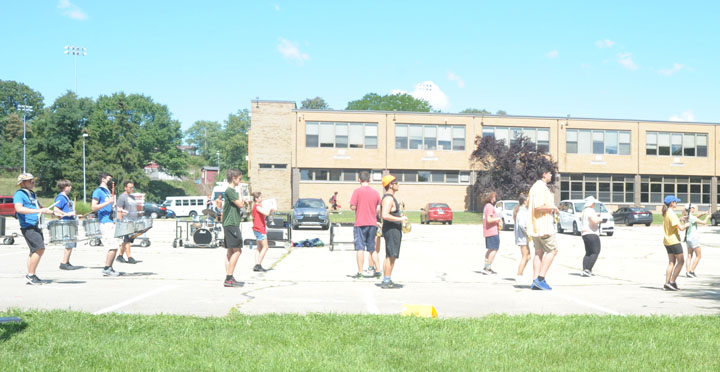 Director Jesse Bush (with back to camera) provides input as band members get familiar with the music and drill for "X Marks the Spot" during the first week of camp. (Photo by Bonnijean Cooney Adams for Tube City Almanac)
---
Serra Catholic Marching Band will transport its audiences on a search across the Seven Seas in pursuit of buried treasure through the pirate-themed "X Marks the Spot."
Director Jesse Bush said while exploring options for the band's competition season, he was drawn to music written and arranged by Randall D. Standridge, whose work has been featured in previous years.
He said he and the students liked the music, so created a theme through "Setting Sail," "The Mysteries of the Sea" and "Battle for the Gold."
With a preview show under their belt, the band is looking forward to the Sept. 10 start of their Tournament of Bands competition season as the performance evolves, is tweaked, and finishing touches added.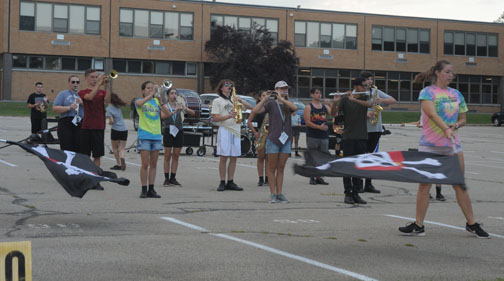 Color Guard Captain Madalyn Peairs performs with one of the pirate flags reflecting the theme. (Bonnijean Cooney Adams photos for Tube City Almanac)
---
"I love the music," said Carmela Capasso, one of the drum majors. The senior has a clarinet solo in the first song. "I think the show will be really good. I think all of them (songs) go together really well and showcase our talents."
Commenting near the end of the first week of band camp, senior color guard captain Madalyn Peairs said with the first song done, she was "very excited about our progress" and looking forward to completing the program.
"The theme is good," senior band captain Joseph Pawlowski said. A member of the percussion section, he said his favorite part is during the second song because he gets to play bells.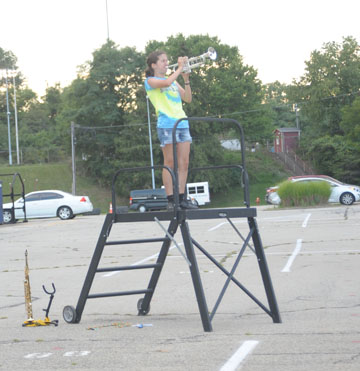 Senior Drum Major Selena Kunsman on trumpet is one of the featured instrumentalists in "X Marks the Spot." (Bonnijean Cooney Adams photos for Tube City Almanac)
---
Senior Selena Kunsman, who plays trumpet, is the second drum major. In addition to a featured playing role, she said she likes the challenge of coordinating the show with the music, visuals and extra touches that support the theme.
Senior Maigen McGinty plays tenor saxophone and said she was surprised with the pirate theme. "It's different, and I like it," she said, particularly a musical duel in the third movement with T.J. Betzner on guitar.
Betzner, also a senior, has participated in chorus and the spring musicals, but said this is his first year with marching band.
"It's got to be the duel," he said for his favorite part of the show. "It's really cool."
Junior Vincent Brown on drum set also is featured during "Battle for the Gold," Bush said.
Senior Joel Blake showcases his musical talents by playing soprano and alto saxophone.
"I thought it was a pretty good idea," Blake said when he first heard about the theme. "There's a lot of different things you can change and adapt, and it makes sense with the drill."
"There are plenty of moments in our show that showcase many of our students," Bush said. At the beginning, junior Francesca Aland is the vocal soloist, he said.
During the second movement, there's a saxophone trio with Blake, McGinty, and Michael Aland on baritone sax.
But will the pirates find the treasure? Bush advises to come watch a performance to find out, and hinted at some betrayal along the way.
"X Marks the Spot" can be viewed during TOB competitions:

Sept. 10 — Penn-Trafford
Sept. 17 — East Allegheny
Sept. 24 — Yough
Oct. 8 — Deer Lakes
Oct. 15 — McKeesport Home Show
Oct. 22 — TOB Championships at Penn Trafford
Oct. 29 — TOB PA State Championships (site to be announced)
"X Marks the Spot"

Serra Catholic Marching Band members gather for a group photo just prior to their annual preview show on Aug. 23. (Bonnijean Cooney Adams photo for Tube City Almanac)
Serra Catholic Band Student leaders
Drum Majors: Carmela Capasso and Selena Kunsman
Color Guard Captain: Madalyn Peairs
Band Captain: Joseph Pawloski
Woodwind Section Leader: Maigen McGinty
Percussion Section Leader: Vincent Brown
Uniform Manager/Strings Section Leader: TJ Betzner
Equipment Manager: Robbie Anitori
Secretary: Joel Blake

Band Roster
Robbie Anitori, flute; Lyndsay Chirdon, piccolo; Carmela Capasso, clarinet; Taylor Betzner, clarinet; Michael Aland, bari saxophone; Joel Blake, alto saxophone/soprano saxophone; Savino Dilonardo, alto saxophone; Erin Marie Genton, alto saxophone; Maigen McGinty, tenor saxophone; Selena Kunsman, trumpet; Mickey O'Brien, trumpet; Vincent Brown, percussion; Joseph Pawlowski, percussion; Jacob Rock, percussion; TJ Betzner, guitar; Emilia Capasso, percussion; Madalyn Pears, color guard; Brigid Fuller, color guard; Katelyn Kostrub, color guard; Francesca Aland, color guard; Sydney Korbanic, color guard.

Band Director: Jesse Bush
Color Guard Director: Susan Frank
Drill Design: Ryan Raible
Additional staff: Tom DeCarlo, Joe Diamond, Justin Anderson
Music composed and arranged by Randall D. Standridge
Originally published August 30, 2022.
In other news:
"Turnovers Decide Clas…" || "W.N. Library Acceptin…"