(Advertisement)
Tube City Community Media Inc. is seeking freelance writers to help cover city council, news and feature stories in McKeesport, Duquesne, White Oak and the neighboring communities. High school and college students seeking work experience are encouraged to apply; we are willing to work with students who need credit toward class assignments. Please send cover letter, resume, two writing samples and the name of a reference (an employer, supervisor, teacher, etc. -- not a relative) to tubecitytiger@gmail.com. (4-11-2023 to 4-30-2023)
To place your ad, email tubecitytiger@gmail.com.
Ads start at $1 per day, minimum seven days.
By Adam Reinherz
The Tube City Almanac
September 22, 2022
Posted in: McKeesport and Region News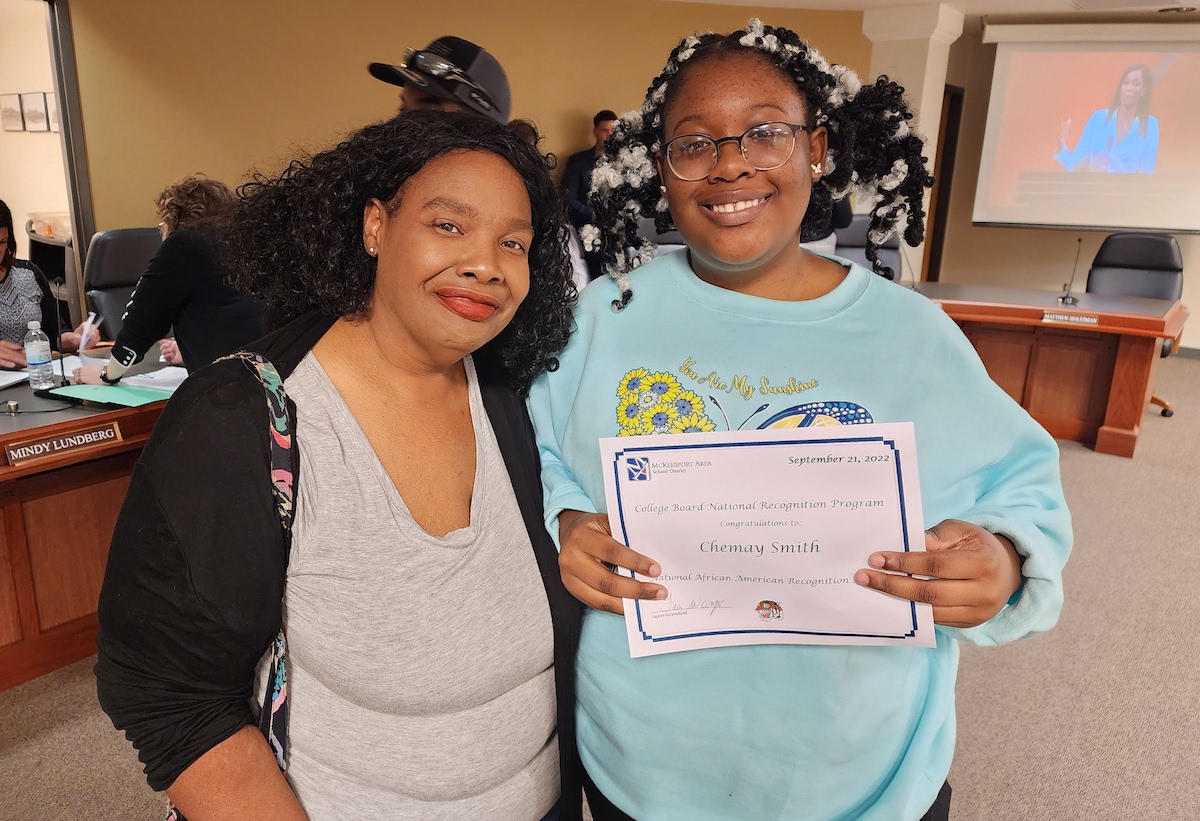 Chemay Smith, a junior at McKeesport Area High School, was recognized during Wednesday's school board meeting for receiving an academic honor from the College Board through its National African American Recognition program. She is shown here with her mother, Priscilla Carter-Smith. (Adam Reinherz photo for Tube City Almanac)
---
A McKeesport Area High School 11th-grader has received a national academic honor from the College Board.
At Wednesday's meeting, district Superintendent Tia Wanzo congratulated Chemay Smith for receiving an award from the National African American Recognition program for her high test scores.

"These national recognition programs grant underrepresented students with academic honors that can be included on college, school and scholarship applications, and connect students with universities across the country, helping them stand out during the admissions process," Wanzo said.
The superintendent also congratulated McKeesport Area alumna Swin Cash — who was inducted into the Naismith Memorial Basketball Hall of Fame — and encouraged attendees to watch Cash's acceptance speech.
Cash is a graduate of the University of Connecticut and was a member of the U.S. women's basketball teams that won gold medals at the 2004 and 2012 Summer Olympics games.
During a 15-year professional basketball career, she played for the Detroit Shock, Seattle Storm, Chicago Sky, Atlanta Dream and New York Liberty, eventually becoming one of just two players in WNBA history to amass 5,000 points, 2,000 rebounds and 1,000 career assists.
Cash took members of the current McKeesport Area High School girls basketball team to her induction ceremony in Massachusetts. She currently serves as vice president of basketball operations and team development for the New Orleans Pelicans.
Originally published September 22, 2022.
In other news:
"MASD Drops Live Strea…" || "Bus Co. Head Asks for…"