(Advertisement)
Tube City Community Media Inc. is seeking freelance writers to help cover city council, news and feature stories in McKeesport, Duquesne, White Oak and the neighboring communities. High school and college students seeking work experience are encouraged to apply; we are willing to work with students who need credit toward class assignments. Please send cover letter, resume, two writing samples and the name of a reference (an employer, supervisor, teacher, etc. -- not a relative) to tubecitytiger@gmail.com. (4-11-2023 to 4-30-2023)
To place your ad, email tubecitytiger@gmail.com.
Ads start at $1 per day, minimum seven days.
New organization carries forward 75-year legacy
By Elizabeth Laughlin
The Tube City Almanac
November 17, 2022
Posted in: McKeesport and Region News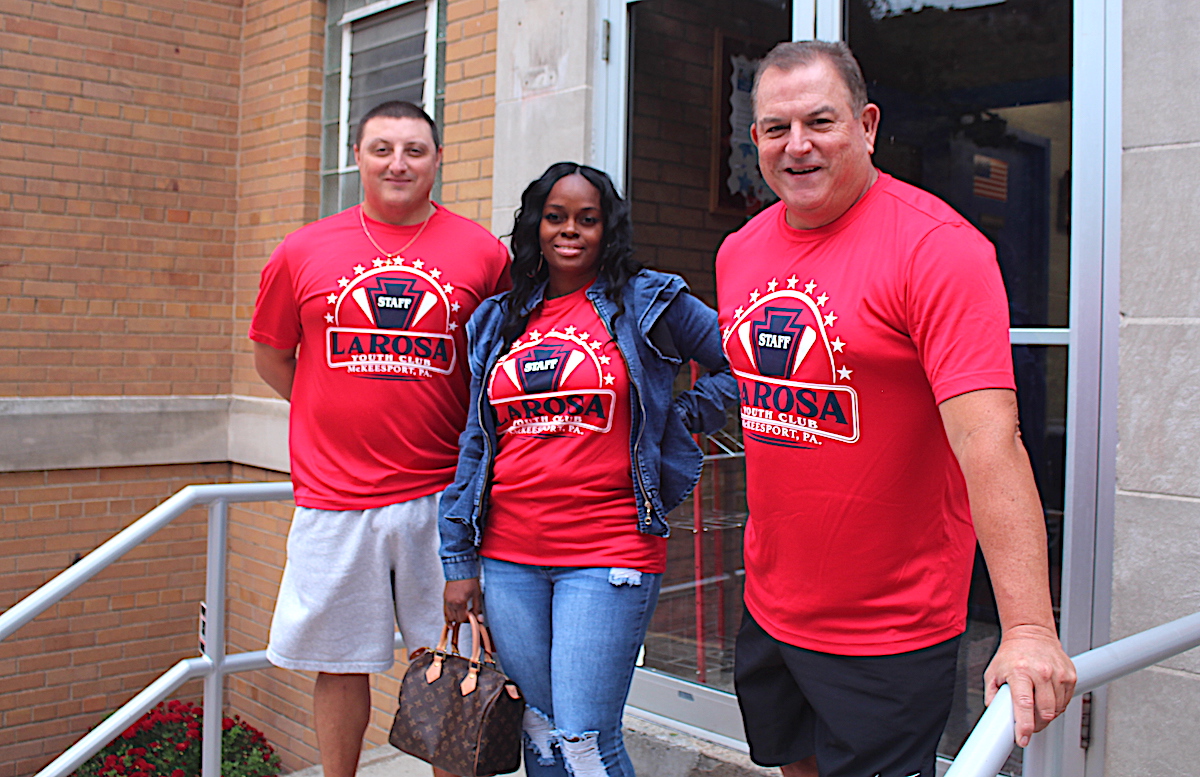 Staff members of the LaRosa Youth Club include Jim Barry III, Amber Brooks and Jim Barry Jr. (Tube City Almanac photo)
---
Trust, respect, integrity, and love—these are the four pillars of the LaRosa Youth Club.
"The love in this building is palpable," said Jim Barry Jr., chief executive officer of the LaRosa Youth Development Foundation.
Barry Jr. has been involved with the club since his childhood. He emphasized how much the organization fostered his personal development.
The LaRosa Youth Club, located on Ravine Street and formerly known as the LaRosa Boys & Girls Club, provides a safe space for children in the community. The organization offers tutoring services, recreational sports, computers and hot meals during after-school hours.
It also provides after-school enrichment activities on subjects ranging from STEM — science, technology, engineering and math — to ballet, which is hosted by the Pittsburgh Ballet Theatre.
"If we can leave here after they have been safe, fed, and looked after, then we've done our job," Barry Jr. said. "This is a place for kids to be kids."
The organization is named after Sam LaRosa, a Westinghouse Electric Corp. employee who founded what was originally known as the McKeesport Boys Club more than 75 years ago. He remained active at the club until his death in 2003.
The executive board also includes James Barry III, Barry Jr.'s son who runs day-to-day operations, and Amber Brooks, assistant club director.
In the 1970s, the McKeesport Boys Club affiliated with Boys & Girls Clubs of Western Pennsylvania, based in Pittsburgh. The parent organization abruptly closed the doors of its McKeesport clubhouse and other facilities in November 2020, citing increased operating costs and lower participation in the wake of the COVID-19 pandemic.
A new LaRosa Youth Development Foundation was created in the wake of the closing. The club reopened in September 2021 and recently celebrated its one-year anniversary. While they did not plan an official anniversary celebration, Barry Jr. said every day is a reason to be grateful.
"Each and every day we are open, serving kids in the McKeesport community, we celebrate," he said. "We are helping children and families and continuing to honor the legacy of our namesake, Sam LaRosa."
Barry Jr. expressed his gratitude toward McKeesport area government officials.
"Mayor Mike Cherepko, (state Rep.) Austin Davis and (state Sen.) Jim Brewster are advocates to this day," he said. "We all grew up as club kids."
According to Barry Jr., when they found out that the Boys & Girls Club would be closing, those three officials were on the phone the next day.
This week, Davis' office announced that LaRosa Youth Development Foundation is receiving $150,000 for upgrades to the club's gymnasium, including new flooring, ceiling lights, bleachers, windows, wall padding, painting and an access ramp. The project also would add LED lighting throughout the building, security lighting to the front of the building and replace the entrance doors with safety features and a camera.
"We are working diligently to create our own name and branding as the LaRosa Youth Club," Barry Jr. said. "We are an independent 501(c)3 and are not affiliated in any way with the Boys & Girls Clubs of Western Pennsylvania or the Boys & Girls Clubs of America."
The LaRosa Youth Club is open from 2:30 to 6:30 p.m. Monday through Friday. For more information, call (412) 275-0431, email info@larosayouthclub.org or visit www.larosayouthclub.org.
---
Elizabeth Laughlin is a freelance writer and a doctoral student at Indiana University of Pennsylvania. She is a graduate assistant who runs the department newsletter and writes for a digital project. She writes for Modern Language Studies, and her short story, "Twenty-Seven," is being published in their journal.
Originally published November 17, 2022.
In other news:
"Salute to Santa Parad…" || "City Man Dead Followi…"