(Advertisement)
Tube City Community Media Inc. is seeking freelance writers to help cover city council, news and feature stories in McKeesport, Duquesne, White Oak and the neighboring communities. High school and college students seeking work experience are encouraged to apply; we are willing to work with students who need credit toward class assignments. Please send cover letter, resume, two writing samples and the name of a reference (an employer, supervisor, teacher, etc. -- not a relative) to tubecitytiger@gmail.com. (4-11-2023 to 4-30-2023)
To place your ad, email tubecitytiger@gmail.com.
Ads start at $1 per day, minimum seven days.
Applications now being accepted; program limited to county residents receiving SNAP benefits
By Staff Reports
The Tube City Almanac
December 05, 2022
Posted in: Announcements, State & Region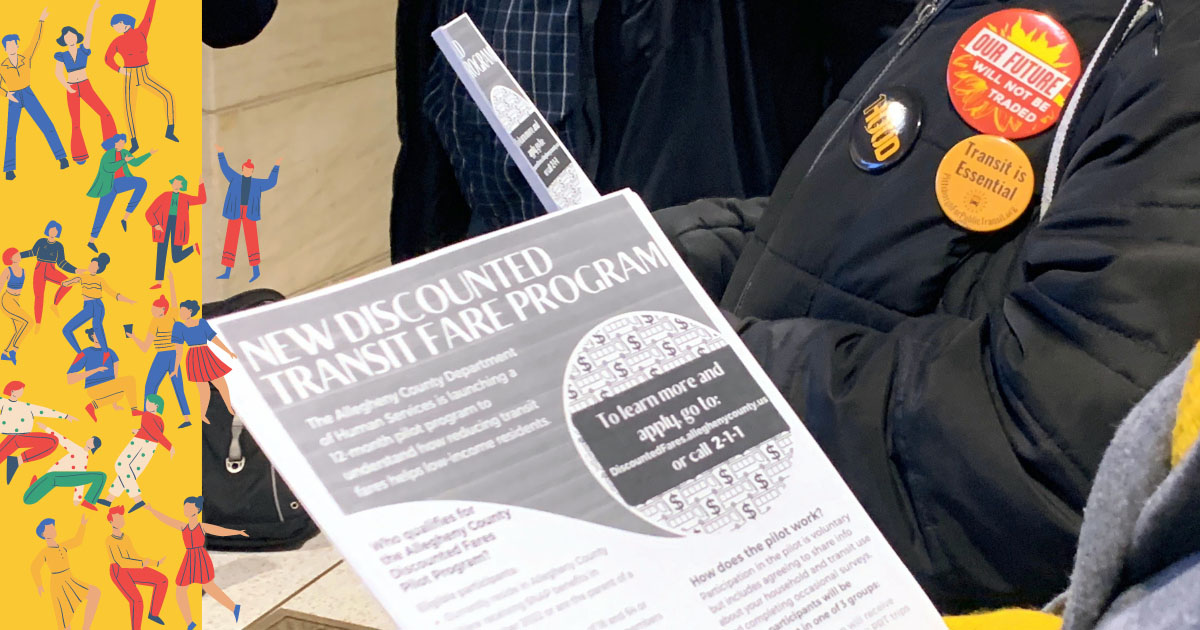 Volunteers and staff from Pittsburghers for Public Transit and members of its "Fair Fares Now" coalition helped spread the word about a discount program during an event Nov. 17 in downtown Pittsburgh. A 12-month experimental program will offer discounted transit rides or $10 credits to eligible Alleghney County residents ages 18 to 64. (Submitted photo courtesy Pittsburghers for Public Transit)
---
Applications are now being accepted for a pilot program that will provide discounted transit fares for Allegheny County residents on low and fixed incomes.
The discount program is being managed by the county's Department of Human Services and is limited to people ages 18 to 64 who received benefits through the Supplemental Nutrition Assistance Program, or SNAP, as of Sept. 30.
Participation is voluntary. Participants will randomly be enrolled in one of three programs and will receive either unlimited free fares on all PRT trips for 12 months; a 50 percent discount for 12 months; or a ConnectCard pre-loaded with $10 in free transportation.
The pilot program will continue for 12 months and is designed to measure the effects of discounted fares on Pittsburgh Regional Transit buses and light-rail in connecting residents to employment, health care and other needs.
The online application is available at https://discountedfares.alleghenycounty.us/.
"We are excited that this pilot program was able to be set up so quickly and I thank DHS staff for all of their work to make that happen," said Rich Fitzgerald, Allegheny County executive.
"We know that transportation is one of the biggest needs for those in our community seeking to take advantage of employment opportunities or accessing services," he said. "I look forward to seeing what this pilot program tells us about the effects of discounted public transportation fares for resident needs."
Individuals who are eligible for fare discounts through an employer, university or other program are not eligible to participate, but will be encouraged to access those programs instead, the county said.
Pittsburghers for Public Transit, a non-profit group for bus and subway riders, has been advocating for a discount fare program for years. The group is helping to spread the news about the program and helped riders sign up during an event in downtown Pittsburgh on Nov. 17.
A PPT spokesperson said the low-income discount program is an "important first step towards winning a permanent, zero-fare program for all SNAP households in Allegheny County."
The group said more than 120 SNAP-eligible transit riders have participated in PPT workshops to discuss recommendations for the pilot program to make sure it reaches people with the highest needs.
The application is simple and designed to be filled out quickly. For those who have limited Internet access or who cannot complete an online application, several community organizations have offered to help, including Carnegie Library of McKeesport (10 a.m. to 6 p.m. Tuesdays, 9 a.m. to 5 p.m. Wednesdays, and 10 a.m. to 1 p.m. Thursdays); the Duquesne Family Center, 1 Library Place (8 a.m. to 6 p.m. Mondays through Fridays); and Mon Valley Initiative (assistance over the phone only, (412) 464-4000, ext. 4027).
A map of locations and a printable list of locations is available online.
"We have always focused on making human services more accessible," said Erin Dalton, county director of human services. "We expect that this program will go a long way in helping people get to services, medical appointments, jobs or healthy food, while allowing them to spend their money on other necessities and look forward to seeing the results of this pilot."
In its effort to get the get the word out to eligible participants, DHS will be texting SNAP recipients from the number 987-987. The department is also soliciting feedback about the program on its engagement website.
Originally published December 05, 2022.
In other news:
"Angora Gardens Sets D…" || "Family Pets Perish in…"