(Advertisement)
Tube City Community Media Inc. is seeking freelance writers to help cover city council, news and feature stories in McKeesport, Duquesne, White Oak and the neighboring communities. High school and college students seeking work experience are encouraged to apply; we are willing to work with students who need credit toward class assignments. Please send cover letter, resume, two writing samples and the name of a reference (an employer, supervisor, teacher, etc. -- not a relative) to tubecitytiger@gmail.com. (4-11-2023 to 4-30-2023)
To place your ad, email tubecitytiger@gmail.com.
Ads start at $1 per day, minimum seven days.
City hall stands in for Fayette County courthouse
By Tom Leturgey
The Tube City Almanac
December 09, 2022
Posted in: Duquesne News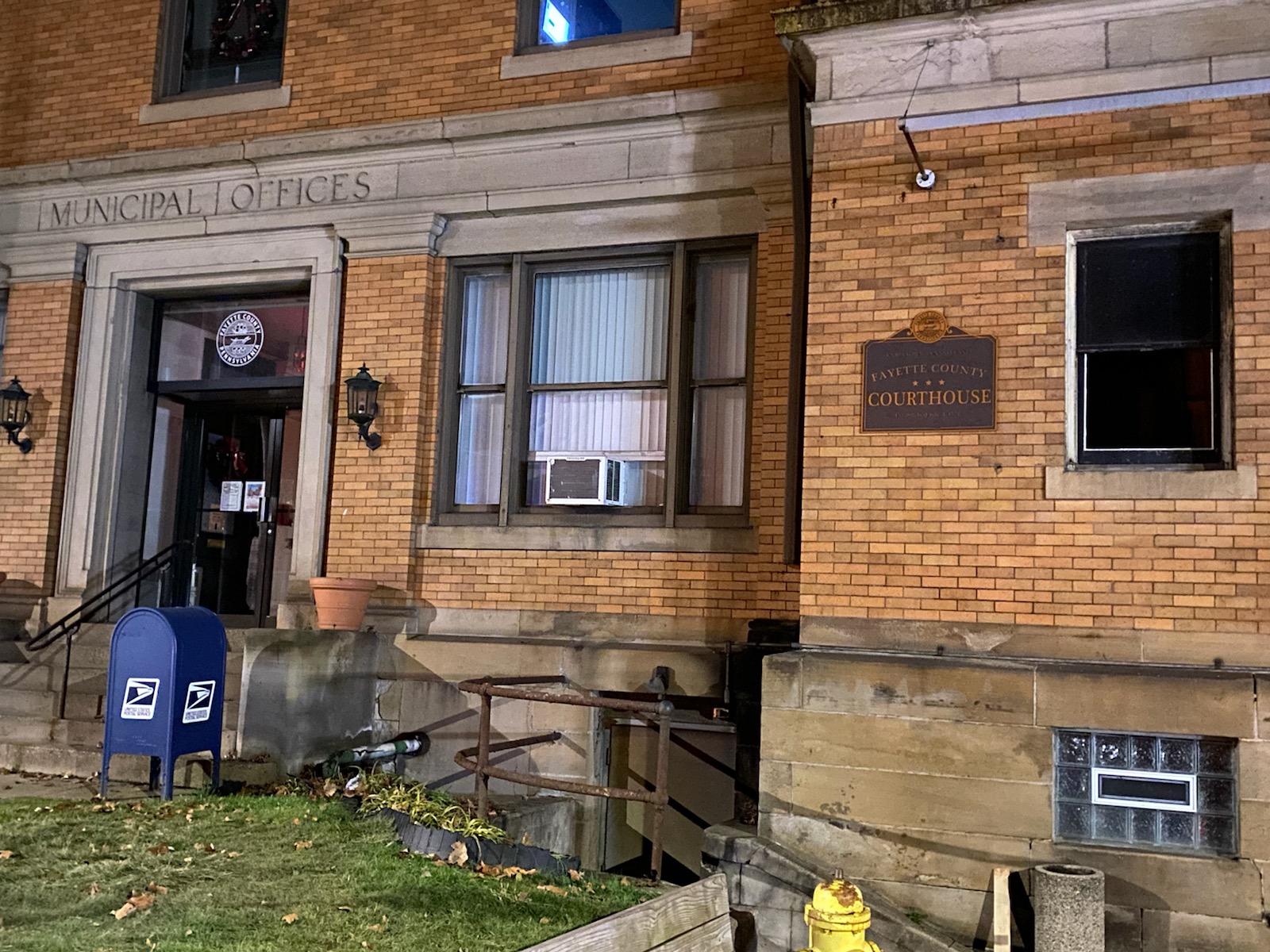 Duquesne's city hall stood in for the Fayette County Courthouse this month when "American Rust" filmed some scenes there. The web-based TV series is expected to return in early 2023. (Thomas Leturgey photo for Tube City Almanac)
---
Parts of Duquesne were transformed into the fictional Fayette County community of Buell this month when the cast and crew of "American Rust" came to town.

Crews filmed exterior scenes in front of City Hall on Second Street, and even employed some Duquesne police officers for overtime, said Interim City Manager George Newsome.
Based on a novel by Phillip Meyer, "American Rust" is a gritty police drama with Jeff Daniels playing sheriff Del Harris and Maura Tierney as his love interest.
"American Rust" filmed its first season in and around Pittsburgh for Showtime. The network then canceled the series, but it was resurrected in June by Amazon's new streaming service Freevee (formerly IMDB TV).
Unlike Showtime, Freevee is a free, ad-based platform.
"They did some scouting and liked our municipal building and decided to shoot a scene," Mayor Scott Adams said.

Some streets near the Duquesne municipal building were closed to traffic and pedestrians for short whiles, and parking was restricted on Dec. 1 and Dec. 2 during the day.
"It was exciting for the city," said Newsome. Production crews did receive permission to remove a tree from in front of the building; however, there are plans to replace it, city officials said.

Newsome estimates that the production company will reimburse the city approximately $5,000 for rental of the property and overtime for the police officers.

"They really liked it here," continued Newsome. He says that crews have plans to return "one of two more times" and film interior shots. That won't happen until February or March, Newsome said.

According to published reports, "American Rust" is currently shooting in several other parts of the greater Pittsburgh area, including Point Breeze and Bloomfield. No date has been set for the debut of Season 2.
---
Tom Leturgey is a freelance writer based in Pittsburgh and the editor of KSWA Digest, the online news and features home of the Keystone State Wrestling Alliance. His work also appears in The Valley Mirror and other publications.
Originally published December 09, 2022.
In other news:
"Dozen Displaced in Ha…" || "One Teen Killed, Anot…"