(Advertisement)
Tube City Community Media Inc. is seeking freelance writers to help cover city council, news and feature stories in McKeesport, Duquesne, White Oak and the neighboring communities. High school and college students seeking work experience are encouraged to apply; we are willing to work with students who need credit toward class assignments. Please send cover letter, resume, two writing samples and the name of a reference (an employer, supervisor, teacher, etc. -- not a relative) to tubecitytiger@gmail.com. (4-11-2023 to 4-30-2023)
To place your ad, email tubecitytiger@gmail.com.
Ads start at $1 per day, minimum seven days.
By Elizabeth Laughlin
The Tube City Almanac
December 15, 2022
Posted in: McKeesport and Region News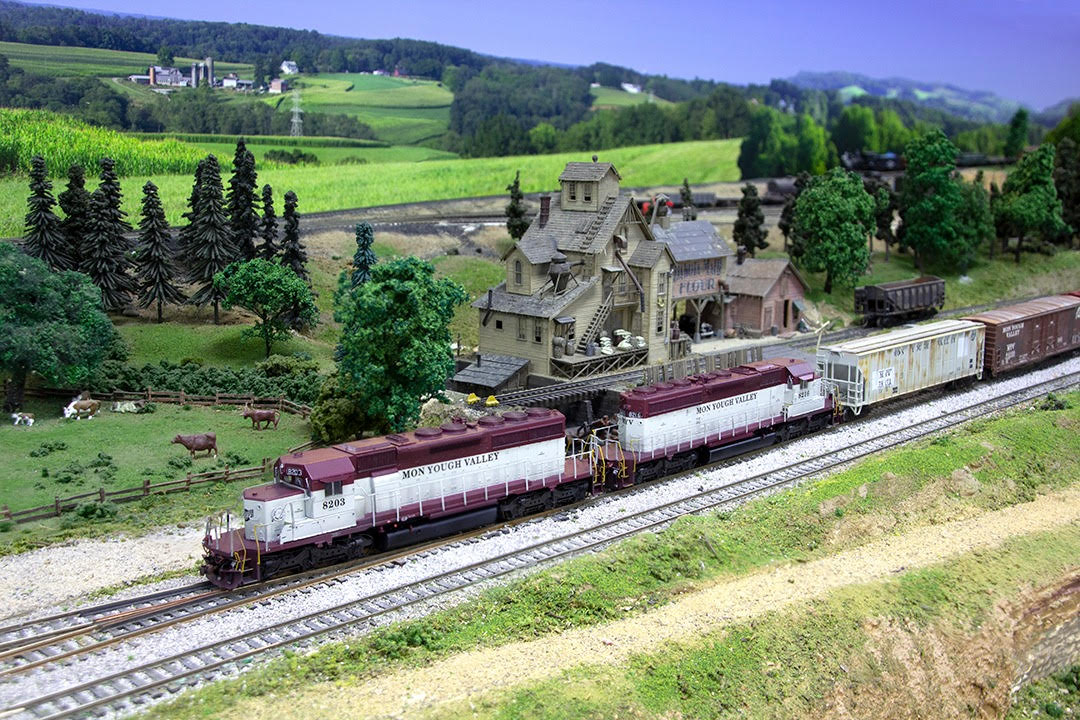 (Submitted photo courtesy McKeesport Model Railroad Club)
---
The McKeesport Model Railroad Club will be open to the public on Saturday and Sunday for its final holiday train show of 2022.
The organization, which formed in the 1950s, first met in a McKeesport freight train station before moving to their current location on Walnut Street. Every Christmas season, they open their doors to the community to observe their model-railroad layout.
"We just want people to enjoy it," Vice President Steve Raith said. "We have families that come back every year as a tradition."
Raith became involved with the club after his young son expressed interest. After attending a few meetings, Raith decided to volunteer and eventually became one of the board members.
The executive board also consists of President George Sharp, Treasurer Nathan Denlinger and Secretary Mike Pilyih.
The private club has around 40 members total, which includes men and women of all ages. Half of the members are under the age of 30, according to Raith, and they are encouraged to build their skills in carpentry, electronics and craftsmanship.
"Not only is this club about an enthusiasm for trains—we also help people build their skills," Raith said. "It might even lead them to a career."
Raith discussed the presence of younger people in the club. "We are open and welcome to teaching younger members. You get to use your imagination and creativity," he said.
In general, members are interested in both vintage and modern-style trains, although young people tend to appreciate the vintage styles, Raith said.
The open house, which takes place every holiday season, gives the community a chance to see what members have been working on and the current layout.
"What people often don't realize is that the layout changes from year to year," Raith said. "We are constantly building, and the layout itself is a work in progress."
The exhibit is up year-round and features replicas of local landmarks inspired by the Carrie Blast Furnace and Clairton Coke Works.
"Our current layout is 12 years old, but it's ongoing and never really finished," Raith said. "It gives a history of the steel-making process."
The club also showed off a display at light-up nights in Pittsburgh, Irwin and Jeannette, as well as the Carnegie Library of McKeesport.
This weekend is the last of the holiday season for the community to visit the exhibit, but people can also book a private appointment.
For those who are interested in seeing the model trains, stop in this weekend from 1 to 7 p.m., Saturday and Sunday. To book a private appointment, please call (412) 664-5626 or visit the group's Facebook page.
---
Elizabeth Laughlin is a freelance writer and a doctoral student at Indiana University of Pennsylvania. She is a graduate assistant who runs the department newsletter and writes for a digital project. She writes for Modern Language Studies, and her short story, "Twenty-Seven," is being published in their journal.
Originally published December 15, 2022.
In other news:
"One Teen Killed, Anot…" || "Duquesne Budget Holds…"