(Advertisement)
McKeesport Housing Authority is opening the Section 8 waiting list
Housing Choice Voucher Program
The McKeesport Housing Authority will be accepting applications for the Housing Choice Voucher Program (Section 8) Waiting List.
When?
April 10, 2023, 8:30 AM @ 2901 Brownlee Ave. McKeesport, PA 15132.
NO APPLICATIONS WILL BE ACCEPTED BEFORE THE ABOVE POSTED TIMES.

APPLICATIONS WILL BE DATE AND TIME STAMPED UPON RECEIPT. APPLICATIONS CAN BE SUBMITTED IN PERSON, FAX 412-673-1706, EMAIL TO BBRAY@MCKHA.ORG.
You can download a blank copy of the application from www.mckha.org.
Where?
At www.mckha.org or any of the rental offices at Crawford Village, Harrison Village & McKeesport Towers

MULTIPLE APPLICATIONS WILL NOT BE ACCEPTED. PLEASE DO NOT CALL FOR YOUR STATUS —- NO INFORMATION WILL BE GIVEN OVER THE TELEPHONE. YOU WILL BE NOTIFIED VIA THE US MAIL. IT IS CRITICAL TO KEEP YOUR INFORMATION UPDATED WITH OUR OFFICE IF IT CHANGES. IF WE ARE UNABLE TO CONTACT YOU, YOU MAY BE REMOVED FROM THE WAITING LIST.
To place your ad, email tubecitytiger@gmail.com.
Ads start at $1 per day, minimum seven days.
By Elizabeth Laughlin
The Tube City Almanac
December 27, 2022
Posted in: White Oak News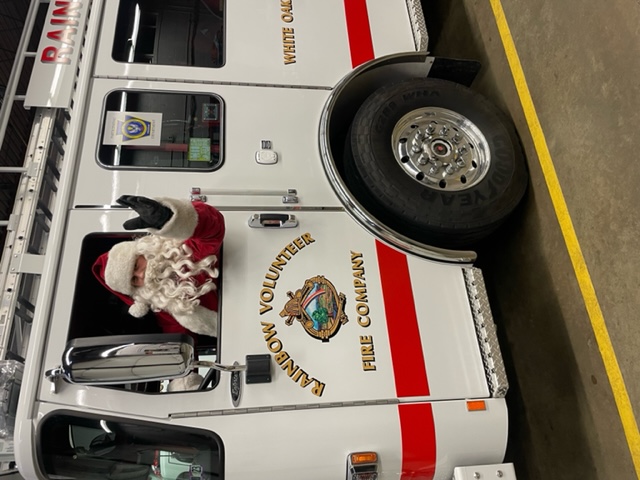 Santa visited White Oak neighborhoods on the night before Christmas, courtesy of the borough's two volunteer fire departments. Although many Mon-Yough communities give Santa a lift during December, White Oak officials think the community is one of only a few that holds the event on the night of Dec. 24. (Submitted photo)
---
On Christmas Eve, two local volunteer fire departments — Rainbow Volunteer Fire Company and White Oak Volunteer Fire Company #1 — celebrated the holidays by visiting neighborhoods in White Oak. Riding the back of fire trucks, Santa Claus waved and handed out candy canes.
Brandon Schmidt is the fire chief of Rainbow Volunteer Fire Co., located on Jacks Run Road, and has been an official member for 20 years. Most of his family, including his parents and brother, have also been affiliated with the organization. Currently, there are 42 active members of the company.
Schmidt expressed his excitement over the Christmas Eve tradition. Although many fire departments in Western Pennsylvania give Santa a ride through the community each holiday season, Schmidt said the White Oak departments are one of the few that do it on the night before Christmas, "to the best of my knowledge."
Borough firefighters sacrifice in order to keep alive the tradition, which has been around between 40 and 50 years, Schmidt said.
"Our families have moved their schedules around for this event," he said. "I'm very proud of our members for continuing to do this."
The firefighters were especially excited for the event because of the social interactions. During the COVID-19 pandemic, they still took Santa on the truck, but they could not stop at houses for cookies or take pictures.
"We're looking forward to interact with people," Schmidt said. "People in White Oak love it, and it's a big thing in the community."
Before the event, Schmidt explained that both children and adults love seeing Santa equally and look forward to it each year. The event took place at 5 p.m. and lasted between three and four hours.
Originally, Santa's trip was done only with Rainbow Volunteer Fire Co., but then White Oak Volunteer Fire Co. #1 stepped in to help.
"We coordinate with each other on the maps," Schmidt said. "We now have three to four units with a Santa on each of them."
Schmidt talked about how much he appreciated this event, which has been embraced in White Oak.
"My favorite part is getting to spend time with the firefighters, especially during the holidays," Schmidt said. "We are very happy to do it. We take time from our blood families to be with our firefighting families. And the community is really good to us."
---
Elizabeth Laughlin is a freelance writer and a doctoral student at Indiana University of Pennsylvania. She is a graduate assistant who runs the department newsletter and writes for a digital project. She writes for Modern Language Studies, and her short story, "Twenty-Seven," is being published in their journal.
Originally published December 27, 2022.
In other news:
"Winners of NV Twp. Ho…" || "Duquesne-Based Printe…"