(Advertisement)
McKeesport Housing Authority is opening the Section 8 waiting list
Housing Choice Voucher Program
The McKeesport Housing Authority will be accepting applications for the Housing Choice Voucher Program (Section 8) Waiting List.
When?
April 10, 2023, 8:30 AM @ 2901 Brownlee Ave. McKeesport, PA 15132.
NO APPLICATIONS WILL BE ACCEPTED BEFORE THE ABOVE POSTED TIMES.

APPLICATIONS WILL BE DATE AND TIME STAMPED UPON RECEIPT. APPLICATIONS CAN BE SUBMITTED IN PERSON, FAX 412-673-1706, EMAIL TO BBRAY@MCKHA.ORG.
You can download a blank copy of the application from www.mckha.org.
Where?
At www.mckha.org or any of the rental offices at Crawford Village, Harrison Village & McKeesport Towers

MULTIPLE APPLICATIONS WILL NOT BE ACCEPTED. PLEASE DO NOT CALL FOR YOUR STATUS —- NO INFORMATION WILL BE GIVEN OVER THE TELEPHONE. YOU WILL BE NOTIFIED VIA THE US MAIL. IT IS CRITICAL TO KEEP YOUR INFORMATION UPDATED WITH OUR OFFICE IF IT CHANGES. IF WE ARE UNABLE TO CONTACT YOU, YOU MAY BE REMOVED FROM THE WAITING LIST.
To place your ad, email tubecitytiger@gmail.com.
Ads start at $1 per day, minimum seven days.
By Tom Leturgey
The Tube City Almanac
January 03, 2023
Posted in: Duquesne News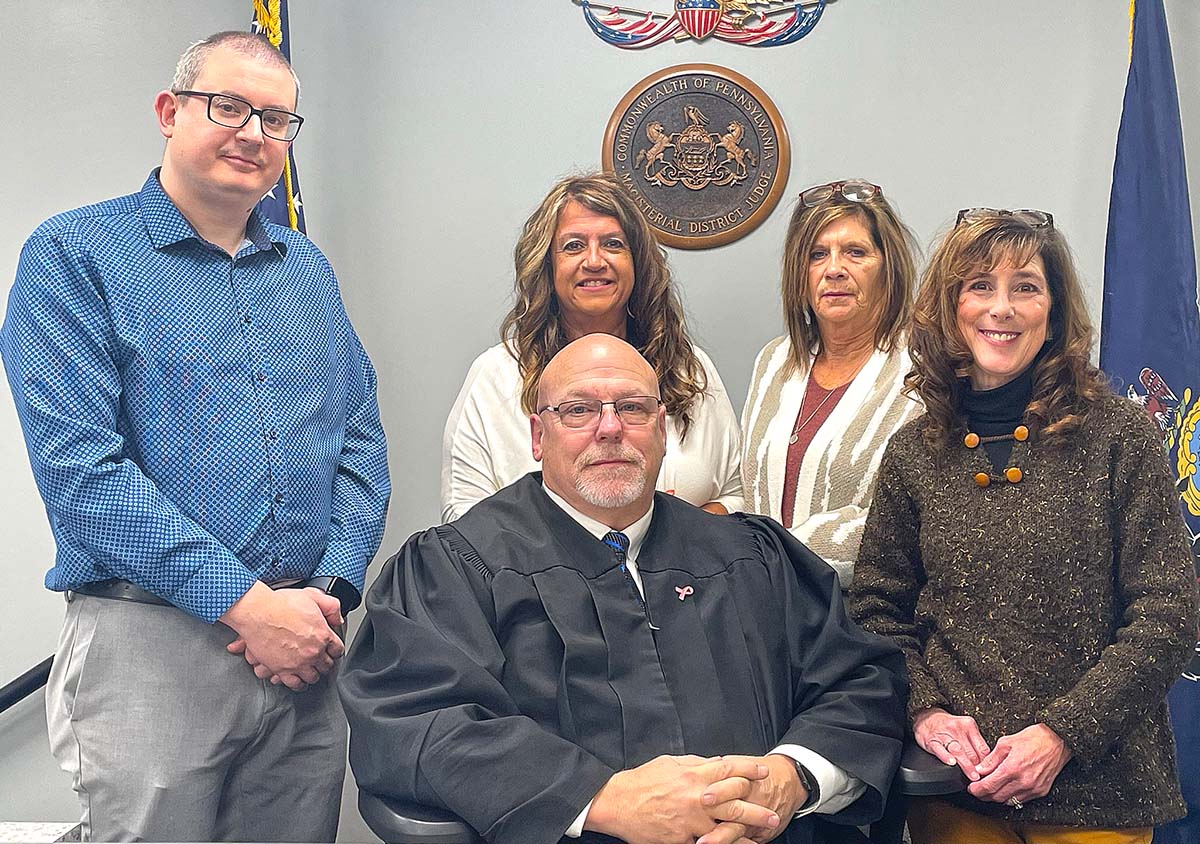 Magisterial District Judge Scott Schricker (center) and his office staff recently completed a move of District Court 05-2-47 from Turtle Creek to the Duquesne Plaza shopping center on Route 837. Hours and phone numbers remain the same. (Tom Leturgey photo for Tube City Almanac)
---
Magisterial District Judge Scott H. Schricker got an early Christmas gift when his office moved from Turtle Creek to Duquesne.

Schricker, of Duquesne, says that his office had outgrown the office front in Penn Plaza, Turtle Creek, and after months of renovation, a much larger spot opened in the Duquesne Plaza, next door to where the Save-A-Lot grocery store had been. Schricker, and his staff of five moved into the contemporary facility in early December and have been holding hearings without disruption.

The long-serving magistrate and his staff had been in the Turtle Creek office since Schricker took office in 2004. In addition to Duquesne and Turtle Creek, Schricker's district also includes Braddock, North Braddock and East Pittsburgh boroughs.
The new office has a small work space for landlords and others to fill out paperwork, protective glass between the lobby and offices where the secretary and clerks work, and a larger waiting area. There is a mixture of updated flooring and durable carpeting, as well as new lighting that give the office a modern look.

Inside the courtroom, Schricker says, there is much more room for plaintiffs, defendants, police, attorneys and all others to co-exist than at the Turtle Creek site. Prisoners who arrive with constables have a separate entrance in the back of the building and male and female accommodations. There is also a rest room for the prisoners to use, separate from the rest of the public.

The new offices have access from Route 837 and are only a block away from the Duquesne city hall, police and fire departments.
Schricker says there had been some confusion with some residents who were under the impression that the office had closed, instead of relocated. All telephone calls were answered and business was conducted as usual during the smooth transition, he says.

Office hours remain 8 a.m. until 4 p.m. Monday through Friday, and phone and fax numbers also remain unchanged, court officials say.
---
Tom Leturgey is a freelance writer based in Pittsburgh and the editor of KSWA Digest, the online news and features home of the Keystone State Wrestling Alliance. His work also appears in The Valley Mirror and other publications.
Originally published January 03, 2023.
In other news:
"NAMI McKeesport to Me…" || "Freezing Temps Break …"