(Advertisement)
Tube City Community Media Inc. is seeking freelance writers to help cover city council, news and feature stories in McKeesport, Duquesne, White Oak and the neighboring communities. High school and college students seeking work experience are encouraged to apply; we are willing to work with students who need credit toward class assignments. Please send cover letter, resume, two writing samples and the name of a reference (an employer, supervisor, teacher, etc. -- not a relative) to tubecitytiger@gmail.com. (4-11-2023 to 4-30-2023)
To place your ad, email tubecitytiger@gmail.com.
Ads start at $1 per day, minimum seven days.
B-PEP's Tim Stevens: Every participant needs to 'follow-through,' follow-up
By Tom Leturgey
The Tube City Almanac
January 23, 2023
Posted in: McKeesport and Region News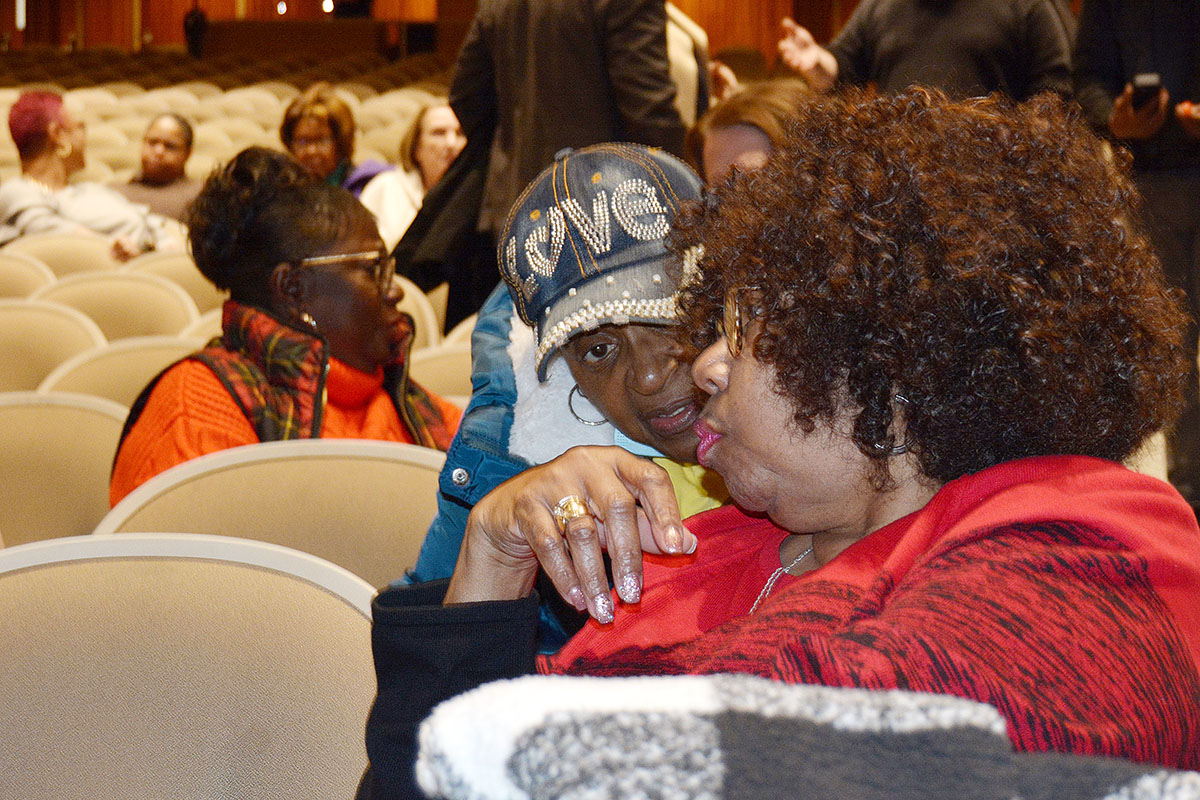 Community members arrive Thursday at McKeesport Area High School for a community meeting on gun violence convened by the McKeesport Unit of the NAACP. (Vickie Babyak photo for Tube City Almanac)
---
Focused and persistent community action is necessary when it comes to tackling gun violence, said one of the speakers at a summit last week at McKeesport Area High School.
Tim Stevens, chair and chief executive officer of the Black Political Empowerment Project, or B-PEP, said stakeholders in the Mon Valley need to "stay the course" and keep working on communication and outreach, especially to youth who may be lured into crime or violence.
Anti-bullying and Internet safety are two specific areas that families should pay attention to, Stevens said.
The McKeesport unit of the NAACP on Thursday convened the second of a series of community meetings focused on reducing gun violence. A third is tentatively planned for Feb. 21.
Stevens, one of the panelists, said holding a community meeting "makes people feel good," but that each and every participant needs to "follow through" and follow up on future sessions.
Other participants included McKeesport Mayor Mike Cherepko; Richard Garland, assistant professor at the University of Pittsburgh and director of the Violence Prevention Project; Tamara Collier, community outreach specialist, re-entry coordinator & diversity coordinator for the U.S. Department of Justice; Troy Rivetti, assistant U.S. Attorney for the Western District of Pennsylvania; and Keith Murphy, founder and director of the city-based Healthy Village Learning Institute.
About 80 members of the McKeesport community attended.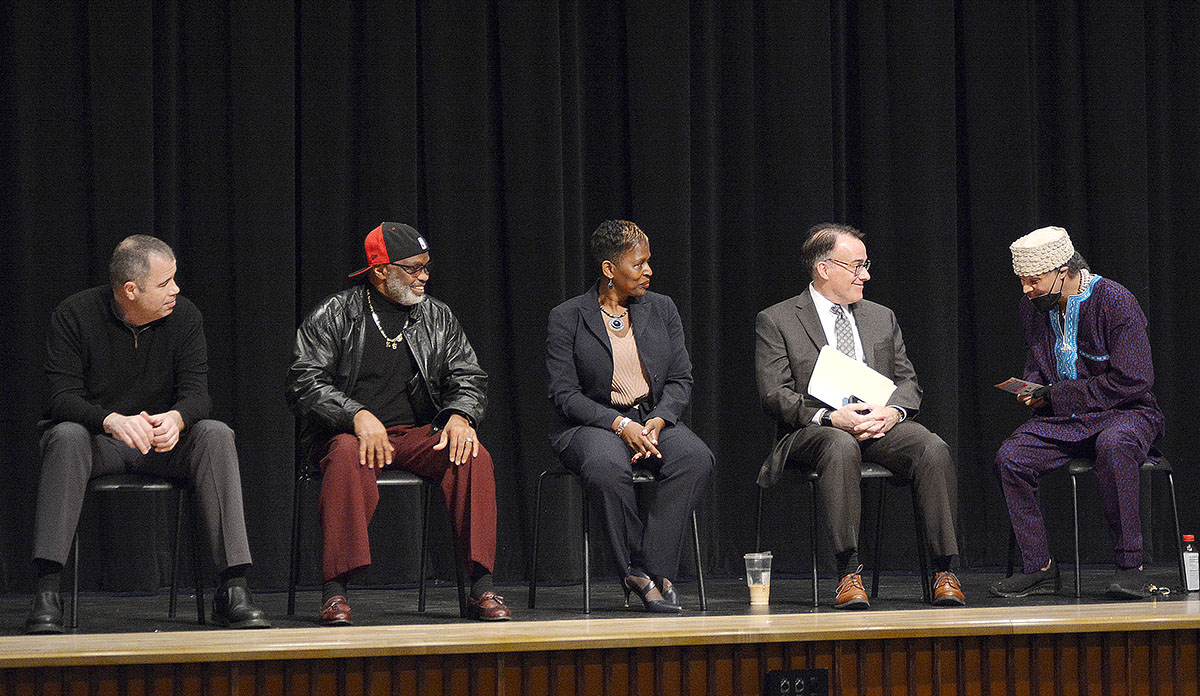 Panelists at Thursday's meeting committed to future conversations and outreach. Another gathering is scheduled for Feb. 21. (Vickie Babyak photo for Tube City Almanac)
---
Brenda Sawyer, president of the McKeesport NAACP, presided over the evening, which she and others noted was being held just hours after another fatal shooting in downtown Pittsburgh.
Rivetti talked about the role of federal prosecutors and the jurisdictional differences between federal and state crimes, as well as Project Safe Neighborhoods, a nationwide initiative designed to help identify violent issues in communities.

Project Safe Neighborhoods is focused on core principles like fostering trust and legitimacy in our communities and support community-based organizations, among other goals. Rivetti said that engagement and trust in the community is key.
Another goal of the agency is to work to reduce crime without increasing the number of arrests or prosecutions. "We can't prosecute our way out of this," he said.

Rivetti's co-worker, Tamara Collier, said she "wears several hats" in the U.S. Attorney's office. Most notably, she is the community outreach coordinator for the agency. She also touted the importance of communication with everyone in the community. "The biggest (problem) is silence," she said. "We all have to get together."

While the meeting was designed for problems in McKeesport, featuring Rivetti and Collier helped detail how the Downtown Safety Coalition helps students at four Pittsburgh schools be kept safe.
Brenda Sawyer shared ideas and plans on developing task forces in McKeesport.
The representatives from the U.S. Attorney's office explained that communication and work with the Pittsburgh Downtown Partnership helps focus on after-school programs, and features like game, food and entertainment have made strides to make students safe downtown.

All of the night's speakers expressed how the work to stay diligent is never done. Rivetti talked about how criminals obtain firearms through friends and relatives and how "ghost" guns — handguns made from untraceable parts — can be built at home using parts ordered online or 3-D printed.
He explained that laws have recently been tightened within the last year in an attempt to crackdown on homemade guns. He also touched on the importance of responsible gun ownership.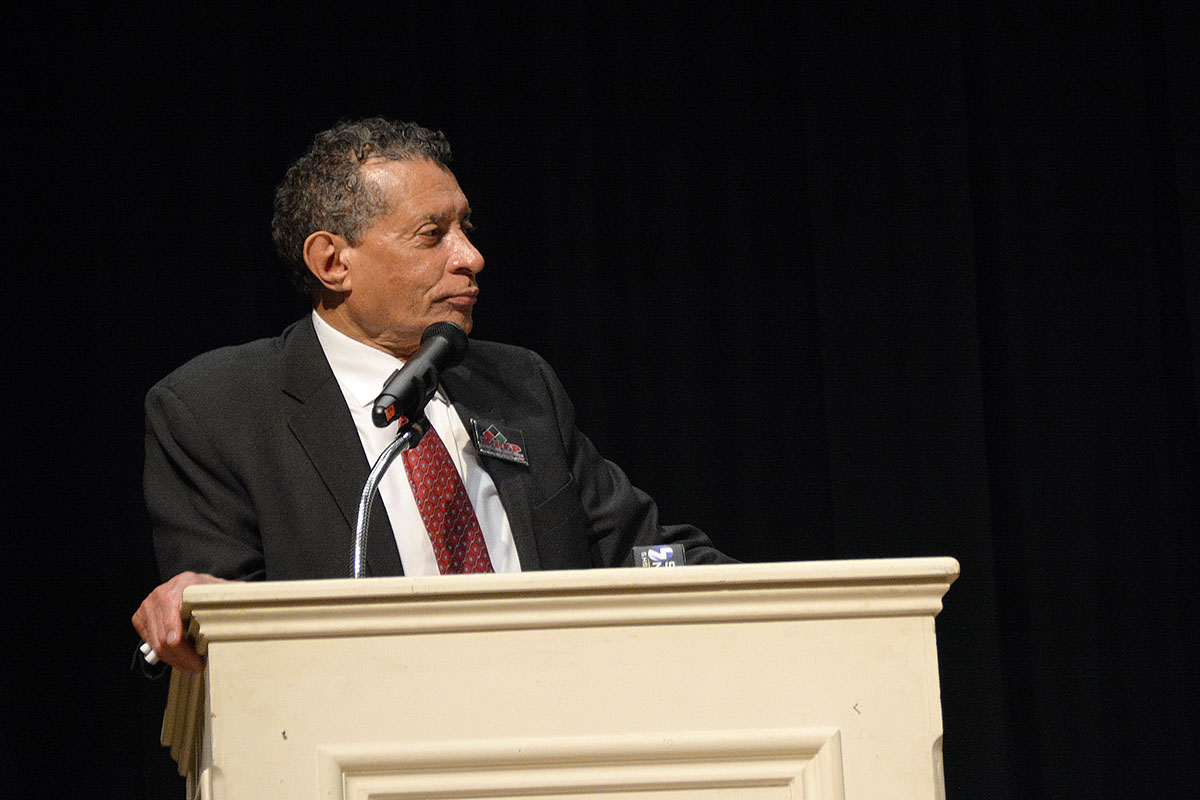 Tim Stevens of B-PEP urged the community and leaders to work together in curbing gun violence. (Vickie Babyak photo for Tube City Almanac)
---
B-PEP's Stevens pointed out that attendance at Thursday's meeting was similar in size to the first meeting. He also talked about ways to move forward the Mon Valley economically and with jobs, citing the "Rooney Rule," a National Football League mandate and states at least one minority must be interviewed for NFL coaching vacancies.
Stevens said large employers in the region should commit to using that business practice whenever they need to fill a vacancy. Better jobs, he said, would lower the need for people to turn to crime.
"The Rooney Rule with results," Stevens said. "It's an opportunity to work together. How do we use who we are to build bridges?"

Keith Murphy, founder and executive director of the Healthy Village Learning Institute in McKeesport, urged members of the community to "not sit on the sidelines" and to work together for solutions to problems in the neighborhood.
He also urged schools in the district to share information with parents. "Schools should be happy to help the situations," he continued.
Sawyer provided a clipboard for residents to sign up for volunteer opportunities.
The next meeting is scheduled for 5:30 p.m. Feb. 21 on the high school campus, either in the auditorium or the cafeteria, she said. Residents will be updated on the next meeting, said Sawyer.
---
Tom Leturgey is a freelance writer based in Pittsburgh and the editor of KSWA Digest, the online news and features home of the Keystone State Wrestling Alliance. His work also appears in The Valley Mirror and other publications. Vickie Babyak is a photographer and freelance writer from Dravosburg. She may be reached at vbabyak@yahoo.com.
Originally published January 23, 2023.
In other news:
"Wilmerding Community …" || "Police Investigating …"