(Advertisement)
Tube City Community Media Inc. is seeking freelance writers to help cover city council, news and feature stories in McKeesport, Duquesne, White Oak and the neighboring communities. High school and college students seeking work experience are encouraged to apply; we are willing to work with students who need credit toward class assignments. Please send cover letter, resume, two writing samples and the name of a reference (an employer, supervisor, teacher, etc. -- not a relative) to tubecitytiger@gmail.com. (4-11-2023 to 4-30-2023)
To place your ad, email tubecitytiger@gmail.com.
Ads start at $1 per day, minimum seven days.
Mayor: Confident in 'resilience' of the McKeesport community
By Staff Reports
The Tube City Almanac
February 07, 2023
Posted in: Crime and Police News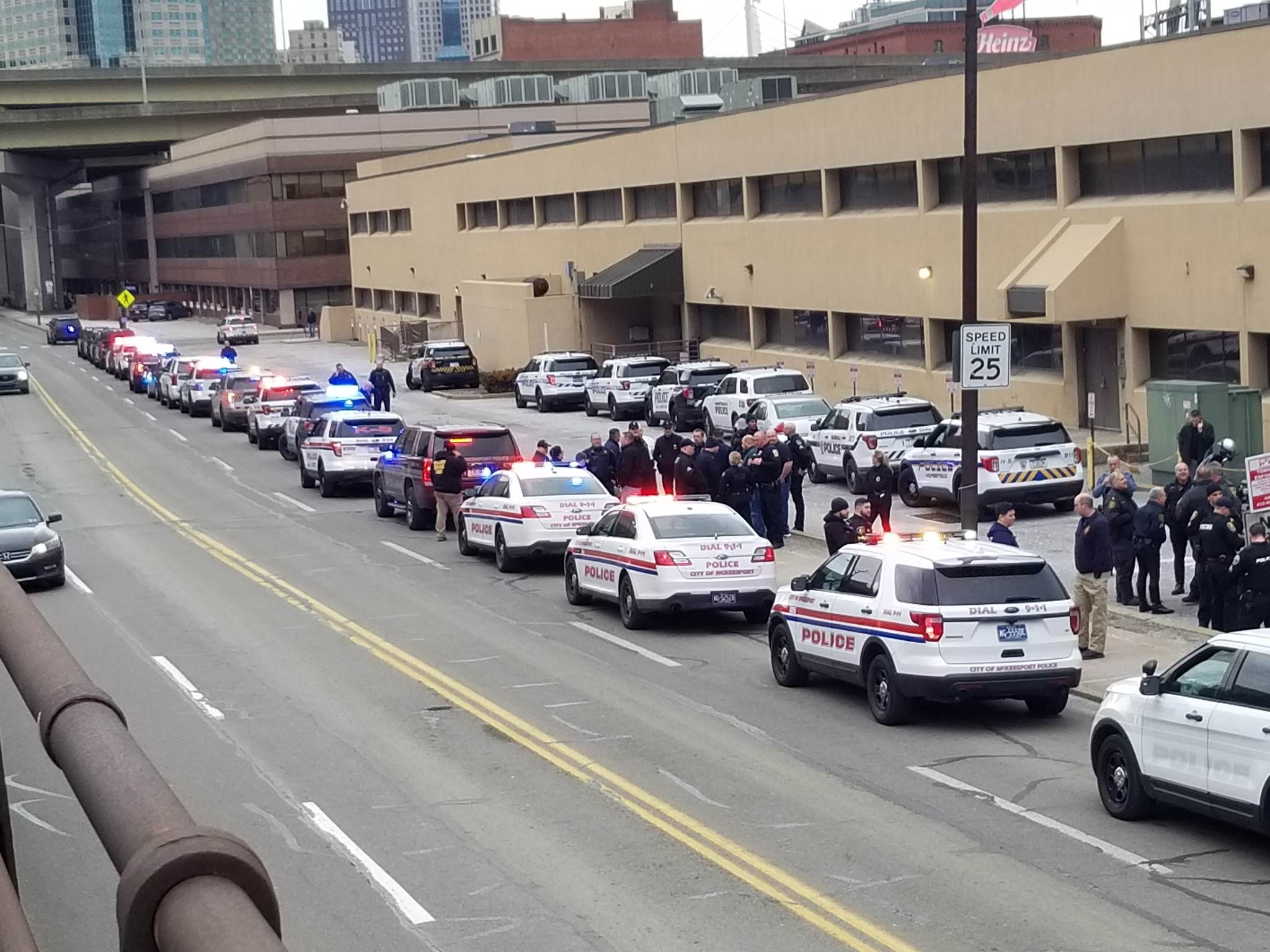 A line of McKeesport police, fire and EMS vehicles prepares to leave the Allegheny County medical examiner's office from Pittsburgh's Strip District with the remains of slain police Officer Sean Sluganski. (Submitted photo special to Tube City Almanac)
---
An escort of McKeesport emergency vehicles carried the body of slain police Officer Sean Sluganski to a South Hills funeral home on Tuesday afternoon.
Sluganski, 32, who had served on the McKeesport police department for two years, died Monday following a shooting on Grandview Avenue.
Allegheny County police have charged Johnathan Jermia Morris, 31, with criminal homicide, aggravated assault, assault on a law-enforcement officer and attempted murder of a law-enforcement officer in the first degree in connection with the death of Sluganski and the wounding of fellow McKeesport police officer Charles Thomas Jr., 35.
Morris is in custody at a Pittsburgh hospital, awaiting arraignment.
Sluganski and Thomas were investigating a domestic disturbance at a home on Willow Street shared by Morris and his mother, Candace Tyler. In an affidavit, county detectives said that Tyler called police because Morris was suffering a mental health episode as a result of post-traumatic stress disorder.
McKeesport Mayor Michael Cherepko said Tuesday the city is standing together in support of the police department and supporting Thomas "on his road to recovery."
Thomas, 35, is a four-year member of the city's department. He has been discharged from the hospital and is at home recovering with his family, officials said.
Organizations throughout the city, region and nation have extended their sympathies and offered help to the officers' families, the police department and the McKeesport community, the mayor's office said.
"Our police have received an overwhelming amount of support — not only from the McKeesport community, but far beyond as well," Cherepko said. "As mayor, I cannot thank these individuals and organizations enough for their support during this devastating time. It is their words of encouragement that will be with all of our officers as they continue to serve our community in the weeks, months and years to come."
Michelle Henry, acting Pennsylvania Attorney General, said Monday's events were "a tragic day for the Commonwealth, for all of Allegheny County, and for the families of Officers Sluganski and Thomas, who said goodbye to them yesterday morning as they always do, not knowing what might happen."
"I want to offer my sincere condolences to the loved ones of Officer Sluganski, who died a hero bravely responding to an emergency call for help," Henry said. "While the investigation into this incident is still in the very early stages and ongoing, early reporting underscores the challenges and volatility we ask police to confront. We stand together to honor the service and sacrifice of these officers and their families in service to our Commonwealth."
Cherepko said he is confident in the resilience of the McKeesport community. Prayer services took place Monday at the McKeesport Area Shared Ministry United Methodist Church's Beulah Park campus and Mary, Mother of God Catholic Church's St. Patrick parish.
On Wednesday, a community-organized candle-light vigil will take place at 6 p.m. at the Jakomas Blue-Top Pavilion in Renziehausen Park.

Cherepko called upon all McKeesporters to support the city's police not only during this tragedy, but every day.

"Yesterday began as any day would for Officer Sluganski. He left his family at home and came to work," Cherepko said. "Our officers — all officers — never know what they are walking into. There is no such thing as a typical call in today's world. It is always the goal of a first-responder to complete his or her daily duties and return home safely.
"We should all give serious thought to what these families endure while their loved ones are out serving our community – hoping and praying that they never have to deal with what Officer Sluganski's family experienced yesterday," Cherepko said.
Funeral arrangements for Sluganski were incomplete at press-time and are under the care of John F. Slater Funeral Home in Brentwood.
Originally published February 07, 2023.
In other news:
"Suspect Charged in Sh…" || "Voters in 35th Choose…"