(Advertisement)
Tube City Community Media Inc. is seeking freelance writers to help cover city council, news and feature stories in McKeesport, Duquesne, White Oak and the neighboring communities. High school and college students seeking work experience are encouraged to apply; we are willing to work with students who need credit toward class assignments. Please send cover letter, resume, two writing samples and the name of a reference (an employer, supervisor, teacher, etc. -- not a relative) to tubecitytiger@gmail.com. (4-11-2023 to 4-30-2023)
To place your ad, email tubecitytiger@gmail.com.
Ads start at $1 per day, minimum seven days.
Show-within-a-show hints at multiple possibilities for an ending
By Bonnijean Cooney Adams
The Tube City Almanac
March 10, 2023
Posted in: Entertainment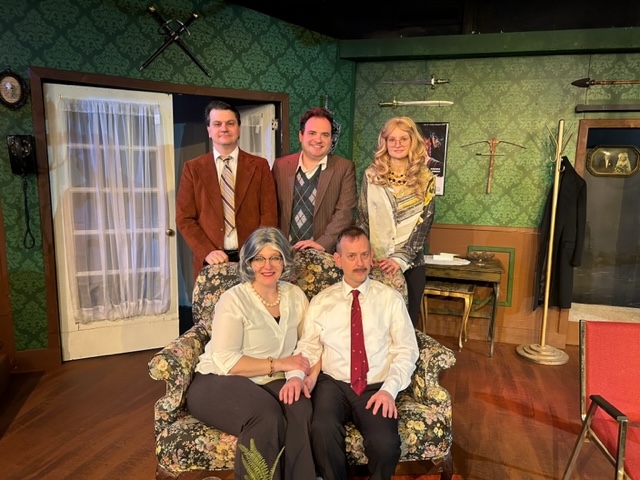 The cast of McKeesport Little Theater's production of "Deathtrap," from left in front, are Amy Melissen as Myra Bruhl and Andrew Lasswell as Sidney Bruhl. In back are Craig Soich as Porter Milgrim, Gavin Calgaro as Clifford Anderson, and Mandy Eckenrode as Helga ten Dorp. (Bonnijean Cooney Adams photo for Tube City Almanac.)
If you go...

"Deathtrap"

Where: McKeesport Little Theater, 1614 Coursin St.

When: Fridays and Saturdays at 7:30 p.m.; Sundays at 2 p.m., through March 19.

Tickets: Available through the MLT website, by calling the theater at 412-673-1100, or via onthestage.com.
McKeesport Little Theater's upcoming production of "Deathtrap" definitely is a show-within-a-show thriller, but has so many twists and turns that even the most astute audience member easily could go see it a second time just to enjoy all the nuances.
There are only five characters in the whole play. As cast, they are Andrew Lasswell as Sidney Bruhl, Amy Melissen as his wife Myra Bruhl, Gavin Calgaro as Sidney's student, Clifford Anderson, Mandy Eckenrode as psychic Helga ten Dorp, and Craig Soich as Porter Milgrim, Sidney's friend and attorney.
Here's a mini-synopsis, but if you plan to attend, don't go looking up an official full synopsis and spoil the experience.
The entire two-act play is set in the Connecticut home of Sidney, a successful playwright. While he's not completely down on his luck, he is experiencing a bit of writer's block, which he is eager to overcome and move on to his next hit following a string of flops.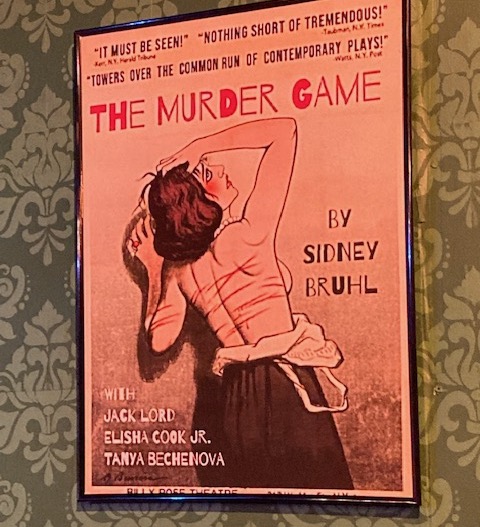 Attention to detail includes posters created by director Logan Tomko that hang on the wall at the home of playwright Sidney Bruhl. Each represents one of his successful productions.
---
Sidney tells Myra that his student has shared a play he wrote. Sidney deems it to have the makings of a surefire hit, and invites Clifford to his home, purportedly so they can develop it together.
Helga also visits the home, sharing various visions and warnings of pain and doom.
As the production continues, the audience must determine, in part, whether what appears on the MLT stage is the real play, or part of Clifford's/Sidney's collaboration.
Where does attorney Porter fit in? That's revealed in the second act.
Some cast members were familiar with "Deathtrap" – either the award-winning 1978 play written by Ira Levin or the 1982 film starring Michael Caine, Dyan Cannon and Christopher Reeve.
"I was not familiar with 'Deathtrap,' but was familiar with other pieces of Ira Levin's work, particularly 'Rosemary's Baby' and 'The Stepford Wives,' " director Logan Tomko said.
He teamed up with Bryana Zanotelli, officially the show's stage manager and production designer, who got her start in theater through MLT's Juniors program.
"I did connect with McKeesport Little Theater through my relationship with Bry," Tomko said, "when I found out they were looking for a director for 'Deathtrap.' "
Rehearsals began in January, with the show set to open today (March 10), and run Fridays, Saturdays and Sundays through March 19.
Tomko said he has worked as an actor since childhood, including stints in a TV series and films, and as a director on two feature films.
"We intend to keep the audience a part of the ambiance from the moment they enter," the director said. "My favorite part of the show is the amount of unpredictable twists and turns."
Each member of the small cast brings something different to "Deathtrap," and was willing to share their experiences and insight without providing spoilers.
In real life, Lasswell has a lot in common with his character Sidney, plus McKeesport Little Theater connections through Pittsburgh New Works Festival.
Lasswell said he's performed in five plays for New Works, including the 2022 audience-favorite "Ricco Raccoon," which was produced by McKeesport Little Theater.
Phillip Boatright, "Deathtrap" producer, also served in that capacity for "Ricco Raccoon."
New Works is an annual opportunity for playwrights to have their original works performed and staged. Submissions are accepted, judged, and winners announced.
Lasswell said he wrote a play for New Works, which was not selected this time around, so he planned to focus his time on revising it.
But he said he got sidetracked late last year when he got the opportunity to play Dr. Victor Frankenstein in "Miserable Creatures."
Lasswell said he saw the "Deathtrap" film when he was a kid. When the audition notice popped up on Facebook, he said he set his sights on playing Sidney.
"It's action, it's romance, it's a mystery, but with comedic elements," Lasswell said. "A person could watch this show more than twice and come out with other understandings."
As Andrew, Lasswell said one of his favorite experiences is "to clearly hold two distinct thoughts at the same time to show to the audience."
He said his most challenging moment was convincing Melissen to join the cast as Myra.
Melissen said she had not heard of "Deathtrap" before, but then Lasswell was cast as Sidney. Originally, she said, she thought she was supposed to be an understudy. "And then I was Myra," she said with a little laugh. "I had not acted for about 15 years – since college."
She credits lots of support from Lasswell, Tomko, and Zanotelli with building her confidence.
"There's so much happening underneath and around the words," Melissen said. "Bry has been working tirelessly on the show. I'm really fortunate to be working with Logan. They've all been incredibly kind and patient and letting me evoke how to portray my character."
Her advice to audiences? "Pay attention to what you're not hearing in the words," Melissen said. "And after you've seen it twice or more, you'll realize all the hints and clues that were there."
A grade school teacher as his day job, Calgaro's first appearance at MLT is as a student and aspiring playwright. "I went to Penn State for education," he said. "I did theater in high school, then continued in college because we just had fun together performing. Then I did some community theater.
"I love 'Deathtrap.' Clifford is the role I had in mind because it fit my type and age range," Calgaro said.
The show-within-a-show aspect, he said, is his biggest challenge, and how to portray that to the audience so members can decide what's real and what's not. "It's the idea that you need your character to be real, but human, but at the same time to be almost hyper realistic," he said.
"Clifford comes to a seminar he (Sidney) taught, and he was already a longtime fan, so he's obsessed and looking for a mentor." Part of the play's intrigue is whether Sidney will be that mentor.
Craig Soich returns to the McKeesport stage after a stint in "Newsies" earlier this season. His character only appears in the second act, but drops lots of hints about what may really be going on.
"He's a lawyer and friend of Sidney," Soich said. "He reveals a lot of information to the audience."
He described his character as "a straight man who provides comic relief, especially through inflection. He gives a couple of little quirks to bring it out."
He said he thinks the audience definitely will be surprised at the end, saying, "They will be by how many endings are possible and the actual one is probably not what they expected at all.
"I like smaller casts because we can play off each other," Soich said.
He returned to acting approximately 12 years ago and since has appeared in a number of regional productions. Soich also is president of Greensburg Civic Theatre, where Boatright serves on the board of directors.
Eckenrode said she was ready to do a regular play again after appearing in "Rocky Horror Show" at McKeesport Little Theater in October.
She said while some people do a lot of research into their character, she let her approach evolve during read-throughs.
"She (Helga) is a psychic in the play and she's serious and dry, but she's also almost like a cartoon character," Eckenrode said. "She's serious about what she is saying, and that's a lot of fun, with a lot of body language and dry, little quips.
"There's a lot of twists and turns – kind of something for everyone," she added.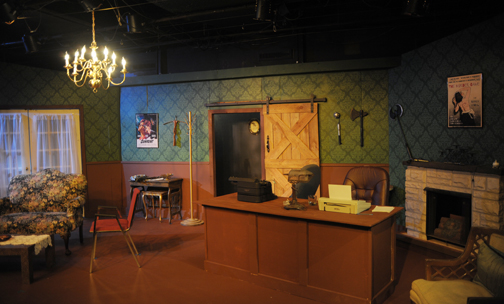 The stage area at McKeesport Little Theater gets an expanded look through efforts and details of production designer Bryana Zanotelli. (Bonnijean Cooney Adams photo for Tube City Almanac.)
---
Zanotelli has gone a long way – and back again – since she joined the MLT Juniors in 2012 for "Camp Rock."
She said she knew she didn't want to be an actor, but was drawn to other ways to bring a production to life. Zanotelli left her native Plum and headed to Pace University in New York City, where she received a Bachelor of Fine Arts in Production and Design for Stage and Screen.
She got an internship at Pittsburgh CLO, which led to seasonal employment there. Through another connection, Zanotelli took her skills to Broadway.
"I loved working on Broadway," she said, which is where she was when COVID-19 hit.
Returning to the area, Zanotelli also reconnected with MLT, including recently as the stage manager for "Frozen Jr."
With the "Deathtrap" stage manager position in mind for herself, Zanotelli said she and Tomko "read the script and loved it," leading him to apply for the director's position.
On the set, what appears to be wallpaper, for example, she hand painted with stencils.
"I can't take full credit for the set," she added. "It was a collaboration with me, Logan, and Dave (carpenter Dave Fleming). I'd say to Dave, 'I want a French door,' and the next day it was part of the set."
She credits Tomko with other details, such as designing the posters hung on the Bruhl house walls from some of Sidney's hit plays.
As far as her contributions, Zanotelli jokes that she does "anything but costumes."
---
Bonnijean Cooney Adams is a freelance contributor. She can be reached at adamsclick@aol.com.
Originally published March 10, 2023.
In other news:
"Food Services Directo…" || "Duquesne City Manager…"