(Advertisement)
McKeesport Housing Authority is opening the Section 8 waiting list
Housing Choice Voucher Program
The McKeesport Housing Authority will be accepting applications for the Housing Choice Voucher Program (Section 8) Waiting List.
When?
April 10, 2023, 8:30 AM @ 2901 Brownlee Ave. McKeesport, PA 15132.
NO APPLICATIONS WILL BE ACCEPTED BEFORE THE ABOVE POSTED TIMES.

APPLICATIONS WILL BE DATE AND TIME STAMPED UPON RECEIPT. APPLICATIONS CAN BE SUBMITTED IN PERSON, FAX 412-673-1706, EMAIL TO BBRAY@MCKHA.ORG.
You can download a blank copy of the application from www.mckha.org.
Where?
At www.mckha.org or any of the rental offices at Crawford Village, Harrison Village & McKeesport Towers

MULTIPLE APPLICATIONS WILL NOT BE ACCEPTED. PLEASE DO NOT CALL FOR YOUR STATUS —- NO INFORMATION WILL BE GIVEN OVER THE TELEPHONE. YOU WILL BE NOTIFIED VIA THE US MAIL. IT IS CRITICAL TO KEEP YOUR INFORMATION UPDATED WITH OUR OFFICE IF IT CHANGES. IF WE ARE UNABLE TO CONTACT YOU, YOU MAY BE REMOVED FROM THE WAITING LIST.
To place your ad, email tubecitytiger@gmail.com.
Ads start at $1 per day, minimum seven days.
By Dianne Ribecca
The Tube City Almanac
March 15, 2023
Posted in: North Versailles Twp. News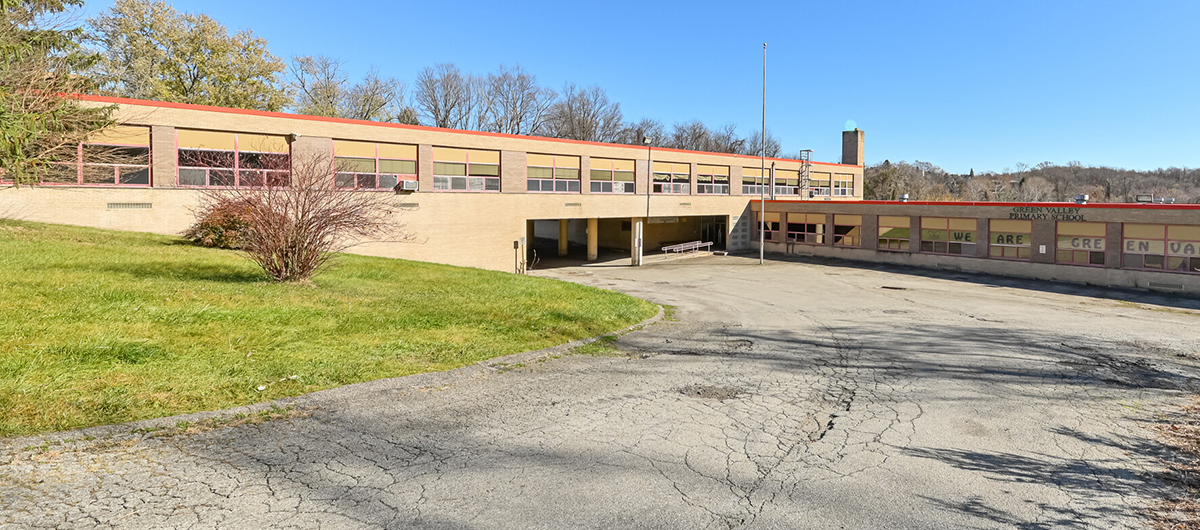 (Photo courtesy LoopNet)
---
East Allegheny School Board has approved the public sale and auction of the former Green Valley School, located at 3290 Crestview Drive in North Versailles Twp.
Built in 1951, Green Valley School formerly educated kindergarteners through third graders. When the school closed in 2016, those students were combined with those at Logan Middle School, making Logan a K-6 facility.
The sale was authorized by 9-0 vote at this month's meeting.
The district is asking for a minimum bid of $499,900 for the school and the successful bidder must get final approval from the board on the intended use of the building.
According to Allegheny County tax records, Green Valley sits on 9.5 acres and has an assessed value of $3.7 million. An adjacent 9.8-acre parcel is also owned by the school district.
A real-estate listing on LoopNet says the building is 51,000 square feet and has 20 classrooms, and suggests it could be converted in the senior-citizen apartments.
---
Dianne Ribecca is program director of Tube City Online Radio, host of the Consumer Review Report podcast, and a member of the board of directors of Tube City Community Media Inc. She may be reached at dmribecca@gmail.com. Editor Jason Togyer contributed to this story.

Originally published March 15, 2023.
In other news:
"EA Board Asks Legisla…" || "Marshals, Cops Catch …"