(Advertisement)
Tube City Community Media Inc. is seeking freelance writers to help cover city council, news and feature stories in McKeesport, Duquesne, White Oak and the neighboring communities. High school and college students seeking work experience are encouraged to apply; we are willing to work with students who need credit toward class assignments. Please send cover letter, resume, two writing samples and the name of a reference (an employer, supervisor, teacher, etc. -- not a relative) to tubecitytiger@gmail.com. (4-11-2023 to 4-30-2023)
To place your ad, email tubecitytiger@gmail.com.
Ads start at $1 per day, minimum seven days.
'All Shook Up' features music made famous by Elvis
By Bonnijean Cooney Adams
The Tube City Almanac
March 28, 2023
Posted in: Entertainment, McKeesport and Region News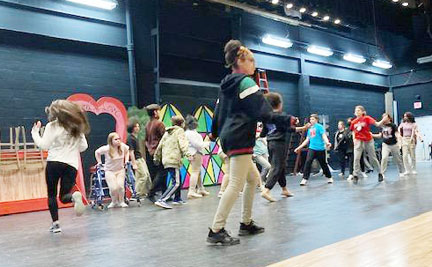 The whole cast dances all out to one of the many musical numbers in "All Shook Up." (Bonnijean Cooney Adams photo for Tube City Almanac.)
If you go...

"All Shook Up"

Where: McKeesport Area High School, 1960 Eden Park Blvd.

When: Thursday, March 30, Friday, March 31, and Saturday, April 1 at 7 p.m., with an additional Saturday, April 1 matinee at 2 p.m.

Tickets: $10 for adults, $5 for students and senior citizens. Available by emailing mckmusical@gmail.com, or in person at the high school through Friday from 8:30 to 10:30 a.m. and 11 a.m. to 12:30 p.m., and Wednesday from 4 to 6 p.m.
While almost all adults have at least heard – and many may have a favorite – Elvis Presley song, that isn't necessarily true for all teens.
That's unless those teens are in the cast, crew, or orchestra pit for McKeesport Area High School's spring musical "All Shook Up," which opens Thursday (March 30).
Characterized as an "American jukebox musical," it was written in 2004 and premiered on Broadway the following year. And while "All Shook Up" is inspired by and features the music of Elvis, the storyline is not about Presley. The male lead character is Chad (Collin Klein), who arrives as a stranger on a motorcycle to a conservative town in the Midwest circa 1950s.
While his bike is getting repaired by mechanic Natalie Haller (Kaitlyn Majewski), Chad looks for some excitement, only to learn about the town's Mamie Eisenhower Decency Act, which prohibits things such as "loud music, public necking, and tight pants."
The storyline is convoluted and includes elements found in various works of Shakespeare, a touch or two of deception, and lots of love stories.
Some of the adults in charge once again wear more than one hat, including co-producer Sarah Persin, who also directs the orchestra; Tracy Light as co-producer and costumer; and Erin Seaberg, who is the director, choreographer and with John Light designed the set.
"We chose 'All Shook Up' this year for two main important reasons," Persin said. "We wanted catchy, fun music that everyone knows (who doesn't know Elvis?!) and we wanted a show with lots of female and male parts. This checked both boxes. Also, it is extremely funny and lighthearted."
There are lots of Elvis songs – 26 of them plus a few reprises -- and lively dance numbers sprinkled in, as appropriate to the circumstances in each scene. They include "Jailhouse Rock," "Blue Suede Shoes," "Love Me Tender," and "Burning Love," to name just a few.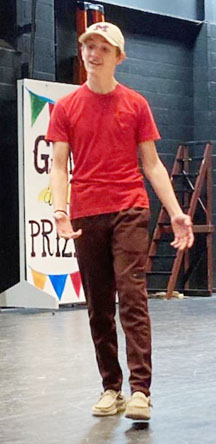 Collin Klein portrays Chad, the new guy in town, who rides in on a motorcycle and shakes up the town with his loud music and dancing. (Bonnijean Cooney Adams photo for Tube City Almanac)
---
"I could not have asked for a better character to play," Klein said of Chad. "It's so much fun becoming him. When I auditioned, I had two characters in mind – Chad and Dennis."
While Klein has earned his share of awards for his vocal talents, the dance moves were another thing. "I definitely was stiff at first," he said, "but our choreographer has helped a lot. There is just so much going on with my character."
He said his favorite part "is going out on the stage with an actual motorcycle" plus wearing a black leather jacket to help get in character. Chad is introduced in "Jailhouse Rock," which helps set the mood for the whole show.
Majewski's Natalie, a 20-something town mechanic who works with her father, is instantly smitten when she meets the charismatic, good-looking Chad – as is practically every other female he encounters.
"I had heard of 'All Shook Up,' but had no idea what it was about," Majewski said. "At first, I really didn't like Natalie as a character. However, I now realize that is sort of the point. She evolves from an insecure girl longing for love into a confident, self-assured woman who needs no man. I've come to really relate to her journey in that way."
Majewski agreed with others who said it took a lot of work to learn all the songs.
"The vocal range of this part was definitely pretty challenging. My highest notes were difficult to hit in a belting range, and my lowest notes were in the range of a male," she said.
"However, what was more challenging was the stylistic tendencies of Elvis' music. It's very different from the traditional theater sound I'm used to," Majewski explained. "I was grateful for the opportunity to expand myself in that way."
She said she had heard "Hound Dog" and "Can't Help Falling in Love," but that was about it. "I've really enjoyed being introduced to Elvis' other hits, though," she said.
As far as her favorite scene or song, Majewski responded that it's "A Little Less Conversation."
"With the context of the scene, which I cannot give due to spoilers, it is absolutely hilarious," she said. "I've also never gotten to perform a number where my active objective is to seduce someone, and of course Natalie does this in her own unique way. Vocally, it's a very difficult and exciting piece as well.
Jonah Higdon (Dennis) is the real-life best friend of Klein and Natalie's best friend in "All Shook Up." Although Dennis wants to be a dentist, he's also described as "kind of nerdy," and Higdon agrees.
"He's definitely a nerd," Higdon said. "He doesn't know social cues or boundaries or personal space. He's kind of quiet, but he has no filters."
When auditioning, Higdon chose "It Hurts Me," where his character is featured, along with the ensemble, in the second act. Then he read for the part and got it.
Higdon said costumes for the guys include black leather jackets, white shirts with blue jeans with the cuffs rolled up, and they all acquired some "blue suede shoes." Higdon also is featured with Majewski in "Love Me Tender."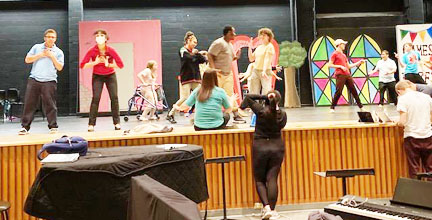 "All Shook Up" cast members practice their dance moves to "Burning Love," under the watchful eyes of Erin Seaberg and Sarah Persin. Rehearsals including the pit orchestra had not yet started. (Bonnijean Cooney Adams photo for Tube City Almanac)
---
Senior Rebecca Shearer described "All Shook Up" as "a whole big love story. It's very different from what other schools are doing right now."
As her fifth musical, since she started doing them in eighth grade, Shearer said she auditioned for Miss Sandra, but is pleased being in the ensemble.
"This is such a good show for ensemble," she said. "The '50s style is very trendy now with shirtwaist dresses and sweaters and skirts" for female cast members.
She explained it was kind of hectic learning all the songs. "It's like some are shorter, but for others the lyrics get harder."
She said her favorite number is "Burning Love" with the whole cast near the end of the show. "I drilled that song into my head," Shearer said. "It's so jazzy and dancey."
With all the songs in the show, the ensemble has an increased role. While the leads have some solos and duets, they also have solo parts within some of the songs. Ensemble provides harmonies or backup for a full-bodied sound, when on stage or even if performing in the wings.
Luciano Lanz plays Jim Haller, Natalie's widowed father. Also honored for his vocal talents this year, Lanz said the songs were a challenge.
"It's not at all in my range," he said. "Most of the lead roles are all high." Jim is featured in "Don't Be Cruel," a duet with Chad.
As far as his character, Lanz said Jim is not interested in any romance when "All Shook Up" begins, and has just shared that sentiment with Sylvia (Gianna Sotereanos), owner of Sylvia's Honky-Tonk.
Sylvia, who also is alone in raising her 16-year-old daughter, and Jim agree that at some point in life, it's better to be alone. But things can change, and they do.
Lanz said revealing his favorite scene also would be a spoiler. Sylvia is "very strong, independent, and very closed off from romance," according to Gianna Sotereanos. "She's a very tough individual, but vulnerable and sensitive.
"She fell in love once, when she was 16, and then Lorraine (her daughter) came along," Gianna Sotereanos said.
She said some of her favorite songs are "Heartbreak Hotel," "That's All Right" (with Lorraine), and her solo, "There's Always Me."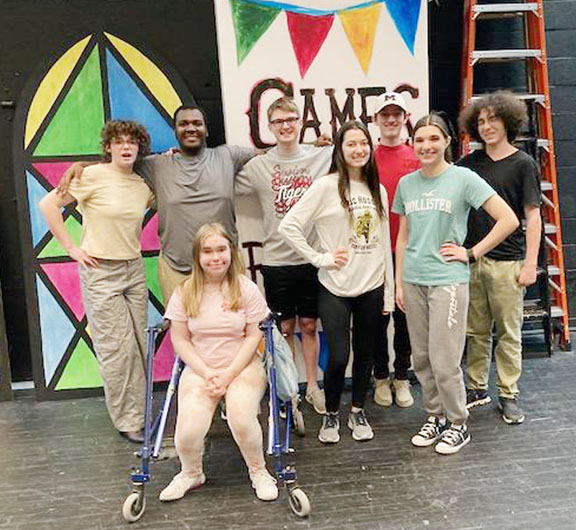 Featured seniors and other members of the cast of McKeesport Area High School's upcoming spring musical, "All Shook Up," take a break from rehearsing to share their experiences with the show, which features the music of Elvis Presley. In front from left are Rebecca Shearer (ensemble), Autumn Tavaglione (Lorraine), and Riley Sheposh (Miss Sandra). In back are Gianna Sotereanos (Sylvia), Luciano Lanz (Jim Haller), Jonah Higdon (Dennis), Collin Klein (Chad), and Lucas Sotereanos (Dean Hyde). Not pictured is Kaitlyn Majewski as Natalie Haller. (Bonnijean Cooney Adams photo for Tube City Almanac)
---
Autumn Tavaglione continues the love theme through Lorraine, who works, more or less, in her mother's business, but wants something more and different for her life. A chance meeting with Dean Hyde, son of the mayor, leads her to make some decisions.
"He drops his glove, and it's very cheesy – love at first sight," Tavaglione said.
From a vocal aspect, she said she likes "Can't Help Falling in Love," and "If I Can Dream" because "it's just such a beautiful song." Tavaglione said when she auditioned, she hoped for "any role except the mayor. I've already played a mayor twice, so didn't want that."
She said Lorraine is employed as a waitress at the honky-tonk, "but I don't really work." Lorraine also doesn't get along with her mother and wants something more in life, although she's only 16 in the show.
"She does not want to be there, and falling in love is her way to get out," Tavaglione said.
Lucas Sotereanos portrays Dean, also 16, who has spent much of his life away from home in a military boarding school, possibly in an attempt by his mother to protect him from the likes of Chad.
A ninth-grader, Lucas Sotereanos said he is very happy to have gotten a main role as a freshman. He has previous experience in middle school and community theater.
"It's a good story, so crazy with happening in such a short span of time," he said He and Lorraine reveal plans to run away together in his favorite show tune, "It's Now or Never."
Riley Sheposh as Miss Sandra could be considered Chad's counterpart. While women of all ages are attracted to Chad — except Miss Sandra — the men fall for her.
As caretaker of the town's museum, she's described as beautiful and intellectual. "She's not like me. People will not see me as this person," Sheposh said.
When she learned what musical they were doing, Sheposh said she did her research and looked up all the characters. "I didn't really care what I got, but wanted a part. All the guys like her and think she's drop-dead pretty," Sheposh said. "I'm in sexy dresses, and like all my scenes. There's definitely a surprise at the end with my character."
---
Bonnijean Cooney Adams is a freelance contributor. She can be reached at adamsclick@aol.com.
STAFF
Producers: Mrs. Tracy Light and Mrs. Sarah Persin
Director: Mrs. Erin Seaberg
Orchestra Director: Mrs. Sarah Persin
Choreographer: Mrs. Erin Seaberg
Vocal Director: Mrs. Beth Eger
Costumer: Mrs. Tracy Light
Set Design: Mr. John Light and Mrs. Erin Seaberg
Lighting Design: Starbeat Productions
Sound Design: Mr. Jason Light
"Fly Man": Mr. Milan Kiska
Stage Crew Lead: Mr. Martell Fontaine
CAST
Kaitlyn Majewski as Natalie Haller
Collin Klein as Chad
Luciano Lanz as Jim Haller
Gianna Sotereanos as Sylvia
Autumn Taviglione as Lorraine
Jonah Higdon as Dennis
Riley Sheposh as Miss Sandra
Ashley Slagle as Mayor Matilda Hyde
Lucas Sotereanos as Dean Hyde
Antoine Smith as Sheriff Earl
Brooklyn Donelson as Henrietta
Alexander Paulus as Prisoner #3
Michael Peffercorn as Prisoner #47
ENSEMBLE
Anastashia Bakaturski, Mariah Boyce, Kaitlyn Brush, Rasheena Carson, Tiara Defrances, Nie'Zhay Jefferson, Madison Leverenz, Elizabeth Nemes, Cimone Scruggs, Rebecca Shearer, Devin VanRiper, and JJ Wunderley
PIT
Violin/Flute: Tina Wos
Bass Clarinet/Bari Sax: Connor McGrew
Clarinet: Emme Stout
Trumpet: Treyvon Bowling and Emmet Chesleigh
Trombone: Kymari Neal
Alto Sax: Madison Martino
Guitar: Cooper Kuchma
Clarinet/Tenor Sax: Mrs. Karen Cole
Bass: Mr. Joe Diamond
Drums: Dr. Keith Parton
Piano: Mrs. Hazel Braun
STAGE CREW
Dominic Denardo, David Denardo, Marek Krol, Syeed Walker, and Derrek Reitz

Originally published March 28, 2023.
In other news:
"Students Preview Upco…" || "McKeesport 23 Monumen…"