(Advertisement)
Tube City Community Media Inc. is seeking freelance writers to help cover city council, news and feature stories in McKeesport, Duquesne, White Oak and the neighboring communities. High school and college students seeking work experience are encouraged to apply; we are willing to work with students who need credit toward class assignments. Please send cover letter, resume, two writing samples and the name of a reference (an employer, supervisor, teacher, etc. -- not a relative) to tubecitytiger@gmail.com. (4-11-2023 to 4-30-2023)
To place your ad, email tubecitytiger@gmail.com.
Ads start at $1 per day, minimum seven days.
By Jason Togyer
The Tube City Almanac
April 11, 2023
Posted in: McKeesport and Region News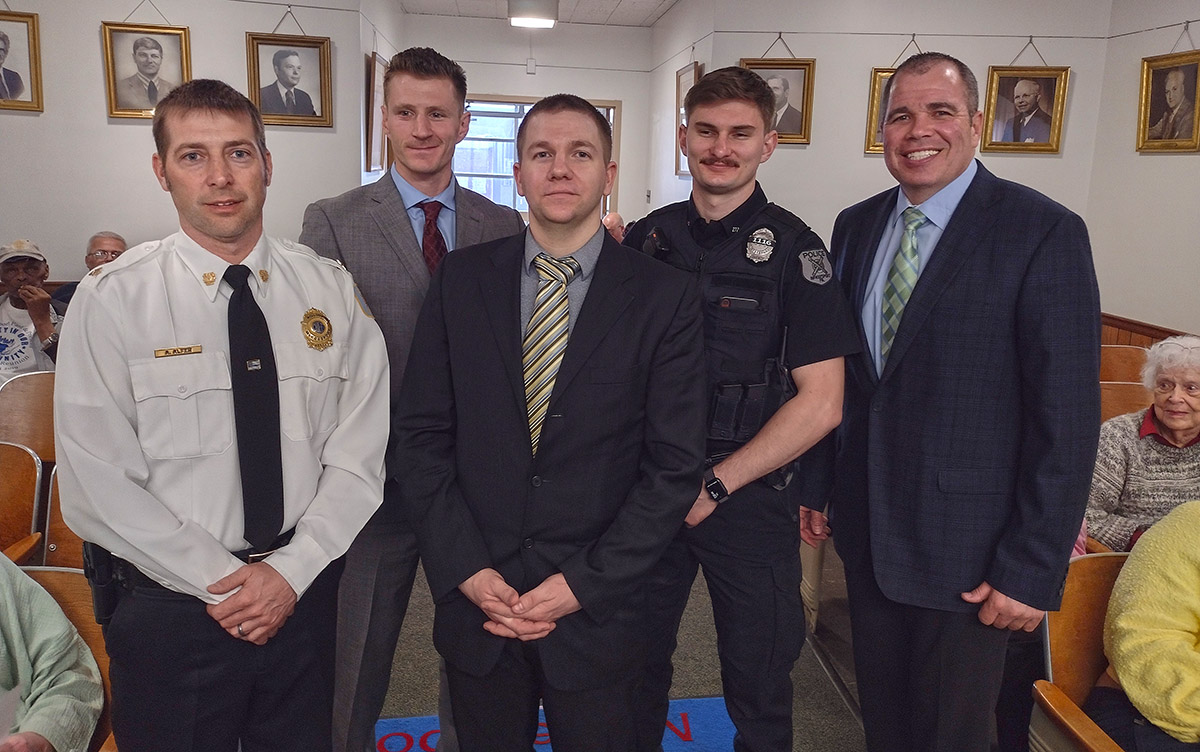 McKeesport police Chief Adam Alfer with newly promoted police Officers Matt Cerasuolo, Joshua Kramer and Parker Scherf, and McKeesport Mayor Michael Cherepko. (Tube City Almanac photo)
---
McKeesport city council has elevated three part-time police officers to full-time status.
At the April meeting, council approved the personnel moves for Officers Matt Cerasuolo, Joshua Kramer and Parker Scherf. McKeesport Mayor Michael Cherepko said each of the three have been serving the city for a year and have done "an incredible job."
In other business, council approved the appointment of Earnest Oatneal to a one-year term on the city's civil service commission, and William Miller and Jim Miller, no relation, to two-year terms. Attorney Jim Creenan was appointed as the commission's solicitor.
Council awarded a $661,000 demolition contract to Lutterman Excavating of Westmoreland County for demolition of vacant houses under Phase 9 of the city's "McKeesport Rising" project. Lutterman was the lowest responsible bidder, officials said.
Council unanimously approved a four-year contract extension with the city's unionized firefighters, who are represented by Local 10 of the International Association of Fire Fighters, through Dec. 31, 2027.
The agreement provides for 2 percent wage increases during each year, and maintains minimum staff levels of five firefighters on duty at all times, including two firefighters at each station, along with a deputy chief.
Originally published April 11, 2023.
In other news:
"Duquesne Residents Sp…" || "W.N. Church Slates Ap…"