(Advertisement)
Tube City Community Media Inc. is seeking freelance writers to help cover city council, news and feature stories in McKeesport, Duquesne, White Oak and the neighboring communities. High school and college students seeking work experience are encouraged to apply; we are willing to work with students who need credit toward class assignments. Please send cover letter, resume, two writing samples and the name of a reference (an employer, supervisor, teacher, etc. -- not a relative) to tubecitytiger@gmail.com. (4-11-2023 to 4-30-2023)
To place your ad, email tubecitytiger@gmail.com.
Ads start at $1 per day, minimum seven days.
By Staff Reports
The Tube City Almanac
June 05, 2023
Posted in: McKeesport and Region News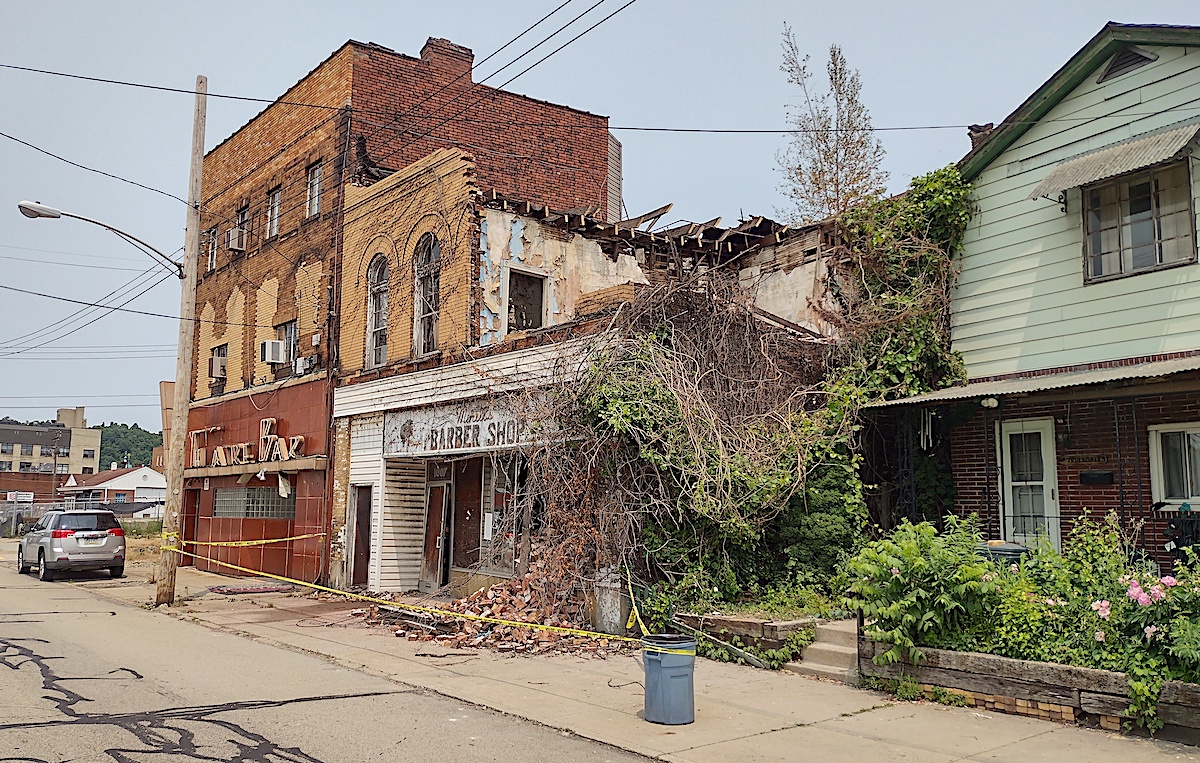 The vacant Frank Mikell barber shop on Walnut Street is being demolished under a contract awarded to West Mifflin-based Minniefield Demolition Services. (Tube City Almanac photo)
---
Four contractors are simultaneously working together to demolish approximately 300 vacant and abandoned buildings in the city this spring and summer, officials said.
A.J. Tedesco, city community development director, said some of the buildings currently being targeted are under contracts that were awarded in 2022.
Among the buildings currently being demolished is the former Frank Mikell's Barber Shop on Walnut Street in the Third Ward. Contrary to rumors, the building did not collapse, but it is being demolished by hand, slowly, to avoid damage to neighboring structures, Tedesco said.
"We have four contractors working right now in the city, Minniefield, Betters, American Demolition and Lutterman Excavating," Tedesco said. "Things sped up a great deal in April and progress has really ramped up."
Minnefield Demolition Services of West Mifflin is the contractor on the barber shop, he said.
County tax records indicate the structure is owned by a Grandview Avenue man and was last sold in 2005. Property taxes have gone unpaid for several years, records indicate.
Funding for the current round of demolitions is being provided by a mix of federal community development block grants, Allegheny County Act 152 funding, and Mayor Michael Cherepko's "McKeesport Rising" project.
County health officials are currently performing asbestos testing on some of the structures awaiting demolition.
Tedesco said some neighbors have expressed concerns about the conditions of vacant lots following the demolition of a vacant house or building. He said that after a building is torn down, it takes some time for the ground to settle and stabilize before grass can be planted, but that if residents have questions or complaints, call Melissa Ernst in the city's community development office at (412) 675-5020, ext. 635.
Originally published June 05, 2023.
In other news:
"W.O. Honors Twin Oaks…" || "NAMI McKeesport Sets …"