By Jason Togyer
The Tube City Almanac
August 26, 2016
Posted in: McKeesport and Region News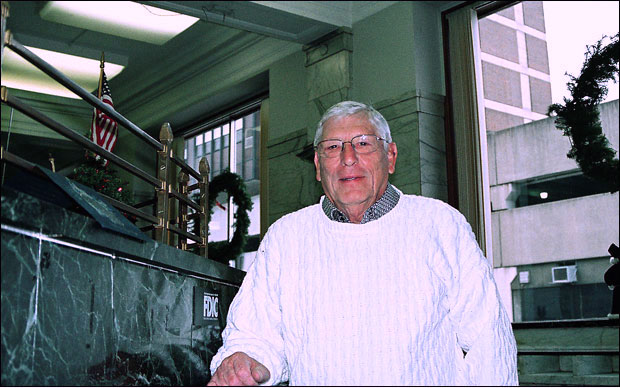 Above: Rege McLaughlin is shown in McKeesport city hall shortly after being sworn in as mayor in 2010. (Tube City Online file photo.)
. . .
McKeesport is "a good town, but a tough town," said state Sen. Jim Brewster, and former Mayor Rege McLaughlin was tough "both physically and mentally."
"I think he would like to be remembered as a guy who was willing to help anybody, but who didn't take any guff from anyone," said Brewster of McLaughlin, who died Tuesday at age 82 in a hospice in Mt. Lebanon.
Persons close to McLaughlin said the former mayor and city council president was suffering a recurrence of prostate cancer.
"Rege worked in the mill, so he knew what it was like to work hard," said Brewster, who served with McLaughlin on city council. "He had owned his own business. He was a family man. So there wasn't much that you could tell him that he didn't know something about."
McLaughlin's death is "a sad day for McKeesport," said Mayor Mike Cherepko, who also served with McLaughlin on city council and succeeded him as mayor.
"Rege was obviously a true public servant," Cherepko said. "He did whatever he could to make McKeesport a better place to live and work, and he was very well respected, not just in his capacity as mayor, but because he had such deep ties to the community."
McLaughlin and Cherepko were sometimes allies and at other times on opposite sides of issues. That didn't diminish his respect for McLaughlin, Cherepko said. "He's someone who I looked up to while I was on council," Cherepko said. "He was definitely a very strong-minded individual who was not afraid to let you know where he stood."
Another thing that was never in doubt, Cherepko said, was McLaughlin's commitment to public service. "Nowadays, it's hard to find people who truly are willing to put themselves out there for the betterment of the city," Cherepko said. "The city definitely needs more people like him."
As mayor, Brewster was known to drive around the city at night, sometimes responding to crime scenes along with the police. On many occasions, he said, he turned around to find McLaughlin keeping an eye on the situation. At least once, Brewster was helping to break up a fight when he felt a hand on his shoulder. It was McLaughlin.
"Here's a guy who then was in his 70s and wasn't afraid to step up," Brewster said. "He was steady, every single day. You could count on him, and when you're in government, that's what you want.
"He wasn't out there showboating, he was just very methodical in his approach," he said.
"That's the way I was in the mill, too," McLaughlin said in an interview in 2010, shortly after becoming mayor. "You've got to have good department heads. They're all capable of running their departments, and I've told them that if you have a problem, come to me. I've got an open-door policy."

McLaughlin said he was deeply concerned that so many jobs coming into McKeesport were of the minimum wage variety. "Young people are not going to come back here or stay here so that they can make minimum wage," he said. "They're going to leave and go find jobs in their fields."
Cherepko said McLaughlin's deep knowledge of the city and its people was one of his greatest assets. "He's someone who really knew the history of the place, and when you were trying to make a decision and put the pieces of the puzzle together, that was really valuable," Cherepko said.
Brewster visited McLaughlin on Aug. 19 and said he was alert and in good spirits. "We had a good half-hour conversation. We talked about politics, we talked about the Steelers, the Pirates. We talked about some things that we thought we were meaningful. Some of them were his ideas to help the city. ... A lot of people, once they're done, they walk away. He wasn't like that.
"I'm going to miss him," Brewster said.
Born Jan. 15, 1934 in Clairton, McLaughlin was the son of the late Catherine (McLaughlin) Reynolds. Following graduation from McKeesport High School, where he lettered in football, basketball and track, McLaughlin joined the U.S. Army and served in Germany.
After attending Wichita State University, McLaughlin returned to McKeesport to take a job at U.S. Steel's National Works, where he retired after 30 years, including nine years in management. In 1987, McLaughlin opened a tavern on Sinclair Street called Rege's Place.
An avid sports fan, McLaughlin helped to found McKeesport Little League, and served for many years as an umpire and a coach, with one team he coached reaching the Little League World Series.
Past chairman of the Municipal Authority of the City of McKeesport, McLaughlin served for 13 years on McKeesport City Council, including as president from 2004 to 2009, and then as mayor of McKeesport from 2010 to 2012.
He was a member of American Legion Burt Foster Post 361, McKeesport, and Smedley Butler Post 701, White Oak, the Croatian Club, the EBA, the Swedish Singing Society, the First Catholic Slovak Ladies Union, the GAPA Club, the AOH Club, the Palenese Club, the Archer Hill Duck Pin League, the Aztec Bowling League, Stanko's Slow Pitch Hall of Fame and the Third Ward Crimson Hall of Fame.
In addition to his mother, McLaughlin was preceded in death by his wife, the late Margaret Baglos, and brothers Thomas and Kenneth Reynolds.
He is survived by his step-daughter, Deborah Bazzone of Gulfport, Miss., and her husband, John; step-grandchildren Dr. Lindsey E. Bazzone of Worcester, Mass., and Michael J. Bazzone of Fairfax, Va.; step-great-grandchildren, Noah, Amelia, Lucy, Iris and Violet; cousins, nieces and nephews.
Friends will be received from 12 to 4 and 7 to 9 p.m. Sunday at the Willig Funeral Home, Ninth Ave., McKeesport. A Mass of Christian Burial will be celebrated at 10 a.m. Monday at St. Patrick Roman Catholic Church, Christy Park. Interment will follow with full military honors at Calvary Cemetery, Port Vue.
In lieu of flowers, donations may be made to the LaRosa Boys and Girls Club, 901 Ravine St., McKeesport 15132.
Originally published August 26, 2016.
In other news:
"Fade Out: Southland 9…" || "McKeesport Man Killed…"