(Advertisement)
Tube City Community Media Inc. is seeking freelance writers to help cover city council, news and feature stories in McKeesport, Duquesne, White Oak and the neighboring communities. High school and college students seeking work experience are encouraged to apply; we are willing to work with students who need credit toward class assignments. Please send cover letter, resume, two writing samples and the name of a reference (an employer, supervisor, teacher, etc. -- not a relative) to tubecitytiger@gmail.com. (4-11-2023 to 4-30-2023)
To place your ad, email tubecitytiger@gmail.com.
Ads start at $1 per day, minimum seven days.
By Jason Togyer
The Tube City Almanac
August 09, 2015
Posted in: McKeesport and Region News, Podcast

The seventh-annual "Village for Kids" will be held from 12 noon to 4 p.m. Monday at the Lions Bandshell in Renziehausen Park.
The event, for kids ages 12 and under, is a prelude to McKeesport's 55th annual International Village, which will be held Tuesday, Wednesday and Thursday from 3 to 10 p.m.
In addition to music, games, free giveaways and other activities, volunteers will be accepting nominations for the prince and princess of International Village, to be crowned Tuesday at International Village.
This week on "Two Rivers, 30 Minutes," we interviewed the lead organizer of the Village for Kids, Alison Piccolino.
We also talked to the Rev. Dr. Daniel Borsay, pastor of the Free Hungarian Reformed Church of McKeesport, which has participated in every village since 1960, and with McKeesport Mayor Mike Cherepko.
"Two Rivers" airs at 9:30 a.m. Fridays on WEDO (810), 8 a.m. Sundays on WZUM (1550), and as a free podcast on Stitcher and iTunes.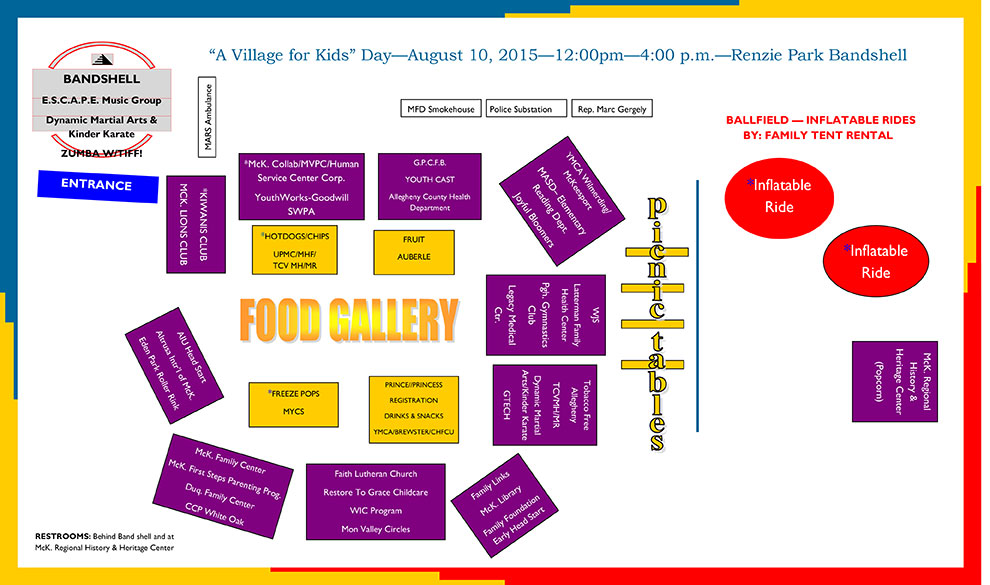 . . .
ADVERTISEMENT: Support for "Two Rivers, 30 Minutes" comes in part from the McKeesport Hospital Foundation. Since 1976, the foundation has addressed key concerns that affect our good health, as well as our education, social needs, recreation, and safety and security. The foundation partners with UPMC McKeesport and other agencies to eliminate barriers to all services for all residents of the Mon Valley. Visit www.mckhospitalfoundation.com, or call (412) 664-2590.
Originally published August 09, 2015.
In other news:
"Cyberbullying Discuss…" || "Village Broadcast Rol…"