(Advertisement)
McKeesport Housing Authority is opening the Section 8 waiting list
Housing Choice Voucher Program
The McKeesport Housing Authority will be accepting applications for the Housing Choice Voucher Program (Section 8) Waiting List.
When?
April 10, 2023, 8:30 AM @ 2901 Brownlee Ave. McKeesport, PA 15132.
NO APPLICATIONS WILL BE ACCEPTED BEFORE THE ABOVE POSTED TIMES.

APPLICATIONS WILL BE DATE AND TIME STAMPED UPON RECEIPT. APPLICATIONS CAN BE SUBMITTED IN PERSON, FAX 412-673-1706, EMAIL TO BBRAY@MCKHA.ORG.
You can download a blank copy of the application from www.mckha.org.
Where?
At www.mckha.org or any of the rental offices at Crawford Village, Harrison Village & McKeesport Towers

MULTIPLE APPLICATIONS WILL NOT BE ACCEPTED. PLEASE DO NOT CALL FOR YOUR STATUS —- NO INFORMATION WILL BE GIVEN OVER THE TELEPHONE. YOU WILL BE NOTIFIED VIA THE US MAIL. IT IS CRITICAL TO KEEP YOUR INFORMATION UPDATED WITH OUR OFFICE IF IT CHANGES. IF WE ARE UNABLE TO CONTACT YOU, YOU MAY BE REMOVED FROM THE WAITING LIST.
To place your ad, email tubecitytiger@gmail.com.
Ads start at $1 per day, minimum seven days.
By Jason Togyer
The Tube City Almanac
August 09, 2015
Posted in: McKeesport and Region News, Podcast

The seventh-annual "Village for Kids" will be held from 12 noon to 4 p.m. Monday at the Lions Bandshell in Renziehausen Park.
The event, for kids ages 12 and under, is a prelude to McKeesport's 55th annual International Village, which will be held Tuesday, Wednesday and Thursday from 3 to 10 p.m.
In addition to music, games, free giveaways and other activities, volunteers will be accepting nominations for the prince and princess of International Village, to be crowned Tuesday at International Village.
This week on "Two Rivers, 30 Minutes," we interviewed the lead organizer of the Village for Kids, Alison Piccolino.
We also talked to the Rev. Dr. Daniel Borsay, pastor of the Free Hungarian Reformed Church of McKeesport, which has participated in every village since 1960, and with McKeesport Mayor Mike Cherepko.
"Two Rivers" airs at 9:30 a.m. Fridays on WEDO (810), 8 a.m. Sundays on WZUM (1550), and as a free podcast on Stitcher and iTunes.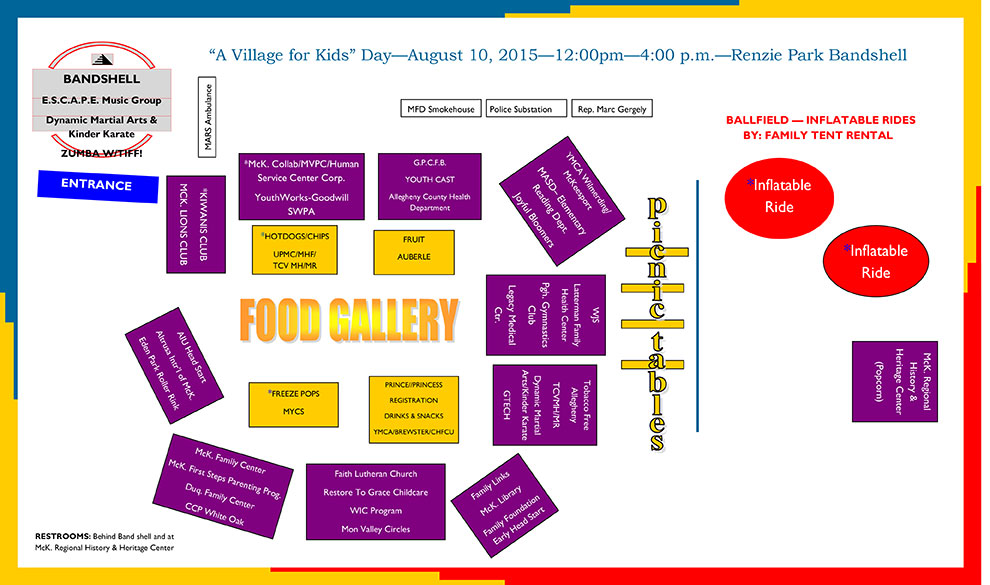 . . .
ADVERTISEMENT: Support for "Two Rivers, 30 Minutes" comes in part from the McKeesport Hospital Foundation. Since 1976, the foundation has addressed key concerns that affect our good health, as well as our education, social needs, recreation, and safety and security. The foundation partners with UPMC McKeesport and other agencies to eliminate barriers to all services for all residents of the Mon Valley. Visit www.mckhospitalfoundation.com, or call (412) 664-2590.
Originally published August 09, 2015.
In other news:
"Cyberbullying Discuss…" || "Village Broadcast Rol…"