(Advertisement)
Tube City Community Media Inc. is seeking freelance writers to help cover city council, news and feature stories in McKeesport, Duquesne, White Oak and the neighboring communities. High school and college students seeking work experience are encouraged to apply; we are willing to work with students who need credit toward class assignments. Please send cover letter, resume, two writing samples and the name of a reference (an employer, supervisor, teacher, etc. -- not a relative) to tubecitytiger@gmail.com. (4-11-2023 to 4-30-2023)
To place your ad, email tubecitytiger@gmail.com.
Ads start at $1 per day, minimum seven days.
By Jason Togyer
The Tube City Almanac
November 10, 2015
Posted in: McKeesport and Region News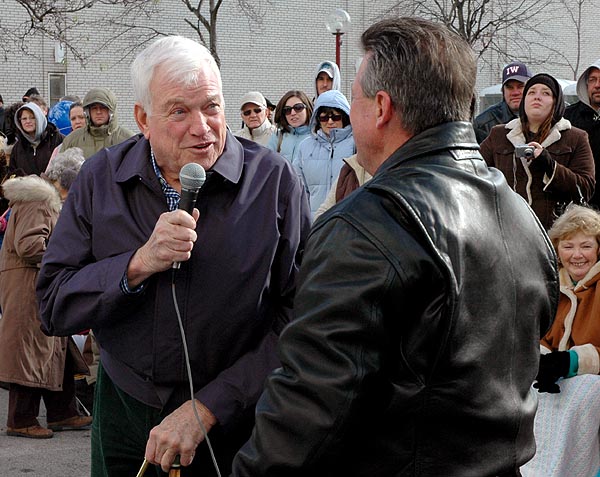 Happier times: Former Daily News publisher and philanthropist Richard Mellon Scaife, shown here with now-state Sen. James Brewster, served as grand marshal of McKeesport's "Salute to Santa" parade in 2008. With Scaife's 2014 death, his newspaper empire is being sold off. Tube City Almanac photo by John Barna.
. . .
The McKeesport Daily News and Monessen Valley Independent will be closed if they're not sold by Dec. 31, says their owner, the parent company of the Tribune-Review, which is also planning widespread layoffs.
In a press release this morning, Trib Total Media said that 91 employees in McKeesport and Monessen will lose their jobs if the newspapers are closed.
"The end of any of our nameplates, all of them longtime fixtures in their communities, is regrettable and painful for everyone," Trib Total Media President Jennifer Bertetto said in a statement.
"But we are not immune to the financial pressures that have forced even more drastic cutbacks by all of our competitors and by nearly every newspaper in the country," she said.
The Tribune-Review's parent company purchased the Daily News in April 2007. Founded in 1884, the newspaper was owned by the Mansfield family from 1925 to 2004, when it was sold to the parent company of the Latrobe Bulletin.
The possible closure of the paper represents a dramatic reversal of fortune under the Trib's ownership; as recently as 2008, the Tribune-Review was supposedly scouting locations in McKeesport for a $75 million printing plant.
But newspapers across the country are suffering a loss in advertising as consumers increasingly get their news from websites. According to the Florida-based Poynter Institute for Media Studies, a non-profit school for journalism, between 2006 and 2014, more than 22,000 newspaper reporters, editors, photographers and other employees were laid off --- a 40 percent reduction.
The future of the Daily News, the Valley Independent, and other newspapers was complicated further by the death in 2014 of billionaire philanthropist and Tribune-Review publisher Richard Mellon Scaife. According to published reports, Scaife took $450 million out of a trust fund to support his newspapers over a 20-year period.
Scaife's children are now suing the trustees --- including the chairman of Trib Total Media --- who oversaw that fund, which was set up for Scaife in 1935 by his mother. Scaife's children claim that Scaife had no right to spend that money and allege that some of it should have been set aside for their inheritance.
In addition to the possible layoffs and closure of the Monessen and McKeesport newspapers, the Trib also plans to layoff 153 of its 1,100 employees by Dec. 31, the newspaper announced.
The newspaper will merge its Greensburg, Pittsburgh and Tarentum newspapers into a single publication focused on Allegheny and Westmoreland counties, and will focus its efforts on a new website and other digital media, Bertetto said in the statement.
Several of the Trib's other newspapers have already been sold, including the Connellsville Daily Courier, the Kittanning Leader Times, the Blairsville Dispatch and a chain of weeklies known collectively as the "Laurel Group."
Originally published November 10, 2015.
In other news:
"Remembering the 'McKe…" || "City Celebrates Santa…"