(Advertisement)
Tube City Community Media Inc. is seeking freelance writers to help cover city council, news and feature stories in McKeesport, Duquesne, White Oak and the neighboring communities. High school and college students seeking work experience are encouraged to apply; we are willing to work with students who need credit toward class assignments. Please send cover letter, resume, two writing samples and the name of a reference (an employer, supervisor, teacher, etc. -- not a relative) to tubecitytiger@gmail.com. (4-11-2023 to 4-30-2023)
To place your ad, email tubecitytiger@gmail.com.
Ads start at $1 per day, minimum seven days.
Sondheim's fun, musically challenging 'Into the Woods' opens Friday
By Bonnijean Cooney Adams
The Tube City Almanac
January 09, 2020
Posted in: Entertainment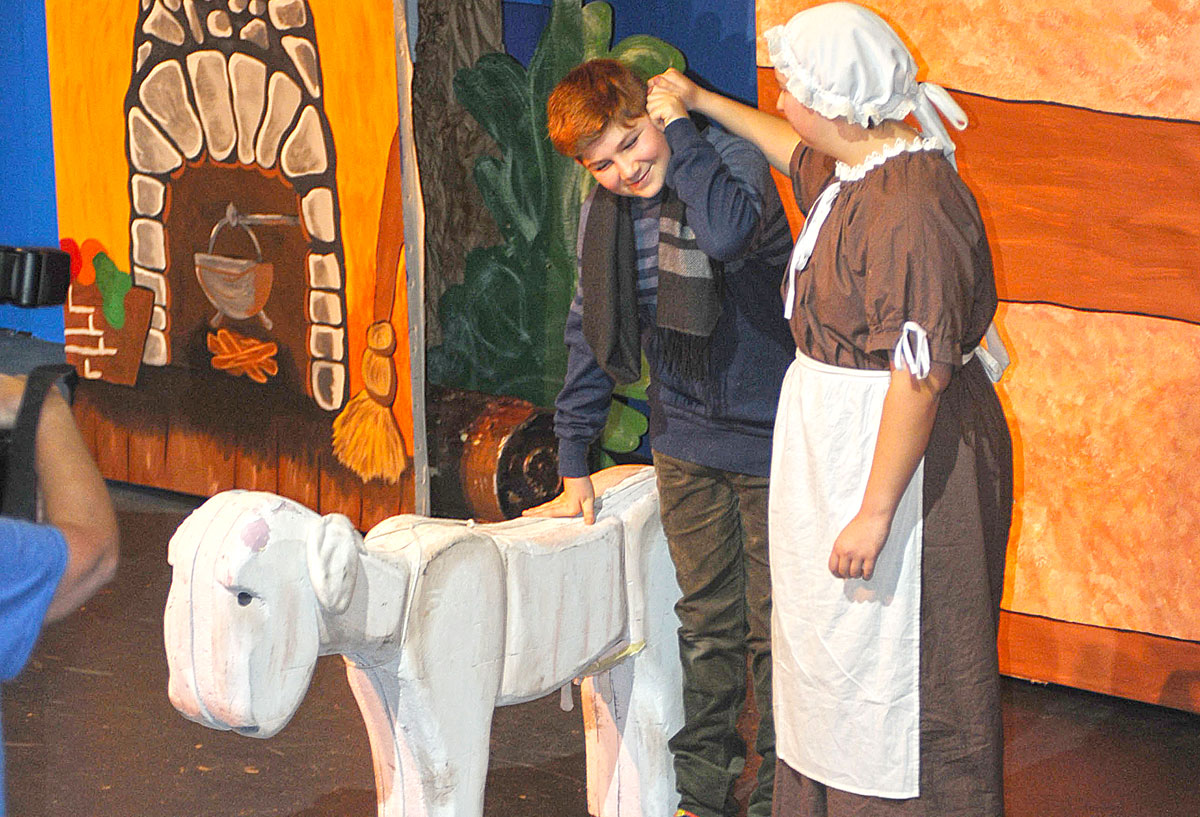 Colleen Boatright as Jack's mother tells Connor McGrew as Jack that they must sell Milky White, the family cow. (Bonnijean Cooney Adams photo/special to Tube City Almanac)
If you go...

"Into the Woods" presented by MLT Juniors

Where: McKeesport Little Theater, 1614 Coursin St.

When: Jan. 10-19, Fridays and Saturdays at 7:30 p.m. and Sundays at 2 p.m.

Tickets: $12*

Reservations or more information: 412-673-1100 or through the website.
(* — Correction: Ticket price corrected, Jan. 9)
A multi-talented cast of young performers has been rehearsing since October to bring some well-known fairy tale characters to the McKeesport Little Theater stage when the Juniors present "Into the Woods."
The show opens Friday (Jan. 10) and continues through Jan. 19. Stephen Sondheim wrote the music and lyrics for the sometimes-complicated and challenging songs – even for seasoned adult professionals.
Characters such as Cinderella (Kaitlyn Majewski), Little Red (Autumn Tavaglione), Rapunzel (Grace Mackowiak), Jack (Connor McGrew), his mother (Colleen Boatright), and a baker (Jonah Higdon) and his wife (Nariah Washington), are joined by a mysterious Witch (Sierra Mitchell) as they journey in and out of the woods.
With more than 20 performers delivering lines, singing, and dancing, producer Jan Gerber explained how the cast was selected.
"When we hold auditions for the show, we ask them to sing a show tune of some sort and to do a cold reading," she said. "On the audition sheets they are asked what character they are auditioning for, and if the will accept a different role. Some kids say no, they won't.
"Dorothy (director Dorothy Fallows), Lisa Harrier (the music director) and I listen to their songs and their cold reading and take notes while they audition. After everyone is done, the three of us sit down together for the daunting task of putting the right child in the right part," she said.
"It can be difficult, especially when we have two or three kids all suited for the same parts," Gerber said, and some performers got the part they wanted, while others did not.
"Into the Woods" goes beyond the usual storyline, kind of like fractured fairy tales. The baker and his wife, for example, live next door to the witch, and desperately wish to have a child. Their quest takes them into the woods, of course.
Jack and his mother are very poor, and must sell their only cow so they can have some money to live. When he can't get the minimum cash price his mother demanded, he trades the cow for so-called magic beans that he obtains from the baker. They of course grow into a giant beanstalk.
Think Cinderella and her prince live happily ever after? Not exactly, especially after what happens in the woods.
There are additional characters intertwined throughout the musical, including Caden Lawson as the Narrator and Dylan Stramaski as the Mysterious Man, who keep the audience guessing what is really going on.
"The audition process was made easier because we have some very strong veteran Juniors who could fill just about every part," Gerber said, "and we had some new kids audition who were really good also."
Some cast members have been with the Juniors since they were very young and have been onstage for years, while other are relatively new to the program.
Gerber said Isaac Richardson (Cinderella's Prince) has been with them since he was in middle school.
"When he and his sister, Lydia (who graduated last year), first started, they were so shy you could hardly hear them. I have loved watching Isaac turn into the confident young man that he is now. He has great stage presence and great comedic timing.
"He and Bolivar Campusano (Rapunzel's prince) work well together," she said. "Bolivar is fairly new to the Juniors. 'Once Upon a Mattress' was his first show and he blew us away. Kaitlyn Majewski (Cinderella) has been with us since we did 'A Year With Frog and Toad again a few years ago. She is a trained dancer and has just blossomed on the stage."
Gerber said Autumn Tavaglione (Little Red) joined the Juniors about the same time as Kaitlyn, and was very shy when she started to perform, but has matured and came into her own when cast as June B. Jones last year.
---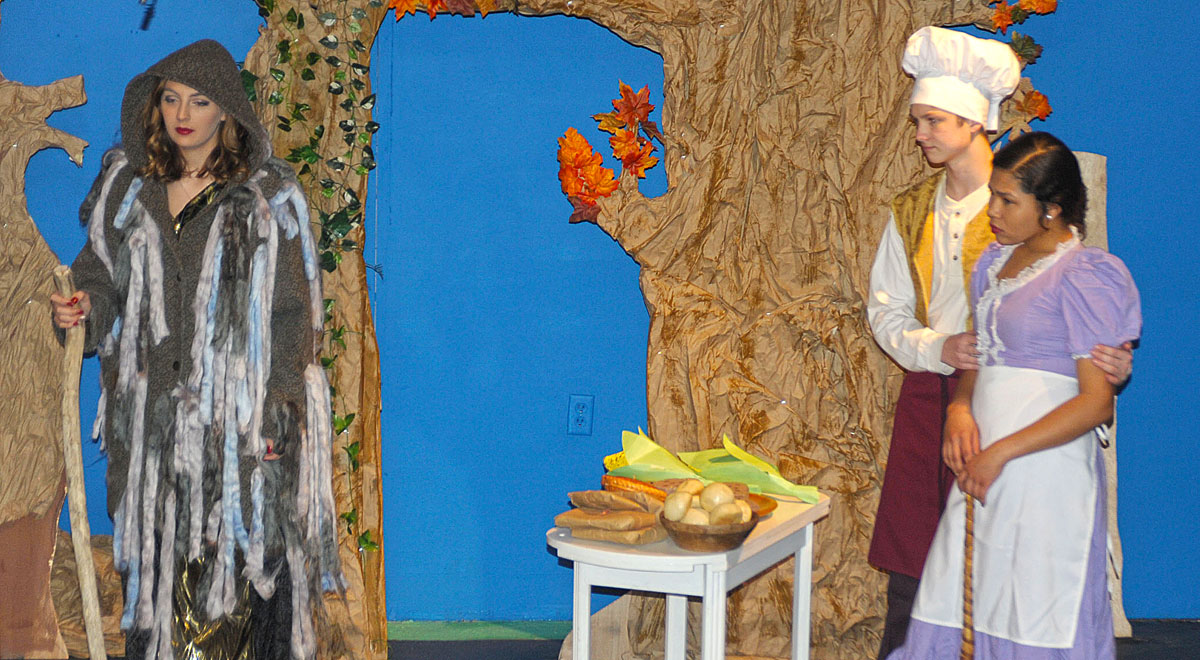 Sierra Mitchell as the Witch pays an unexpected visit to the Baker (Jonah Higdon) and his wife (Nariah Washington). (Bonnijean Cooney Adams photo/special to Tube City Almanac)
---
Nariah Washington (Baker's Wife) is one of the cast members with strong vocal talents, as observed during a tech week rehearsal.
"A couple of years ago after summer break, she came back with her amazing voice," Gerber said.
"Dylan Stramaski (Mysterious Man) now attends Lincoln Park and improves with each show. A lot of these kids know each other from school and they have just expanded their friendships to include the kids from other schools," she said.
Even with all the talent, the task of getting students ready for this production could be daunting at times. Gerber credited Harrier with getting the job done.
"Lisa has been working with the Juniors (program) for a long time. She works well with the kids and is very patient with them," the producer said. "Sondheim writes difficult music and I am very proud of the kids for the job they are doing."
Audiences not familiar with "Into the Woods" should expect the unexpected, Gerber said.
"The first act is pretty lighthearted, but the second act can be very dark at times. Dorothy didn't want to upset any little kids who might come to see it, so she directed the actors to be comedic whenever possible," she said.
"Fractured fairy tales is a good description. When I watch it I feel like I am peeking behind the curtain into the real life of the characters with all of their flaws and insecurities," Gerber added.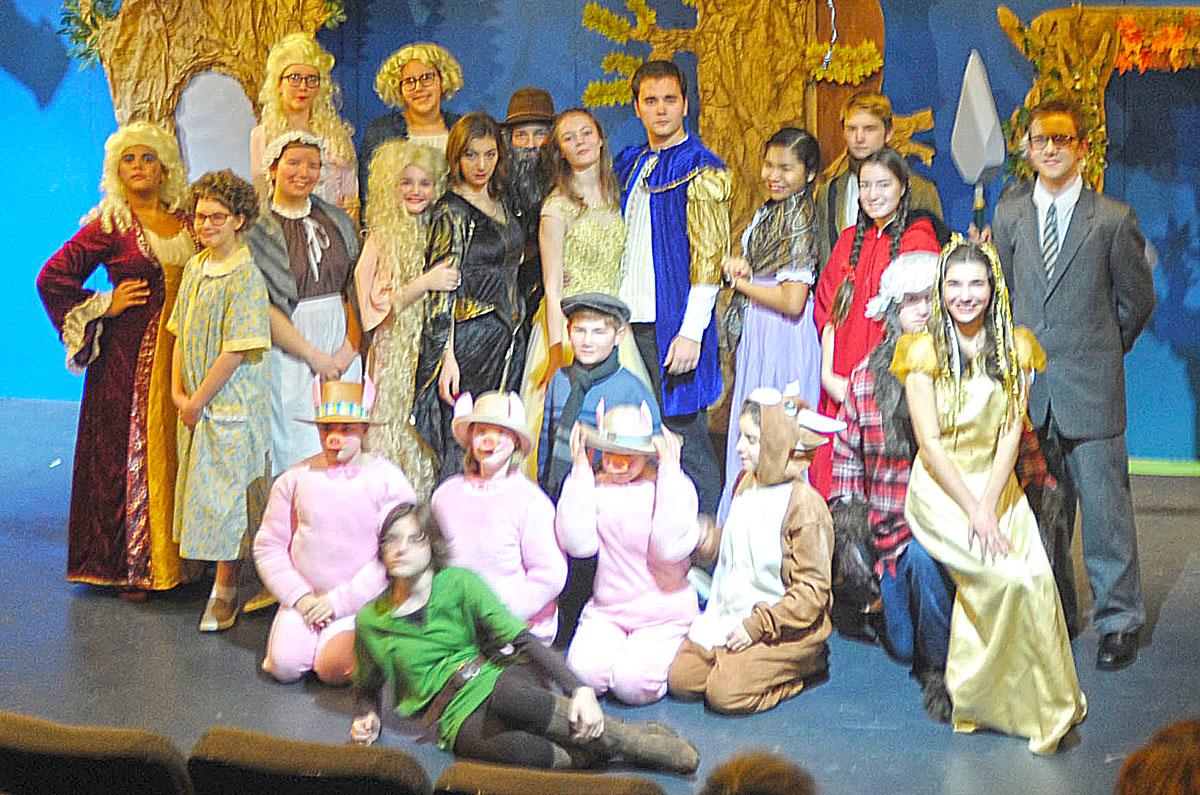 "Into the Woods" cast members portray familiar -- and not so familiar -- fairy tale characters when McKeesport Little Theater Juniors present "Into the Woods." (Bonnijean Cooney Adams photo/special to Tube City Almanac)
McKeesport Little Theater Juniors "Into the Woods" cast
In order of appearance:
Caden Lawson (Narrator), Kaitlyn Majewski (Cinderella), Connor McGrew (Jack), Nariah Washington (Baker's Wife), Jonah Higdon (Baker), Ashley Slagle (Stepmother), Lauren Maneer (Florinda), Carly "Skyler" Sedlock (Lucinda), Colleen Boatright (Jack's Mother), Autumn Tavaglione (Little Red), Sierra Mitchell (Witch), Connor Geary (Cinderella's Father, Wolf), and Riley Sheposh (Cinderella's Mother).
Dylan Stramaski (Mysterious Man), Grace Mackowiak (Rapunzel), Bolivar Campusano (Rapunzel's Prince), Gillian Holiday

, Jada Lawson

, Margaret Valentine

, Annaleigh Bouchard (Granny), Isaac Richardson (Prince Charming), Abi Weiss (Steward), Magdalena Koisor (Brown Cow), and Julie Belding (Giant).
Production Staff:
Dorothy Fallows, director; Jan Gerber, producer; Lisa Harrier, music director; Samantha Mitchell, choreographer; Jessica Freuden, stage manager, and Amy Majewski, stage manager.
---
Bonnijean Cooney Adams is a contributing writer. She can be reached at adamsclick@aol.com.
Originally published January 09, 2020.
In other news:
"W. Newton Center Slat…" || "Celebrity Basketball …"