(Advertisement)
Tube City Community Media Inc. is seeking freelance writers to help cover city council, news and feature stories in McKeesport, Duquesne, White Oak and the neighboring communities. High school and college students seeking work experience are encouraged to apply; we are willing to work with students who need credit toward class assignments. Please send cover letter, resume, two writing samples and the name of a reference (an employer, supervisor, teacher, etc. -- not a relative) to tubecitytiger@gmail.com. (4-11-2023 to 4-30-2023)
To place your ad, email tubecitytiger@gmail.com.
Ads start at $1 per day, minimum seven days.
Former steelworker, 65, calls political career 'tremendous honor and a privilege'
By Jason Togyer
The Tube City Almanac
January 21, 2020
Posted in: Politics & Elections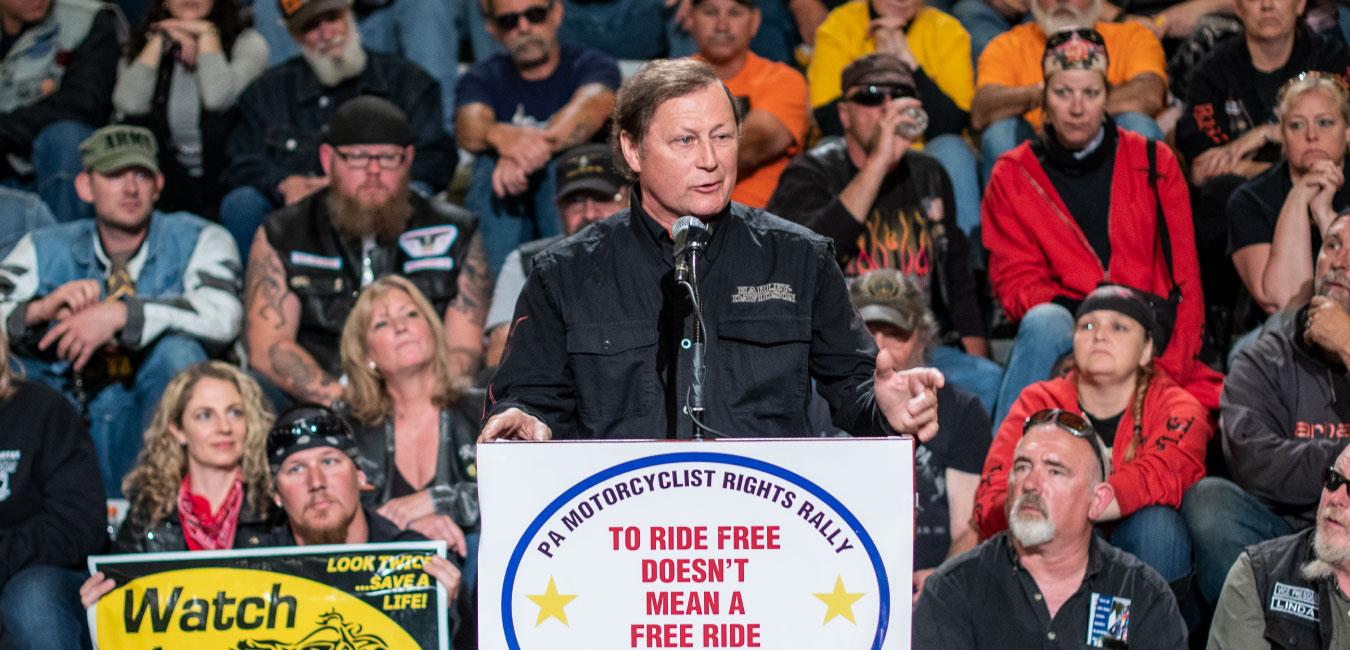 State Rep. Bill Kortz speaks at a rally of Pennsylvania motorcyclists. The Dravosburg Democrat, an avid motorcycle rider, announced his retirement on Tuesday. (Photo courtesy state Rep. Bill Kortz.)
---
State Rep. Bill Kortz confirmed Tuesday that he will not seek re-election to the Pennsylvania General Assembly in November.

In announcing his retirement, the Dravosburg resident called his 14 years as a legislator "a tremendous honor and a privilege" but said it was time for him "to take care of my health and step aside for future leaders" of his Mon-Yough district.
A former steelworker at U.S. Steel's Irvin Plant with 30 years of service, Kortz, 65, a Democrat, was first elected to the legislature in 2006 and represents the 38th District, which includes Dravosburg, West Mifflin, Glassport, Port Vue, Liberty, Pleasant Hills, South Park, Baldwin and Whitehall.
The legislature was in session on Tuesday and Kortz was not available for an interview.
---
"I am very proud of the success we've had in rebuilding and replacing several bridges and roads in the district, as well as working with Sen. Jim Brewster to secure funding for the final leg of the Mon Fayette Expressway," Kortz said in a prepared statement.
"But, it's now time for me to take care of my health and step aside for future leaders of this great district," he said.
Kortz had shoulder surgery last year. His retirement was first rumored after Pittsburgh's WESA-FM (90.5) radio reported Monday that he was not seeking the endorsement of the Allegheny County Democratic Committee.
Pennsylvania will hold its Democratic primary April 28. Chris Kelly, mayor of West Mifflin and former police chief in Homestead and Baldwin, has announced his candidacy for the Democratic nomination and is seeking the committee's endorsement.
Nick Pisciottano Jr., an accountant and president of the West Mifflin Community Foundation, is said to be considering a run, according to WESA.
---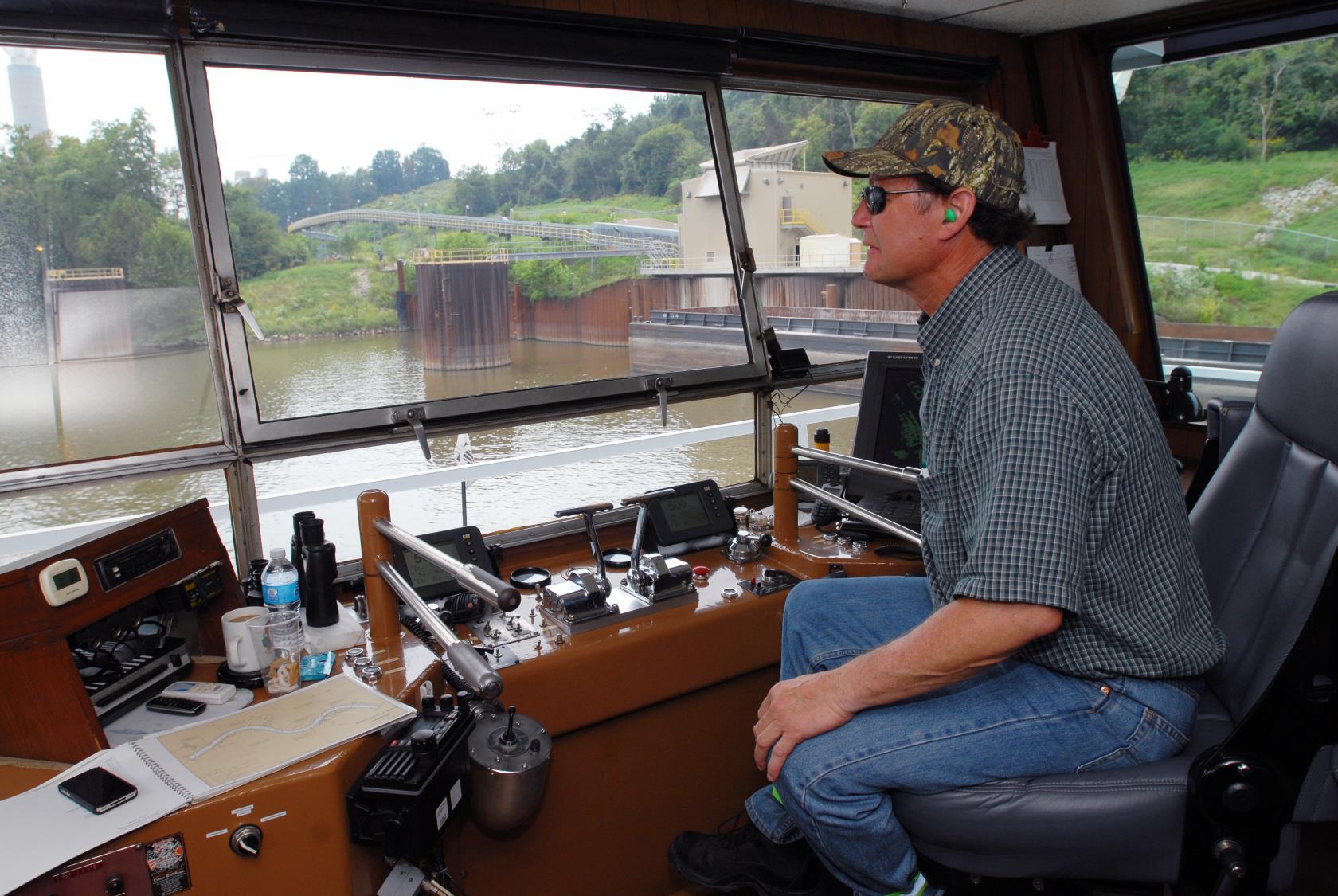 Kortz during a 2013 tour of the Monongahela River with other members of the state house Coal Caucus. (Photo courtesy state Rep. Bill Kortz)
---
State Rep. Austin Davis of McKeesport said Tuesday night that Kortz has brought a Mon Valley steel mill work ethic to the job of legislator.
"Nobody works harder than Bill Kortz," Davis said. "I'm 30 and I have a hard time keeping up with him."
Yet Kortz rarely sought the spotlight, Davis said.
"Bill was never the one who was very flashy, so to speak — for him it was all about delivering for the Mon Valley and working so that residents in the Mon Valley had a chance to prosper," he said. "He came to the legislature late in life and I think he never thought he would serve for 14 years."
Davis, who was first elected in 2018, said Kortz has been "nothing but supportive" to him.
"I certainly respect his decision to step down and enjoy his retirement," Davis said. "It will be a sad day next year when we get sworn in, and he's not getting sworn in besides us ... I wish him well and I look forward to serving with him for the rest of the year."
---
A graduate of McKeesport Area High School and Indiana University of Pennsylvania, Kortz also attended business administration classes at Duquesne University. He serves as minority chairman of the state house's Game and Fisheries Committee and the Steel Caucus and minority vice chairman of the Professional Licensure Committee.
Though he shunned the spotlight, Kortz has been a frequent visible presence at events throughout his district — often on his motorcycle — and is an avid hunter and fisherman. A father of three and grandfather of one, he serves on the house's Motorsports Caucus as well as the house Second Amendment Caucus and Sportsmen's Caucus.
"During my legislative career, I have worked tirelessly with my tremendously talented staff to address the needs of our constituents," Kortz said in his announcement. "We have assisted many residents on a variety of issues, as well as honored their achievements."
He noted that he had recently worked with Brewster to overturn the state's prohibition on deer hunting on Sundays.
The new law allows for hunting on three Sundays each year — once during rifle season, once during archery season and one on a different Sunday as determined by the state Game Commission.
---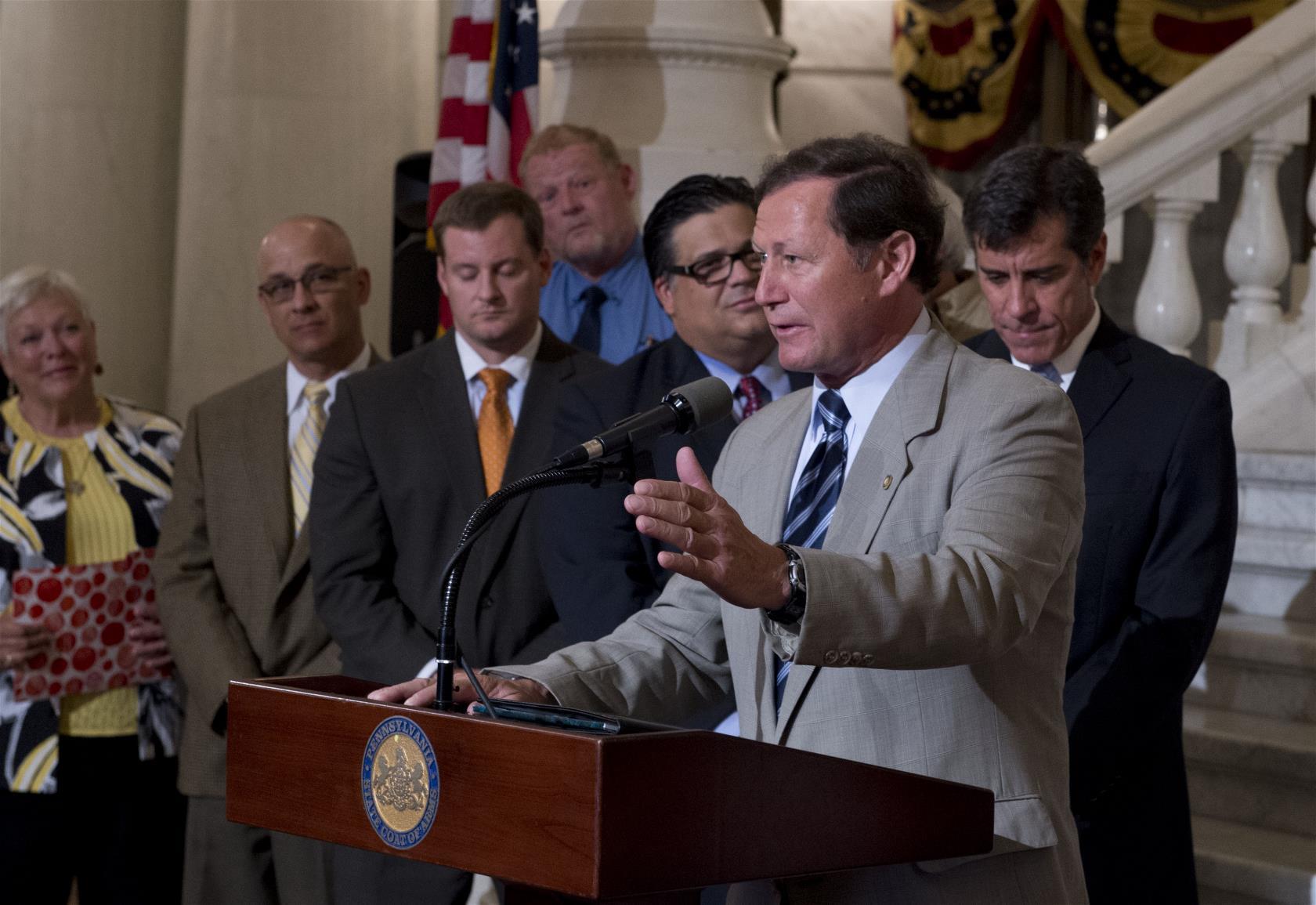 Kortz calls on members of the Pennsylvania General Assembly to overturn the state's ban on Sunday deer hunting. The law was finally amended in 2019. (Photo courtesy state Rep. Bill Kortz.)
---
Kortz said in his statement that retirement "certainly wasn't an easy decision, because I enjoy helping residents with (issues such as) home heating assistance, rent rebates, PennDOT and tax preparation, to name a few."
The 38th District has been in Democratic hands since it was first created in 1969, but Republicans have captured other state legislative seats in the Mon-Yough area in recent years, including the 39th District seat that was held by David Levdansky from 1985 to 2010.
All 203 state legislative seats will be up for election this year. Republicans have controlled the state house since 1994, with the exception of 2006 to 2010, when Democrats held a narrow one- to five-seat margin.
Kortz's retirement could present an opportunity for Republicans and a challenge for Democrats. Regaining — or retaining — control has been a top priority of both parties, because the state legislature will be in charge of re-drawing congressional and legislative districts after the 2020 U.S. Census.
The previous map, drawn by Republicans following a bitter political battle, was overturned as unconstitutional by the state Supreme Court prior to the 2018 elections.
---
Jason Togyer is editor of The Tube City Almanac and volunteer executive director of Tube City Community Media Inc. He may be reached at jtogyer@gmail.com.
Originally published January 21, 2020.
In other news:
"New W.O. Council Take…" || "New Organization Slat…"