(Advertisement)
Tube City Community Media Inc. is seeking freelance writers to help cover city council, news and feature stories in McKeesport, Duquesne, White Oak and the neighboring communities. High school and college students seeking work experience are encouraged to apply; we are willing to work with students who need credit toward class assignments. Please send cover letter, resume, two writing samples and the name of a reference (an employer, supervisor, teacher, etc. -- not a relative) to tubecitytiger@gmail.com. (4-11-2023 to 4-30-2023)
To place your ad, email tubecitytiger@gmail.com.
Ads start at $1 per day, minimum seven days.
Founders want to network, mentor, help youth find a purpose
By Richard Finch Jr.
The Tube City Almanac
January 22, 2020
Posted in: Announcements, Duquesne News, Entertainment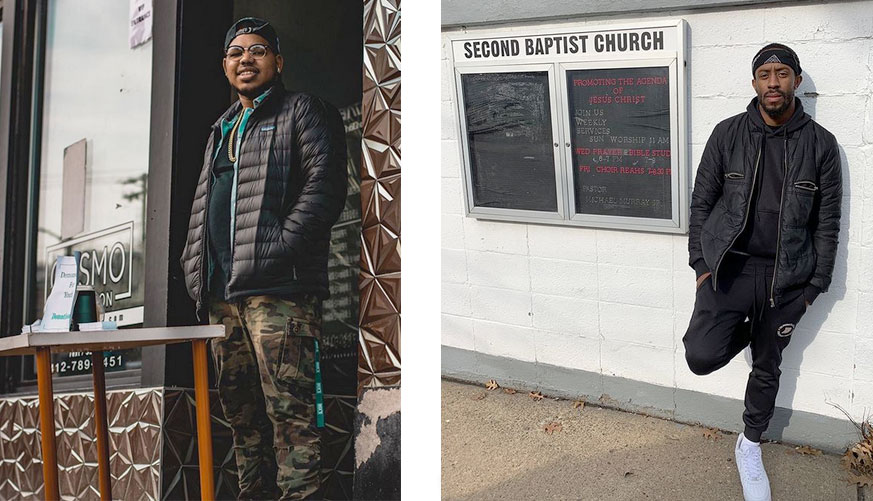 Under the name "Demonstration," Michael Roberts and Marcus Glover are raising money to build a community center in the East End or Mon Valley by selling apparel. The two are hosting a mixtape party and concert at 24 in Duquesne on Thursday. (Photos via Instagram.)
---
Marcus Glover and Michael Roberts are working the streets in Pittsburgh's East End and Mon Valley communities, selling athletic apparel from their mobile "storefront," a small white folding table.
Last summer, the friends started "Demonstration," a non-profit organization they hope to grow into a brick-and-mortar community center as a safe haven for disadvantaged youths.
They're organizing a mixtape release party to be held at 9 p.m. Thursday (Jan. 23) at 24 (formerly Kanczes City Saloon) on Duquesne Boulevard near Kennywood. The event will feature live music by Aaron Goode and the Goodfellas as well as rap and jazz music, according to Glover.
The desire to reach out and help kids evolved out of the pain that Roberts and Glover experienced as teenagers, each losing a loved one to street violence.
"We started talking and sharing stories," Glover said. "I told him about how my best friend was murdered at 15, he told me his story, his older brother was murdered when he was 15, we bonded over our similar tragedies. Everything we are trying to do with our organization is from personal experience."
---
Glover and Roberts met last summer while working at Level Up Studios in Bloomfield.
Glover said they were teamed up by executive director Mario Quinn Lyles to do a back-to-school benefit drive because Lyles recognized the similarity in their confidence, drive and eagerness to give back to the community.
Since then, Roberts and Glover have collaborated with individuals and organizations and are working hard to grow a network of contacts who share their goal of helping young people who are struggling to find a purpose.
Roberts, who graduated from West Mifflin High School, has a lot of friends in Duquesne and McKeesport, and said he's aware first-hand of the struggles faced by middle and high-school students in the area.
---
"I know what it's like for some of the kids in the Mon Valley, in places like Mon View Heights in West Mifflin," Roberts said. "I've got friends who still live there and I know these kids need resources, and that's why I really want to get involved. I grew up around all that."
Glover is concerned about the effects of institutional poverty on kids. "I know how these kids feel, you are not focused on school if you don't eat every day, where I come from that's an everyday thing — kids come to school angry, unfocused, because they're hungry."
They've also volunteered at the Ammons Recreation Center in the Hill District, mentoring young men and women, and they participated in the third annual Level Up Block Party in August, a free day-long event that included live performances, dance workshops, live painting and more.
"We were working with groups, teaching social skills, life skills — it was a mental space for them to open up on what's really going on in life," Roberts said.
---
Demonstration is also collaborating with the Best Buy Teen Tech Center in East Liberty to mentor middle and high-school students in under-served communities.
They organized a coat-drive benefit for kids at Hays Manor in McKees Rocks and spoke to the kids at a charter school about bullying, among other projects.
"When I talk to these kids I don't talk down to them, I talk to them like an equal," Roberts said. "I'm close to their age, I literally just got out of the situation they may be in. I want these kids to know they have resources that I wasn't aware of in their situation."
The duo is making money from custom apparel, including hooded sweatshirts, and have started the process of forming a corporation. They are not soliciting grants.
"We want to show people that you can do it on your its own, it's all about your drive and how motivated you are as a person to get what you can get," Roberts said.
---
For the moment, everything they're doing is self-sufficient, Glover said. "The way I grew up, I've always had to hustle. I've never really believed in sitting around waiting on grants, so it's a lot deeper — lives have been lost, our blood sweat and tears is in this," he said.
Roberts and Glover are working on a proposal to sell athletic apparel during an upcoming basketball tournament at Pitt and to build relationships with area schools to sell athletic apparel. Glover has previous experience back in his hometown of Philadelphia, where he said he worked for League Collegiate Wear Inc. and received business advice from one of the company founders.
"Their products are sold on every college campus across the country," Glover said. "One of the original owners used to sit down with me in the coffee shop in Chestnut Hill, and told me how what it took for him to succeed in starting and maintaining the business.
"He did exactly what we are doing, he told me he sees that same drive in me and not to let anything get in my way," Glover said.
---
Roberts is focused on building relationships with kids. "When I was 15, I lost my brother — he was murdered — and my mom always worked," he said. "She didn't want her kids to do without. As my mom continued working I had no one to vent to about my pain or my agony or how I felt about my brother getting murdered, because I didn't have any father figure in my life — he was my father figure."
Roberts said their goal is not to make money for themselves. "We have jobs, we both work, we're doing this before and after our jobs," he said. "We are doing this for kids to have a better life."
He said the work that he and Glover are doing is built out of love. "I'm tired of watching people do nothing," Roberts said. "Everyone wants to criticize kids, but they do nothing to help them make a change.
"I'm at a point where I'm fed up and it doesn't matter if we just get one kid, that kid could change his life and that's just what it is," he said.
---
They've held three events in the past two months and have more to come. But the energy and time spent promoting their organization comes with a price. Roberts said they rarely see friends, and Glover joked, "we're so busy, girls don't want us."
And recently, while Roberts was selling shirts at a sidewalk table, someone called the police on him and called him "overly agressive."
"You can't do what we do and not have faith," he said. "We're standing out in the cold, it's 29 degrees, we see something bigger than whats right here in front of us."
---
Richard Finch Jr. is a freelance writer who covers news from McKeesport Area School District and North Versailles Twp. for Tube City Almanac. He may be reached at finchr43@gmail.com.
Originally published January 22, 2020.
In other news:
"Kortz Announces Retir…" || "PennDOT: Drivers Igno…"