(Advertisement)
Tube City Community Media Inc. is seeking freelance writers to help cover city council, news and feature stories in McKeesport, Duquesne, White Oak and the neighboring communities. High school and college students seeking work experience are encouraged to apply; we are willing to work with students who need credit toward class assignments. Please send cover letter, resume, two writing samples and the name of a reference (an employer, supervisor, teacher, etc. -- not a relative) to tubecitytiger@gmail.com. (4-11-2023 to 4-30-2023)
To place your ad, email tubecitytiger@gmail.com.
Ads start at $1 per day, minimum seven days.
PSU grad, trustee candidate Ballou tells students not to 'freeze' King in the '60s
By Jason Togyer
The Tube City Almanac
January 25, 2020
Posted in: McKeesport and Region News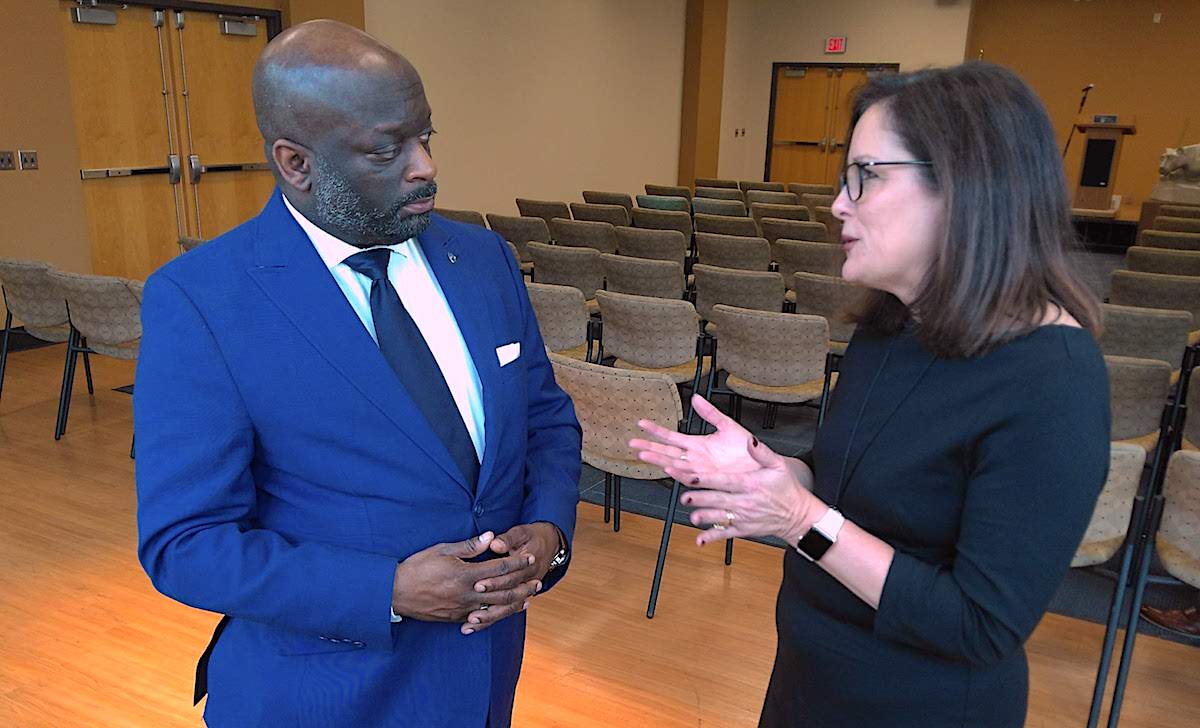 Jeff Ballou, Penn State alumnus and news editor at Al Jazeera's English language channel, speaks to Jacqueline Edmondson, chancellor of the Greater Allegheny campus, following a Martin Luther King Jr. Day speech on Monday. (Tube City Almanac photo)
---
A speaker at Penn State Greater Allegheny on Martin Luther King Jr. Day challenged students — and the university itself — to take a bigger stand against economic inequality, including the rising cost of a college education.
Jeff Ballou, former president of the National Press Club, a Penn State graduate and a Pittsburgh native, said Monday that modern audiences make a mistake when they "freeze" Martin Luther King Jr. at a single moment in time — his "I Have a Dream" speech on the steps of the Lincoln Memorial during the March on Washington in 1963.
"You think everyone celebrates Dr. King," said Ballou, a former student at the McKeesport campus. "Well, not in 1967."
---
Just four years after the famous march, Ballou said, King was under attack by the media for challenging the Vietnam War as well as income inequality — a problem that has only gotten worse since then.
King "made a lot of enemies," Ballou said. "Not just the usual suspects, but people like President Johnson, the Urban League and the NAACP."
During his remarks Monday morning in the Ostermayer Room of the Student Communiy Center on the McKeesport campus, Ballou spoke to students from five Penn State campuses in Western Pennsylvania.
Following his address, students divided into six groups and went out into the region to perform service projects at area charities, including Auberle in McKeesport, All But Forgotten animal shelter, the Salvation Army and Beverly's Birthdays in North Huntingdon Twp., the Bible Center Church in Pittsburgh's Homewood neighborhood, and the Penn State Greater Allegheny campus "Free Store."
---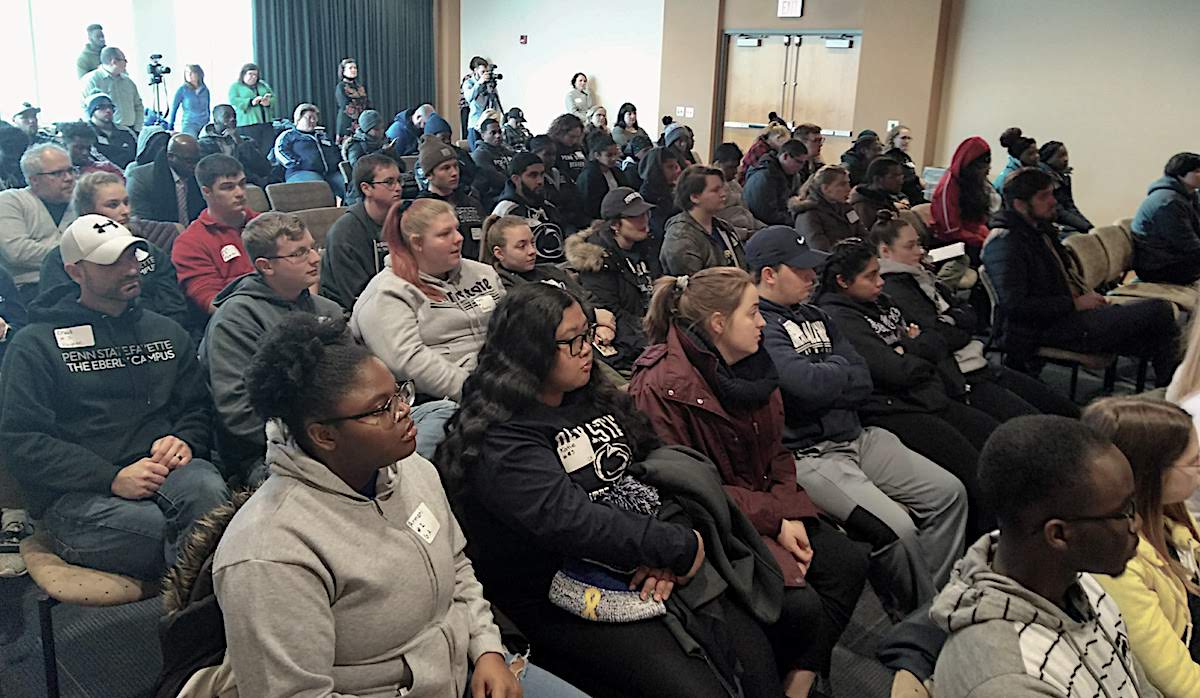 Students from five Penn State campuses listen to a Martin Luther King Jr. Day address by Jeff Ballou at the Greater Allegheny campus in McKeesport. Ballou is running for a seat on the university's board of trustees. (Tube City Almanac photo)
---
Ballou grew up in Homewood and graduated from Penn State in 1990 before earning a master's degree at American University. His career has since taken him to C-SPAN, National Public Radio and Fox Broadcasting.
He now serves as news editor for the Americas at Al Jazeera Media Network's English language channel and is currently running for a seat on the Penn State University board of trustees.
Yet he wasn't afraid to criticize the university, which he said currently has the most expensive tuition of any public university in the Big 10 Conference.
"We're the outlier in so many categories," Ballou said. "Something is wrong. We need to fix that. We always say, 'Every (Nittany) Lion counts,' but if you're raising tuition and room and board out of reach, then every Lion doesn't count."
---
Ballou also discussed the problem of increasing income inequality. According to official statistics from the U.S. Census Bureau, the gap between the wealthiest and poorest American households is now at its highest point in 50 years.
When it comes to the difference between white and Black households, he said, the gap is even wider. The median income for white households in the Pittsburgh area is below the median income nationally, Ballou said, and the median income for Black households in the region is below even that.
"Dr. King would have said something is very wrong with this formula," Ballou said.
---
King was a champion not just for social justice, but economic justice, he said.
"Dr. King called for basic economic safety nets such as a guaranteed (minimum) income long before anyone heard of Bernie Sanders or Elizabeth Warren," Ballou said.
Ballou said he was running for the Penn State board of trustees in an effort to work with the university to find ways to make an education there more afforable.
"Universities exist to produce better people for the world, but yet we're on the back foot because too many people can't afford to get here, and too many people can't afford to stay here," Ballou said.
It's good that students have volunteered to create food pantries on campuses, he said, "but it's very wrong when somebody comes to Penn State and doesn't have enough to eat."
---
King was not afraid to build coalitions to take on powerful, vested interests in government, the press and society, Ballou said. Students need to be willing to do the same hard work both while they're in college and when they leave, he said.
And Ballou said Penn State University — including the McKeesport campus — also must step up and play a bigger role in the life of the Pittsburgh region.
"The world doesn't begin and end at University Park" where Penn State is headquartered, he said, urging students to "use the sense of community you found inside Penn State" to strengthen its public-private partnerships.
"We're counting on you, the students, to do that," Ballou said.
---
Jason Togyer is editor of The Tube City Almanac and volunteer executive director of Tube City Community Media Inc. He may be reached at jtogyer@gmail.com.
Originally published January 25, 2020.
In other news:
"Police Seek Missing C…" || "Man, 29, Critical Aft…"