(Advertisement)
Tube City Community Media Inc. is seeking freelance writers to help cover city council, news and feature stories in McKeesport, Duquesne, White Oak and the neighboring communities. High school and college students seeking work experience are encouraged to apply; we are willing to work with students who need credit toward class assignments. Please send cover letter, resume, two writing samples and the name of a reference (an employer, supervisor, teacher, etc. -- not a relative) to tubecitytiger@gmail.com. (4-11-2023 to 4-30-2023)
To place your ad, email tubecitytiger@gmail.com.
Ads start at $1 per day, minimum seven days.
Manns to focus future on mobility products
By Cami DiBattista
The Tube City Almanac
January 30, 2020
Posted in: White Oak News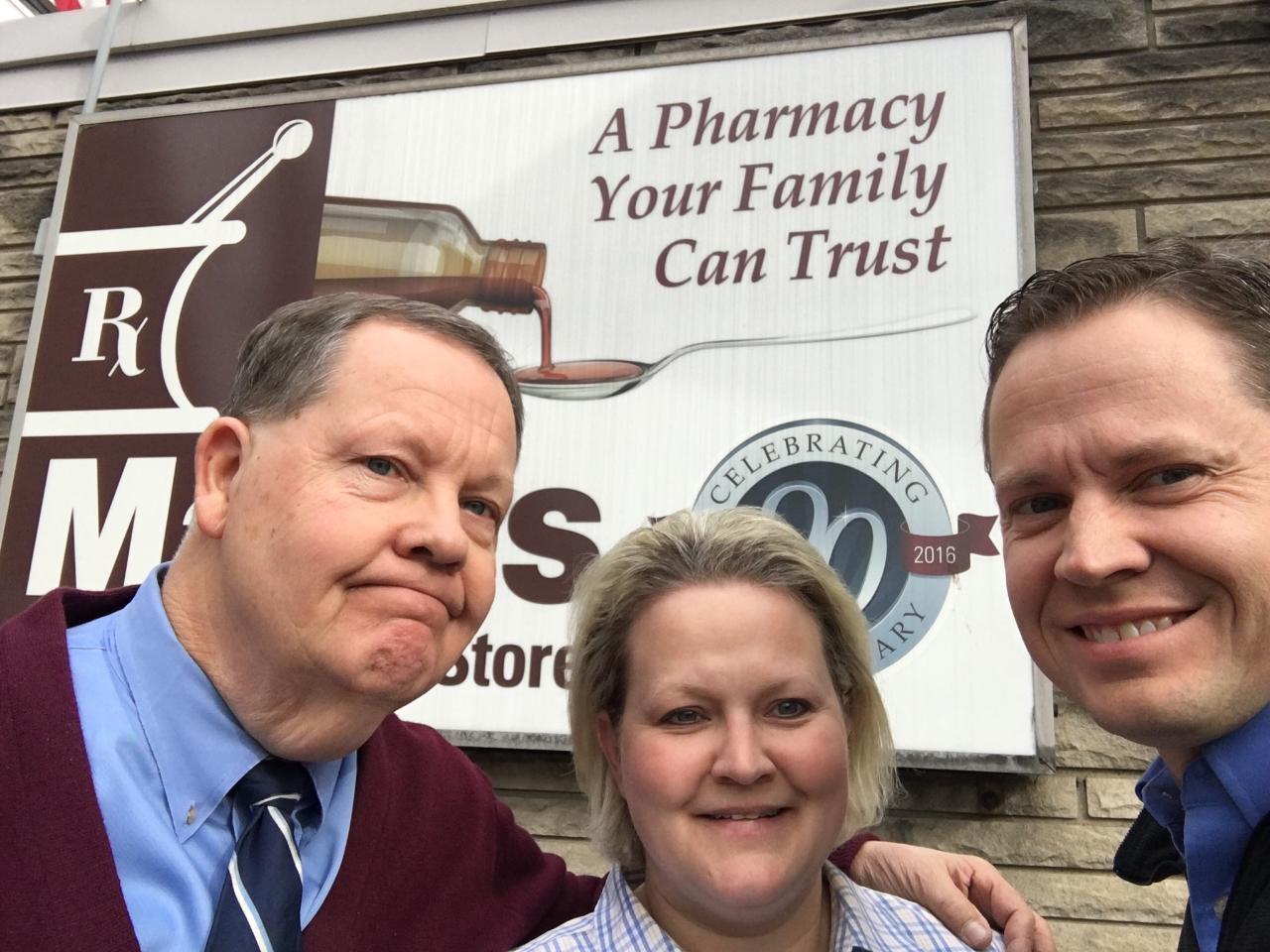 Dave Manns, pictured with daughter Nikole and son Brandon, became the owner of Manns Drug Store in 1980. (Cami DiBattista photo for Tube City Almanac)
---
After 94 years of business in White Oak, Manns Drug Store closed its doors last week, much to the dismay of the Manns family and their loyal, long-time customers.

"I would truly like to thank everyone for their patronage," said owner Dave Manns. "We truly feel like all our customers and employees are part of our family --- they are so important to us. We are blessed to have been a part of the White Oak community for so many years."

Manns Home Medical Products will remain open and Manns said he looks forward to focusing on the home health care and mobility products portion of the business.
Many residents came in to say good-bye and share memories in the days leading up to the drug store's closing.

"The community support has been incredible," Manns said. "I never thought we were that important to the community but people have been coming in and sending their love. It was a rough last week, even rougher last hour."

Some visitors recalled their weekly trips to Manns Drug Store to buy ice cream or comic books, while others remembered when they had sick children at home and Manns' father --- Walter Manns Jr., known affectionately as "Knute" ---would come out and bring their medicine to their houses at night.
---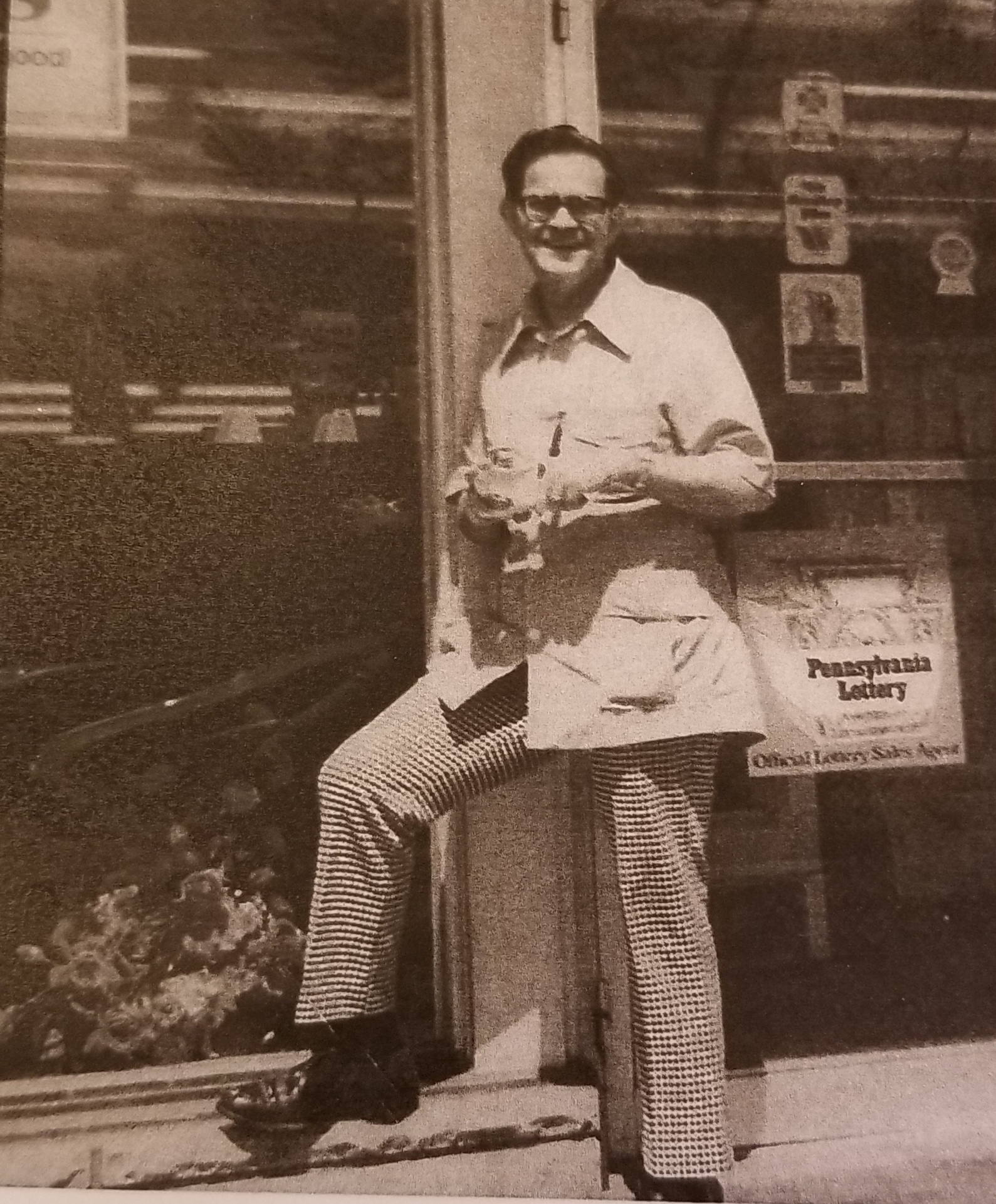 Walter "Knute" Manns Jr. took over the family business in 1950. (Courtesy Manns family)
---
"It was a different time then," Manns said. "The doctor would call in a prescription at midnight and my dad would get up to fill it and take it out to them."

The decision to close the pharmaceutical side of the business was a difficult one, Manns said, but he could no longer compete with the rising cost of drugs and competition from larger chains.

"It wasn't an easy decision to make and it didn't happen overnight," he said. "This was something we have put a lot of thought into. Our customers are our friends and some of them we've cared for for many years --- generations of families in some cases. This has been very difficult for me to come to terms with. I started helping my dad here when I was just a kid. I've spent my entire life working here, but this is something we had to do."
"The Manns family has always gone the extra mile," said long-time customer Bonnie Stumme. "From the pharmacists to the cashiers to the delivery men – they were a great bunch to deal with. We will really miss them."
---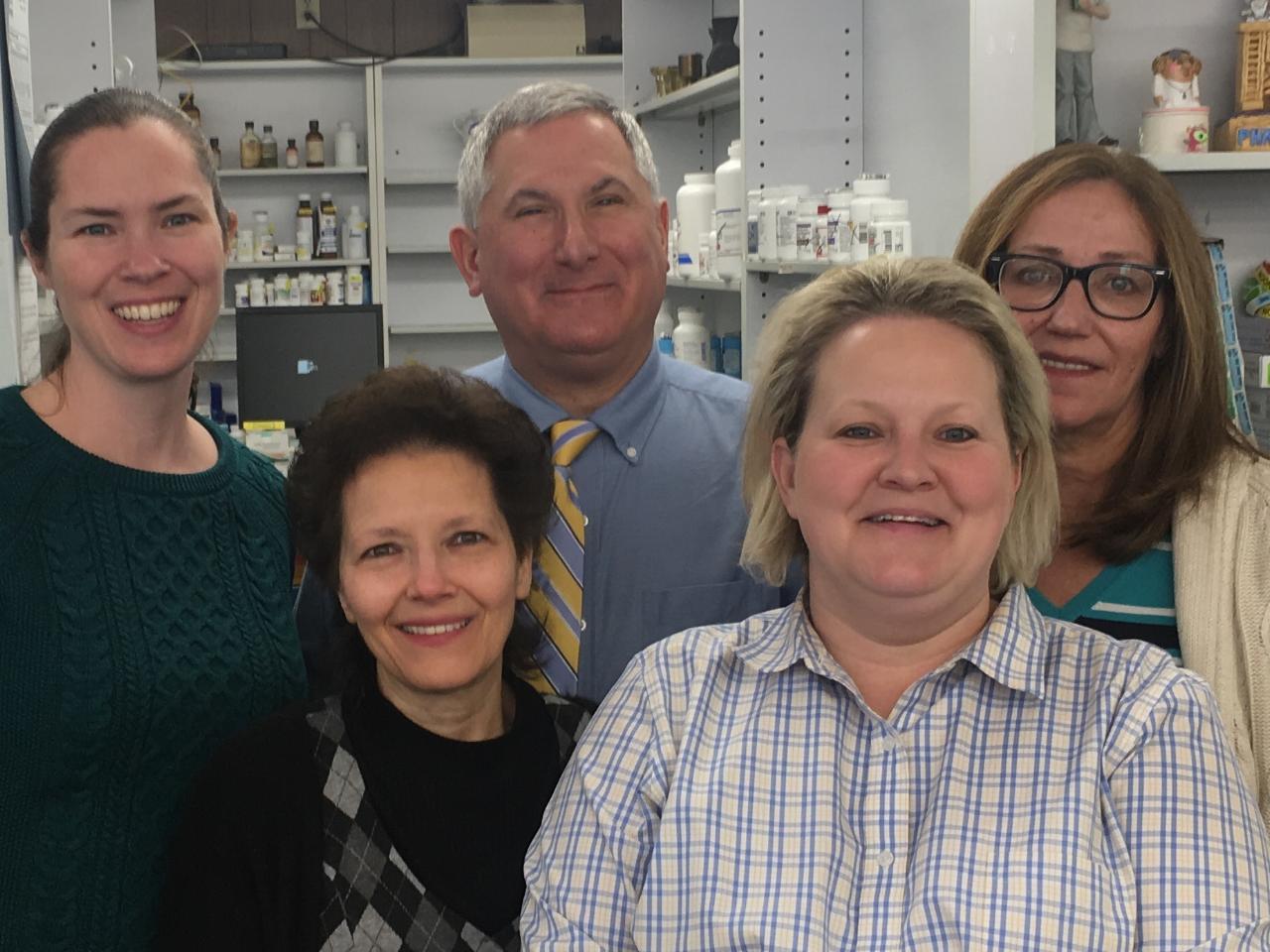 Employees during the final week. (Cami DiBattista photo for Tube City Almanac)
---
Four generations of the family have worked at Manns Drug Store, which was opened in 1926 by Walter Manns Sr., and his brother, who purchased an existing drug store.

"We used to live upstairs above the old drug store when I was first born," Manns said. "They say my grandfather was grooming me for the drug store right from the very beginning."

Following in his father's footsteps, Knute Manns graduated from pharmacy school in 1950 and carried on the tradition of serving the White Oak community and beyond. He devoted fifty-five years to the pharmaceutical industry and showed his own son the ropes.

"My dad grew up here just like I did," Manns recalled. "He really was a great guy and truly went above and beyond for his customers and friends."

Like his father before him, Knute mixed many of his prescriptions by hand.

"Pharmacies were a lot different back then," said Manns. "My dad used to do a lot of compounding in the '50s and '60s. He would mix the drugs and use a machine to fill the capsules and put the tops on them. I used to help him make them. Back then, not many pills came made up. Pretty much everything had to be measured and made by hand. Things have come a long way."

The machines and medical equipment eventually became a hobby for him, and Knute began to collect the antique items, Mann said.

"People would see things and buy them and bring them to him to find out what it was."

Manns Drug Store was re-built in 1964, when Dave Manns was 14 years old.

"It was so ultra-modern when we built it 55 years ago," he recalled. "The diamonds that have our name in them --- that was revolutionary. I remember the day my dad got them. We waited until it got dark and went up on the hill and turned around to look at the new sign for the first time - we were just so thrilled and excited to see it."

In 1966, in response to Medicare, the Manns began to carry home medical products and equipment such as wheelchairs, beds, oxygen and medical supplies. Soon after, mobility products such as lift chairs, scooters, and mobility products became available.

"It really increased our business when we expanded to include the new products," said Manns, who is eager to focus on this aspect of the business now that the drug store portion has closed.

"We will continue to work closely with our customers and their physicians to match their needs to the most appropriate equipment and supplies and to teach safe and proper usage."

The same care and attention that Manns has always provided will still apply. A product purchased from Manns includes installation and take away of the old product at no additional charge.

"We offer a personal service that you just don't get when you order products online," Manns said. "We make it a personal experience. We help people to stay in their own homes."

Manns Home Medical will also carry some over-the-counter drug store items, such as gauze, tape, Bismoline powder, gloves and more.

Manns said he is unsure of what will become of the drug store building. He would like to rent it out, but would also consider selling.

"I'd like to see something successful go in the building --- hopefully something medical that will coincide with the home medical products that we offer."

Manns said he would possibly be interested in seeing a medical marijuana doctor's office or dispensary open in the space. "I'm not really sure what all that entails though," he said. "I just think it's interesting that they have so many different blends that help different ailments. It seems to be the way things are going. It's something to consider."

Existing prescriptions were transferred to a local Rite Aid, which also purchased merchandise and inventory, Manns said.

Mayor Ina Jean Marton said the borough plans to recognize Manns at an upcoming council meeting for their many years of service to the White Oak community.

"So many people have fond memories of their experiences visiting Manns Drug Store," Marton said. "They are a true White Oak institution. They will be sadly missed, but I hope the community will continue to support the portion of the business that is remaining open."
---
Cami DiBattista is a freelance writer who writes about a variety of topics for Tube City Almanac. She may be reached at cad316@gmail.com.
Originally published January 30, 2020.
In other news:
"Man, 29, Critical Aft…" || "Model RR Club Marks 7…"