(Advertisement)
Tube City Community Media Inc. is seeking freelance writers to help cover city council, news and feature stories in McKeesport, Duquesne, White Oak and the neighboring communities. High school and college students seeking work experience are encouraged to apply; we are willing to work with students who need credit toward class assignments. Please send cover letter, resume, two writing samples and the name of a reference (an employer, supervisor, teacher, etc. -- not a relative) to tubecitytiger@gmail.com. (4-11-2023 to 4-30-2023)
To place your ad, email tubecitytiger@gmail.com.
Ads start at $1 per day, minimum seven days.
By Staff Reports
The Tube City Almanac
February 19, 2020
Posted in: Announcements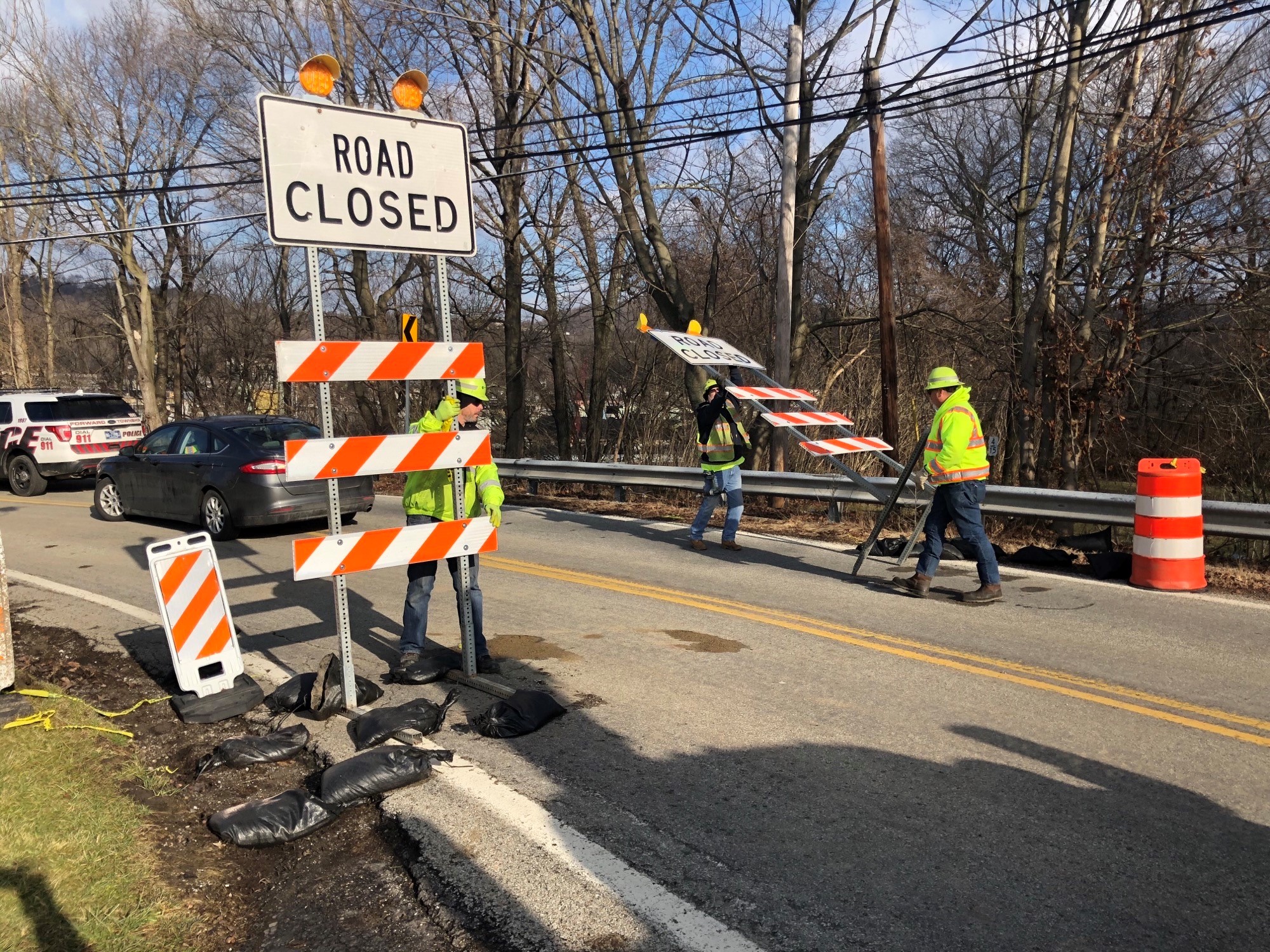 PennDOT workers remove barricades from Bunola River Road in Forward Twp. on Wednesday morning. The agency has reopened a section of the road that is restricted to one alternating lane, and installed new traffic lights. (Photo courtesy state Sen. Jim Brewster)
---
After public outcry and pressure from local elected officials, the state Department of Transportation on Wednesday morning reopened a portion of Bunola River Road in Forward Twp. that was closed to traffic in January.
A new permanent traffic signal has been installed that includes an uninterrupted power source and a radar-detection system to identify when a car is waiting to enter the one-lane section of road, said Steve Cowan, district spokesman for PennDOT.
Motorists should not have to wait more than 60 seconds until the light detects them, he said.
PennDOT also is installing new signs, stop bars and barriers to better define the section near Lock & Dam No. 3 that is restricted to one alternating lane of traffic, Cowan said.
Following a landslide, Bunola River Road was restricted to one lane, controlled by a signal.
But in January, PennDOT said vehicles were ignoring the signals and were risking a serious crash, and officials announced the road was being completely closed between Pangburn Hollow Road and Third Avenue.
Bunola River Road serves as the major connection between Elizabeth and Bunola and PennDOT's decision was sharply criticized by Elizabeth and Forward-area residents, who said they were forced to disobey the temporary traffic light because it was frequently out-of-order.
State Sen. Jim Brewster, who was at the work site on Wednesday morning, thanked PennDOT District Engineer Cheryl Moon-Sirianni for responding to concerns expressed by residents and local police, firefighters and emergency medical providers.
"First responders are again able to get to people in need more quickly," Brewster said. "West Penn Power also moved quickly to provide electricity to power the traffic signals. A great example of working together to get things done."
PennDOT will test the system and monitor the lights to make sure they are functioning properly, Cowan said. The department also will work with local police in an effort to safeguard the public from motorists who disregard the signal, he said.
---
Editor's Note: This article was written from press releases provided by the state Department of Transportation and the office of state Sen. Jim Brewster.
Originally published February 19, 2020.
In other news:
"Two Charged in Monroe…" || "W. Newton Church Post…"