(Advertisement)
Tube City Community Media Inc. is seeking freelance writers to help cover city council, news and feature stories in McKeesport, Duquesne, White Oak and the neighboring communities. High school and college students seeking work experience are encouraged to apply; we are willing to work with students who need credit toward class assignments. Please send cover letter, resume, two writing samples and the name of a reference (an employer, supervisor, teacher, etc. -- not a relative) to tubecitytiger@gmail.com. (4-11-2023 to 4-30-2023)
To place your ad, email tubecitytiger@gmail.com.
Ads start at $1 per day, minimum seven days.
Mayor, police chief seeking grant to bring 'ShotSpotter' to McKeesport
By Jason Togyer
The Tube City Almanac
March 06, 2020
Posted in: Crime and Police News, McKeesport and Region News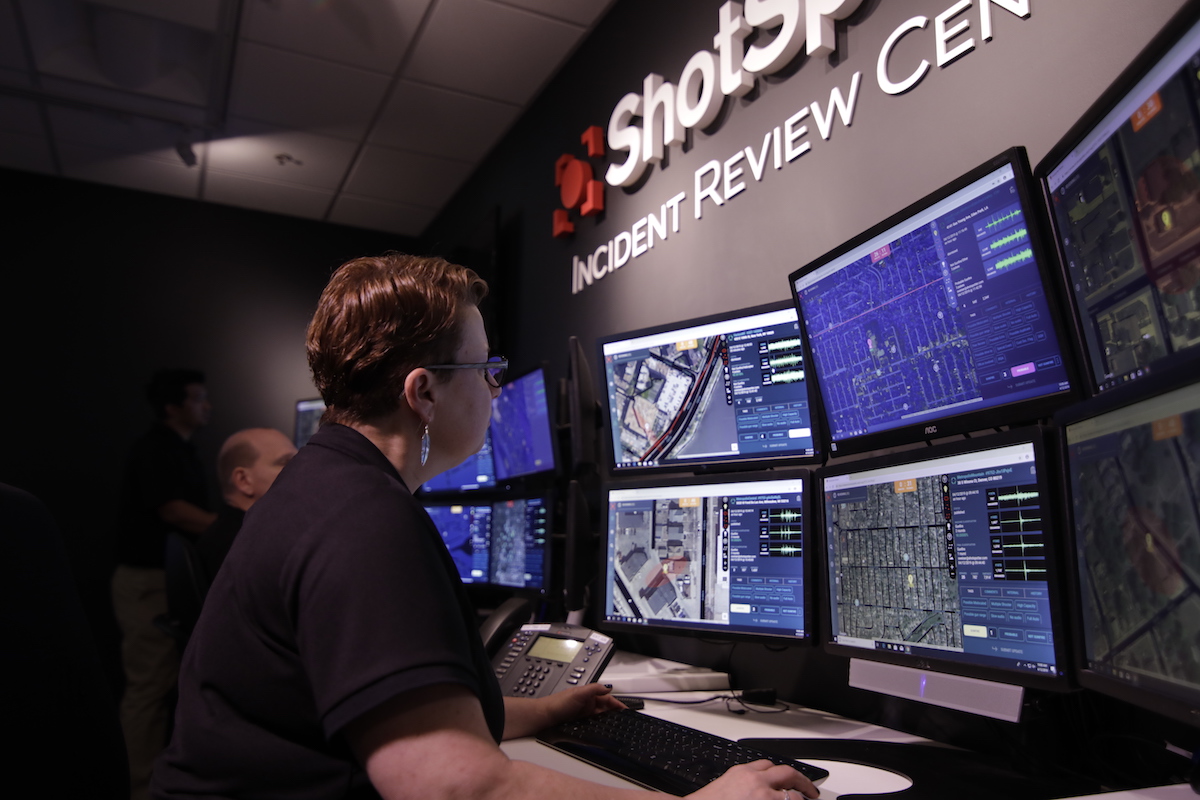 A technician works in ShotSpotter's incident review center. McKeesport officials are investigating whether or not the technology can be brought to the city with the help of a federal grant. (Submitted photo)
---
City officials are seeking a federal grant to bring gunshot detection technology to McKeesport in an effort to respond more quickly to incidents.
At Wednesday's meeting, city council authorized Mayor Michael Cherepko's administration to apply for a grant through the U.S. Justice Department's Community Policing Development program to acquire "ShotSpotter" technology.
ShotSpotter, based in Newark, Calif., uses an network of electronic sensors to detect gunfire, pinpoint its exact location, and then alert police. The company says that its system depends on artificial intelligence to analyze the sounds of loud noises and that it ignores things like thunder, fireworks and trucks backfiring.
Although computers and sensors do the initial detection, technicians who work for the company confirm the results before police are dispatched, the company says.
The entire process — detecting a noise, determining whether or not it's a gunshot, pinpointing the location and alerting police — takes less than 60 seconds, the company says.
The technology is about "95 percent accurate," Cherepko said Wednesday.
Cities using ShotSpotter include Pittsburgh; Cincinnati, Dayton, Toledo and Youngstown, Ohio; Baltimore, Md.; and New York City. Several college and university campuses also are using the technology, according to ShotSpotter.
Based on a list of communities on the ShotSpotter website, McKeesport would be among the smaller municipalities to deploy the technology.
"Shots fired" calls in McKeesport are down in recent months, police Chief Adam Alfer said Wednesday. McKeesport police, working with the Allegheny County district attorney's office, have been doing saturation patrols of some city neighborhoods to discourage gun violence, he said.
But it can still take five to six minutes between the time when a resident hears a gunshot and calls 9-1-1, and the time when police officers are dispatched to the scene, Cherepko said.
SpotShotter would allow officers to respond almost immediately and help them have a better chance of preserving evidence and catching suspects, Alfer and Cherepko said.
The grant application has not yet been prepared, said Jennifer Vertullo, assistant to the mayor, and the city is still negotiating with SpotShotter to determine how much it would cost to cover about two square miles, mostly in the Grandview and Versailles Avenue corridors of McKeesport.
"We are at the very beginning of the process," Vertullo said.
Also at Wednesday's meeting, council authorized the mayor's administration to apply to the Justice Department's COPS Hiring Program for a grant to pay up to 75 percent of the salaries of three new full-time officers.
If McKeesport is successful and receives a grant, the full-time officers would be hired from among current part-time officers, Alfer said.
There also has been discussion of opening a police substation in Renziehausen Park, in a house near Jacob Woll Pavilion formerly used as a caretaker's office.
The proposal is still in the planning stages and no timetable has been set, but Alfer said the substation would make it easier for officers to interact with community members using the park.
---
Jason Togyer is editor of The Tube City Almanac and volunteer executive director of Tube City Community Media Inc. He may be reached at jtogyer@gmail.com.
Originally published March 06, 2020.
In other news:
"Riders Ask Hard Quest…" || "Suspect Sought in Eva…"