(Advertisement)
Tube City Community Media Inc. is seeking freelance writers to help cover city council, news and feature stories in McKeesport, Duquesne, White Oak and the neighboring communities. High school and college students seeking work experience are encouraged to apply; we are willing to work with students who need credit toward class assignments. Please send cover letter, resume, two writing samples and the name of a reference (an employer, supervisor, teacher, etc. -- not a relative) to tubecitytiger@gmail.com. (4-11-2023 to 4-30-2023)
To place your ad, email tubecitytiger@gmail.com.
Ads start at $1 per day, minimum seven days.
Port Authority officials on listening tour during long-range planning process
By Jason Togyer
The Tube City Almanac
March 05, 2020
Posted in: McKeesport and Region News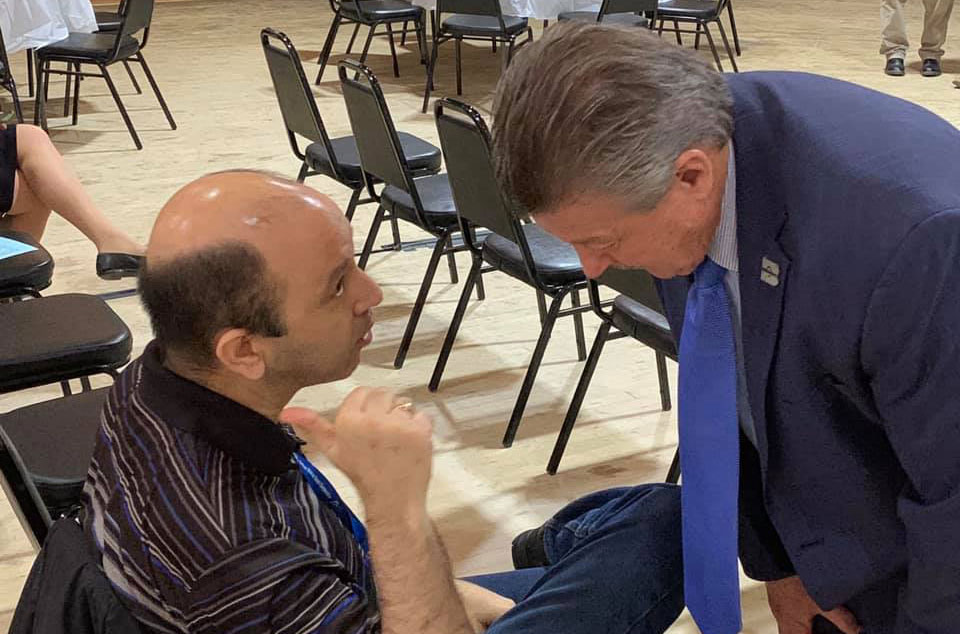 Steve Schonberger of McKeesport talks to state Sen. Jim Brewster before a meeting to discuss public transit on Wednesday night at the Palisades ballroom, Downtown. Officials from Port Authority of Allegheny County are collecting public comments as they prepare a long-range transportation plan. (Photo courtesy state Sen. Jim Brewster, via Facebook)
---
Riders who attended a meeting Wednesday evening about long-range planning for public transit questioned how the meetings were being advertised — and why electronic fare cards still remain hard to get in McKeesport and elsewhere.

At a "listening session" convened by Port Authority of Allegheny County at the Palisades ballroom, one rider said he was tired of excuses about the ConnectCard system, which is supposed to replace cash fares on buses and light-rail vehicles.

"We were promised a ConnectCard location" at the McKeesport Transportation Center, said Steve Schonberger, a city resident. "It never happened. Other elected officials are getting them — but still none in Senator (Jim) Brewster's office. The Shop 'n Save (on Fifth Avenue) stopped selling ConnectCards, so if you live in this part of McKeesport, you're out of luck.

"I'm tired of excuses and I'm tired of hearing that you're 'planning' to do it," he said. "I'm tired of it."
---
Another rider, Maria Palmer of McKeesport, said she would like to take transit to her job in North Versailles Twp., but the service is so limited she would have to wait up to two hours after her shift is over to get a bus home.
And on weekends, the bus she needs doesn't run at all, Palmer said.
"How long before you can add some all-day buses to where I need to get to?" she said.

Phillip St. Pierre, director of Port Authority service planning and scheduling, said the 60-Walnut bus in McKeesport is one of several bus routes in the Mon Valley that will get additional weekend service beginning March 15.

"One of the initiatives we're trying to look at is making all of our services seven-day (per week) services," St. Pierre said. "Saturday service is coming in the next couple of weeks (to 60 Walnut). Hopefully we'll be including Sunday service in the near future."
---
Wednesday's meeting was the latest in a series of meetings convened by Port Authority officials who are developing a long-range plan for the transit system, the 26th-largest in the United States, serving around 175,000 to 200,000 riders every day.

Katharine Kelleman, Port Authority chief executive officer, told the audience not to be afraid of asking for ambitious or "dream" improvements.

"If we don't know where we want to be in 30 years, how are we going to get there?" Kelleman said. "Where do you want to see your transportation system in 25 years?"
---
Port Authority is looking to make improvements in the types of buses the agency operates, including more use of electric vehicles, she said. The agency does not want to use autonomous — self-driving — buses, Kelleman said, but it does want to take advance of safety improvements that are being developed by autonomous car and truck manufacturers.

Port Authority is also intensely focused on developing its proposed bus rapid transit, or BRT, network between downtown Pittsburgh and Oakland, said Amy Silbermann, the transit agency's director of planning.

The BRT system would feature buses operating in special lanes, running in a continuous loop on short headways between those two neighborhoods. It is designed to ease congestion in the east end of Pittsburgh that causes overcrowding and poor on-time performance on buses that are headed to the Mon Valley and eastern suburbs, Silbermann said.
---

Artist's rendering of proposed BRT station near the University of Pittsburgh (courtesy Port Authority of Allegheny County)
---
Port Authority expects to complete the BRT planning process this year and begin property acquisition and construction in 2021, with operations beginning in late 2023, she said. The project is expected to cost $225 million and is about 88 percent funded, Silbermann said.

Shari Holland of the Library district raised a point often heard in McKeesport: Why isn't rail service an option to the Mon Valley?

"When I first moved to Pittsburgh and began working at McKeesport Hospital, it was very convenient to take the train." Hoilland said. "When you talked about our 'dreams,' well, there used to be a train. I don't know if you ever consider that idea of using (rail) as a quicker corridor."

Silbermann said that although Port Authority does operate a light-rail system from Pittsburgh to Upper St. Clair, the county is "very much a bus area." but the long-range plan will examine "corridors that are already there, including former rail lines and active rail lines."

At upcoming meetings, residents will be able to draw directly on a map where they would like to see service extended, Silbermann said.
---
Wednesday's meeting was sparsely attended. Organizers delayed the scheduled 5 p.m. start by about 20 minutes in hopes that more people would arrive.

"Attendance is not good," said Naomi Anderson of Bloomfield, who was representing Pittsburghers for Public Transit. "I was also at the East Liberty meeting, and a lot of people in that meeting suggested they just happened to learn about it that day."

She questioned the effectiveness of Port Authority's outreach efforts, and also asked Kelleman and other officials why all of the meetings were being scheduled at 5 p.m. on Wednesdays.

"I appreciate what you're trying to do, but having all of the meetings on Wednesdays from 5 to 8 p.m. doesn't leave a lot of room to attend if you're a shift worker who works at that time," Anderson said.

There also was no child care being offered, she said, and very limited food options. "I think you need to consider having meetings at different times so people who work at this time can come," Anderson said.
---
Port Authority is advertising the meetings on Facebook by posting in community message groups and with paid, or sponsored, posts, said Jim Ritchie, chief communications officer. The meetings also are being advertised on the buses themselves, he said, and in local media.

"It's challenging to reach everybody and it's challenging to get people to attend a meeting," Ritchie said.

Information about the long-range planning process is available on the Port Authority's website, officials said, and riders can submit comments there or by calling (412) 442-2000.

Links to documents and video of past presentations also can be viewed online.
The next three meetings are scheduled for:
March 11 at Pittsburgh Technical Institute, 1111 McKee Road, North Fayette Twp.;
March 18 at Bethel Park Municipal Building, 5100 W. Library Ave.; and
April 1 at Springdale Veterans Association, 1151 Pittsburgh St., Springdale.
All meetings begin at 5 p.m. and are open to the public.
---
Jason Togyer is editor of The Tube City Almanac and volunteer executive director of Tube City Community Media Inc. He may be reached at jtogyer@gmail.com.
Originally published March 05, 2020.
In other news:
"Local Leaders Discuss…" || "City Pursuing High-Te…"