Play's twists, turns add to suspense
By Bonnijean Cooney Adams
The Tube City Almanac
March 11, 2020
Posted in: Entertainment


Elaine Wheeler (Cindy Swanson), and her visiting friend and nurse Blanche Cooke (Chelsea Forbes), are paid a visit by outgoing neighbor Curtis Appleby (Ron Clawson). (Bonnijean Cooney Adams photo for Tube City Almanac)
If you go...

McKeesport Little Theater presents "Night Watch"

Where: 1614 Coursin St.
www.mckeesportlittletheater.com

When: March 13 to 22, with Friday and Saturday shows at 7:30 p.m. and Sunday matinees at 2 p.m.

Tickets: $15 for adults, $10 for students.

Reservations: (412) 673-1100 or through the website.
McKeesport Little Theater audiences will get to experience a suspense thriller set in the 1970s, with lots of turns and twists in its plot, when "Night Watch" begins its run Friday (March 13).
Written by Lucille Fletcher, it was made into a 1973 movie starring Elizabeth Taylor.
Sean Butler returns in his second major directing role, after appearing in numerous MLT productions and serving on its board of directors.
"I was formerly on the committee to select the shows, and this one left a really good button to land on," he said. "It was a lot of fun to help the actors develop their characters in depth."
---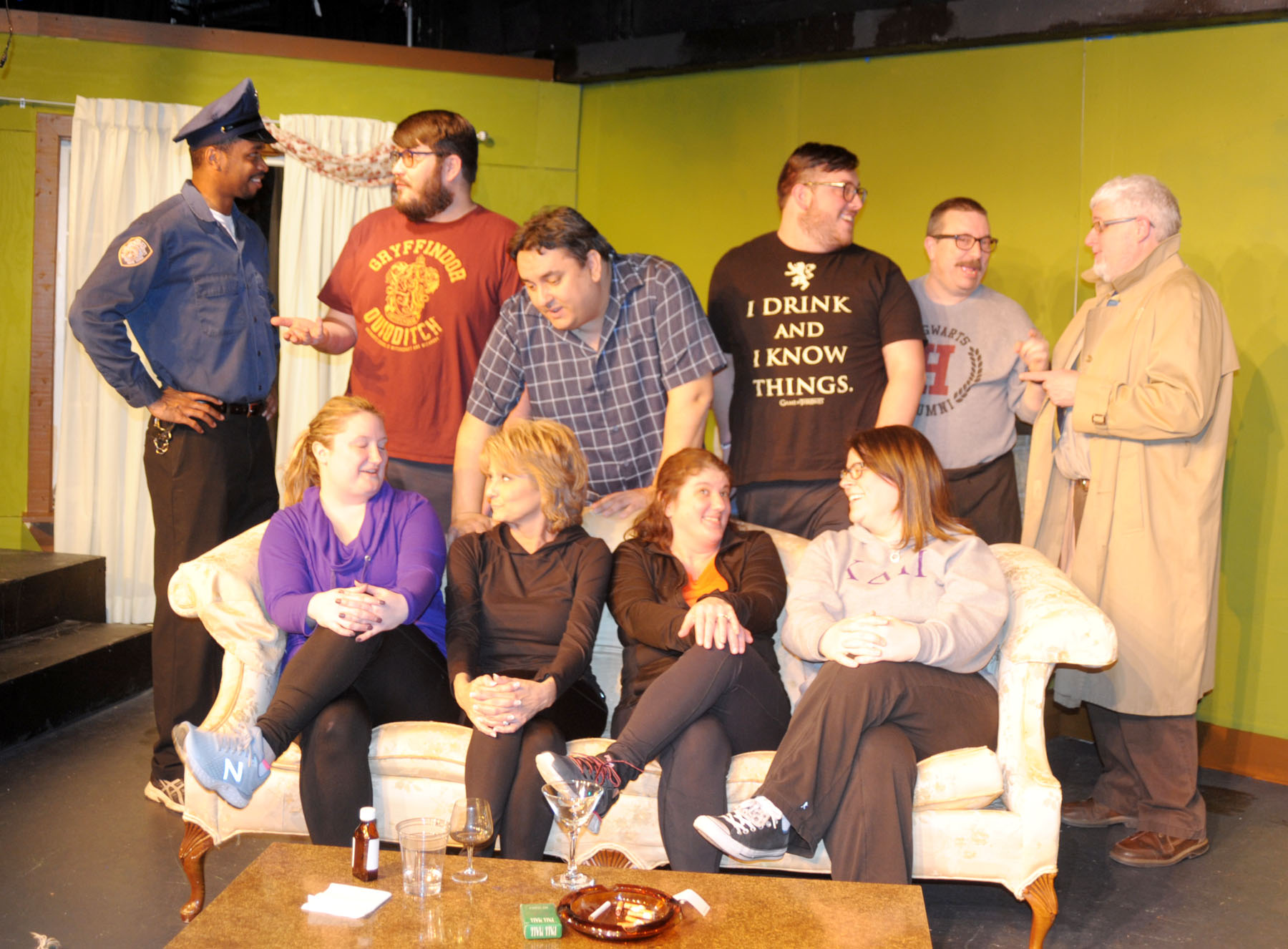 Director Sean Butler (back row, second from left), with Night Watch cast members, front from left, Chelsea Forbes as Blanche Cooke, Cindy Swanson as Elaine Wheeler, Ellen Small as Dr. Tracey Lake, and Renata Bushik as Helga. In back are Dellen Morton as Officer Vanelli, Butler, Steven Gallagher as John Wheeler, Ron Clawson as Curtis Appleby, Phil Boatright as Sam Hoke, and Dan Kirk as Lt. Walker. (Bonnijean Cooney Adams photo for Tube City Almanac)
---
Cindy Swanson plays Elaine Wheeler, a woman of wealth but still trying to overcome tragic memories. She had the unenviable task of identifying the bodies when her first husband – and his mistress – were killed in an accident.
When the audience meets Elaine, she has found love again with her second husband John Wheeler (Steven Gallagher), but all is not what it seems on the surface.
When Elaine, who is an insomniac, claims to have seen a murder victim in the rundown house next door, her sanity is called in question.
---
Butler said the author "really helped build the question of sanity" through Elaine's character, which he called "complicated and at times disjointed."
Swanson said she directed "Night Watch" at least 12 years ago, and did not specifically audition for the part, but wanted to come back to McKeesport Little Theater because of good experiences there in "Steel Magnolias" last year.
She and Butler agree Elaine is a complicated character.
"'Lost and unsure' would be the simplest ways to describe her," Swanson said. "You do have some freedom to interpret the role, but you have to find that character in some situation within yourself. I had to explore it, and needed a lot of direction from Sean."
---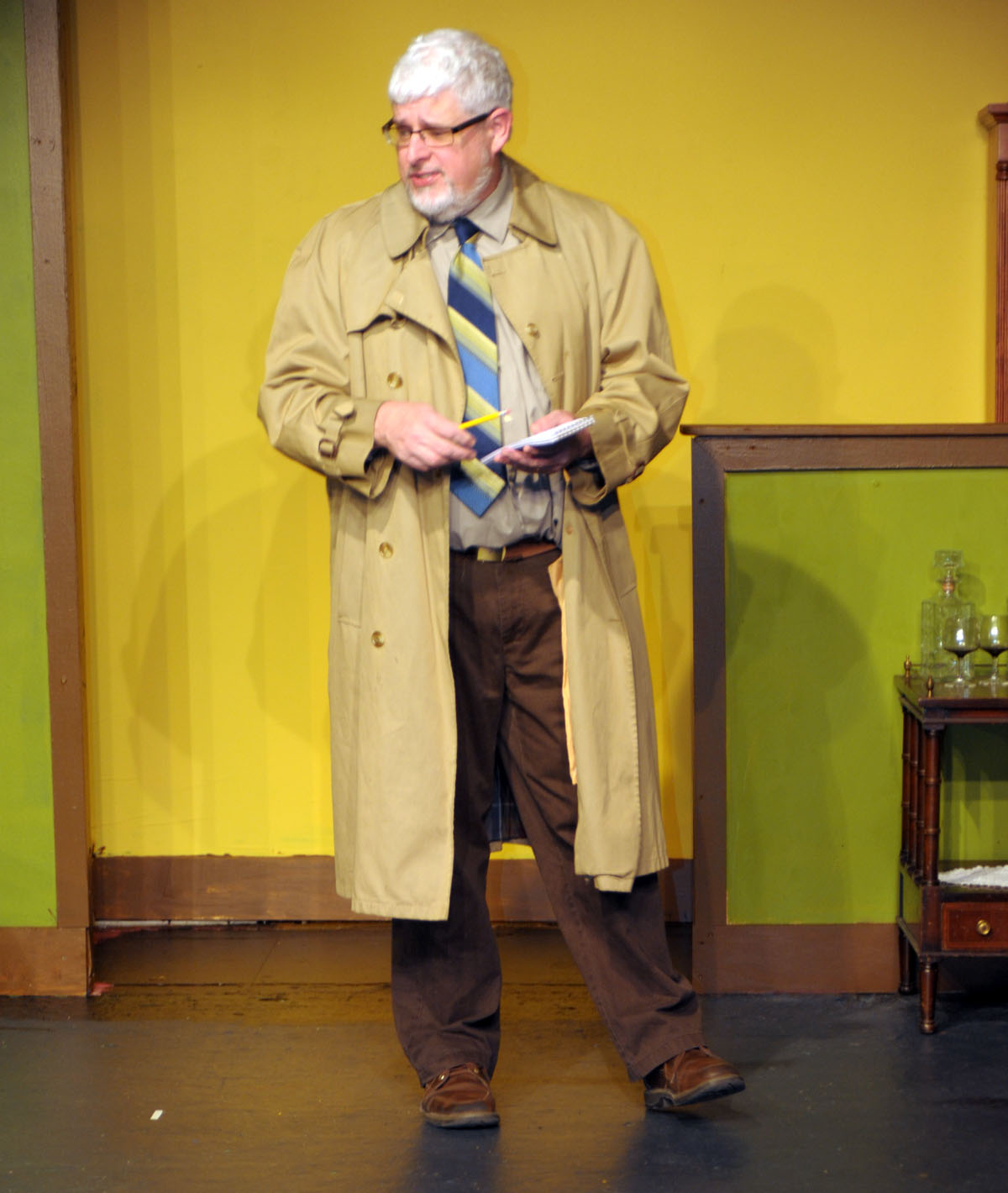 Lt. Walker (Dan Kirk) conducts the first interviews at the Wheeler home as he investigates a possible homicide at the house next door. (Bonnijean Cooney Adams photo for Tube City Almanac)
---
Although Elaine is unaware of another affair, she is starting to suspect that all is not as it appears on the surface, Swanson said, and her sanity comes into question when police (Dellen Morton as Officer Vanelli and Dan Kirk as Lt. Walker) can't find a body in the house next door.
"What is one person's crazy is someone else's reality," Swanson said. "What appears on the surface – what is visible – is not always real."
---
Butler described Elaine as "complicated and disjointed."
The director said Elaine's mother died when she was young, and she relied on her father quite heavily. When he died, she transferred that allegiance to her first husband, then felt totally betrayed when she discovered his affair when he died.
Butler said eight years had past between that death and her recovery and second marriage to John, who appreciates Elaine's wealth but does well for himself independently as a broker on Wall Street.
Steven Gallagher, who plays John, is an alum of the MLT stage and has worked with Butler before.
"To be honest, I came to audition as a spur-of –the-minute decision," Gallagher said. "Sean and Katelyn mentioned they were doing a play. I thought maybe I could play the husband."
---
The MLT production maintains the setting in the 1970s, he said, with references to Western Union, lots of cigarette chain smoking by Elaine, and a rotary phone used for repeated calls to Lt. Walker (Dan Kirk).
Without spoiling the storyline or the ending, Gallagher explained some details to set the scene.
He said although he believes there was some genuine passion and love at the beginning of the marriage (Elaine is at least a little older than his character), he does not stay infactuated for very long and is having an affair with her good friend, Blanche Cooke (Chelsea Forbes), who happens to be a nurse and has come to watch over Elaine when fears arise that she might have another breakdown.
"That's got to be one of the dumbest affairs," Gallagher said. "He's having it with his wife's best friend. Is there a real passion there, or is it just convenient?"
Butler said he's worked with some of the cast before – at McKeesport Little Theater and elsewhere – or knew of some of them through friends.
---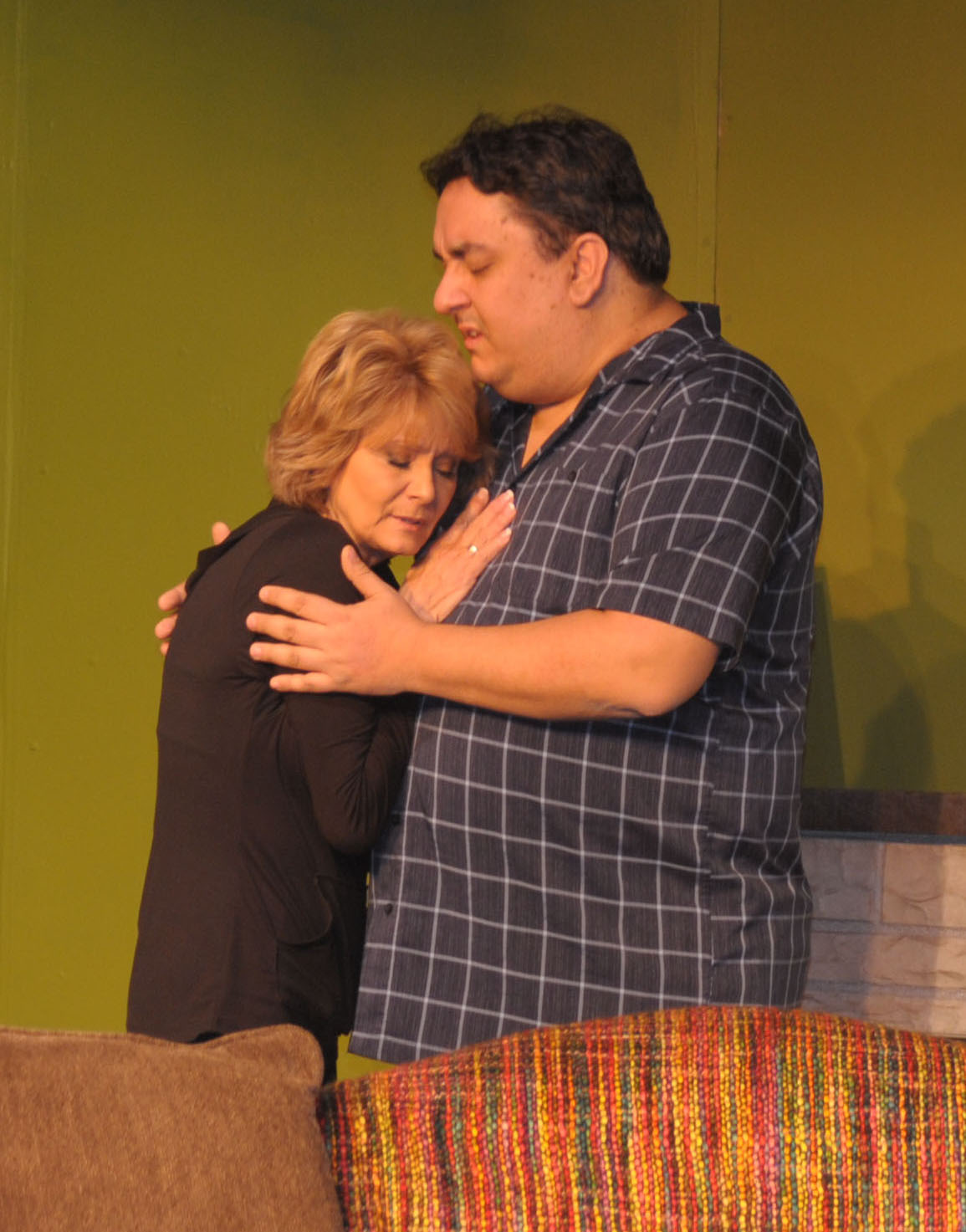 Elaine Wheeler (Cindy Swanson) seeks comfort from her husband John Wheeler (Steven Gallagher) after she claims to have witnessed a murder. (Bonnijean Cooney Adams photo for Tube City Almanac)
---
He met his wife Katelyn, who is the "Night Watch" producer, during "Amish Burlesque" at MLT. "She was in the cast and I understudied the lead," Butler said. "We even got married at the theater."
Other characters include Ellen Small as Dr. Tracey Lake, a psychiatrist (or is she?) called for a consult to evaluate Elaine, and Renata Bushik as Helga, the housekeeper with real affection for Elaine but who is not a favorite fan of John.
MLT veteran Ron Clawson plays the outspoken, nosey, and sometimes flamboyant neighbor Curtis Appleby.
Phil Boatright wears two hats as deli owner Sam Hoke, who fears his nearby business will be adversely affected with a possible homicide in the neighborhood, and stage manager. Cindy Nee is in charge of costumes.
"Audiences should come definitely anticipating a thriller," Butler said, "but this is not a traditional whodunit."
---
Bonnijean Cooney Adams is a contributing writer. She can be reached at adamsclick@aol.com.
Originally published March 11, 2020.
In other news:
"Suspect Sought in Eva…" || "LifeSpan Slates St. P…"