(Advertisement)
Tube City Community Media Inc. is seeking freelance writers to help cover city council, news and feature stories in McKeesport, Duquesne, White Oak and the neighboring communities. High school and college students seeking work experience are encouraged to apply; we are willing to work with students who need credit toward class assignments. Please send cover letter, resume, two writing samples and the name of a reference (an employer, supervisor, teacher, etc. -- not a relative) to tubecitytiger@gmail.com. (4-11-2023 to 4-30-2023)
To place your ad, email tubecitytiger@gmail.com.
Ads start at $1 per day, minimum seven days.
News of virus's spread overtakes planned education discussion
By Richard Finch Jr.
The Tube City Almanac
March 13, 2020
Posted in: McKeesport and Region News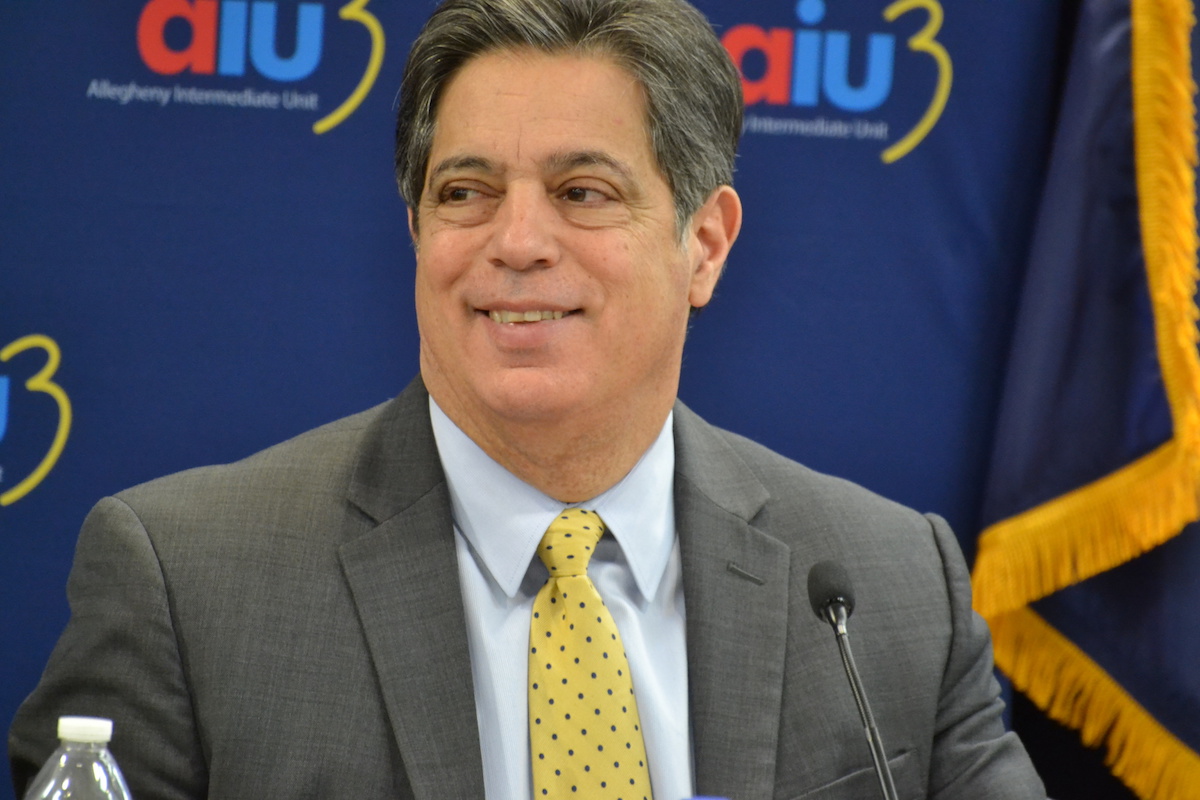 State Senate Majority Jay Costa of Forest Hills spoke at a public forum Thursday night organized by Allegheny Intermediate Unit. (Richard Finch Jr. photo for Tube City Almanac)
---
Allegheny Intermediate Unit scheduled a legislative forum on public education Thursday night in Homestead.
But the forum, attended by local school board members and district superintendents, quickly turned into a discussion of the impact of the coronavirus pandemic on Pennsylvania, and what legislators in Harrisburg are doing to protect residents.
The event at the AIU central office was moderated by Jon Delano, KDKA-TV (2) money and politics editor.
State Sen. Jim Brewster, D-McKeesport, Senate Minority Leader Jay Costa, D-Forest Hills and state Rep. Dan Miller participated in the panel. Joseph Shaulis, AIU general counsel, said all Allegheny County lawmakers were invited to attend.
---
The event was intended to be a dialogue with state officials on the impact of charter schools, school safety, the state budget, property taxes and the impact these issues have on students, taxpayers and communities.

But Delano asked the question on many people's minds: "What is going on in Harrisburg to deal with this very serious issue of coronavirus?"

In response, Costa said both Democratic and Republican leaders have been in contact with Gov. Tom Wolf and state Health Secretary Dr. Rachel Levine through meetings and conference calls several times a day.
Participants include Senate Majority Leader Jake Corman (R-Centre), House Minority Leader Frank Dermody (D-Allegheny), and House Majority Leader Bryan Cutler (R-Lancaster), Costa said.
---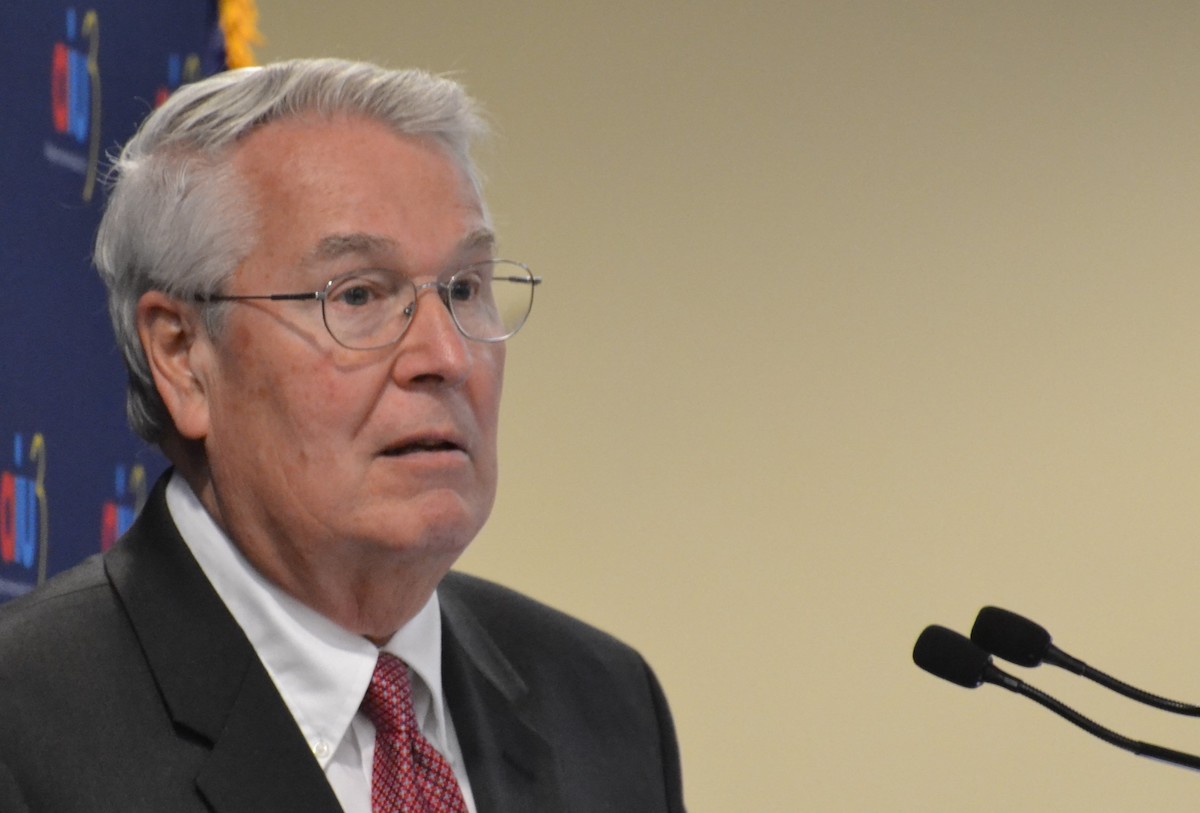 Jon Delano of KDKA-TV. (Richard Finch Jr. photo for Tube City Almanac)
---
State officials are working "to really map out a strategy of what we're going to do over the course of the next several weeks ... to move forward," Costa said.
Right now, the highest confirmed number of cases are in Montgomery County, he said.
"If you haven't heard, for the most part Montgomery County is on lockdown — probably as close to being on lockdown as New Rochelle, N.Y., where they had the National Guard going in," Costa said.
There are no plans to use the state National Guard at this point in Montgomery, he added.
---
But the fact that the COVID-19 cases are heavily clustered in Montgomery County will help state officials learn more about the spread of the virus and the best courses of actions to take over the next several days, Costa said.
In a press release Thursday, Wolf and Levine provided an update on the state's COVID-19 mitigation efforts. Wolf ordered the closing of all schools in Montgomery County, as well as entertainment venues, community centers and gymnasiums.

The governor also strongly encouraged the statewide suspension of large gatherings, events and conferences of 250 people or more, and discouraged people from traveling to recreational activities.

"And while people are free to travel, I ask that everyone refrain from non-essential travel," Wolf said. "We all need to do our part to help stop the spread of the coronavirus. The time to do this is now. We cannot wait."
---
At least one elected official, state Sen. Pam Iovino, D-Mount Lebanon, expressed her disappointment that AIU was preceding with Thursday night's event in light of the governor's advice and concerns about spreading coronavirus with unnecessary gatherings.
"Sen. Iovino made an appearance, but was displeased that we were proceeding with this event and left," Shaulis said.

Costa said legislators are looking into how much money Wolf is going to need to be able to address this crisis.
"We know at the federal level they provided $8.3 billion," Costa said. At this point, he said, only $16 million has been allocated to Pennsylvania.
"That's not a whole lot, to deal with what we need to deal with," Costa said.
---
As the number of cases increases in Pennsylvania, he expects the state will receive increased funding at the federal level. "We anticipate that by the weekend, it's probably going to be three to four times higher than it is today," he said.
Costa said Wolf is looking for resources from the General Assembly and hopes that up to $50 million will be available to address the current crisis.

The pandemic can be expected to spread east into Bucks County, and then west into Chester County, Costa said.
On March 6, Wolf signed an emergency disaster declaration giving the Pennsylvania Emergency Management Agency jurisdiction over the state's health response. Legislators are working to temporarily relax some regulations and rules related to purchasing emergency supplies and services, according to Costa.
---
Costa said he's concerned that if people are forced to be quarantined and miss work, they will lose income and, in effect, will be "punished" for obeying the rules.
Delano asked if the legislature is going to mandate paid sick leave. Costa said legislators are looking into ways to extend unemployment compensation to people who miss work due to COVID-19.
In Harrisburg, Wolf shut down the state Capitol complex. Only credentialed employees with security passes have access for at least the next two weeks, Costa said.
Some of his colleagues from southeastern Pennsylvania are already working from home with laptops provided by the state, Costa said. "There is a skeleton crew left working in their offices, maybe six or seven people," he said.
---
Richard Finch Jr. is a freelance writer who covers news from McKeesport Area School District and North Versailles Twp. for Tube City Almanac. He may be reached at finchr43@gmail.com.
Originally published March 13, 2020.
In other news:
"Port Vue R.C. Church …" || "Local Agencies, Group…"