(Advertisement)
Tube City Community Media Inc. is seeking freelance writers to help cover city council, news and feature stories in McKeesport, Duquesne, White Oak and the neighboring communities. High school and college students seeking work experience are encouraged to apply; we are willing to work with students who need credit toward class assignments. Please send cover letter, resume, two writing samples and the name of a reference (an employer, supervisor, teacher, etc. -- not a relative) to tubecitytiger@gmail.com. (4-11-2023 to 4-30-2023)
To place your ad, email tubecitytiger@gmail.com.
Ads start at $1 per day, minimum seven days.
• Fitzgerald asks gyms, salons, bars, theaters to shutter
• Pharmacies, groceries asked to stay open
By Jason Togyer
The Tube City Almanac
March 15, 2020
Posted in: McKeesport and Region News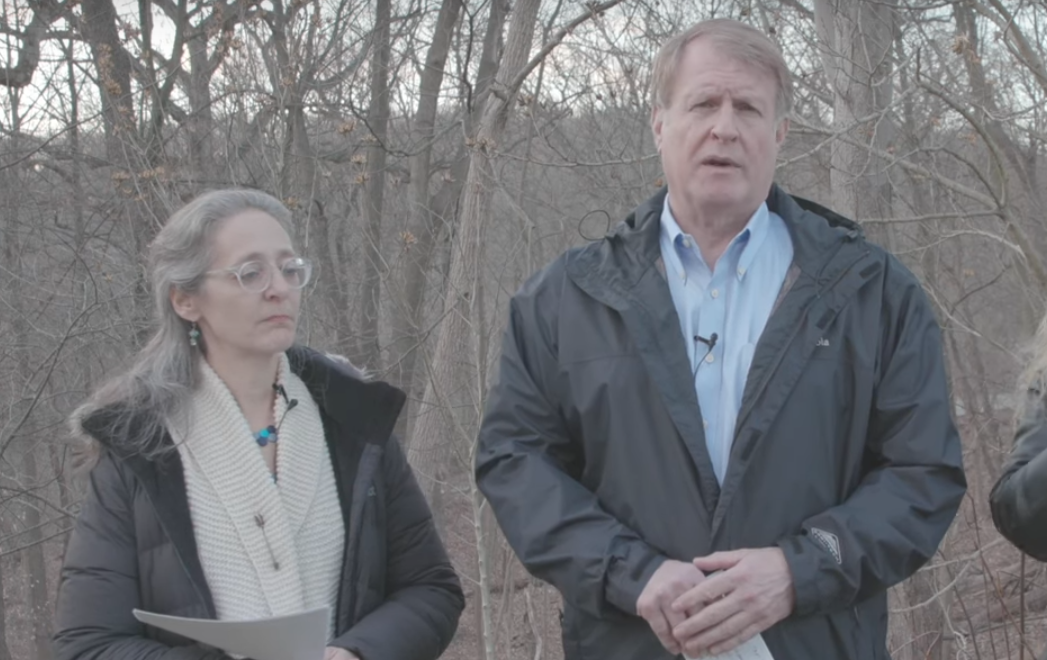 Allegheny County Health Director Dr. Debra Bogen and chief Executive Rich Fitzgerald announce Sunday that all non-essential busnesses are being asked to close for two weeks to slow the spread of COVID-19. (Allegheny County via YouTube)
---
Allegheny County officials are asking all "non-essential businesses" — especially those where residents congregate for long periods of time — to close for 14 days in an attempt to slow the spread of the COVID-19 pandemic.
The announcement came just after the federal Centers for Disease Control and Prevention recommended that all gatherings of more than 50 people scheduled for the next eight weeks be cancelled or postponed.
Both the county's advice and the CDC guidance follow increasingly serious reports from Italy, where doctors report that emergency rooms are overwhelmed with victims of COVID-19, a mutated form of coronavirus that causes rapid respiratory failure in some patients.
Italian hospitals on Sunday reported nearly 400 deaths from COVID-19 in a single 24-hour period.
In a video released Sunday evening, Allegheny County Executive Rich Fitzgerald and Health Director Dr. Debra Bogen asked all businesses to voluntarily close or find alternative ways of doing business for at least 14 days.
---
---
"This is an unprecedented challenge that our community is facing," Fitzgerald said. "This is an unprecedented time in our community. Our region has always been at its best when we work together, and this challenge is no exception.
"We need everyone to step up and play a part in slowing the spread of COVID-19 in our region," he said. "We understand that this may cause hardship for some, and frustration for others, but it's imperative that we work together to do what's best for our community."
Several municipalities, including Elizabeth Twp., Braddock Borough and Charleroi, Washington County, announced Sunday that their municipal offices will be closed to visitors, except to essential public services like police.
---
Elizabeth Twp. bans public from municipal buildings
"While all employees will be working their normal schedule, no member of the general public will be permitted on the grounds of the municipal facilities without express administrative permission," Elizabeth Twp. officials said in a prepared statement.
Staff will be available by phone and email to answer questions and conduct township business, officials said. Residents needing to pay bills or taxes should use drop boxes, U.S. mail or online services wherever possible.
All non-essential meetings are also cancelled, the township said.
---
White Oak cancels all 'non-essential' group meetings
On Friday, Brian Dinkfelt, White Oak code enforcement officer, announced that the borough has cancelled all meetings for "non-essential groups and outside groups" on municipal property through April 5.

Anyone who believes they may have been exposed to COVID-19 or experiencing symptoms is asked to avoid visiting the borough offices, and to conduct any business with the borough via mail or telephone, Dinkfelt said.
On Sunday evening, Fitzgerald said that although only four cases of COVID-19 have been confirmed in Allegheny County — one of those cases is reportedly from Clairton — the Allegheny County Health Department expects many more cases to be identified as testing increases rapidly.
---
UPMC to begin COVID-19 testing Tuesday
UPMC Health System announced Saturday morning they have developed their own test to screen for COVID-19 and will begin testing people on Tuesday at a site in Pittsburgh's South Side.
The test site is not open to the public and people who want to be tested must have a referral from their doctor, UPMC officials said.
Although health experts still don't know much about COVID-19, they do know that it is spreading rapidly throughout the United States, Bogen said.
---
"Given the contagiousness of this virus, we know that it will not slow down on its own until it has infected most people in every community," she said. "The best hope we have for averting this catastrophic outcome is to take aggressive action to dramatically slow down the spread of the virus in our community."
The county's recommendation for non-essential businesses to suspend public operations is designed to encourage social distancing, Bogen and Fitzgerald said.

Specific locations that are being asked to close temporarily include child care centers, senior centers, community and recreation centers, gyms and yoga classes, hair salons, nail salons and spas, casinos, bars, concert venues and theaters, sports facilities, golf clubs and social clubs.
---
Restaurants asked to offer 'carry-out and delivery only'
The county also has asked most retail facilities, including shopping malls, to consider closing. Facilities such as drugstores, supermarkets and health care facilities are being asked to stay open, as are gas stations.
Restaurants are encouraged to stay open for carry-out and delivery only, a county spokeswoman said.
Churches and other religious institutions are asked to refrain from social gatherings but should remain open for social services and support of their communities. Gatherings should be of 20 people or less during this time.
---
People are free to travel, officials said, and people who work in smaller group settings can continue to work, provided that there is space to remain separated from each other.
"We fully recognize the impact that these recommendations will have on our community — their livelihoods, their mental health, their day-to-day needs," Fitzgerald said. "We are working collaboratively to put the systems in place that can meet those challenges.
"We will also be calling on those of you who are healthy and able to assist those of our community who are not," he said. "We hope to have additional announcements regarding those plans in the coming days."
---
CDC: All meetings of more than 50 people should be cancelled
Sunday afternoon, the CDC asked organizers of all "large events and mass gatherings" — those expected to attract 50 or more people — that are scheduled over the next two months to cancel or postpone.
The new guidance is sharply different from a previous CDC recommendation, which suggested only that events expected to attract 250 visitors or more should be cancelled.
"Large events and mass gatherings can contribute to the spread of COVID-19 in the United States via travelers who attend these events and introduce the virus to new communities," CDC said. "Examples of large events and mass gatherings include conferences, festivals, parades, concerts, sporting events, weddings and other types of assemblies."
Events of any size should only be continued "if they can be carried out with adherence to guidelines for protecting vulnerable populations, hand hygiene and social distancing," CDC said. "When feasible, organizers could modify events to be virtual."
---
Jason Togyer is editor of The Tube City Almanac and volunteer executive director of Tube City Community Media Inc. He may be reached at jtogyer@gmail.com.
Originally published March 15, 2020.
In other news:
"Allegheny County Susp…" || "WOLF ORDERS ALL BARS,…"