(Advertisement)
Tube City Community Media Inc. is seeking freelance writers to help cover city council, news and feature stories in McKeesport, Duquesne, White Oak and the neighboring communities. High school and college students seeking work experience are encouraged to apply; we are willing to work with students who need credit toward class assignments. Please send cover letter, resume, two writing samples and the name of a reference (an employer, supervisor, teacher, etc. -- not a relative) to tubecitytiger@gmail.com. (4-11-2023 to 4-30-2023)
To place your ad, email tubecitytiger@gmail.com.
Ads start at $1 per day, minimum seven days.
By Staff Reports
The Tube City Almanac
March 19, 2020
Posted in: Announcements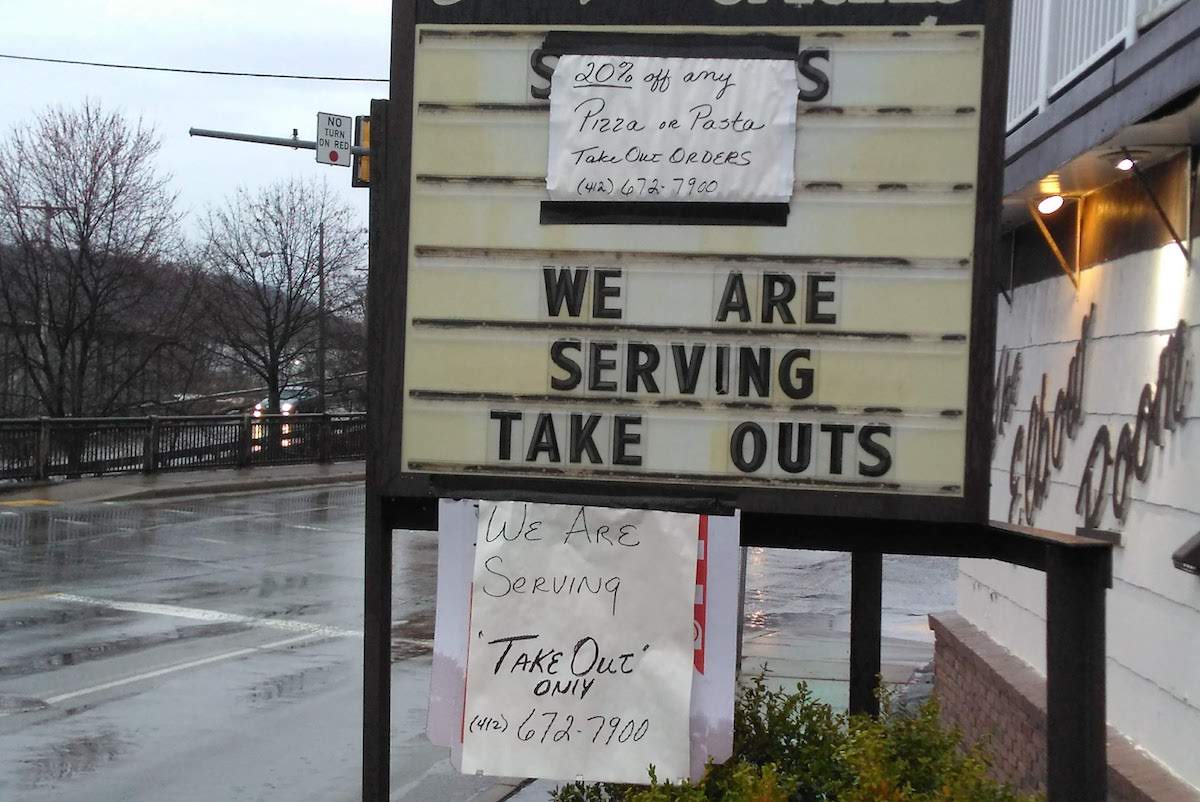 The Elbow Room in the city's 10th Ward is one of more than a dozen restaurants that have stayed open to provide take-out food only, according to a spokeswoman in McKeesport Mayor Michael Cherepko's office. (Tube City Almanac photo)
---
Although all restaurants in the state have been ordered to close their dining rooms and lounges for at least two weeks in the wake of the coronavirus pandemic, businesses are allowed to offer carry-out, delivery and drive-through services for food and beverages.
The Allegheny County Health Department on Thursday issued new guidance for restaurants who are keeping their kitchens open for take-out or delivery service.
Among the department's recommendations:
• Both staff and guests should wash their hands frequently, with soap and water, for at least 20 seconds each time.
• Any staff who may be ill, or suspect they may be ill, must be required to stay home.
• Advise employees to call a doctor immediately if they experience fever, cough or shortness of breath.
• Plan a reduced menu that can be served in the event thay staff are unable to report to work.
• Cross-train employees on more than one job, if possible, so that they can fill in for co-workers.
• Set up systems to keep at least six feet away from customers.
• Offer curbside pickup if possible, and do not allow customers to wait in line for their food.
• Use disposable containers and do not refill customers' food or drink containers.
• Do not let customers refill drink containers.
• Take credit and debit cards to avoid handling cash.
• If available, encourage customers to order and pay online or via phone.
• Have only one employee handling cash and cards and acting as the cashier.
• Delivery drivers should limit physical contact with customers and wash or sanitize their hands between deliveries.
• If delivery drivers are wearing gloves, they should change to a new pair of gloves for each delivery
• Delivery drivers should wash their hands immediately upon return.
---
McKeesport city officials are maintaining a list of restaurants that have remained open for takeout and delivery.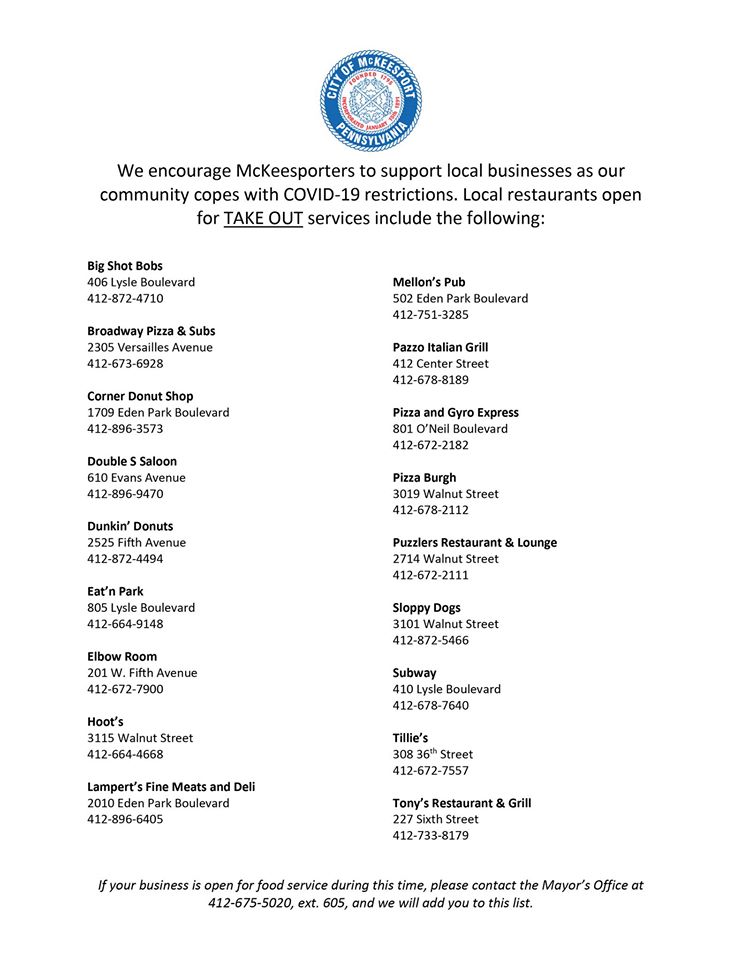 The mayor's office is asking any restaurants that would like to be added to the list to call (412) 675-5020, ext. 605.
Originally published March 19, 2020.
In other news:
"Local Police Modify O…" || "WOLF: ALL 'NON-ESSENT…"