(Advertisement)
Tube City Community Media Inc. is seeking freelance writers to help cover city council, news and feature stories in McKeesport, Duquesne, White Oak and the neighboring communities. High school and college students seeking work experience are encouraged to apply; we are willing to work with students who need credit toward class assignments. Please send cover letter, resume, two writing samples and the name of a reference (an employer, supervisor, teacher, etc. -- not a relative) to tubecitytiger@gmail.com. (4-11-2023 to 4-30-2023)
To place your ad, email tubecitytiger@gmail.com.
Ads start at $1 per day, minimum seven days.
• GOP senators ask for appeal process
• Exceptions made for healthcare, farms, food
By Jason Togyer
The Tube City Almanac
March 20, 2020
Posted in: McKeesport and Region News

Editor's Note: This story has now been updated with a response from Republican leaders of the Pennsylvania Senate and details from Ohio.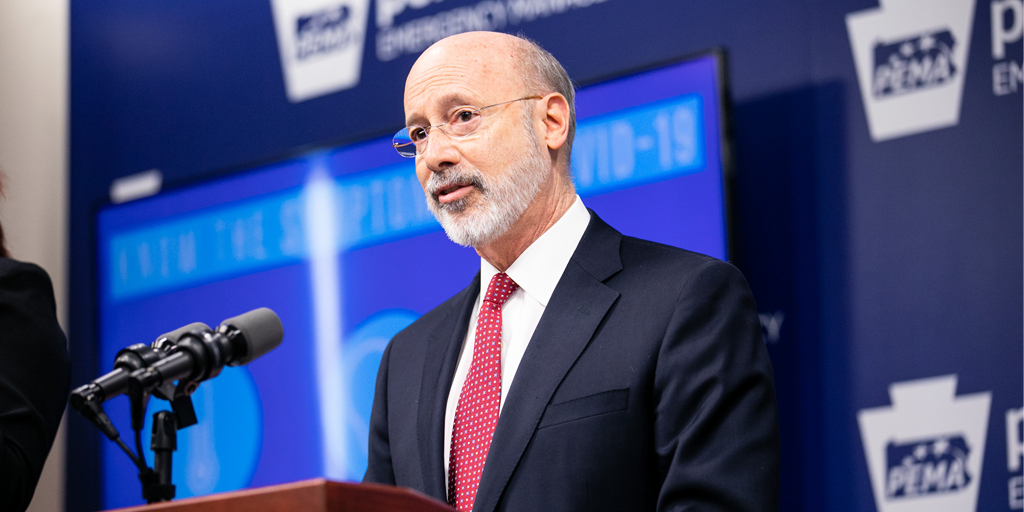 (Submitted photo)
---
Pennsylvania Gov. Tom Wolf ordered all businesses that are not "life-sustaining," in his words, to close their physical locations at 8 p.m. Thursday.
Enforcement by the Pennsylvania State Police and other agencies will begin at 12:01 a.m. Saturday (March 21).
Pharmacies, food markets and gas stations are exempt. Also exempt are farms, food processing facilities and many manufacturing facilities. Utilities, transportation services, auto-repair shops and building material stores are exempt and may remain open. Construction work must halt, but building maintenance can continue, the state said.
Businesses that do not comply will face citations, fines and other enforcement actions, Wolf's office said.
The order is designed to slow the spread of novel coronavirus and the related disease, COVID-19, officials said.
State Republicans said the order issued by Wolf, a Democrat, went too far.
GOP senators have 'more questions than answers'
"Because of the manner in which the governor released this information, we have more questions about his unilateral decision than there are answers," said top state Senate Republican leaders in a joint statement.
"We understand the dire health crisis COVID-19 presents in the Commonwealth," said the statement, signed by state Sens. Joe Scarnati, Jake Corman, John Gordner and Pat Browne. "We understand that we are in uncharted territory as we try to prevent the spread of this deadly disease.
"At the same time, we know that every business is life-sustaining to someone — whether employers or employees," the senators said. "The economic devastation that is being caused will last long into the future, especially for small-business owners."
Wolf had previously encouraged "non-essential" businesses to close to mitigate the spread of COVID-19.
On Thursday afternoon, Ronald Sugar, acting director of the Allegheny County Health Department, told reporters that officials were largely satisfied with the number of businesses that had voluntarily decided to close.
"As the situation unfolds, we expect additional guidance from the governor will be forthcoming, but yes, so far, we are satisfied," he said.
Many businesses stayed open
But a Tube City Almanac reporter did a spot-check of businesses in the White Oak and McKeesport areas and found many nail salons, beauty parlors and other stores classified as "non-essential" were still open.
Some had crowded parking lots.
"To protect the health and safety of all Pennsylvanians, we need to take more aggressive mitigation actions," Wolf said. "This virus is an invisible danger that could be present everywhere. We need to act with the strength we use against any other severe threat. And, we need to act now before the illness spreads more widely."
Restaurants and bars were required to stop all dine-in services on Sunday. Food establishments may offer carry-out, delivery and drive-through service, including alcohol sales, but may not provide eat-in dining.
Republican leaders ask Wolf for appeal process
The Republican senate leaders asked the governor's office to "provide a process for the state's employers to appeal this decree."
Furthermore, they wrote, "the Governor and the Secretaries of Labor and Industry and Community and Economic Development need to become transparent about their decision-making process and publicly answer the many questions this has raised."
The governor's office said Thursday evening that special exemptions will be granted to businesses that are supplying or servicing health care providers.
Officials said that Wolf had the authority to order the closures under the state's Emergency Management Services Code, which they said gives the governor the power to control access to structures in the event of an emergency.
The state secretary of  health separately is authorized under the law to employ measures necessary for the prevention and suppression of disease, state officials said.
State police, PLCB to enforce orders
Officials said the governor has directed local authorities and the Pennsylvania Liquor Control Board, state police, and the state departments of health and agriculture to enforce the orders.
Private businesses, local organizations and other entities that refuse to comply with the orders will forfeit their ability to receive any disaster relief and may be subject to further sanction, the governor's office said.
The state Department of Health is authorized to prosecute noncompliant entities for the failure to comply with health laws, including quarantine, isolation or other disease control measures. Violators are subject to fines or imprisonment.
Separately, the state Department of Community and Economic Development will be offering working capital loans to businesses impacted by COVID-19 closures. Businesses seeking guidance from DCED should contact its customer service resource account at ra-dcedcs@pa.gov or by calling 1-877-PA-HEALTH and selecting option 1.
Report: Unemployment way up
The closures in Pennsylvania are already affecting unemployment numbers. The Associated Press reported Thursday that on a single day this week, 70,000 Pennsylvania residents applied for unemployment compensation — six times the total for the entire previous week.
But the exact figures are not yet known and won't be for another week.
At a press conference Thursday, an official for the Pennsylvania Department of Labor & Industry said the state has been asked by the federal government not to release unemployment figures until March 26.
The state has set up a special website at www.uc.pa.gov/COVID-19/ for workers who have lost their jobs due to coronavirus closures.
Ohio governor: Similar business ban may be necessary
In Ohio, Gov. Mike DeWine, a Republican, said that a similar statewide closure of businesses may be necessary if COVID-19 continues to spread.
Ohio officials already have ordered the closure of barbershops, hair salons, nail salons and tattoo parlors, and ordered all bars and restaurants to close their dining rooms.
DeWine also issued an order requiring all hospitals to postpone non-emergency surgeries to conserve medical resources.
---
Jason Togyer is editor of The Tube City Almanac and volunteer executive director of Tube City Community Media Inc. He may be reached at jtogyer@gmail.com.
Originally published March 20, 2020.
In other news:
"Health Dept. Issues G…" || "Viewpoint: Spring Arr…"