(Advertisement)
Tube City Community Media Inc. is seeking freelance writers to help cover city council, news and feature stories in McKeesport, Duquesne, White Oak and the neighboring communities. High school and college students seeking work experience are encouraged to apply; we are willing to work with students who need credit toward class assignments. Please send cover letter, resume, two writing samples and the name of a reference (an employer, supervisor, teacher, etc. -- not a relative) to tubecitytiger@gmail.com. (4-11-2023 to 4-30-2023)
To place your ad, email tubecitytiger@gmail.com.
Ads start at $1 per day, minimum seven days.
Wolf: State officials depending on Pennsylvanians to 'do the right thing'
By Jason Togyer
The Tube City Almanac
March 23, 2020
Posted in: McKeesport and Region News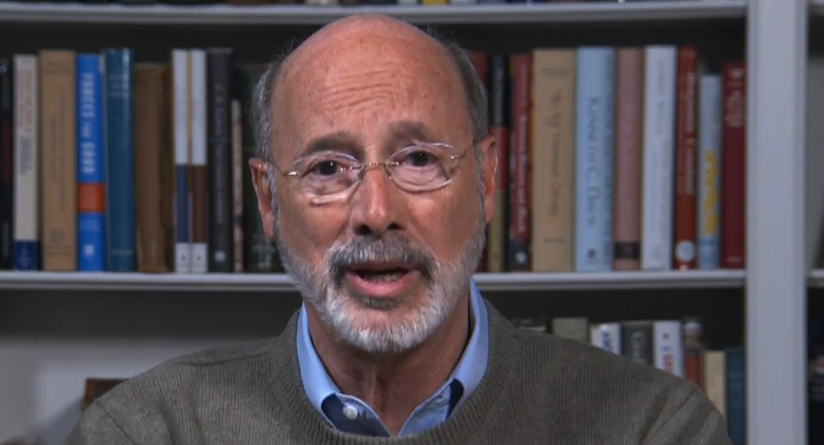 Pennsylvania Gov. Tom Wolf addressed members of the news media via closed-circuit camera from his home. (Tube City Almanac photo)
---
Pennsylvania Gov. Tom Wolf has ordered all Allegheny County residents to stay home until further notice except for essential, necessary trips.
At a press conference Monday afternoon, Wolf also extended the shutdown of all K-12 schools for another two weeks, beginning Tuesday and continuing through at least April 6.
The new measures are necessary to slow down the spread of the coronavirus pandemic as cases of COVID-19 in Pennsylvania are increasing by 100 percent every two days.
"The line is essentially going straight up," said Dr. Rachel Levine, Pennsylvania Secretary of Health.
Wolf acknowledged that the disruption to Pennsylvania businesses, schools and institutions is unlike anything the state has experienced "since the Civil War" but said "we must act as soon as possible and we must act decisively."
644 cases in 34 counties, 60 people hospitalized
Statewide, there were 165 new cases diagnosed on Sunday and another 108 on Saturday, Levine said. There are now 644 cases in 34 counties and 60 people hospitalized, she said.
There have been six deaths, Levine said.
More than 6,500 people have tested negative for the disease, she said.
Allegheny is one of six counties included in the governor's stay-at-home order, which becomes effective at 8 p.m. Monday (March 23). The others are Montgomery, Monroe, Delaware, Bucks and Chester counties in the eastern part of the state.

The city and county of Philadelphia were already under a stay-at-home order.
Those counties were targeted because there is evidence of person-to-person spread within the community, Levine said.
"In other counties they may have no cases or very few cases, and no evidence of community spread," she said.
Governor says state is taking 'a measured approach'
The state is trying to take "a measured approach to this epidemic," Wolf said. "I am trying not to over-react."
Residents are permitted to leave their own homes for trips to essential businesses, including supermarkets and drug stores, Wolf said. People who work in essential industries, as defined by the state, also may report to their jobs.
Those essential industries include farms, food processing, utilities, transportation, health care, news media and certain types of manufacturing and energy extraction.
Employees of businesses in non-essential industries are being asked to work from home, rather than in-person.
'Thousands' of waiver requests received
Businesses that are not classified as essential may ask for waivers to continue in-person operations. Wolf said "thousands" of waiver requests have been received by the state Department of Community and Economic Development, and about 2,000 have been granted so far.
"These restrictions are unlike any other you've ever seen before," Wolf said. "This is not a request I make lightly. Pennsylvania is the birthplace of American freedom, and it is this freedom that I want to preserve.

"If we want to save lives we must distance ourselves socially," he said.
Confusion over restaurant rules
But there remained some confusion on Monday afternoon about whether or not bars and restaurants could continue serving take-out food and delivery orders.
Dining rooms at all restaurants in Allegheny County were ordered closed on March 15.
Asked directly whether Allegheny County restaurants could remain in operation, Wolf seemed to dodge the question, putting the decision back on citizens. "I would say that if what they're doing is not necessary they shouldn't do it," he said.
Residents and businesses should only be continuing in-person operations "to keep life sustained," Wolf said.
"Ultimately this depends on the people and businesses of Pennsylvania to do the right thing," he said.
In a statement issued after the governor's remarks, an Allegheny County spokesperson said: "This order emphasizes that individuals in the county, to the extent possible, should stay at home and distance themselves from others.
"There is no change to the life-sustaining businesses and waivers that have previously been in place, or to the requirements for restaurants to limit their operations to take-out and delivery."
'Roads will stay open'
The Pennsylvania National Guard is being mobilized, but the governor said it would not be used to enforce the stay-at-home order.
"Our roads will stay open, as will as will pharmacies and grocery stores," Wolf said. "Our national guard will be used to support health initiatives, not stay-at-home enforcement."
There was also confusion about the extension of the school closure order. Wolf said the school closure would extend for "another two weeks" beyond the previously announced closure, which was due to end March 30.
School closure extended through April 6
But following the governor's announcement, a spokesman for the state Department of Education said the closure would continue "through at least April 6," and that the two-week extension would be effective "Tuesday, March 24."
"Extending the closure will help every community in its efforts to mitigate the spread," said Pedro A. Rivera, state Secretary of Education.

The state's 29 intermediate units will provide technical assistance to help develop continuity of education plans for all students, he said.

"We know students are eager to engage with their teachers and return to learning," he said. "Beginning tomorrow, all schools will be able to work with their local intermediate unit to develop instructional plans for all students, including those with disabilities and English language learners."
Standardized testing cancelled
Rivera also has cancelled standardized testing for students in career and technical education programs for the 2019-20 school year. Last week, the state cancelled all PSSA and Keystone standardized testing for the school year, as well as the Pennsylvania Alternate System of Assessment.
The federal Department of Education has waived accountability and reporting requirements for the 2019-20 school year, the state spokesman said.
Asked whether the school year might be cancelled indefinitely, Wolf said he has made no decision. "I'm leaving open the option that I will do this for another two weeks," he said.
Originally published March 23, 2020.
In other news:
"Churches Face Reduced…" || "Port Authority Reduci…"