(Advertisement)
Tube City Community Media Inc. is seeking freelance writers to help cover city council, news and feature stories in McKeesport, Duquesne, White Oak and the neighboring communities. High school and college students seeking work experience are encouraged to apply; we are willing to work with students who need credit toward class assignments. Please send cover letter, resume, two writing samples and the name of a reference (an employer, supervisor, teacher, etc. -- not a relative) to tubecitytiger@gmail.com. (4-11-2023 to 4-30-2023)
To place your ad, email tubecitytiger@gmail.com.
Ads start at $1 per day, minimum seven days.
Business, school closures have caused 50 percent drop in ridership
By Staff Reports
The Tube City Almanac
March 23, 2020
Posted in: Announcements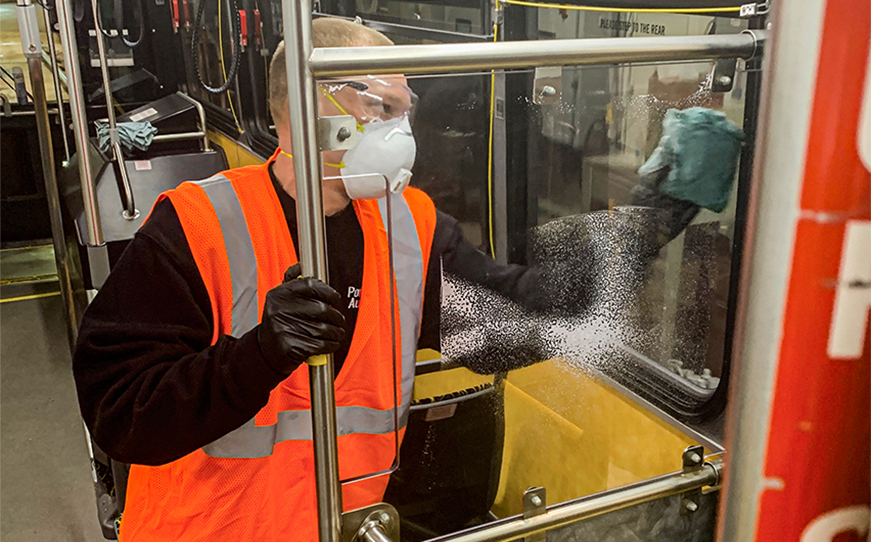 A Port Authority maintenance worker disinfects surfaces on a bus. (Photo courtesy Port Authority of Allegheny County)
---
Port Authority of Allegheny County will reduce bus and light-rail service on more than 70 routes due to "substantial decreases in ridership" and operational challenges brought on by the novel coronavirus pandemic, a spokesman said.
Routes being affected in the McKeesport area include 56 McKeesport via Second Avenue, 61C McKeesport via Homestead, the P7 McKeesport Flyer and the P76 Lincoln Highway Flyer.
With many offices and businesses closed to the public, and universities and colleges moving to online-only classes, Port Authority's ridership has plummeted more than 50 percent in the past two weeks, the agency said.
"Our region is speaking with one voice: If you don't need to go out, please stay home," said Katharine Kelleman, Port Authority chief executive officer.
Port Authority is working with the region's largest healthcare providers to ensure that service will remain available for customers who work in essential jobs or who need access to essential services, a spokesperson said.
On March 14, Port Authority began disinfecting buses every 24 hours, and on March 18, the agency issued a directive requiring all passengers to stand at least six feet apart from one another, and from the driver or operator.
With fewer buses required, Port Authority employees will be better able to keep up with the daily disinfecting schedule, a spokesperson said. Bus and light-rail operators also will be able to practice proper social distancing protocols while they remain on stand-by.
According to schedules posted on the agency's website, the 56 McKeesport, which operates on approximately 30- and 40-minute headways during peak periods, will drop to 45-minute headways during peak periods and hourly service from 6 p.m. to 12 midnight.
The 61C, which operates on approximately 20- and 30-minute headway during peak travel times, will drop to 30-minute headways. Four round-trips have been eliminated on the P7 McKeesport Flyer.
The 55 Glassport, 59 Mon Valley and 60 Walnut-Crawford routes are not affected at this time.
Saturday and Sunday service will follow regular schedules. Buses that do not regularly operate on Saturdays or Sundays will not operate under the modified schedules.
Port Authority staff will continue to evaluate service levels to determine if further adjustments are needed, the agency said.
Originally published March 23, 2020.
In other news:
"Allegheny Co. Residen…" || "City Native Recalls G…"