(Advertisement)
Tube City Community Media Inc. is seeking freelance writers to help cover city council, news and feature stories in McKeesport, Duquesne, White Oak and the neighboring communities. High school and college students seeking work experience are encouraged to apply; we are willing to work with students who need credit toward class assignments. Please send cover letter, resume, two writing samples and the name of a reference (an employer, supervisor, teacher, etc. -- not a relative) to tubecitytiger@gmail.com. (4-11-2023 to 4-30-2023)
To place your ad, email tubecitytiger@gmail.com.
Ads start at $1 per day, minimum seven days.
Lampert's says customers have been 'kind, patient'
By Vickie Babyak
The Tube City Almanac
March 27, 2020
Posted in: McKeesport and Region News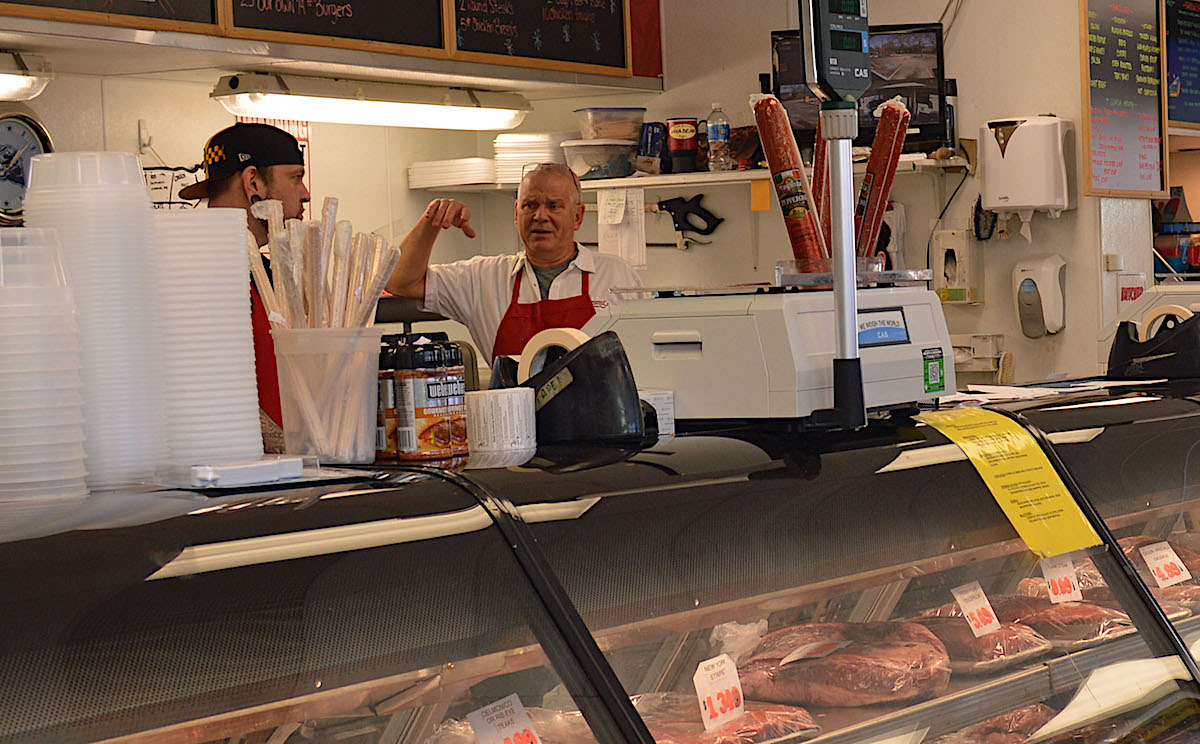 Dino DiGaegory and Rich Kugler, behind the deli counter at Lampert's Market on Eden Park Boulevard. The meat case is fully stocked, though the Kuglers say they never know what's going to be delivered due to supplier shortages. (Vickie Babyak photo for Tube City Almanac)
---
Large chain grocery stores are facing difficulties while social distancing is required during the COVID-19 pandemic. Many stores are quickly running out of high demand products and customers have been posting empty shelf images on their social media.

A well-known family-owned business, Lampert's Fine Meats and Deli near Renziehausen Park, is also experiencing uncertainty. Jan and Rick Kugler have owned their business almost 40 years and said for the first time, they have to limit amounts purchased from their suppliers.
They order from at least six different suppliers and each supplier has cut items on delivery, sometimes in half and sometimes completely, Jan Kugler said. They never know what will be delivered until they unload, she said.
---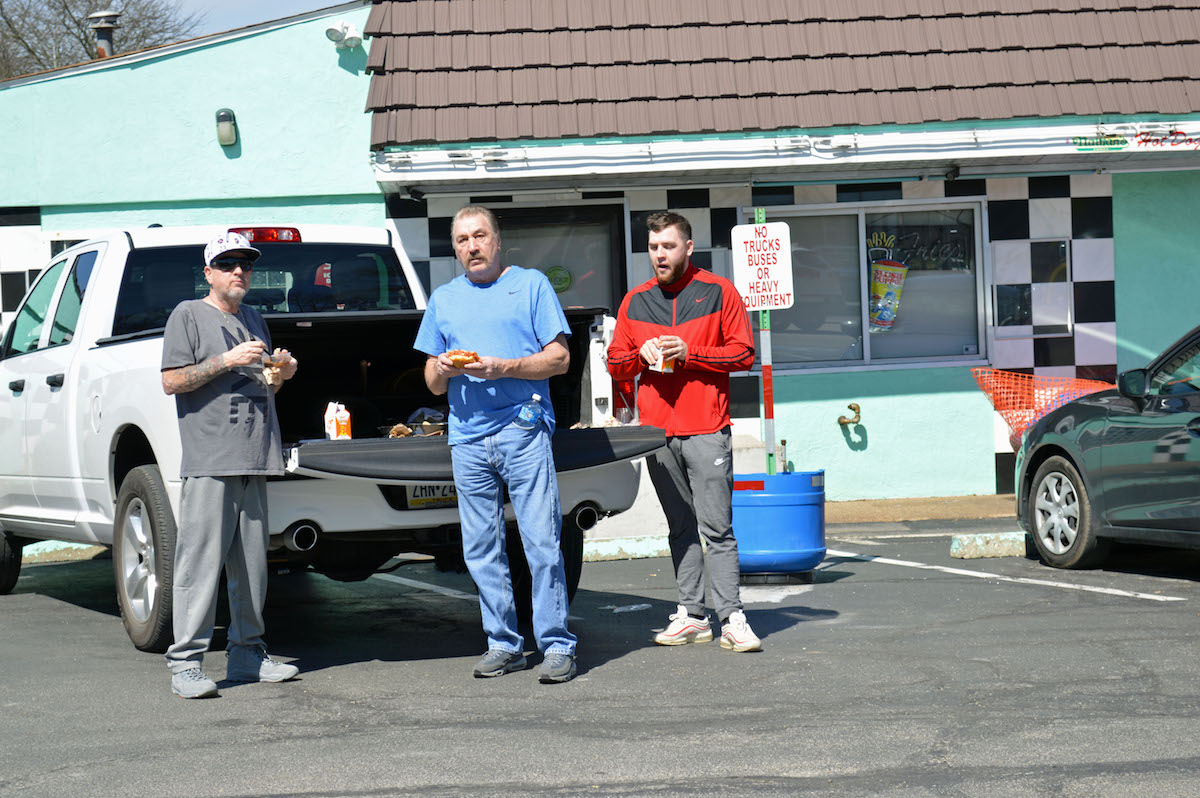 Shawn Lalor wth sons John and Justin in the Lampert's parking lot enjoying their take out orders. (Vickie Babyak photo for Tube City Almanac)
---
"We're taking it one day at a time and every day brings new challenges," Kugler said. "This is so far from the norm and everything forward from here on is a learning experience. We are doing our part by sanitizing counters, door handles, ATM, glass and anything customers come in contact with."

Fridays are extremely busy for Lampert's employees because many scheduled Lenten fish fries have closed, she said.
"We are trying to keep the total amount of customers from entering the store at one time and offer curbside pick up to help alleviate the number. We are doing our best to accommodate as many as possible," Kugler said.
Easter — one of the busiest times of the year — also will be far from normal, she said. Many regular customers have already told the store they won't be celebrating a traditional Easter dinner with their extended family and it will affect Lampert's ordering, Kugler said.
"We are concerned for other small businesses in our area that aren't as fortunate as us and are only permitted to offer take out," she said. "We are blessed that we have a meat department, dairy and deli items to keep our doors open."
Kugler said area residents should consider supporting restaurants and bars that have been forced to close their dining rooms, but which are still offering take-out and delivery.
"We need to help each other as much as we possibly can during this trying time," she said. "We are blessed and we are open to serve the public. If we can help anyone, even in a small way then we are successful."
Customers have been "kind, patient, appreciative and understanding," she said. "We are thankful for their support in uncertain times and some have delivered little treats to sustain us through busy days."

Lampert's also is trying to protect the store's employees and keep them healthy. "Our employees keep the business going and put themselves out every day serving the community selflessly," Kugler said. "Given the choice, they chose to stay with dedication. Prayers are needed for them and their families."

And she said she wanted to offer a message for the store's regular customers: "Stay safe, stay healthy, stay smart and stay faithful."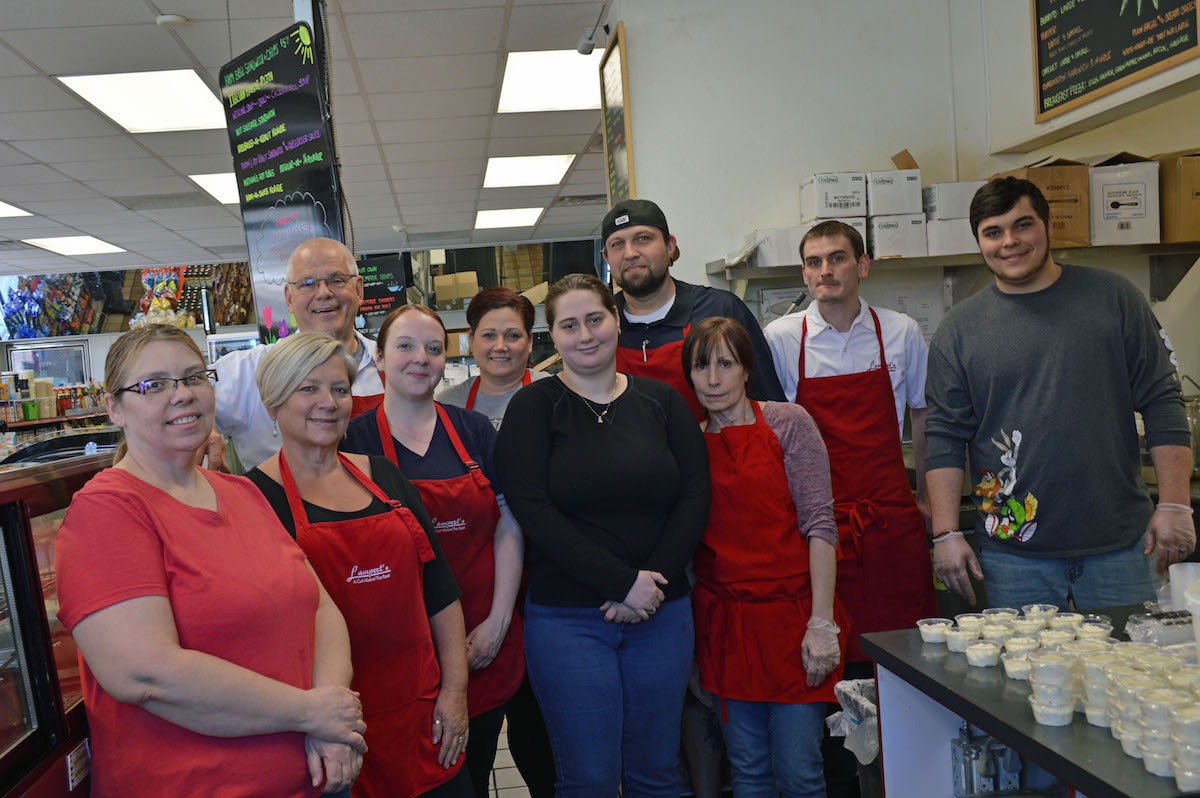 From left, Deana Teck, Jan Kugler, Rich Kugler, Kayla Dela, Erica Powers, Mary K. Szerba, Dino DiGaegory, Joanne Deli, Christian Zuber and Nick Ferree. (Vickie Babyak photo for Tube City Almanac)
---
Vickie Babyak is a photographer and freelance writer from Dravosburg. She may be reached at vbabyak@yahoo.com.
Originally published March 27, 2020.
In other news:
"Duquesne Area Residen…" || "COVID-19 Cases Increa…"