(Advertisement)
Tube City Community Media Inc. is seeking freelance writers to help cover city council, news and feature stories in McKeesport, Duquesne, White Oak and the neighboring communities. High school and college students seeking work experience are encouraged to apply; we are willing to work with students who need credit toward class assignments. Please send cover letter, resume, two writing samples and the name of a reference (an employer, supervisor, teacher, etc. -- not a relative) to tubecitytiger@gmail.com. (4-11-2023 to 4-30-2023)
To place your ad, email tubecitytiger@gmail.com.
Ads start at $1 per day, minimum seven days.
Officials: Not the time to become complacent
By Jason Togyer
The Tube City Almanac
March 27, 2020
Posted in: McKeesport and Region News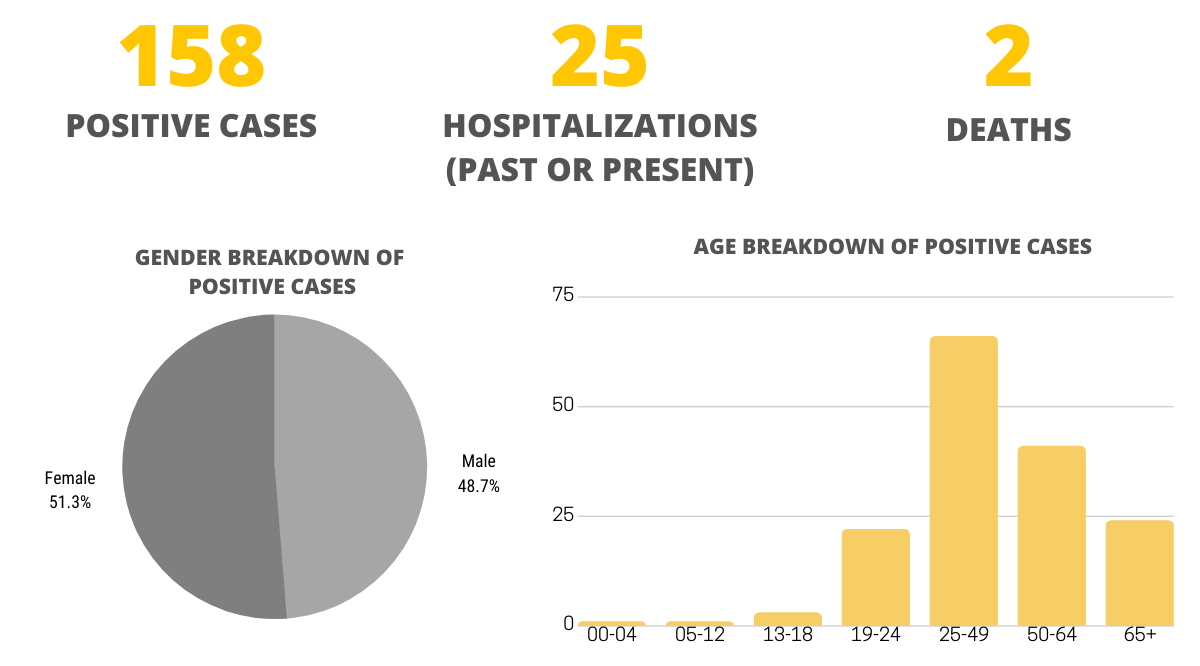 (Source: Allegheny County Health Department)
---
Confirmed cases of COVID-19 have been reported in several Mon-Yough area communities, and public health officials said now is not the time to become complacent.
"Everyone is at risk of this disease," said Dr. LuAnn Brink, chief epidemiologist for the Allegheny County Health Department. "There's no immunity. There is community spread at this point. So please, stay six feet away from everyone and assume everyone has it. And protect yourself by, first off, staying home."
On Friday, Allegheny County officials said there are now 158 confirmed cases, with 25 people hospitalized. There have been two deaths attributed to COVID-19 including a woman from Greenfield and a man from Clairton.
Statewide, officials confirmed 531 new cases of COVID-19 in Pennsylvania, bringing the total to 2,218 cases and 22 deaths. There are 30 confirmed cases in Westmoreland County and Gov. Tom Wolf has added Westmoreland to a list of counties where all non-essential businesses have been ordered to close to the public.
In the Mon-Yough area, there are confirmed cases of COVID-19 in Braddock, Glassport, East McKeesport, Elizabeth Twp., Monroeville, West Mifflin and Wilkins Twp., according to county officials.
Paul Falavolito, chief of White Oak EMS and deputy emergency management coordinator for the borough, said the absence of confirmed cases should not be taken as a sign that novel coronavirus isn't spreading.
It may mean that local residents are having milder cases of COVID-19, or that they haven't gone to a doctor or hospital for treatment, Falavolito said.
"Even though McKeesport, White Oak, South Versalles are all at zero, that doesn't mean there are no cases," he said. "It doesn't mean that's an indication that you should go out, and that's still very much important to emphasize."
The Greenfield woman who died of respiratory distress caused by COVID-19, 78-year-old Ofelia Rousseva, reportedly did not want to go the hospital because she wasn't a U.S. citizen and believed she could not afford the cost of treatment.
A source told Tube City Almanac that at least three COVID-19 cases are being treated at UPMC McKeesport hospital. County health officials said they could not confirm any specific cases at community hospitals and UPMC Media Relations said the health system is not releasing details about which hospitals may be currently treating COVID-19 patients.
Countywide, hospitals and healthcare providers are doing "really amazing work and are taking excellent care of their staff to minimize their exposure," Brink said.
Both locally and statewide, the majority of the cases being reported — about 39 percent — are in people age 25 to 49, but people requiring hospitalization are generally 50 and older, officials said.
However, cases have been reported in every age group.
Pennsylvania state police have so far issued 14 warnings in Western Pennsylvania to businesses that refused to close in compliance with the governor's order, according to reports released by Troop A Greensburg and Troop B Washington.
Dr. Debra Bogen, director of the Allegheny County Health Department, said she could understand the frustration that residents are feeling with businesses and schools closed and many normal spring activities off-limits.
"We don't know how long this is going to last and we don't know how much worse this is going to get," Bogen said. "It's no wonder we all feel tired, anxious and frustrated."
More than 1,600 tests for novel coronavirus have been administered in the county and about 8 percent of those have been positive, county officials said.
While there are still shortages of tests, Brink said, just as importantly, there are shortages of the personal protective equipment — masks, goggles, gowns and gloves — that health care workers need to wear when they're administering the tests.
"There has been a targeted effort to spare the use of (PPE) so that when we do have a surge in the health care system, members of the health care system are protected against contracting the virus while they're dealing with the most critically ill among our neighbors," Brink said.
In cooperation with the United Way's 2-1-1 system, Allegheny County has set up a toll-free, 24-hour hotline to field COVID-19 and coronavirus questions at 888-856-2774.
---
Jason Togyer is editor of The Tube City Almanac and volunteer executive director of Tube City Community Media Inc. He may be reached at jtogyer@gmail.com.
Originally published March 27, 2020.
In other news:
"Grocery Coping With S…" || "Two COVID-19 Cases at…"