(Advertisement)
Tube City Community Media Inc. is seeking freelance writers to help cover city council, news and feature stories in McKeesport, Duquesne, White Oak and the neighboring communities. High school and college students seeking work experience are encouraged to apply; we are willing to work with students who need credit toward class assignments. Please send cover letter, resume, two writing samples and the name of a reference (an employer, supervisor, teacher, etc. -- not a relative) to tubecitytiger@gmail.com. (4-11-2023 to 4-30-2023)
To place your ad, email tubecitytiger@gmail.com.
Ads start at $1 per day, minimum seven days.
By Richard Finch Jr.
The Tube City Almanac
April 02, 2020
Posted in: Duquesne News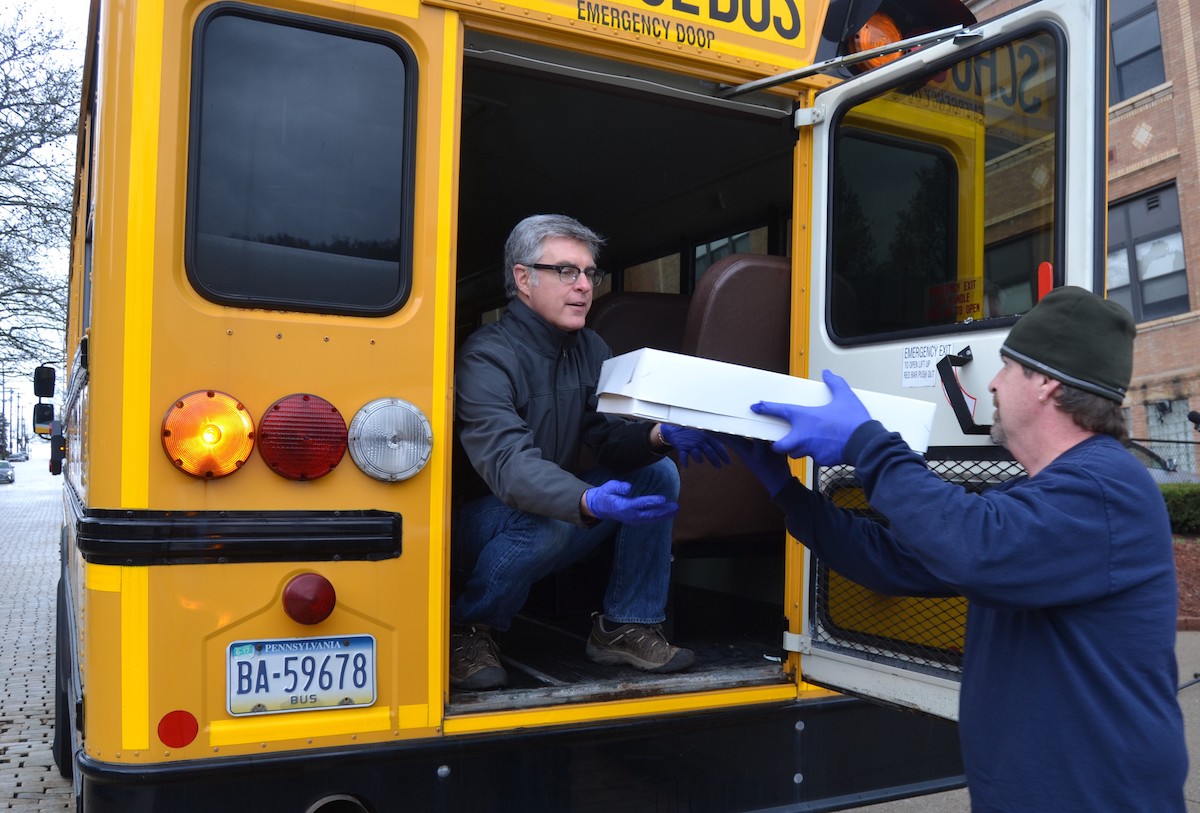 Patrick Dowd of Allies for Children passes meals to Rob Quigg of Eat 'n Park during a delivery on Wednesday. (Richard Finch Jr. photo for Tube City Almanac)
---
School may be out across Pennsylvania, but buses are still on the streets in Duquesne, delivering lunches to students at each of five regular bus stops, with the help of Eat 'n Park and funding from PNC Foundation.
The school district developed the plan to deliver meals to students during the statewide school shutdown in cooperation with Eat 'n Park, Pennsylvania Coach Lines, United Way of Southwestern Pennsylvania, PNC Foundation, Allies for Children and 412 Food Rescue.
Duquesne is not the first school district to deliver meals to bus stops. A similar program is in place in Pittsburgh Public Schools through a joint initiative with A+Schools, the Latino Community Center and 412 Food Rescue.
"We offer breakfast and lunch meals on Monday that include food for Monday and Tuesday," said Sue Moyer, district superintendent. "On Wednesday we provide food for Wednesday through Friday, families can come right to the bus stop, we are able to provide food not only for students, but for their families as well."
While Duquesne City School District also will continue to distribute meals at the elementary school between 11 a.m. and 1 p.m. on Mondays and Wednesdays, information on the bus stop delivery program was relayed to families through social media, email and phone calls, Moyer said.
Recent waivers granted to school lunch programs nationally have enabled school districts and organizations to provide meals to families as well as students during the coronavirus crisis.
Some of the waivers granted by the U.S. Department of Agriculture include providing states the option to allow parents or guardians to take meals home to their children. Typically, children would need to be present to receive a meal through USDA's child-nutrition programs.
"The waivers, just in the past few days, allow for children and families to access food through the national school lunch programs," said Patrick Dowd, executive director of Allies for Children, who volunteered to help distribute meals Wednesday, along with school district employees, including Moyer, and representatives of Eat 'n Park.
"I think everybody is trying to figure out those waivers and make sure that we're doing (it) correctly," Dowd said.
---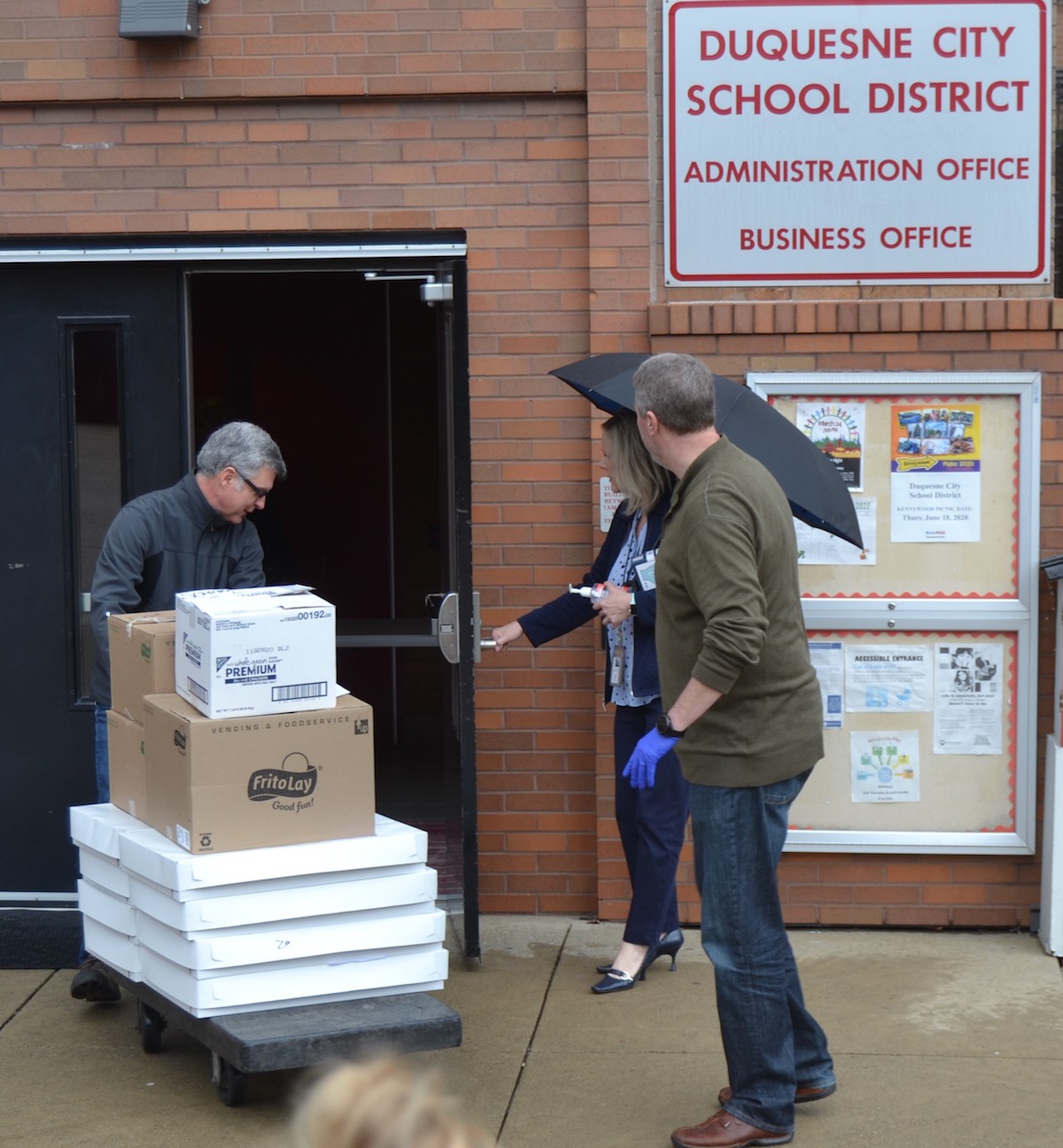 Patrick Dowd and Eat 'n Park board member Brooks Broadhurst with Duquesne City School Superintendent Sue Moyer. (Richard Finch Jr. photo for Tube City Almanac)
---
According to a spokeswoman for Allegheny Intermediate Unit, 1,500 meals were distributed in Duquesne Wednesday, including 840 provided by Eat 'n Park provided and 660 provided by Nutrition Inc., the school district's contracted vendor for school lunches, as part of its usual meal distribution.
Eat 'n Park volunteers helping distribute meals on Wednesday included board member and former executive Brooks Broadhurst; Rob Quigg, operations manager for the distribution center; and others.
"We are providing 840 meals today and will continue with that number every Monday, Wednesday and Friday," Quigg said. "Eat 'n Park has always stepped up in the community and helped out, so this is nothing unusual for us."
Eat 'n Park "has been an awesome partner, complementing the great work that the food service folks here at Duquesne are doing," said Dowd, adding that Moyer did an "awesome job in setting up this project."
According to Allies for Children, 58 percent, or approximately 77,000 students in Allegheny County. are eligible for free or reduce-price school meals. Nationally, 22 million children in the U.S. rely on schools to provide free or reduce-price school meals, according to No Kid Hungry, a national organization dedicated to ending child hunger.
Across the country, the federal waivers will make it easier to provide meals, Dowd said.
The PNC Foundation donated $1 million toward food relief during the pandemic.
Dowd said PNC is "really focused on their desire to support the needs of kids and families as it relates to food."
Moyer said she's grateful to the volunteers and organizations that are helping school district "in these turbulent times."
"It's heartwarming to know our families' needs are being met and we can provide meals for them," she said. "We love and miss our students and can't wait for this to be over, so we can welcome them back to school."
---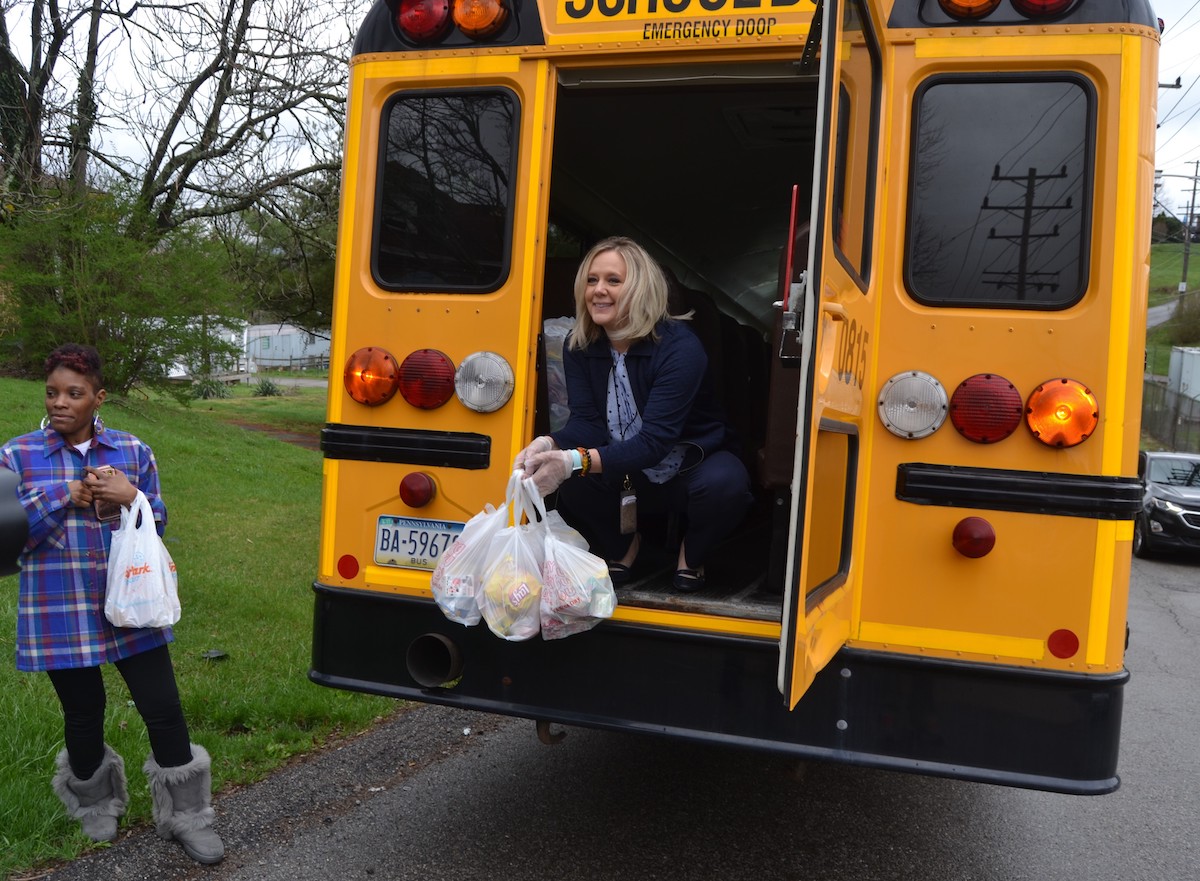 Tamerra White, mother of twins attending kindergarten in Duquesne Elementary School, picks up a meal at the corner of Kennedy and Mifflin streets on Wednesday. (Richard Finch Jr. photo for Tube City Almanac)
---
Monday, Wednesday and Friday deliveries start at 11 a.m. and travel to the following bus stops:
• Mifflin and Kennedy avenue: 11 to 11:20 a.m.
• Crawford and Wool street: 11:25 to 11:45 a.m.
• Crawford and Fifth street: 11:50 to 12:10 p.m.
• Commonwealth and Overland avenue: 12:20 to 12:40 p.m.
• Commonwealth and Duquesne Place: 12:45 to 1:15 p.m.
Meanwhile, Duquesne City School District, like other districts, has been in the process of refining its distance-learning options since Gov. Tom Wolf ordered schools closed indefinitely on March 30.
"We've been offering distance and virtual learning options for students since Monday," Moyer said. There is already an iPad available for each student, she said, but the district is "waiting on a shipment of protective cases to arrive so parents can sign out iPads."
The district is also working with vendors in an effort to help families get Wi-Fi service. "There are still a number of issues, so we are doing the best we can to provide instruction to the students who either don't have a device or don't have internet service in the home," Moyer said.
---
Richard Finch Jr. is a freelance writer who covers news from a variety of communities for Tube City Almanac. He may be reached at finchr43@gmail.com.
Originally published April 02, 2020.
In other news:
"Mayor: Practice Socia…" || "W.O. Holds Council Me…"